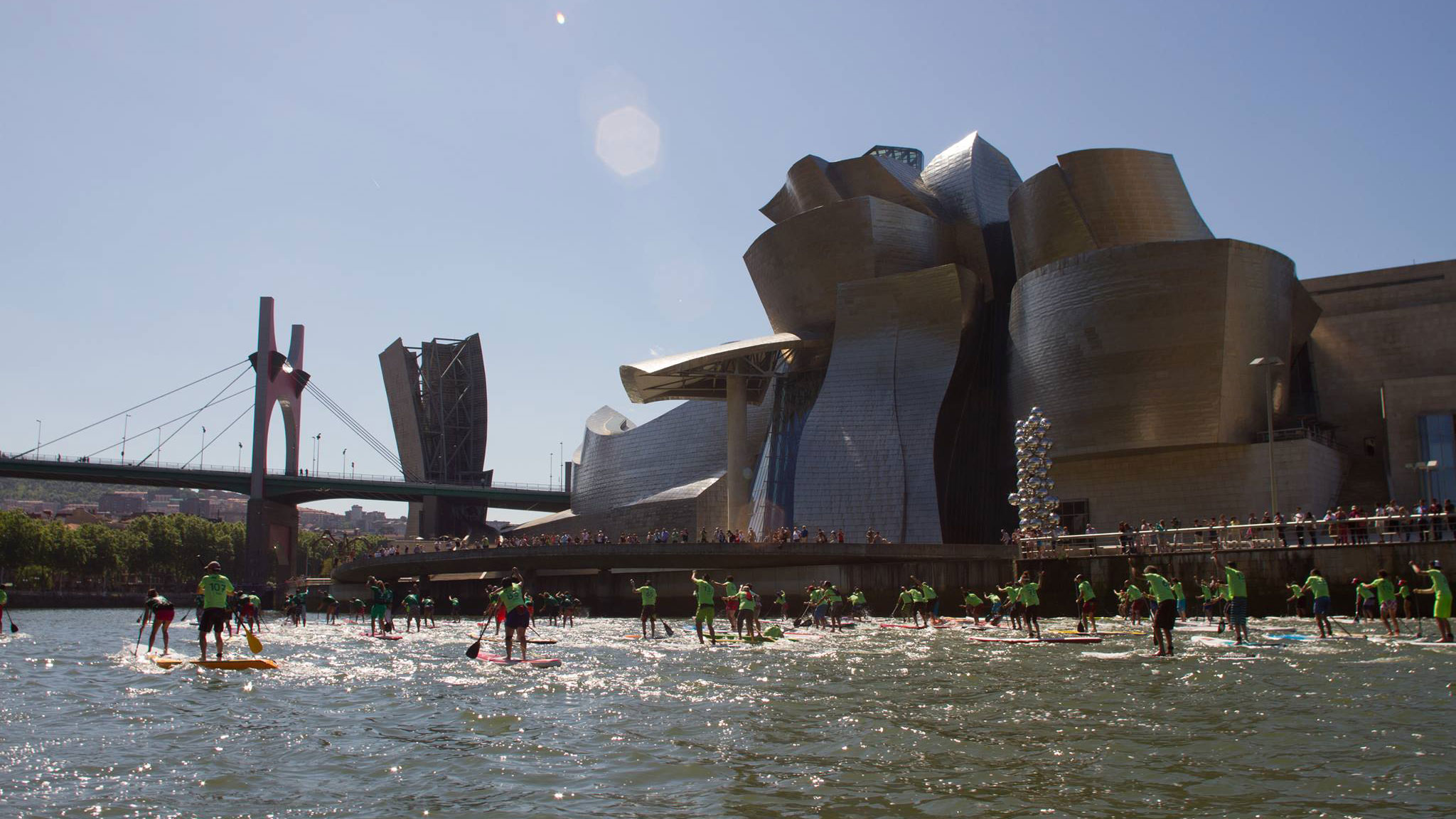 June 15, 2018
by Christopher Parker (@wheresbossman)
The European "Triple Crown" of Majors starts this weekend in Bilbao (here are the live stream start times)
The European Summer of SUP is seriously heating up: The EuroTour and The Paddle League have been collaborating all summer long, and starting Saturday we'll be standing on top of the peak as the 100-point World Tour events (the "Majors") in Bilbao, Hossegor and Germany take center stage.
First up is the classic Iberdrola Bilbao World SUP Challenge in the Basque city of the same name. Dating back to 2013, Bilbao has become one of the go-to stops on tour, and the sixth annual edition (the fifth stop of The Paddle League World Tour and week 7 of the EuroTour) is set to be a big showdown after even more top athletes arrived in Europe this week.
The Paddle League will be livestreaming the whole show from 5:30pm local time on Saturday (yep, it's a late one), and as always: It won't be ESPN, but we'll try to bring you a front row seat of the action for the 14km race through this inner-city river.

---
UPDATE: Watch a FULL REPLAY of The Paddle League's Bilbao live stream on Facebook
---
Fresh from tying the knot in Italy, number one seed Connor Baxter starts his European campaign this weekend, and he'll be up against #2 seed Titouan Puyo along with Lincoln Dews, Michael Booth, Mo Freitas, Marcus Hansen, the Hasulyo Bros, Guillherme dos Reis, Arthur Arutkin, Noic Garioud, the Nika Brothers, Itzel Delgado, a couple of the Tahitian boys and almost every single one of Europe's finest (France and Italy are rolling deep as always).
So yeah, it's going to be a pretty tough battle in Bilbao tomorrow.
Meanwhile, we've got the strongest women's field of the summer after more internationals flew in to battle Europe's finest: While ratings leader Sonni Honscheid is in doubt, we've got top Aussie Angie Jackson, her under-rated team mate Kate Baker, East Coast American star Seychelle, her fellow East Coaster/genuine dark horse Stephanie Shideler, and Japanese giant-killer Yuka Sato. They'll join San Sebastian hero Olivia Piana, Spaniards Susak Molinero and Laura Queglas, the Queen of Crete Amandine Chazot, Costa Blanca champ Noelani Sach, 11 Cities victor Petronella van Malsen and many more.
And of course, the whole show starts in front of Bilbao's iconic Guggenheim Museum–one of the most famous buildings in Europe. It's always a sight to see, so tune in Saturday afternoon to grab your front row seat.
The race starts 5:30pm local time Saturday, and we'll be on air about 10 minutes before the horn blows over on The Paddle League Facebook page. Here's when to watch…
5:30pm Saturday in Bilbao
= 5:30am Saturday in Hawaii
= 5:30am Saturday in Tahiti
= 8:30am Saturday in California
= 10:30am Saturday in Peru
= 11:30am Saturday in Florida
= 12:30pm Saturday in Brazil
= 4:30pm Saturday in the UK
= 5:30pm Saturday in France
= 5:30pm Saturday in South Africa
= 10:30pm Saturday in Thailand
= 12:30am Sunday in Japan
= 1:30am Sunday in Australia
= 2:30am Sunday in New Caledonia
= 3:30am Sunday in New Zealand