May 13, 2018
by Christopher Parker (@wheresbossman)
EuroTour Week #2: German Dark Horse Paul Ganse Outwits Big Names in Belgium; Susak Molinero Wins Second Straight Stop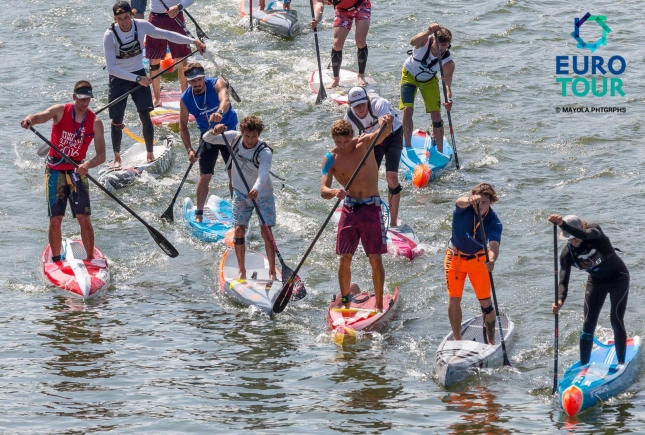 In brief: German dark horse Paul Ganse has taken the biggest win of his career after out-smarting a stack of big names in Belgium during the second week of the EuroTour.
Ganse, compatriot Norm Weber and Latvia's canoe cross-over athlete Arvis Iljins all took a different line towards the end of the flat water race, which was held on a river that offered up some strategic currents on opposite banks, which saw them overtake the front pack in the final metres.
The front pack were caught completely unawares, with some showing frustration at the finish in what they felt was a surprise attack.
But while the result was a little surprising, in the end it seems it was simply a smarter use of the currents by the river specialists, similar to what we've seen in other European races over the years. It's also great to see fresh faces on top of the podium and shows just how deep the talent pool runs in Europe these days.
On the women's side it was a second-straight salute for Spaniard Susak Molinero, who looks stronger than ever after several seasons on the fringes of the major European podiums.
Full recap/results to come. In the meantime, follow The Euro Tour on Facebook for full coverage.
Elite Women:
1st: Susak Molinero (Spain)
2nd: Petronella van Malsen (Netherlands)
3rd: Emma Reijmerink (Netherlands0
4th: Ella Oesterholt (Netherlands)
5th: Susanne Lier (Germany)
Elite Men:
1st: Paul Ganse (Germany)
2nd: Arvis Iljins (Latvia)
3rd: Norm Weber (Germany)
4th: Arthur Arutkin (France)
5th: Leo Nika (Italy)