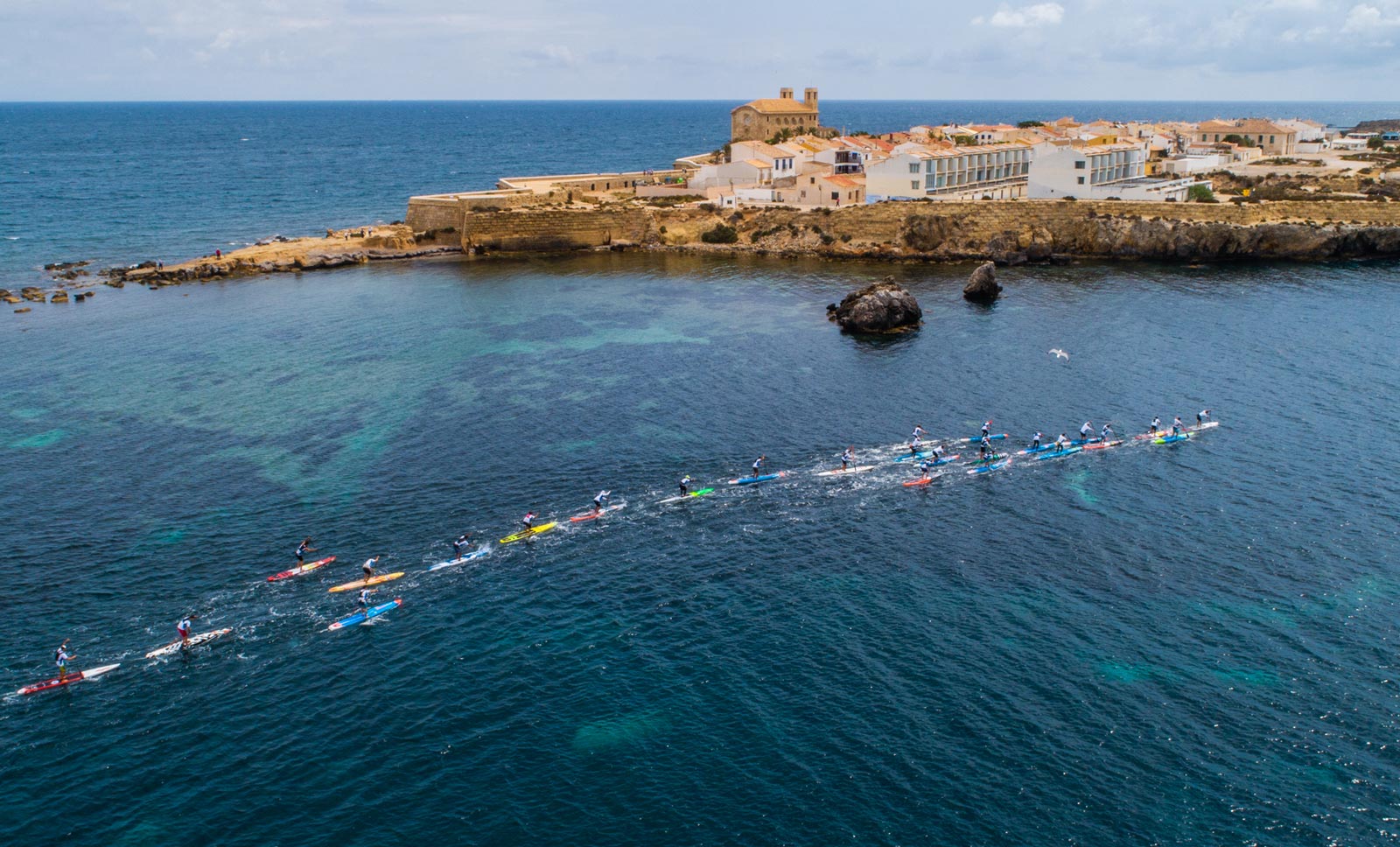 June 2, 2018
by Christopher Parker (@wheresbossman)
Michael Booth and Noelani Sach have won a wild week 5 of the EuroTour in Spain (full results).
In brief: Michael Booth has made it two from two in Europe, claiming today's wet'n'wild ocean race in Costa Blanca ahead of Starboard teammate Bruno Hasulyo and comeback kid Tom Auber.
With this weekend's World SUP Festival acting as a 4-star event on both the EuroTour and Paddle League, the victory extends Boothy's lead on The Paddle League World Rankings while sending him into equal first on the European ratings alongside Bruno.
The big story came in the women's race though, with this summer's surprise packet Noelani Sach taking her maiden international victory ahead of the seasoned Laura Quetglas and ever-strong Susak Molinero.
The win proves Noelani is one of the names to watch when the bumps were rolling, with today's 17km course offering competitors a mixture of brutal upwind for the first 5km before a solid downwind stretch for the 12km home.
The race wasn't without drama though: apart from the opening grind, there was an added 500 metres of upwind after the lead boat mistakenly sent paddlers to a distant final turning buoy. It changed nothing on the results sheet, but definitely added a exclamation point to what was a rollercoaster ride.
Big thanks to the Costa Blanca crew for pulling off a big event despite mother nature's best efforts to derail the show. Over 200 paddlers hit the water across the weekend in what was the biggest event of the summer so far.
Full recap and video incoming; in the meantime here are the full results.
| # | Athlete | Time | Division | Nation | EuroTour | Paddle League |
| --- | --- | --- | --- | --- | --- | --- |
| 1 | Michael Booth | 1:39:43 | Open | Australia | 40.00 | 40.00 |
| 2 | Bruno Hasulyo | 1:40:46 | Open | Hungary | 30.00 | 30.00 |
| 3 | Auber Tom | 1:41:17 | Open | France | 24.00 | 24.00 |
| 4 | Leonardo Nika | 1:41:41 | Open | Italy | 20.00 | 20.00 |
| 5 | Daniel Hasulyo | 1:42:55 | Open | Hungary | 17.00 | 17.00 |
| 6 | Guilherme dos Reis | 1:43:05 | Open | Brazil | 14.00 | 14.00 |
| 7 | Martin Vitry | 1:44:50 | Open | France | 12.00 | 12.00 |
| 8 | Vinnicius Martins | 1:47:22 | Open | Brazil | 10.00 | 10.00 |
| 9 | Ty Judson | 1:48:04 | Open | Australia | 9.00 | 9.00 |
| 10 | Paolo Marconi | 1:49:01 | Open | Italy | 8.00 | 8.00 |
| 11 | Ludovic Teulade | 1:50:25 | Open | France | 7.20 | 7.20 |
| 12 | Paul-Conrad Delaëre | 1:51:43 | Open | France | 6.40 | 6.40 |
| 13 | Rafael Sirvent Salazar | 1:52:05 | Open | Spain | 6.00 | 6.00 |
| 14 | James van Drunen | 1:52:20 | Open | UK | 5.60 | 5.60 |
| 15 | David Leao | 1:52:30 | Open | Brazil | 5.20 | 5.20 |
| 16 | Itzel Delgado | 1:52:33 | Open | Peru | 4.80 | 4.80 |
| 17 | Arthur Carvalho Mas Santacreu | 1:54:25 | Open | Brazil | 4.40 | 4.40 |
| 18 | Claudio Nika | 1:55:05 | Open | Italy | 4.00 | 4.00 |
| 19 | Pablo Ania Barrachina | 1:55:19 | Open | Spain | 3.60 | 3.60 |
| 20 | Tomás Sánchez Vecino | 1:56:29 | Open | Spain | 3.20 | 3.20 |
| 21 | Miquel Roigé Ferrer | 1:57:31 | Open | Spain | 3.00 | 3.00 |
| 22 | Ricardo Haverschmidt | 1:58:15 | Open | Netherlands | 2.80 | 2.80 |
| 23 | Nathan Cross | 1:58:22 | Open | Australia | 2.60 | 2.60 |
| 24 | Aaron Sanchez Quetglas | 1:59:43 | Junior | Spain | 2.40 | 2.40 |
| 25 | Lucas Cebreiros Benet | 1:59:56 | Junior | Spain | 2.20 | 2.20 |
| 26 | Francesco Mazzei | 2:00:27 | Open | Italy | 2.08 | 2.08 |
| 27 | Manuel Simoncelli Dominguez | 2:00:35 | Open | Spain | 1.96 | 1.96 |
| 28 | Xavi Ribó | 2:00:59 | Open | Spain | 1.84 | 1.84 |
| 29 | Jose Maria Avila Rios | 2:02:51 | Open | spain | 1.72 | 1.72 |
| 30 | Salvador Mora Martínez | 2:03:47 | Open | Spain | 1.60 | 1.60 |
| 31 | Iker Barbarrubio Villasante | 2:06:37 | Open | Spain | 1.52 | 1.52 |
| 32 | Manuel Hoyuela Rojas | 2:06:40 | Junior | Spain | 1.44 | 1.44 |
| 33 | Belar Diaz | 2:06:57 | Open | Spain | 1.36 | 1.36 |
| 34 | Telmo Irigoyen Leclercq | 2:09:29 | Open | Spain | 1.28 | 1.28 |
| 35 | Jose Juan Rumbeu | 2:10:21 | Open | Spain | 1.20 | 1.20 |
| 36 | Paul Ganse | 2:12:20 | Open | Germany | 1.12 | 1.12 |
| 37 | Nando Gómez Martínez | 2:12:41 | Junior | Spain | 1.04 | 1.04 |
| 38 | Sergi Nadal Gonzalez | 2:13:47 | Junior | France | 0.96 | 0.96 |
| 39 | Lluis Cubedo Tortosa | 2:16:33 | Open | Spain | 0.88 | 0.88 |
| 40 | Alain Teurquetil | 2:17:18 | Open | France | 0.80 | 0.80 |
| 41 | Rafael Mas Carvalho | 2:18:57 | Open | Spain | 0.76 | 0.76 |
| 42 | Txema Landa Leceta | 2:20:57 | Open | Spain | 0.72 | 0.72 |
| 43 | Tomas Lelovits | 2:20:58 | Open | Finland | 0.68 | 0.68 |
| 44 | Asier Aristizabal Cruz | 2:22:16 | Junior | Spain | 0.64 | 0.64 |
| 45 | Jopep Alvarez Benavent | 2:24:28 | Open | Spain | 0.60 | 0.60 |
| 46 | Jesus Planes Cerezo | 2:25:44 | Open | Spain | 0.56 | 0.56 |
| 47 | Aaron Martinez Martin | 2:25:47 | Junior | Spain | 0.52 | 0.52 |
| 48 | Isaac Hernandez Ubassy | 2:26:14 | Open | Spain | 0.48 | 0.48 |
| 49 | Ximo Sánchez Matarredona | 2:26:53 | Open | Spain | 0.44 | 0.44 |
| 50 | Julio Pérez Gómez | 2:29:40 | Open | Spain | 0.40 | 0.40 |
| 51 | Antoine Meunier | 2:30:43 | Open | Spain | 0.20 | 0.20 |
| 52 | Jordi Llistosella Benito | 2:30:59 | Open | Spain | 0.20 | 0.20 |
| 53 | Miguel Ángel Martínez Pérez | 2:32:47 | Open | Spain | 0.20 | 0.20 |
| 54 | Kyle Cochrane | 2:33:19 | Junior | Spain | 0.20 | 0.20 |
| 55 | Álvaro Hermida De La Fuente | 2:36:20 | Junior | Spain | 0.20 | 0.20 |
| 56 | Borja Ibiza Cortes | 2:39:32 | Open | Spain | 0.20 | 0.20 |
| 57 | Albert Folch Sancho | 2:41:15 | Open | Spain | 0.20 | 0.20 |
| 58 | Francisco Pérez Jiménez | 2:50:01 | Open | Spain | 0.20 | 0.20 |
| 59 | Emilio Irigoyen Del Castillo | 2:54:43 | Open | Spain | 0.20 | 0.20 |
| 60 | David Castilla Ramirez | 2:55:36 | Open | Spain | 0.20 | 0.20 |
| 61 | Francisco Ruiz Magaña | 2:56:01 | Open | Spain | 0.20 | 0.20 |
| 62 | Javier Moreno Ribe | 2:56:20 | Open | Spain | 0.20 | 0.20 |
| 63 | Francisco Miguel Luque Lobo | 3:02:21 | Open | Spain | 0.20 | 0.20 |
| 64 | Florian Macia | 3:07:53 | Open | Spain | 0.20 | 0.20 |
| 65 | Carl Schlienger | 3:09:26 | Junior | Spain | 0.20 | 0.20 |
| 66 | Pepe Kiles | 3:09:34 | Open | Spain | 0.20 | 0.20 |
| 67 | Gonzalo Gomez Dominguez | 3:10:19 | Open | Spain | 0.20 | 0.20 |
| 68 | Santi Canto | 3:11:30 | Open | Spain | 0.20 | 0.20 |
| 69 | Pedro Comas Gabarron | 3:13:01 | Open | Spain | 0.20 | 0.20 |
| 70 | Diego Mon Rodriguez | 3:14:00 | Open | Spain | 0.20 | 0.20 |
| 71 | Jose Martos Bohorquez | 3:14:52 | Open | Spain | 0.20 | 0.20 |
| 72 | Andres Martínez García | 3:15:29 | Open | Spain | 0.20 | 0.20 |
| 73 | Fco Javier Romero Torres | 3:18:32 | Open | Spain | 0.20 | 0.20 |
| 74 | Sebastian Abad Martinez | 3:18:57 | Open | Spain | 0.20 | 0.20 |
| 75 | Alvaro Porras Algaucil | 3:22:22 | Open | Spain | 0.20 | 0.20 |
| 76 | Roberto Vicente Ferri | 3:25:33 | Open | Spain | 0.20 | 0.20 |
| 77 | Fernando Gómez Sánchez | 3:31:04 | Open | Spain | 0.20 | 0.20 |
| 78 | Fernando Brotons Canto | 3:31:04 | Open | Spain | 0.20 | 0.20 |
| 79 | Noel Robert | 3:37:44 | Open | Spain | 0.20 | 0.20 |
| 80 | Miguel Angel Ariza Baquero | 3:39:21 | Open | Spain | 0.20 | 0.20 |
| 81 | Angel Ania Presa | 4:07:49 | Open | Spain | 0.20 | 0.20 |
| # | Athlete | Time | Nation | Categoria | EuroTour | Paddle League |
| --- | --- | --- | --- | --- | --- | --- |
| 1 | Noelani Sach | 2:12:16 | Germany | Open | 40.00 | 40.00 |
| 2 | Laura Quetglas | 2:14:31 | Spain | Open | 30.00 | 30.00 |
| 3 | Susak Molinero | 2:17:43 | Spain | Open | 24.00 | 24.00 |
| 4 | Caterina Stenta | 2:19:16 | Italy | Open | 20.00 | 20.00 |
| 5 | Susanne Lier | 2:20:56 | Germany | Open | 17.00 | 17.00 |
| 6 | Petronella van Malsen | 2:31:52 | Netherlands | Open | 14.00 | 14.00 |
| 7 | Cyara Palenzuela | 2:41:41 | Basque | Junior | 12.00 | 12.00 |
| 8 | Giannisa Vecco | 2:45:37 | Peru | Open | 10.00 | 10.00 |
| 9 | Sheila Sirvant | 2:49:13 | Spain | Junior | 9.00 | 9.00 |
| 10 | Anna Tschirky | 2:51:29 | Switzerland | Junior | 8.00 | 8.00 |
| 11 | Lidvina Champendal | 2:57:00 | Switzerland | Open | 7.20 | 7.20 |
| 12 | Cristina Lopez | 3:03:46 | Spain | Open | 6.40 | 6.40 |
| 13 | Marina Navarro | 3:05:34 | Spain | Open | 6.00 | 6.00 |
| 14 | Midori Sango | 3:12:15 | Spain | Open | 5.60 | 5.60 |
| 15 | Majo Duato | 3:21:41 | Spain | Open | 5.20 | 5.20 |
| 16 | Victoria Rizhova | 3:25:33 | | Junior | 4.80 | 4.80 |
| 17 | Gloria Casar | 3:26:26 | Spain | Open | 4.40 | 4.40 |
| 18 | Helene Reigadas | 3:28:40 | Spain | Open | 4.00 | 4.00 |
| 19 | Loles Simo | 3:45:32 | Spain | Open | 3.60 | 3.60 |
| 20 | Maria Grau | 3:57:52 | Spain | Open | 3.20 | 3.20 |
| 21 | Eva Ronda | 3:57:53 | Spain | Open | 3.00 | 3.00 |
| 22 | Victoria Hernandez | 4:04:19 | Spain | Open | 2.80 | 2.80 |