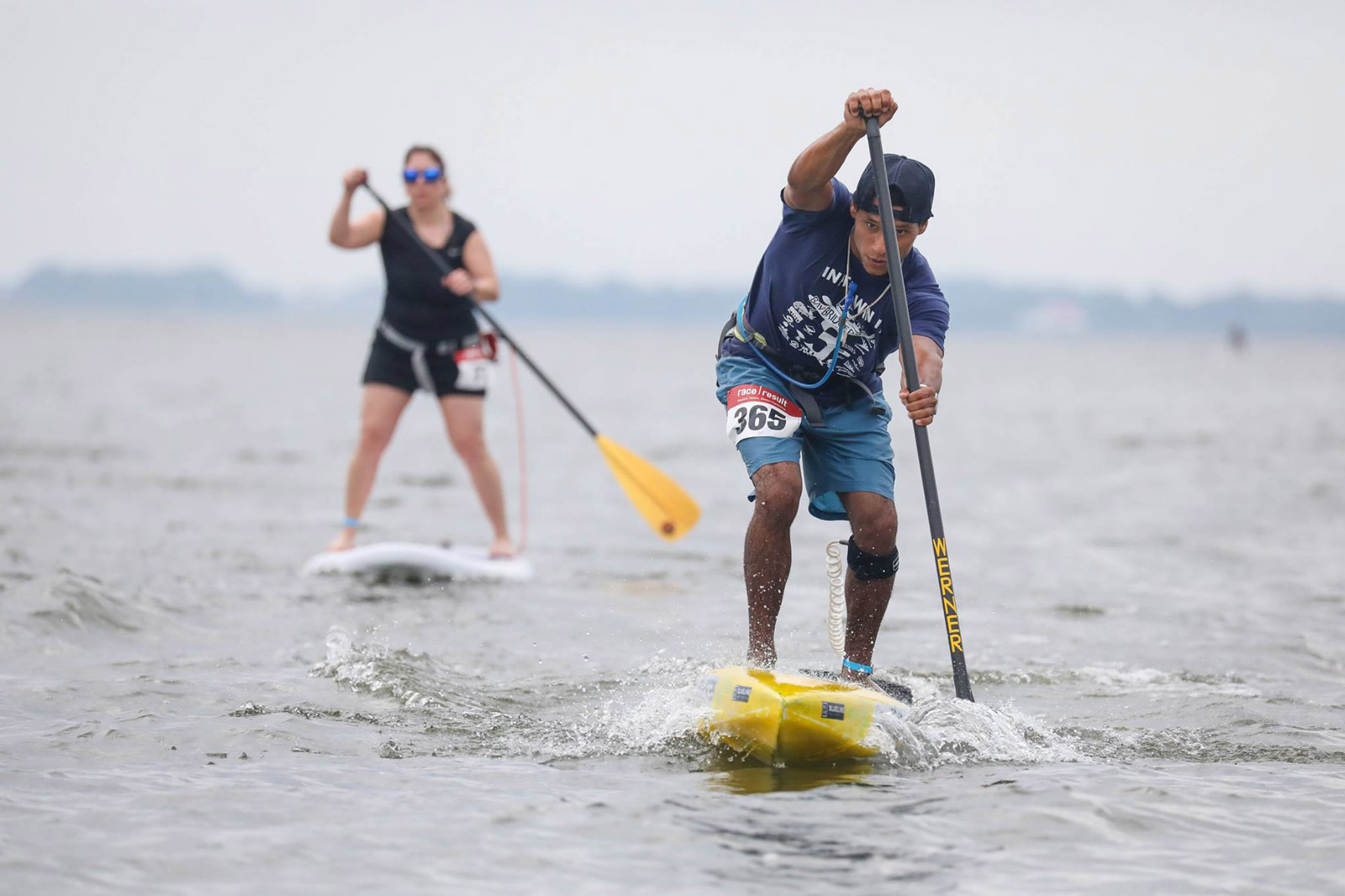 October 6, 2018
by Christopher Parker (@wheresbossman)
Eri Tenorio, Maddie Miller win the Chucktown Showdown to wrap up The Paddle League "Regionals" for Season 2018
https://www.instagram.com/p/Bowj51TAxmc/
In brief: Brazil's Eri Tenorio has finished the season with yet another win on The Paddle League regional series, taking out the Chucktown Showdown in Charleston, South Carolina ahead of former Olympian Tommy Buday Jr. The win is Eri's fourth of the season, matching his performances at the Bay Bridge Paddle, Battle of the Blueway and Stand Up for the Hooch.
His smart schedule of events sees Eri finish well inside the top 30 on The Paddle League World Rankings.
East Coast prodigy Maddie Miller was victorious in the women's Showdown after completing the 9-mile course in an hour and 45 minutes — four minutes clear of runner-up Kim Hillhouse.
More to come… (follow the Chucktown Showdown on Facebook for additional coverage).
https://www.instagram.com/p/BougzRrAWQd
---
MEN'S LONG COURSE
| # | Athlete | Time | Points |
| --- | --- | --- | --- |
| 1 | Eri TENORIO | 1:32:06 | 10.00 |
| 2 | Tommy BUDAY JR | 1:33:37 | 7.50 |
| 3 | Steve MILLER | 1:34:15 | 6.00 |
| 4 | John BATSON | 1:38:33 | 5.00 |
| 5 | Bill KRAFT | 1:39:57 | 4.25 |
| 6 | Jeremy WHITTED | 1:40:45 | 3.50 |
| 7 | Caleb CLARK | 1:41:28 | 3.00 |
| 8 | Steven BERNSTEIN | 1:42:39 | 2.50 |
| 9 | Dylan GEIGER | 1:42:41 | 2.25 |
| 10 | Ron GOSSARD | 1:44:38 | 2.00 |
| 11 | Terry SMITH | 1:44:50 | 1.80 |
| 12 | Shane SEKUL | 1:46:27 | 1.60 |
| 13 | Gary ROTHE | 1:46:38 | 1.50 |
| 14 | Troy GOSSARD | 1:47:56 | 1.40 |
| 15 | Steve PHILLIPS | 1:47:58 | 1.30 |
| 16 | Ken BOWMAN | 1:49:15 | 1.20 |
| 17 | Justin PAULSON | 1:49:54 | 1.10 |
| 18 | Nathan CHAMPION | 1:51:42 | 1.00 |
| 19 | Kevin MCFARLAND | 1:53:59 | 0.90 |
| 20 | Ian CLARK | 2:03:33 | 0.80 |
| 21 | Les THORNBURY | 2:07:47 | 0.75 |
| 22 | Joseph WELLING | 2:20:38 | 0.70 |
| 23 | Bobby NELSON | 2:21:40 | 0.65 |
| 24 | Jake WHEELER | 2:37:14 | 0.60 |
| 25 | Steve FISHER | 2:49:20 | 0.55 |
| 26 | Taylor GARRIGAN | 3:03:40 | 0.52 |
---
WOMEN'S LONG COURSE
| # | Athlete | Time | Points |
| --- | --- | --- | --- |
| 1 | Maddie Miller | 1:44:45 | 10.00 |
| 2 | Kim Hillhouse | 1:48:28 | 7.50 |
| 3 | Isabelle Picard | 1:53:46 | 6.00 |
| 4 | Jenny Alderman | 1:56:37 | 5.00 |
| 5 | Amy Clark | 1:56:40 | 4.25 |
| 6 | Karen Wilson | 1:58:19 | 3.50 |
| 7 | Jennifer Covington | 2:17:58 | 3.00 |
| 8 | Sharna Tolfree | 2:31:35 | 2.50 |
| 9 | Alice Batson | 2:32:42 | 2.25 |
| 10 | Martha Criscuolo | 2:33:23 | 2.00 |
| 11 | Michele Hoban | 2:54:20 | 1.80 |