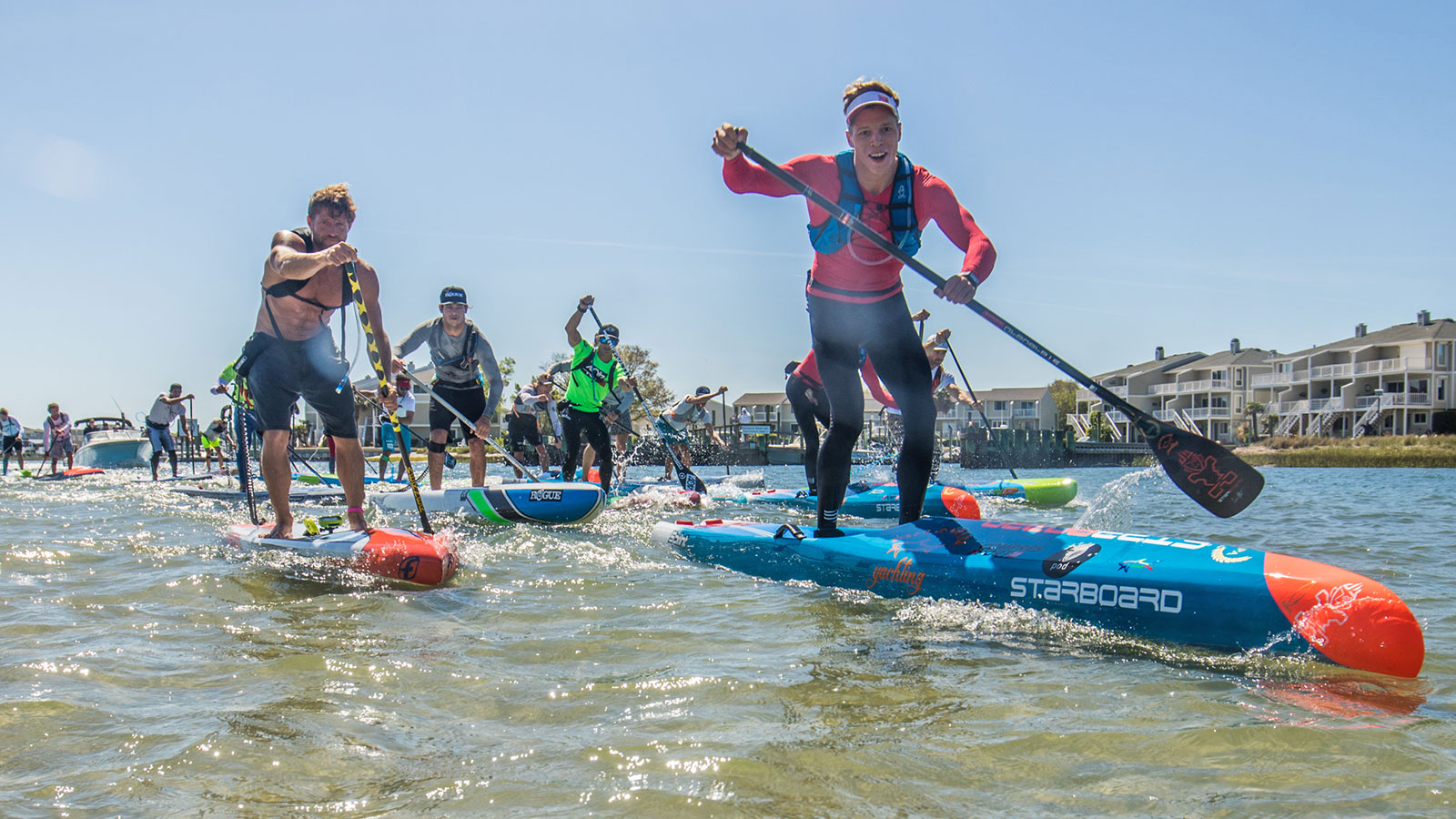 April 21, 2018
by Christopher Parker (@wheresbossman)
Here are the full results from the Quiksilver Waterman Carolina Cup, the second stop of The Paddle League World Tour.
Full results from today's epic Elite Graveyard Race here at the 2018 Quiksilver Waterman Carolina Cup in Wrightsville Beach.
An amazing day of racing with so many incredible stories. SUPConnect has a great recap of the day's action, while we'll be sharing our insights over the coming days.
For now, here are the full results including the all-important points for The Paddle League World Rankings.
---
ELITE GRAVEYARD: MEN
| # | Athlete | Time | Points | Nation |
| --- | --- | --- | --- | --- |
| 1 | Michael Booth | 2:03:14 | 100.00 | Australia |
| 2 | Travis Grant | 2:03:21 | 75.00 | Australia |
| 3 | Mo Freitas | 2:03:27 | 60.00 | Hawaii |
| 4 | Titouan Puyo | 2:03:43 | 50.00 | France |
| 5 | Georges Cronsteadt | 2:03:49 | 42.50 | Tahiti |
| 6 | Marcus Hansen | 2:04:51 | 35.00 | New Zealand |
| 7 | Lincoln Dews | 2:05:02 | 30.00 | Australia |
| 8 | Niuhiti Buillard | 2:05:26 | 25.00 | Tahiti |
| 9 | Bruno Hasulyo | 2:05:30 | 22.50 | Hungary |
| 10 | Danny Ching | 2:05:35 | 20.00 | USA |
| 11 | Josh Riccio | 2:05:43 | 18.00 | USA |
| 12 | Daniel Hasulyo | 2:05:46 | 16.00 | Hungary |
| 13 | Ty Judson | 2:06:17 | 15.00 | Australia |
| 14 | Enzo Bennett | 2:07:27 | 14.00 | Tahiti |
| 15 | Vinnicius Martins | 2:07:44 | 13.00 | Brazil |
| 16 | Connor Baxter | 2:07:54 | 12.00 | Hawaii |
| 17 | Martin Vitry | 2:08:11 | 11.00 | France |
| 18 | Tom Auber | 2:08:58 | 10.00 | France |
| 19 | Kelly Margetts | 2:09:06 | 9.00 | Australia |
| 20 | Martino Rogai | 2:09:15 | 8.00 | Italy |
| 21 | Kenny Kaneko | 2:10:06 | 7.50 | Japan |
| 22 | Itzel Delgado | 2:13:22 | 7.00 | Peru |
| 23 | Federico Esposito | 2:13:28 | 6.50 | Italy |
| 24 | Harry Maskell | 2:16:34 | 6.00 | Australia |
| 25 | Ryland Hart | 2:17:04 | 5.50 | USA |
| 26 | Fernando Stalla | 2:18:49 | 5.20 | Mexico |
| 27 | Eri Tenorio | 2:19:40 | 4.90 | Brazil |
| 28 | Nathan Cross | 2:20:30 | 4.60 | Australia |
| 29 | Larry Cain | 2:21:00 | 4.30 | Canada |
| 30 | Tommy Buday | 2:21:04 | 4.00 | Canada |
| 31 | Steve Miller | 2:21:35 | 3.80 | USA |
| 32 | Harrison Deisroth | 2:23:00 | 3.60 | USA |
| 33 | Guilherme Cunha | 2:23:28 | 3.40 | Brazil |
| 34 | Sam English | 2:23:38 | 3.20 | USA |
| 35 | Tim Warner | 2:24:11 | 3.00 | USA |
| 36 | Bill Kraft | 2:25:41 | 2.80 | Virgin Islands |
| 37 | Tyler Bashor | 2:28:58 | 2.60 | USA |
| 38 | Elijah Schoenig | 2:29:19 | 2.40 | USA |
| 39 | Jeramie Vaine | 2:32:00 | 2.20 | USA |
| 40 | Jeisson Tovar | 2:34:58 | 2.00 | Panama |
| 41 | Robert Hess | 2:36:24 | 1.90 | USA |
| 42 | John Batson | 2:37:24 | 1.80 | USA |
| 43 | Paul Jackson | 2:37:31 | 1.70 | Australia |
| 44 | Derek Schrotter | 2:39:29 | 1.60 | Canada |
| 45 | Packet Casey | 2:39:50 | 1.50 | USA |
| 46 | Tim Oliver | 2:41:34 | 1.40 | Canada |
| 47 | Zach Rounsaville | 2:42:35 | 1.30 | USA |
| 48 | Jake Graham | 2:44:19 | 1.20 | USA |
| 49 | Gary Rothe | 2:44:52 | 1.10 | USA |
| 50 | Steven Bernstein | 2:45:16 | 1.00 | USA |
| 51 | Eric Johnston | 2:45:54 | 0.00 | |
| 52 | Steven Barry | 2:46:49 | 0.00 | |
| 53 | Terry Smith | 2:47:39 | 0.00 | |
| 54 | Andew Mencinsky | 2:48:53 | 0.00 | |
| 55 | Dan Hamzic | 2:50:03 | 0.00 | |
| 56 | Travis Kindt | 2:51:08 | 0.00 | |
| 57 | Jack Ballard | 2:52:41 | 0.00 | |
| 58 | Caleb Clark | 2:53:14 | 0.00 | |
| 59 | Gray Berryman | 2:54:15 | 0.00 | |
| 60 | Robin Delgado | 2:55:42 | 0.00 | |
| 61 | Dylan Geiger | 2:57:16 | 0.00 | |
| 62 | Tomas Pecinka | 2:57:48 | 0.00 | |
| 63 | Eric Carter | 3:00:07 | 0.00 | |
| 64 | Robert Norman | 3:00:10 | 0.00 | |
| 65 | Anthony Galang | 3:00:49 | 0.00 | |
| 66 | Rob Moran | 3:00:52 | 0.00 | |
| 67 | Kenny Balcerski | 3:02:06 | 0.00 | |
| 68 | Bob Rueter | 3:03:40 | 0.00 | |
| 69 | Kyle Ellison | 3:04:03 | 0.00 | |
| 70 | Dan Miller | 3:05:21 | 0.00 | |
| 71 | Ken Bowman | 3:06:00 | 0.00 | |
| 72 | Daniel Rapp | 3:06:24 | 0.00 | |
| 73 | Gabriel Koko Decaran-Voight | 3:10:22 | 0.00 | |
| 74 | Wayne Best | 3:11:53 | 0.00 | |
| 75 | Gander Tawaststjerna | 3:12:16 | 0.00 | |
| 76 | Troy Gossard | 3:15:04 | 0.00 | |
| 77 | Nathan Champion | 3:15:25 | 0.00 | |
| 78 | Russ Scully | 3:16:15 | 0.00 | |
| 79 | Tim Burke | 3:16:56 | 0.00 | |
| 80 | Brian Coen | 3:17:17 | 0.00 | |
| 81 | Will Lathan | 3:18:11 | 0.00 | |
| 82 | Peter Allen | 3:18:13 | 0.00 | |
| 83 | Adam Pollock | 3:18:18 | 0.00 | |
| 84 | Ed Pierce | 3:18:47 | 0.00 | |
| 85 | Viktor Milev | 3:22:06 | 0.00 | |
| 86 | Kevin Kahikina | 3:22:44 | 0.00 | |
| 87 | Frank Torres | 3:22:56 | 0.00 | |
| 88 | Jamie Penland | 3:24:48 | 0.00 | |
| 89 | Adrian Angell | 3:25:42 | 0.00 | |
| 90 | Bart Schad | 3:26:42 | 0.00 | |
| 91 | Les Thornbury | 3:27:32 | 0.00 | |
| 92 | Adam Piepkorn | 3:27:37 | 0.00 | |
| 93 | Ramon Mercado | 3:28:56 | 0.00 | |
| 94 | Mark Herman | 3:29:38 | 0.00 | |
| 95 | Mark Sumner | 3:30:29 | 0.00 | |
| 96 | Bobby Nelson | 3:31:31 | 0.00 | |
| 97 | Edmonds Bafford | 3:33:35 | 0.00 | |
| 98 | Nick Jimenez | 3:34:01 | 0.00 | |
| 99 | Erik Lumbert | 3:35:41 | 0.00 | |
| 100 | Mike White | 3:42:01 | 0.00 | |
| 101 | Jeff Henderson | 3:42:35 | 0.00 | |
| 102 | Ted Nelson | 3:47:44 | 0.00 | |
| 103 | Bernardo Isacovici | 3:51:47 | 0.00 | |
| 104 | Michael Treman | 4:00:34 | 0.00 | |
---
ELITE GRAVEYARD: WOMEN
| # | Athlete | Time | Points | Nation |
| --- | --- | --- | --- | --- |
| 1 | Sonni Hönscheid | 2:20:35 | 100.00 | Germany |
| 2 | Olivia Piana | 2:23:38 | 75.00 | France |
| 3 | Fiona Wylde | 2:25:19 | 60.00 | USA |
| 4 | April Zilg | 2:28:26 | 50.00 | USA |
| 5 | Seychelle | 2:29:22 | 42.50 | USA |
| 6 | Candice Appleby | 2:30:39 | 35.00 | USA |
| 7 | Terrene Black | 2:30:40 | 30.00 | Australia |
| 8 | Shae Foudy | 2:31:32 | 25.00 | USA |
| 9 | Yuka Sato | 2:34:34 | 22.50 | Japan |
| 10 | Laura Quetglas | 2:37:19 | 20.00 | Spain |
| 11 | Jade Howson | 2:37:54 | 18.00 | USA |
| 12 | Erika Benitez | 2:38:09 | 16.00 | Mexico |
| 13 | Lina Augaitis | 2:41:55 | 15.00 | Canada |
| 14 | Maddie Miller | 2:42:33 | 14.00 | USA |
| 15 | Kimberly Barnes | 2:43:33 | 13.00 | USA |
| 16 | Angela Jackson | 2:43:53 | 12.00 | Australia |
| 17 | Stephanie Shideler | 2:43:55 | 11.00 | USA |
| 18 | Sarah Weyenberg | 2:51:16 | 10.00 | USA |
| 19 | Claire Merry | 2:53:05 | 9.00 | Canada |
| 20 | Mary Howser | 3:02:56 | 8.00 | USA |
| 21 | Alejandra Brito | 3:13:23 | 7.50 | Mexico |
| 22 | Kate Lewis | 3:15:51 | 7.00 | USA |
| 23 | Tracey Finlay | 3:17:02 | 6.50 | USA |
| 24 | Jenna Blackburn | 3:24:20 | 6.00 | USA |
| 25 | Noriko Okaya | 3:24:24 | 5.50 | USA |
| 26 | Louanne Harris | 3:27:00 | 5.20 | USA |
| 27 | Stevie Bodden | 3:27:38 | 4.90 | USA |
| 28 | Michelle Currier | 3:40:08 | 4.60 | USA |
| 29 | Evelyn O'Doherty | 3:40:33 | 4.30 | USA |
| 30 | Karen Kennedy | 3:41:54 | 4.00 | USA |
| 31 | Teresa Plitt | 3:43:33 | 3.80 | USA |
| 32 | Josette Lata | 3:44:06 | 3.60 | USA |
| 33 | Karen Wilson | 3:44:45 | 3.40 | USA |
---
OPEN RACES
We'll post the results from Harbor Island, Money Island, Kids Race and the OC-1/Surfski races shortly. In the meantime, click here for raw results from all divisions