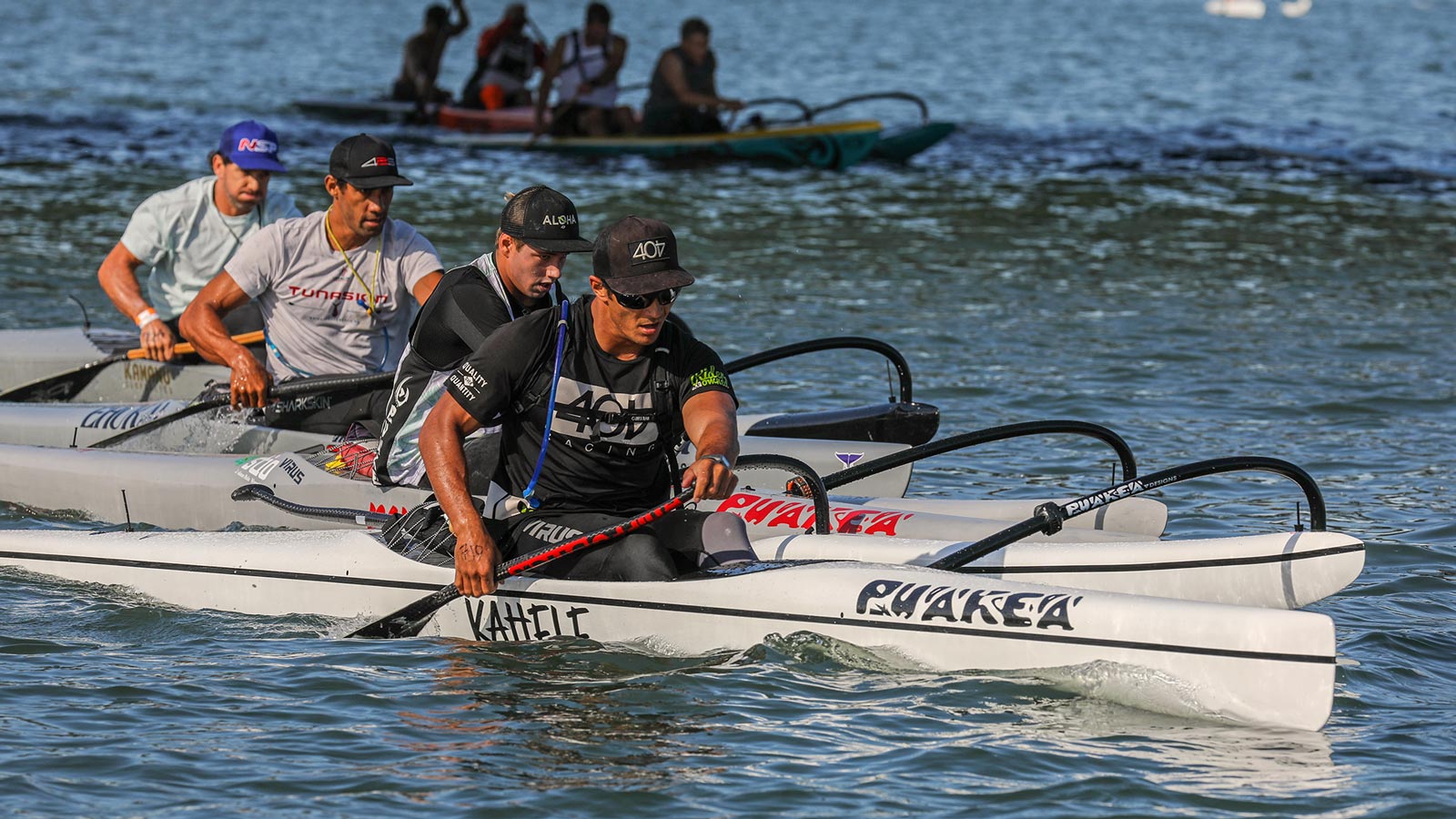 April 22, 2018
by Christopher Parker (@wheresbossman)
Outrigger canoes and surfskis took over the Carolina Cup on Sunday.
Synchronised paddling, anyone?
Carolina isn't just about SUP: the outrigger canoes and surfskis took over on Sunday for another loop around the infamous Graveyard course.
Pictured above are Danny Ching, Ryland Hart, Georges Cronsteadt and Travis Grant in perfect formation. How good is that shot? You couldn't set that up if you tried.
Travis went one spot better than Saturday after narrowly taking the win ahead of Danny, while Georges was third and Ryland and fellow young gun Harrison Deisroth rounded out the top five.
Hometown hero April Zilg took out the women's OC-1 event ahead of Danny's wife Leah, while Michael Booth claimed the weekend double with a win in the surfski race (in case you were wondering why Boothy is so strong in SUP: surfski was his original sport). The ski race also featured legend of the sport Oscar Chalupsky from South Africa.
Follow The Paddle League on Facebook for more shots from Sunday.
SUNDAY RESULTS
Men's outrigger
1st: Travis Grant (1:43:53)
2nd: Danny Ching (1:44:08)
3rd: Georges Cronsteadt (1:46:01)
4th: Ryland Hart (1:46:22)
5th: Harrison Deisroth (1:47:28)
Women's outrigger
1st: April Zilg (2:01:18)
2nd: Leah Ching (2:04:26)
3rd: Aimee Spector (2:09:42)
4th: Margo Pellegrino (2:50:16)
5th: Sunny Jackson (2:50:17)
Men's surfski
1st: Michael Booth (1:34:30)
2nd: Nate Humberston (1:36:07)
3rd: Oscar Chalupsky (1:39:31)
4th: Eric Mims (1:40:09)
5th: Flavio Costa (1:41:06)
Women's champ: Kata Dismukes (2:15:23)