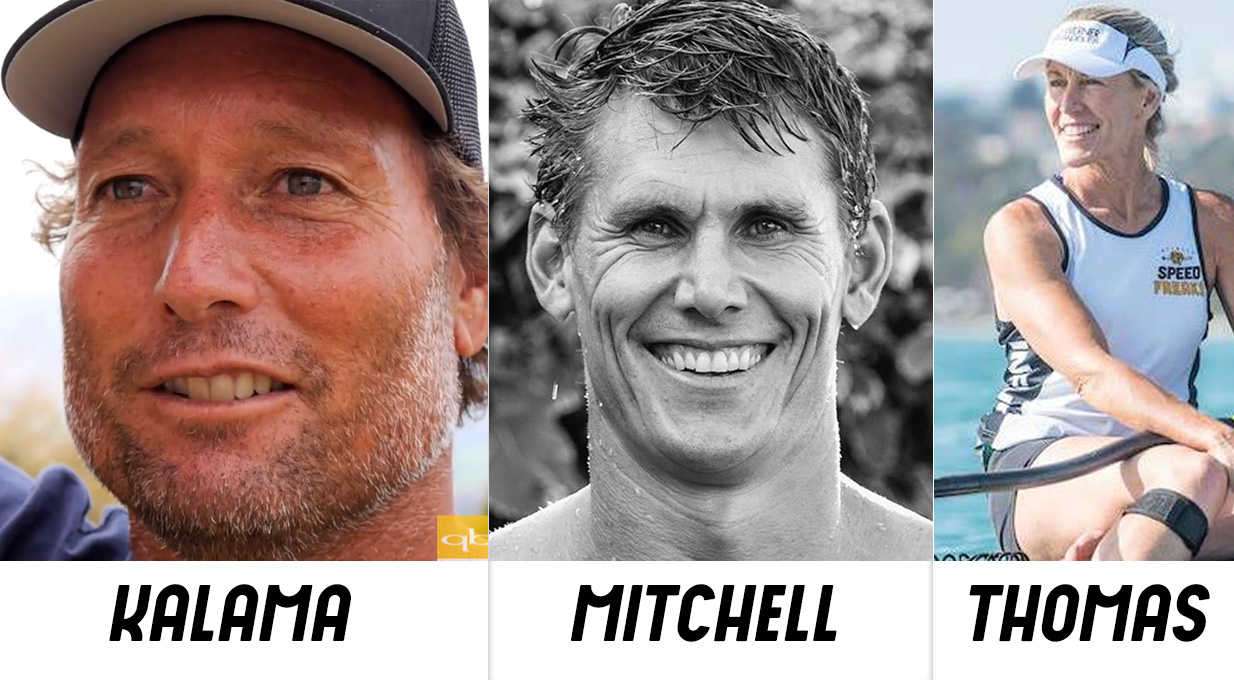 April 19, 2018
by Christopher Parker (@wheresbossman)
Meet the Commentary Dream Team Calling the Quiksilver Waterman Carolina Cup for The Paddle League on Saturday
Less than 48 hours til race day at the Quiksilver Waterman Carolina Cup here in the sleepy-hollow-turned-paddling-mecca of Wrightsville Beach.
With its mix of elite superstars and everyday paddlers combined with a festival setup and early-season "reunion" atmosphere, Carolina is always a special stop on the circuit. This year, however, the cake's got a nice little cherry on top in the form of The Paddle League World Tour, which aims to give the sport a solid foundation and help support/elevate these classic races such as Carolina–the events that act as true pillars of our sport.
But if you can't make it to North Carolina, fear not: The Paddle League will bring you the whole show LIVE on Facebook on Saturday morning (scroll down to find out exactly when to watch around the world).
While the Carolina festival runs from the 18th to the 22nd and features everything from clinics to parties to racing for every level, the big show starts at 10am on Saturday: The infamous, 13 mile (21km) Elite "Graveyard" Race that circumnavigates the long, sand-bank style island known as Wrightsville.
And what a show it's going to be this year.
The Graveyard always serves up some delicious storylines, but I sense this year could go next level. I don't want to hype it up *too* much, but I've never been so excited to watch the action unfold. The level of talent in the men's field is off the richter, while we're guaranteed to see the most exciting women's contest ever.
For starters, five-time uber-champion Annabel Anderson is out through injury meaning there's definitely going to be a fresh face on top of the women's podium. But even more telling is the level of talent we've seen emerge in the women's sport over the past year: For the first time, we've got almost a dozen women that could legitimately win a major race. And I mean win, not just place. That's unheard of in our sport.
The big guns: Sonni Honscheid, Fiona Wylde, Olivia Piana, Candice Appleby, Terrene Black, Angie Jackson and Seychelle. The young guns: Shae Foudy, Fiona Wylde, Jade Howson and Erika Benitrz. The dark horses such as Yuka Sato, Laura Quetglas and former local wildcard turned West Coast pro April Zilg. The comeback Queen Lina Augaitis.
That's already 15 right there, and I'm probably forgetting a few of the ladies in my jetlagged state. So yeah, it's gonna be a show.
And you can double that number in the men's field. In fact, think of virtually any top-ranked paddler and there's a good chance they're here.
Titouan Puyo, Connor Baxter, Travis Grant, Michael Booth, Mo Freitas, Marcus Hansen, Lincoln Dews, Bruno Hasulyo, Danny Ching, Georges Cronsteadt, Daniel Hasulyo, Vinni Martins, Josh Riccio, Martin Vitry, Kelly Margetts, Tom Auber, Martino Rogai, Kenny Kaneko, Ty Judson, Itzel Delgado, Nathan Cross… the list goes on.
Just hitting top 20 in this race will be a genuine achievement, and I expect there will be big names outside the top 30; the Graveyard is going to bury a few egos on Saturday.
But no matter who wins, you'll be the first to find out if you're watching The Paddle League live stream on Facebook. We're not promising an ESPN production, but we are going to have some fun with it and try to bring you an entertaining, front row seat for one of the biggest shows in SUP.
We're also going to have every angle covered this year: The Paddle League's Carolina Cup webcast will have a lead camera boat following the men plus a dedicated camera boat tracking the women's field, and we'll be switching between the two feeds within the one Facebook Live stream.
But more important than the camera angles are the voices bringing you the play-by-play, and this year I'm pretty damn excited to have some of the biggest and most entertaining names in the sport joining me in the booth…

---

DAVE KALAMA

The man, the myth, the legend. Dave Kalama needs no introduction.
One of the pioneers of our sport and a master of one-liners, Kalama brings a wealth of knowledge and a helluva lotta fun to the broadcast.
Dave will be on the lead boat following the men's race and delivering his unique insights into the contest.
---

JAMIE MITCHELL

We're pretty stoked to have 10x time Molokai champion and Big Wave World Tour hero Jamie Mitchell calling the race with us this year.
Jamie is not only one of the most respected athletes in the ocean, he's also a veteran of this race after competing in the 2013 and 2014 Graveyards.
Mitcho is in town as a special guest of title sponsor Quiksilver Waterman, and the humble Aussie world-beater will be peppering our feed with special comments in his signature tell it like it is style that we love.
---

KRISTIN THOMAS

Probably the most experienced woman in the SUP world, Kristin brings a decade of knowledge about the sport – as both an athlete and industry insider – to the new role of The Paddle League's lead female commentator.
KT is going to be out on the second camera boat following the women's race from start to finish, and we'll be crossing to her every five minutes or so — meaning you'll have a front row seat of both the men's AND women's race this year.
Stoked to have this female paddling pioneer on the team.
---

BOSS MAN
Yours truly will be running the commentary booth from our home base at the Blockade Runner Beach Resort, and I'll chatting with Dave, Jamie and Kristin while also throwing out plenty of stats and trivia from this storied event.
We'll also have a small army of photographers getting the shots, so expect Carolina for days on our Instagram feed.
As always I present the following disclaimer: Don't expect ESPN-quality, but do expect a front row seat for one of the biggest races in the sport.

We can't wait to share the Quiksilver Waterman Carolina Cup with the world, and we invite you to tune in from 10am local time on Saturday.

---
WHEN TO WATCH
The Elite Graveyard Race starts at 10am Saturday, though we're aiming to be on air about 20 or 30 minutes before that with a preview show.
Watch the stream LIVE on The Paddle League Facebook page
10am Saturday in North Carolina
= 7am Saturday in California
= 4am Saturday in Hawaii
= 4am Saturday in Tahiti
= 9am Saturday in Peru
= 11am Saturday in Brazil
= 3pm Saturday in the UK
= 4pm Saturday in South Africa
= 4pm Saturday in France
= 9pm Saturday in Thailand
= 10pm Saturday in Western Australia
= 11pm Saturday in Japan
= midnight Saturday night in Eastern Australia
= 1am Sunday in New Caledonia
= 2am Sunday in New Zealand
See you on Saturday.
[notdevice][fbvideo link="https://www.facebook.com/paddleleague/videos/1710240175726693/" width="645″ height="363″ onlyvideo="1″][/notdevice][device][fbvideo link="https://www.facebook.com/paddleleague/videos/1710240175726693/" width="322″ height="181″ onlyvideo="1″][/device]