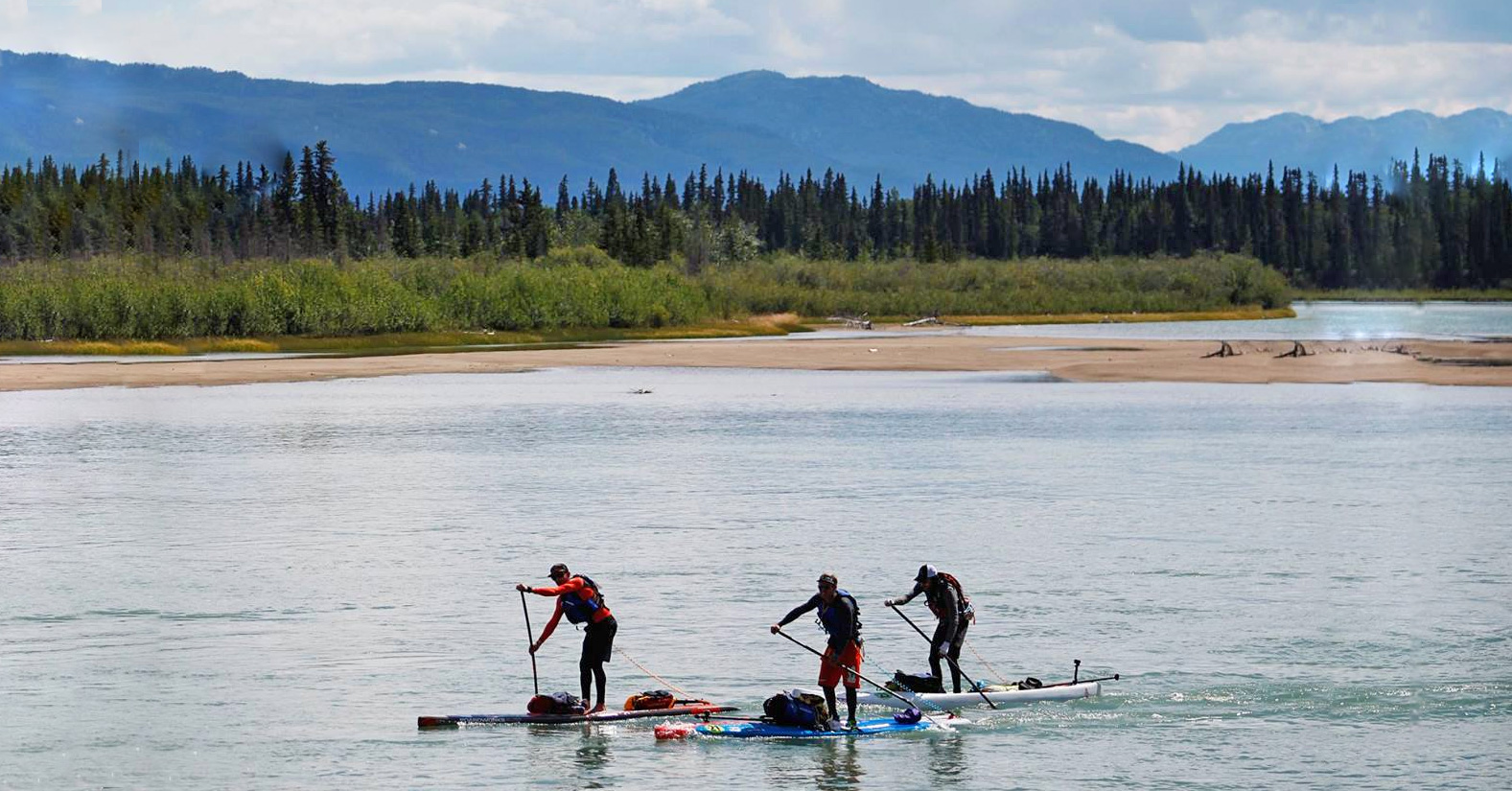 June 28, 2017
by Christopher Parker (@wheresbossman)
Yukon River Quest: The Longest, Craziest, Most Epic Race in the World Starts TODAY
FRIDAY UPDATE: Bart de Zwart just crossed the finish line to complete the Odyssey in a record time of 52 hours! Follow our updated Yukon River Quest results post for more coverage.
The 2017 Yukon River Quest, arguably the toughest, craziest and most extraordinary race in the world of paddling, is set to begin today in the Canadian wilderness, with eight bold and adventurous stand up paddlers joining dozens of canoe and kayak competitors for the 715km (444 mile) odyssey along the infamous Yukon River.
With finishing times estimated between a staggering 50 and 84 hours (the latter being the official cut off), the Yukon River Quest is by far the longest annual paddle race* anywhere on planet Earth.
This is the second year that SUP athletes have been allowed to enter this almighty adventure race, with last year's trial class proving that stand up paddlers could match it with their sit-down cousins on this remote stretch of water that dissects one of North America's most sparsely populated regions.
Starting in 'White Horse' and heading north to the former gold mining frontier town of 'Dawson', the Yukon River Quest sees competitors paddling all day and all night (literally) through untouched wilderness, with only two mandatory rest stops (6 and 3 hours, respectively) giving them any respite from the seemingly-endless waterway.
To say this race is a physical challenge would be an understatement, but to say the Yukon River Quest is a mental challenge doesn't even tell half the story. This race will seriously mess with your head.
As an example: Lina Augaitis, one of the world's toughest and most accomplished female stand up paddlers that was part of the inaugural Yukon class in 2016, told me how she started hallucinating and seeing dead bodies floating in the water towards the end of her Yukon campaign. Other competitors spoke of hearing strange voices or seeing mysterious shapes on the shoreline as they battled not only the extreme mental fatigue but also the extraordinary remoteness of the Yukon region.
There are famous stories from earlier editions of this race where competitors were convinced they saw "dancing bears" and people walking on water, while the official race waiver lists hypothermia and wild fires (along with simply "bears") as some of the realistic dangers that all competitors must be aware of.
Yep, this race is pretty hardcore.
The adventure begins at lunchtime today (Wednesday) and, if all goes to plan, the finishers will cross the line on Friday evening.
Here's the full course map to put the challenge into perspective:
The 8x brave stand up paddlers tackling the mighty Yukon River Quest this year, all of whom deserve a lot of respect for just showing up on the start line, are: Bart de Zwart, Jason Bennett, Peter Allen, Chris Christie, Stuart Knaack, Joanne Hamilton-Vale, Carmen Merkel, and Emily Matthews.
You can follow their progress along this extraordinary quest over on the GPS tracking map, while the official Yukon River Quest Facebook page should have regular updates.
As they were completing their final preparations this morning, I spoke with Joanne Hamilton-Vale about her second attempt at the Yukon. Jo was forced to retire from last year's race after falling ill mid-race in 2016, however she has a very good reason to finish it this year: Jo left here wedding ring with one of the race organisers and told them not to return it until she finished the race.
"Pretty nervous to be on the start line again after retiring last year, but I'm feeling a lot better and fitter this time. Plus I have a real solid purpose to get to the finish line in Dawson to pick up my wedding ring! The race is not going to beat me this year. I'm going to focus on it like any other race; I know I have the distance in me, so now it's just time to go and get the job done. I wish every other paddler a safe and happy journey, and I'll speak to you when we reach the finish line."
Meanwhile, last year's SUP champion and undisputed king of endurance paddling, Bart de Zwart, was generous enough to sit down and write up this preview on the eve of the race:
Tomorrow we start Yukon River Quest for the second year in a row. Doing this for the second time is a little easier because it takes some of the guessing out of the equation: i.e. guessing how much food you need, what the river is like, how to read the currents to find the fastest water around the more strategic parts of the course, and many other questions you have when you do a race this long and remote.

There are about 100 paddlers getting ready for Wednesday's start, including one- and two-man canoes and kayks, 8-12 person "voyageur" canoes, and of course us stand up paddlers. Of all the racers there are only about 30 solo paddlers allowed while the rest are two (or more) person teams.
I have been watching the weather the last two weeks and it looks pretty good, at least for now, though things can change quickly in this part of the world. The biggest worry with this race is the lake near the beginning: it is 45 km long, and it's where you can get a strong head wind that could make it hard to reach the cut off time at the end of the lake.

But like I said, for now it looks all good. Though "good" in terms of the Yukon River Quest is a relative term: there is still a chance of thunder storms and even some wildfires when we get closer to the finish.

The Yukon River is very remote with only a few road access points along the entire 715km course, which means you are on your own for most of it. The river changes in scenery, and we see a lot wildlife along the way — paddlers are advised to carry bear spray among our serious pack of safety equipment.

But mostly we are busy looking at the water, always searching for the fastest water because the river does have a strong current. Last year I lost a lot of time by going the wrong side of an island in the middle of a wide section of the river, for example, so strategy becomes a big part of this race. And that's not easy when you haven't slept for two days.

This down-river current plays a big part in the race, and it helps explain why we're able to maintain an average speed of 13km per hour for 55 straight hours and cover more than 700 kilometres in a little more than two days.
One interesting and kind of funny part about this race is the prize money. There is a very impressive $39,000 prize purse, which is quite extraordinary for a race that is mainly about the adventure and not the competition. However there is a big "but" on the prize purse: it is only distributed among finishers that complete the course in under 55 hours.

For stand up paddlers, which are the slowest craft in the race, this is not an easy task. Last year I reached the finish line in first place for the SUP division with a time of 54 hours 41 minutes, so it will be interesting to see if any of us can crack the magic 55 hour mark this time.

But like I said, the Yukon River Quest isn't really a competition or a race for prize money, this is mainly a race against yourself; it is as much a mental challenge as a physical one.

To say this is a long race would be an understatement. You will find yourself standing there on your board, in the middle of nowhere in the Canadian wilderness, with every single muscle in your body aching and screaming for you to quit, only to look down at your watch and realise you have another 20 hours of paddling before the finish line. It is a very interesting experience where you will learn a lot about yourself.

Funnily enough, when I left the second of the two mandatory rest stops last year (a 3 hour "pit stop" at the suitably named 'Coffee Creek'), I thought to myself; "Alright, we're on the home stretch, only 12 more hours to go!" That kind of summarises how long this race is for me.

I suppose it goes without saying that the Yukon River Quest is a very different to any other stand up paddle race you will ever do, but I think it's a race that everyone should consider attempting at one point in their paddling lives; this is a race where simply crossing the finish line is the main goal.
After our pioneering group of SUP competitors attempted the race last year, it's good to see a few familiar faces back in Canada. Jason Bennett (who was 3rd last year) will be on the water again, and this year he'll be joined by his girlfriend Carmen Merkel, who was a big part of the support team that followed the paddlers the whole way along the river last time.

(While there are two main rest stops and several refueling points, we do carry a lot of gear on our boards as we will often go several hours without seeing another single person or any form of civilisation.)

One very familiar name from the endurance SUP world is Joanne Hamilton-Vale who currently holds the women's 24 hour distance world record. Jo became very ill out on the water 12 months ago and had to retire from the race, but she's so determined that she gave her wedding ring to one of the event organisers after last year's race and told them not to return it until she completed the course. Now that is commitment.
https://www.instagram.com/p/BV5LIaBlhTZ/
https://www.instagram.com/p/BV1NGsIBe1p/
https://www.instagram.com/p/BV5IYC9nyBe/
https://www.instagram.com/p/BV5EBepBhec/
* While the Yukon River Quest is billed as the "longest annual paddle race in the world," there is technically an even longer race: the biennial 'Yukon 1000' that extends the Yukon River Quest course to cover an extraordinary 1000 miles (1610kms).