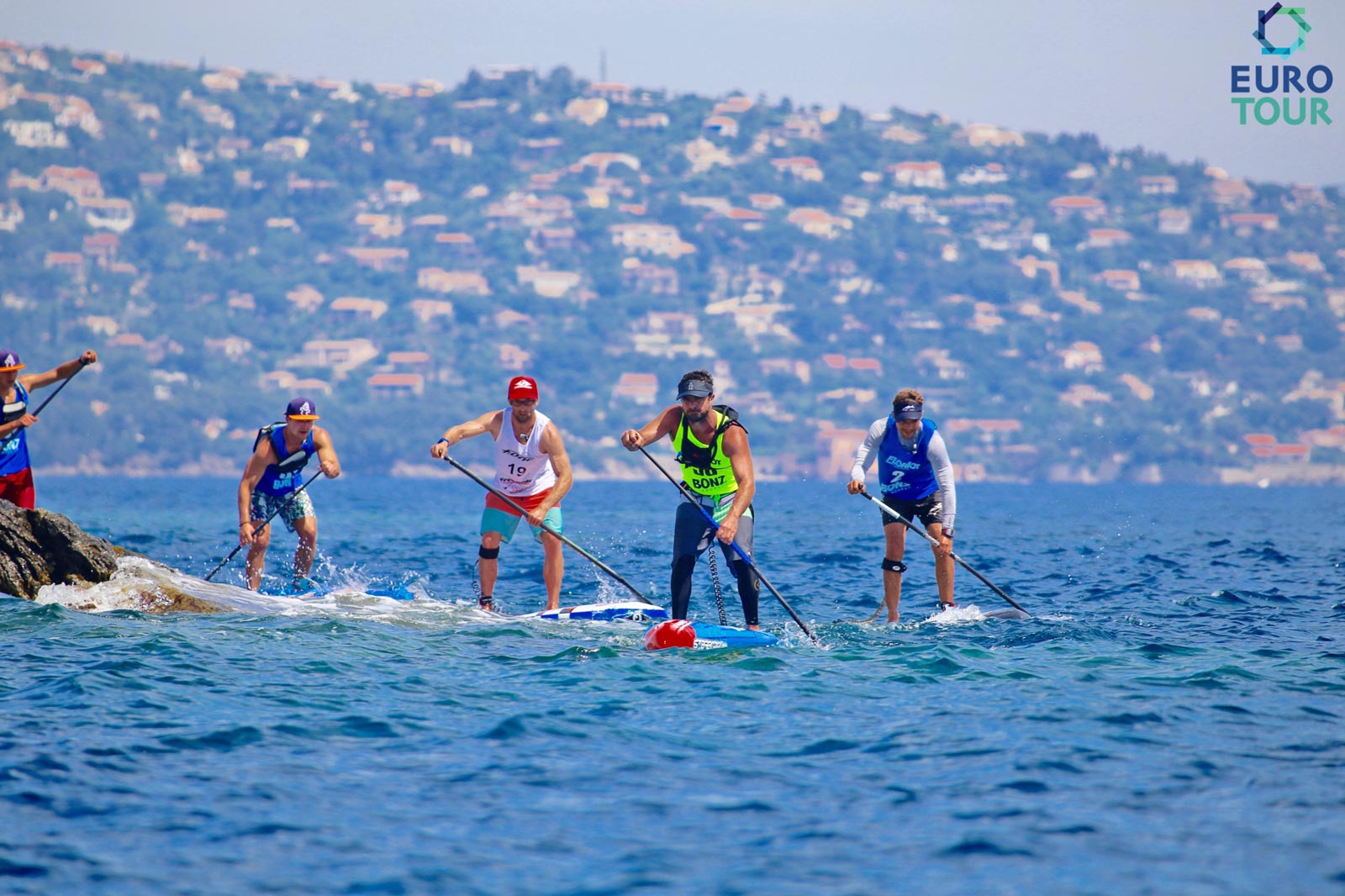 May 19, 2017
by Christopher Parker (@wheresbossman)
When/Where/How to Watch the 'SUP Race Cup' Facebook LIVE Stream from St. Maxime, France (EuroTour Week 3)
We're here in Sainte Maxime on the iconic French Riviera for the 8th Annual SUP Race Cup, one of the longest-running races on the planet and the third stop of the 2017 EuroTour.
With a beautiful location (St. Maxime is just across the bay from the famous St. Tropez), an absolutely stacked field (check out the names below) and almost a decade of history and prestige, we should be in for a cracking weekend of racing.
And you can watch all the action from your front row seat with our Facebook LIVE stream Saturday afternoon and Sunday morning.
We'll be broadcasting live all weekend (over on the SUP Racer Facebook page) alongside the crew from TotalSUP (who just posted a great preview of this weekend's festivities) in something of a first: a bi-lingual broadcast in both English and French.
The main broadcast will be on Sunday, where we'll be on air for about 3 hours, while Saturday will just be a bit of a warm-up (we'll probably be on air for just over an hour). Once again I make the disclaimer of "don't expect ESPN-level quality" but hopefully this will give you an entertaining, front-row seat for the first big showdown of the European Summer of SUP.
Here's when to tune in…
---
SATURDAY: Beach Race
This 6km race consists of three laps of a 2km course with 9 buoy turns per lap. Men and women will race together (staggered start), and everyone is on 14′ boards.
The forecast is for strong offshore winds, which, along with the buoy turns, will create plenty of opportunities to break up the draft trains. The winning men's time should be about 40 minutes.
The Elite Race starts @ 3:30pm Saturday French time, which is…
3:30am Saturday in Hawaii
6:30am Saturday in California
9:30am Saturday in Florida
10:30am Saturday in Brazil
2:30pm Saturday in the UK
3:30pm Saturday in South Africa
10:30pm Saturday in Japan
11:30pm Saturday on Australia's East Coast
1:30am Sunday in New Zealand
Note: The live stream will be on SUP Racer's Facebook page (*not* here on the site)
---
SUNDAY: Distance Race
This ~18km marathon is a "there and back" loop that covers two bays around St. Maxime. Men and women race together, and everyone is on 14′ boards.
Wind is forecast to be very light, which means the draft trains will stay tight and the whole thing will be a really tough grind. The winning men's times should be about 1 hour 50 minutes.
The Elite Race starts @ 11am Sunday French time, which is…
11pm Saturday in Hawaii
2am Sunday in California
5am Sunday in Florida
6am Sunday in Brazil
10am Sunday in the UK
11am Sunday in South Africa
6pm Sunday in Japan
7pm Sunday on Australia's East Coast
9pm Sunday in New Zealand
Note: The live stream will be on SUP Racer's Facebook page (*not* here on the site)
---
FORM GUIDE
Five of the top six men in the world will be on the start line, which is pretty huge. The general depth of talent is also noticeably higher than we've ever seen at this event, meaning the SUP Race Cup will score its highest ever Race Index percentage.
Meanwhile the contenders for the women's title include three of the absolute best in Candice Appleby (world #3), Sonni Hönscheid (#4) and Olivia Piana (#7), along with the highly under-rated duo Penelope Strickland and Susak Molinero plus a dozen top European warriors.
Here's every top 50 ranked guy that I know for sure will be on the start line. There's also going to be a LOT regional dark horses that'll be looking to take down a few big names and sneak inside the top 10.
Connor Baxter (#1)
Michael Booth (#2)
Mo Freitas (#3)
Titouan Puyo (#5)
Georges Cronteadt (#6)
Arthur Arutkin (#11)
Leo Nika (#12)
Bruno Hasulyo (#19)
Slater Trout (#20)
Trevor Tunnington (#25)
Giorgio Gomez (#29)
Martin Letourneur (#31)
Martin Vitry (#37)
Martino Rogai (#38)
Paolo Marconi (#40)
Boris Jinvresse (#42)
Jérémy Teulade (#43)
Giordano Capparella (#47)
Davide Ionico (#49)
Estimated Race Index score: 43.0%
Connor Baxter won the beach race last year while Boothy took out the long distance, with Titou in the mix on both days as well. I expect it'll be a battle between these three titans for the overall title once again, though in the short course race anything could happen.
Apart from last year's top three, also keep a close eye on Mo Freitas Saturday and the likes of Georges Cronsteadt, Bruno Hasulyo, Arthur Arutkin and Leo Nika on Sunday.
But really, with the level of talent here in Europe it's going to be a tough one to predict. So tune in Saturday and Sunday over on SUP Racer's Facebook page for your front row seat at the first big showdown of the European Summer of SUP.