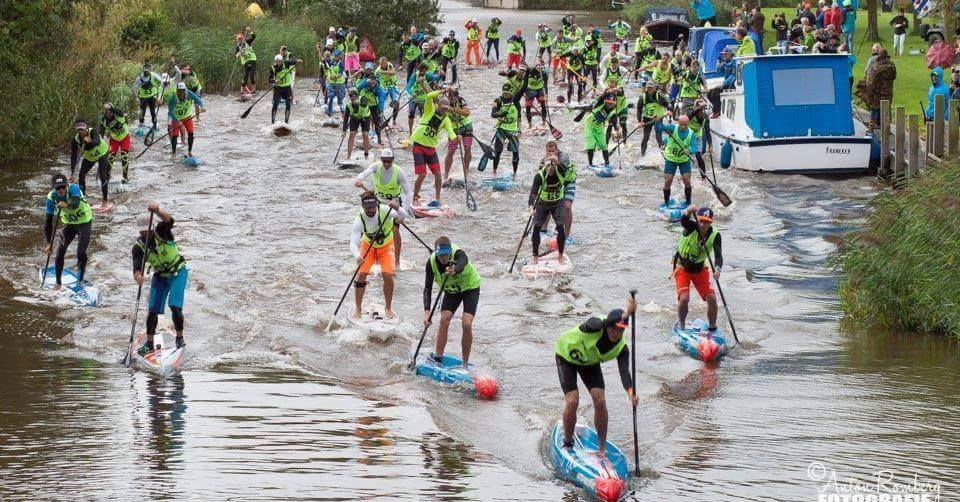 June 5, 2017
by Christopher Parker (@wheresbossman)
Countdown: The 11 City Tour Is Only 100 Days Away (Time to Start Training…)
The countdown to "The Ultimate Challenge" in the world of stand up paddling has just begun: there's exactly 100 days until the 9th Annual SUP 11 City Tour, the adventure race that pushes paddlers to the limit both physically and mentally through five long stages across five very long days.
Covering 220km, the 11 Cities has become an iconic part of the racing calendar by offering a unique challenge that is as much a personal quest as it is a race.
From September 13th-17th, paddlers from across Europe and all around the world are going to wind their way around the rural Dutch province of Friesland while experiencing a rollercoaster of emotions: you will both love and hate the 11 Cities at the same time.
It's not for the faint of heart: You'll be paddling 4-8 hours each day and will likely experience every direction of wind and every level of sunshine and rain, while this race has taken a chunk out of more than a few famous egos in the past. Think of the 11 Cities as a kind of army bootcamp on water: this race will beat you down then build you back up.
To me (and many others), the SUP 11 City Tour is a really special part of our sport. The race gives paddlers an amazing experience while creating plenty of interesting storylines along the way, which is why SUP Racer is returning to the Netherlands in September to paddle around Friesland for the third time.
Whether it's the battle for 1st and 2nd or 51st and 52nd, every paddler that crosses the line in the start/finish town of Leeuwarden has a similar story to tell after experiencing the same feelings of joy and pain.
[notdevice][fbvideo link="https://www.facebook.com/supracerr/videos/1109778645772852/" width="645″ height="363″ onlyvideo="1″][/notdevice][device][fbvideo link="https://www.facebook.com/supracerr/videos/1109778645772852/" width="322″ height="195″ onlyvideo="1″][/device]
To celebrate the 100 day countdown (and because I seriously need to start putting in some miles out on the water), I'm about to hop on a plane to the Mediterranean island of Ibiza, where the "Summer 11 Cities" takes place this week: the five-day, 125km Vuelta Ibiza presented by Mistral.
We'll have plenty of coverage of the warmer/shorter version of the 11 Cities over the next few days, so check out our Vuelta preview then stay tuned all week for regular updates (and follow @supracer and @wheresbossman for some behind-the-scenes Instagram Stories).
After that, we'll be counting down to the big one in September with regular features.
If you want to spend the next 100 days training so that you can join in the fun, I highly encourage you to head over to the official 11 City Tour site and commit yourself to the week-long torture adventure right now.
You'll hate thank me for it in September.