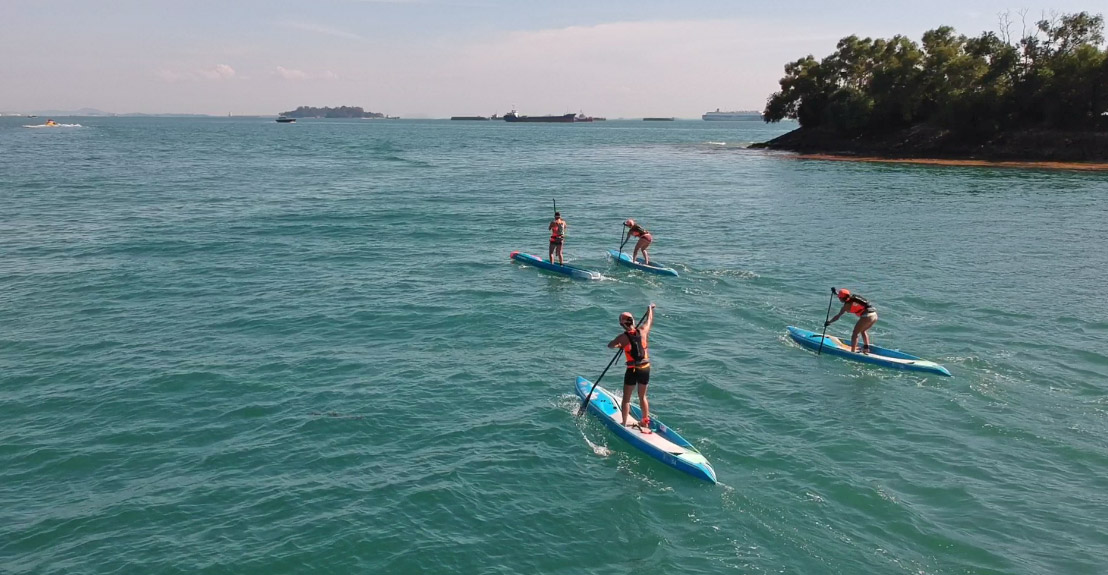 December 20, 2017
by Christopher Parker (@wheresbossman)
Singapore's biggest race happened a couple of weeks ago (yes, Singapore).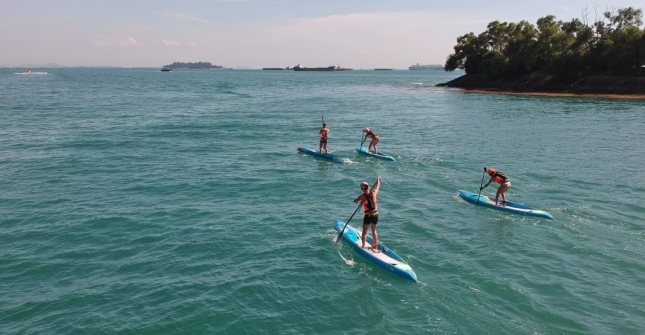 Singapore might not have the same ring to it as Hood River or Maui, but the small nation state is actually home to a thriving paddling community. They're not all standing up yet, but the future looks bright.
This was evident a few weeks ago when scores of outrigger and surfski paddlers joined a small but pioneering group of stand up paddlers for the Singapore Ocean Cup, a major even that foreshadows the potential for SUP racing to take off in Asia over the next half a decade.
The Ocean Cup featured several different events including the long course SUP race, which was taken out by Hungarian expat turned Thai local Daniel Hasulyo (Starboard) and another expat in the form of Singapore local Charlotte Spicer (NSP).
The two were quite dominant, with Daniel regaining the form that took him to victory at this year's 11 City Tour to win by over five minutes from Yu Hin Wong and Craig Winnett. It's a fitting way to cap off the year for Daniel, who joined the younger Hasulyo, Bruno, on the podium in Denmark in September before snatching the prestigious 11 Cities crown from his brother the following week.
Another Thai-based paddler was also impressive, with the half-Thai/half-German athlete Hermann Husslein sticking with Daniel for the first half of the race before fading late and finishing 4th. Hermann is a crossover paddler from slalom kayak (he represented Thailand at the 2012 Olympics) and was actually given a ticket to Singapore by his national federation to help grow the Thai SUP racing community (Thailand's canoe & rowing federation has been quite active in the stand up paddling world this year).
I met up with both Hermann and Daniel in Thailand this week and got to see the former paddle up close. The guy has some serious talent, and if he keeps training (this was his first international race) he could help put Thailand on the map.
But the real story from the Singapore Ocean Cup was that a SUP race happened in Singapore full stop. It carries on from the success of the Hong Kong International and other big events in Korea and of course Japan, which has become the regional heavyweight in a similar vein to how France carried European SUP racing on its shoulders for many years.
It's impossible to predict where stand up paddling will go in Asia over the next 5-10 years, but with endless waterways and warm weather, combined with an established paddling community (dragon boat, surf ski, etc) and some enthusiastic SUP outposts, the future is surely bright.
Team NSP were on location in Singapore and snapped this footage of the festivities, while the Starboard blog has more coverage of the event.
If you fancy a trip to one of SUP racing's new frontiers, pencil in the 2018 Singapore Ocean Cup…
---
SUP Long Course – Top 10 Men
1st: Daniel Hasulyo (1:32:56)
2nd: Yu Hin Wong (1:38:28)
3rd: Craig Winnett (1:38:51)
4th: Hermann Husslein (1:41:17)
5th: Tuan Lam (1:44:09)
6th: Sekar Patchai (1:44:30)
7th: Carl Coetzee (1:48:42)
8th: Arnauld le Callonnec (1:49:16)
9th: Daniel Wright (1:50:15)
10th: Michael Matthews (1:51:38)
SUP Long Course – Top 10 Women
1st: Charlotte Spicer (1:47:01)
2nd: Bailey Rosen (1:54:08)
3rd: Si'Jia Cheng (1:59:31)
4th: Si'Min Cheng (2:00:28)
5th: Tanvi Jagadish (2:25:00)