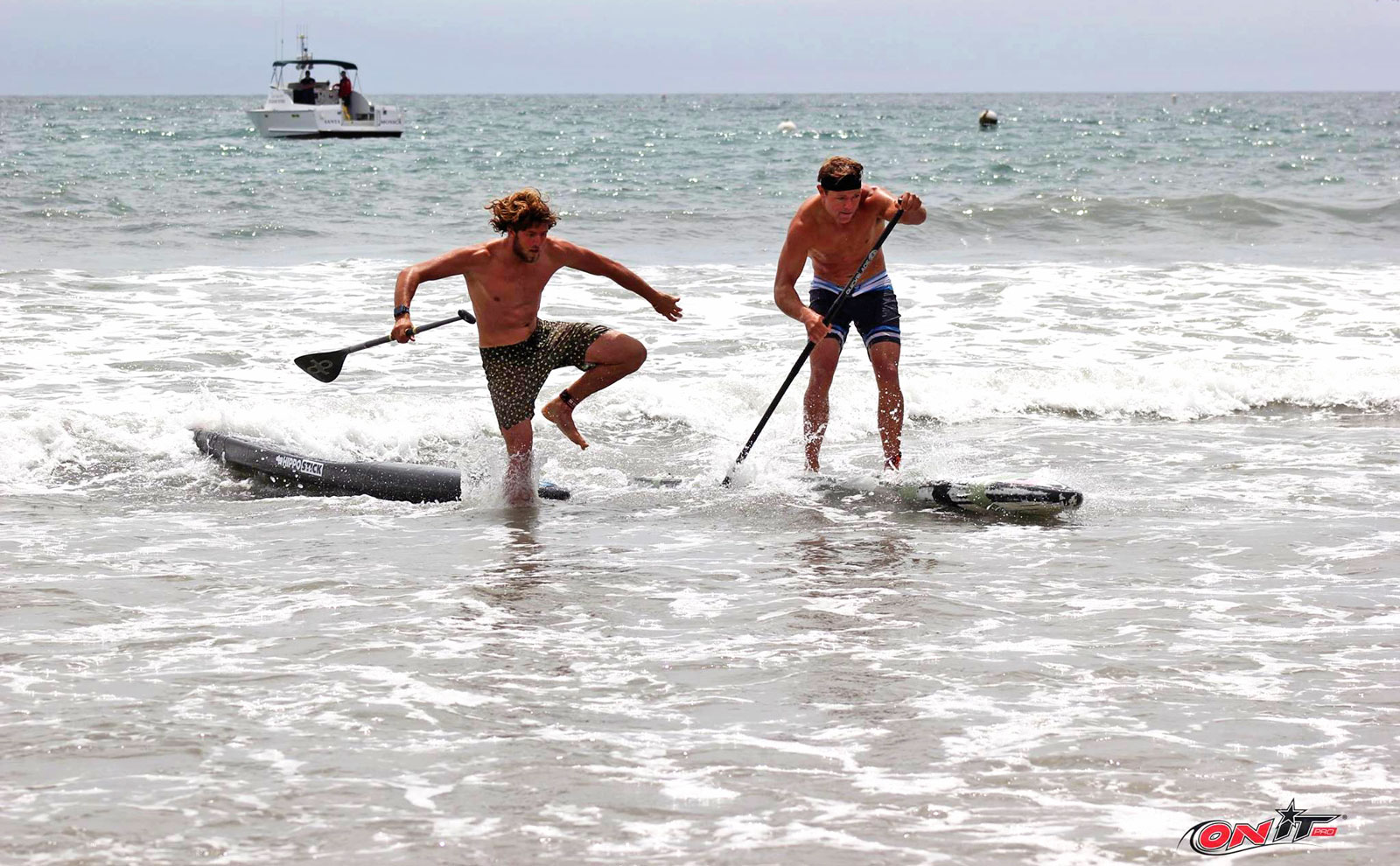 June 13, 2017
by Christopher Parker (@wheresbossman)
Slater Trout Edges out Toby Cracknell and Danny Ching to Win the Pier Paddle; Candice Appleby Women's Champ
In brief: Original young gun Slater Trout has continued his quest to return to the top of the sport, narrowly edging out his highly under-rated Infinity team mate Toby Cracknell and defending champion/former world number one Danny Ching to claim the 2017 Santa Monica Pier Paddle overall event title.
Slater and Toby split the wins between the long distance and beach race disciplines, with Slater taking the former before the Aussie out-sprinted him up the beach to claim the latter. With points tied, Slater got the nod on the tie-breaker (which weighted the result of the distance race) to take the biggest chunk of the $15,000 prize purse and go one better than his runner-up effort from 12 months ago.
Following their respective stints on the EuroTour, both Slater and Tobes looked in supremely sharp form ahead of the small but highly competitive field, while Danny was only ever about 15-20 seconds behind and showed he can still go toe-to-toe with the next generation.
Candice Appleby was the women's champion after holding off a surge from the young guns–Lexi Alston was the runner-up after claiming the surf race, while half of the top 10 was filled with women under 18.
Full results below/full recap coming soon. As always, the crew from OnIt Pro have hundreds of great shots over on Facebook (gallery 1 | gallery 2).
---
2017 Pier Paddle: Men's Overall Results
| # | Athlete | Division | Distance | Time | Cross | Time | Total | Points |
| --- | --- | --- | --- | --- | --- | --- | --- | --- |
| 1 | Slater Trout | Elite | 1 | 0:55:16 | 2 | 0:04:24 | 3 | 24.00 |
| 2 | Toby Cracknell | Elite | 2 | 0:55:36 | 1 | 0:04:24 | 3 | 18.00 |
| 3 | Danny Ching | Elite | 3 | 0:55:39 | 3 | 0:04:39 | 6 | 14.40 |
| 4 | Ryan Funk | Elite | 4 | 0:55:48 | 6 | 0:04:56 | 10 | 12.00 |
| 5 | Bullet Obra | Elite | 5 | 0:56:36 | 5 | 0:04:52 | 10 | 10.20 |
| 6 | Giorgio Gomez | Elite | 6 | 0:57:00 | 4 | 0:04:50 | 10 | 8.40 |
| 7 | Garrett Fletcher | Elite | 7 | 0:59:19 | 7 | 0:04:57 | 14 | 7.20 |
| 8 | Noa Hopper | Elite | 10 | 1:02:03 | 9 | 0:05:08 | 19 | 6.00 |
| 9 | Rodney Ellis | Elite | 9 | 1:01:55 | 13 | 0:06:13 | 22 | 5.40 |
| 10 | Keaton Rose | Open | 11 | 1:02:47 | 11 | 0:05:27 | 22 | 4.80 |
| 11 | Tyler Bashor | Elite | 12 | 1:02:59 | 10 | 0:05:21 | 22 | 4.32 |
| 12 | Greg Closier | Open | - | - | 8 | 0:05:01 | - | 3.84 |
| 13 | Nick Scheel | Open | - | - | 12 | 0:05:41 | - | 3.60 |
| 14 | Vincent Sultana | Elite | 8 | 1:00:59 | - | - | - | 3.36 |
| 15 | Braly Joy | Open | 13 | 1:04:32 | - | - | - | 3.12 |
| 16 | Elijah Schoenig | Open | 14 | 1:04:45 | - | - | - | 2.88 |
| 17 | Gavin Mencinsky | Open | 15 | 1:05:06 | - | - | - | 2.64 |
| 18 | John Gabriel | Open | 16 | 1:06:25 | - | - | - | 2.40 |
| 19 | Thomas Nilsen | Open | 17 | 1:07:16 | - | - | - | 2.16 |
| 20 | Jonas Graham | Open | 18 | 1:07:16 | - | - | - | 1.92 |
| 21 | Scotter Ogilvie | Open | 19 | 1:08:00 | - | - | - | 1.80 |
| 22 | Jonas Letieri | Open | 20 | 1:08:56 | - | - | - | 1.68 |
| 23 | Byron Kurt | Open | 21 | 1:09:34 | - | - | - | 1.56 |
| 24 | Johnathan La Pointe | Open | 22 | 1:10:18 | - | - | - | 1.44 |
| 25 | Jeremy Godo Kiss | Open | 23 | 1:10:19 | - | - | - | 1.32 |
| 26 | Greg Welch | Masters | 24 | 1:10:22 | - | - | - | 1.25 |
| 27 | Bill Mcgrath | Masters | 25 | 1:10:39 | - | - | - | 1.17 |
| 28 | Michael Torsten Rasborn | Masters | 26 | 1:13:53 | - | - | - | 1.10 |
| 29 | Chungyeon Kang | Open | 27 | 1:14:28 | - | - | - | 1.03 |
| 30 | Dwayne Bora | Masters | 28 | 1:16:09 | - | - | - | 0.96 |
| 31 | Walker Graham | Open | 29 | 1:18:50 | - | - | - | 0.91 |
| 32 | Erik Toppenberg | Open | 30 | 1:19:13 | - | - | - | 0.87 |
| 33 | Tj Munks | Open | 32 | 1:26:06 | - | - | - | 0.88 |
| 34 | Eric Sin | Open | 33 | 1:28:43 | - | - | - | 0.81 |
| 35 | Eric Chu | Open | 34 | 1:36:28 | - | - | - | 0.72 |
| 36 | Michael Orwitz | Open | 35 | 1:38:00 | - | - | - | 0.67 |
| 37 | Justin Akers | Open | 36 | 1:53:36 | - | - | - | 0.63 |
| 38 | John Neely | Open | 37 | 1:58:36 | - | - | - | 0.57 |
| 39 | Barklie Griggs | Masters | 38 | 2:06:45 | - | - | - | 0.53 |
2017 Pier Paddle: Women's Overall Results
| # | Athlete | Divisoin | Distance | Time | Cross | Time | Total | Points |
| --- | --- | --- | --- | --- | --- | --- | --- | --- |
| 1 | Candice Appleby | Elite | 1 | 1:01:48 | 3 | 0:06:19 | 4 | 33.00 |
| 2 | Lexi Alston | Elite | 4 | 1:04:53 | 1 | 0:05:48 | 5 | 24.75 |
| 3 | April Zilg | Elite | 2 | 1:02:26 | 4 | 0:06:32 | 6 | 19.80 |
| 4 | Penelope Strickland | Elite | 5 | 1:06:13 | 5 | 0:06:35 | 10 | 16.50 |
| 5 | Jade Howson | Elite | 3 | 1:02:38 | 9 | 0:07:13 | 12 | 14.03 |
| 6 | Erika Benitez | Elite | 6 | 1:06:56 | 7 | 0:06:47 | 13 | 11.55 |
| 7 | Kali'a Alexiou | Elite | 7 | 1:06:59 | 6 | 0:06:45 | 13 | 9.90 |
| 8 | Hannah Hill | Elite | 10 | 1:11:16 | 11 | 0:08:10 | 21 | 8.25 |
| 9 | Alejandra Brito | Elite | 13 | 1:14:45 | 10 | 0:07:57 | 23 | 7.43 |
| 10 | Sarah Messina | Open | 15 | 1:17:23 | 8 | 0:07:10 | 23 | 6.60 |
| 11 | Shae Foudy | Elite | - | - | 2 | 0:05:50 | - | 5.94 |
| 12 | Mel Wygal | Open | - | - | 12 | 0:08:29 | - | 5.28 |
| 13 | Stephanie Shideler | Elite | 8 | 1:08:07 | - | - | - | 4.95 |
| 14 | Jennie Sandvig | Elite | 9 | 1:11:10 | - | - | - | 4.62 |
| 15 | Abby Baker | Open | 11 | 1:13:23 | - | - | - | 4.29 |
| 16 | Kristin Thomas | Elite | 12 | 1:13:31 | - | - | - | 3.96 |
| 17 | Maggie Adams | Masters | 14 | 1:16:49 | - | - | - | 3.63 |
| 18 | Kathy Lynch | Masters | 16 | 1:26:01 | - | - | - | 3.30 |
| 19 | Jessica Davis | Open | 17 | 1:30:18 | - | - | - | 2.97 |
| 20 | Amy Ehrenkranz | Masters | 18 | 1:45:58 | - | - | - | 2.64 |
| 21 | Andrea Conrad | Open | 19 | 1:53:33 | - | - | - | 2.48 |