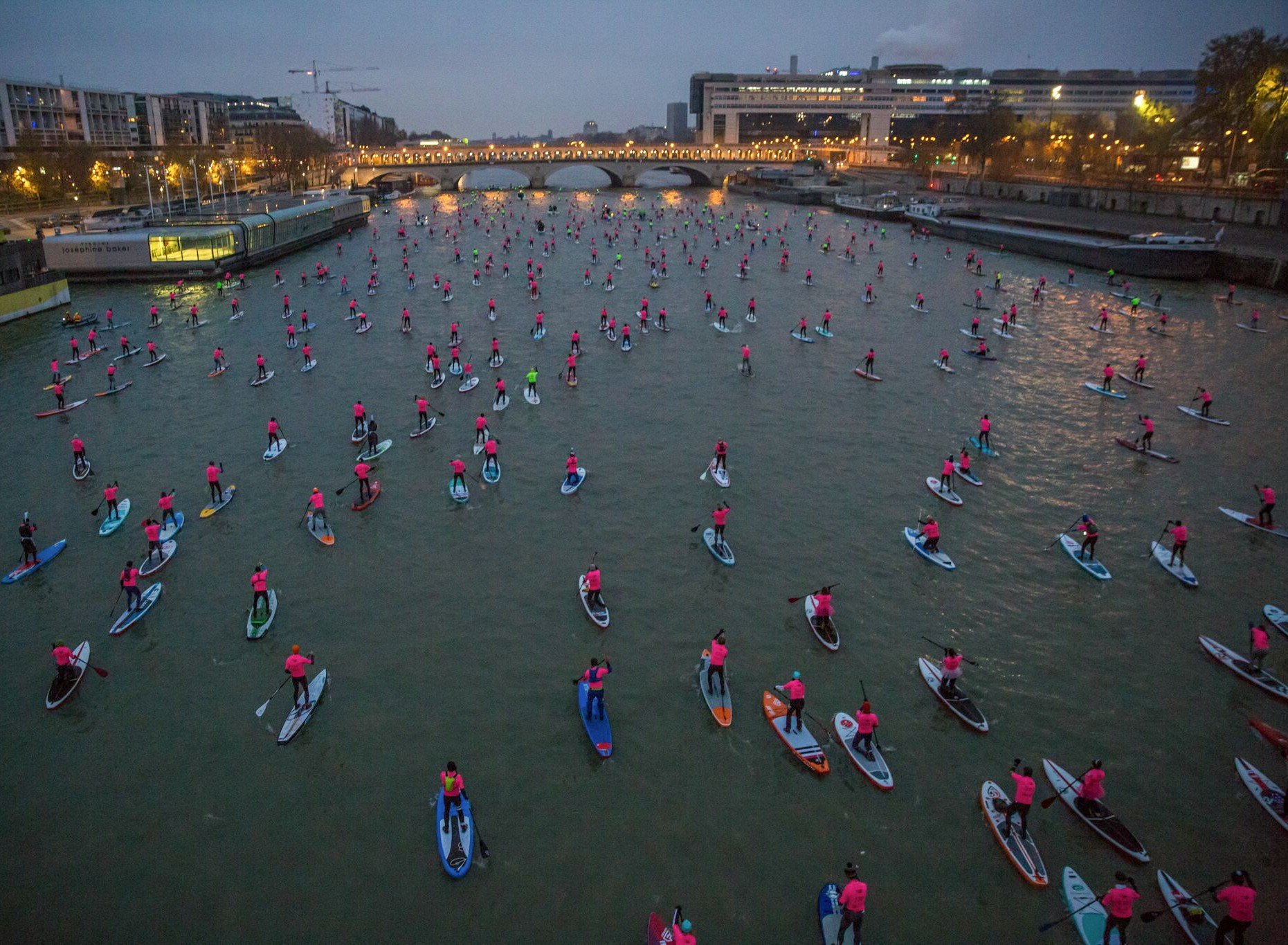 December 3, 2017
by Christopher Parker (@wheresbossman)
Arthur Arutkin, Susak Molinero Win the Paris Crossing as 700 Paddlers Brave Freezing Weather to Celebrate the Sport
https://www.instagram.com/p/BcPamGRFC03/
In brief: France's Arthur Arutkin and Spaniard Susak Molinero have won the world's largest SUP race, as 700 paddlers braved zero-degree weather today to participate in the bucket list adventure that is the Paris Crossing.
Arthur won a photo finish with defending champ Bruno Hasulyo, while the Viking Casper Steinfath was just seconds behind. Susak was a clear winner in the women's, with Frenchwoman Melanie Lafenetre claiming the runner-up spot.
But the real result from today's race was the number of paddlers on the start line. At 700 participants (give or take depending on a few last minute withdrawals and additions), the Paris Crossing has firmly established itself as the world's biggest race. Organisers have been building the event the past seven years, and the plan is to continue increasing registration by 100 each year until it hits 1000 competitors in 2020.
We'll have a full recap as soon as we get our hands on the full results. In the meantime, here's a replay of TotalSUP's livestream plus my shameless selfie shot at the Eiffel Tower.
Edit: get the full results from the amateur division and pro race.
---
Pro Race Results
| # | Athlete | Time | Gap | Class | Points |
| --- | --- | --- | --- | --- | --- |
| 1 | Arthur Arutkin | 1:12:20 | -- | Open | 30.00 |
| 2 | Bruno Hasulyo | 1:12:21 | +0:01 | Open | 22.50 |
| 3 | Casper Steinfath | 1:12:26 | +0:06 | Open | 18.00 |
| 4 | Tom Auber | 1:13:07 | +0:47 | Open | 15.00 |
| 5 | Ludovic Teulade | 1:13:08 | +0:48 | Open | 12.75 |
| 6 | Marcus Hansen | 1:14:39 | +2:19 | Open | 10.50 |
| 7 | Arvis Iljins | 1:14:40 | +2:20 | Open | 9.00 |
| 8 | Leo Nika | 1:14:41 | +2:21 | Open | 7.50 |
| 9 | Paolo Marconi | 1:14:54 | +2:34 | Open | 6.75 |
| 10 | Paul Lenfant | 1:16:50 | +4:30 | Open | 6.00 |
| 11 | Joseph Gueguen | 1:17:04 | +4:44 | Open | 5.40 |
| 12 | Yanis Maire | 1:18:31 | +6:11 | Open | 4.80 |
| 13 | Pierre-Alain De Bois | 1:18:44 | +6:24 | Open | 4.50 |
| 14 | Thomas Hebert | 1:18:48 | +6:28 | Open | 4.20 |
| 15 | Riccardo Rossi | 1:18:49 | +6:29 | Junior | 3.90 |
| 16 | Grégoire Vitry | 1:18:50 | +6:30 | Open | 3.60 |
| 17 | Oliver Shilston | 1:18:46 | +6:26 | Open | 3.30 |
| 18 | Nikos Syrigos | 1:18:54 | +6:34 | Junior | 3.00 |
| 19 | Tom Villedary | 1:19:03 | +6:43 | Open | 2.70 |
| 20 | Axel Vanbaelinghem | 1:20:30 | +8:10 | Junior | 2.40 |
| 21 | Pampinella Tommaso | 1:20:31 | +8:11 | Open | 2.25 |
| 22 | Marius Auber | 1:20:32 | +8:12 | Junior | 2.10 |
| 23 | Alexandre Rouys | 1:21:34 | +9:14 | Open | 1.95 |
| 24 | Alexandre Gault | 1:21:41 | +9:21 | Open | 1.80 |
| 25 | Boujamaa Guilloul | 1:21:59 | +9:39 | Open | 1.65 |
| 26 | Franck Fifils | 1:22:05 | +9:45 | Open | 1.56 |
| 27 | Phil Mccoy | 1:22:11 | +9:51 | Open | 1.47 |
| 28 | Peter Žnidaršič | 1:23:56 | +11:36 | Open | 1.38 |
| 29 | Ghislain Romé | 1:24:47 | +12:27 | Open | 1.29 |
| 30 | Edouard Chata | 1:24:58 | +12:38 | Open | 1.20 |
| 31 | Sebastien Pichon | 1:25:31 | +13:11 | Open | 1.14 |
| 32 | Wolfgang Guetg | 1:26:17 | +13:57 | Open | 1.08 |
| 33 | Mickaël Dumont | 1:28:22 | +16:02 | Open | 1.02 |
| 34 | Stéphane Guillermin | 1:28:56 | +16:36 | Open | 0.96 |
| 35 | Jean Frédéric Tillié | 1:29:18 | +16:58 | Open | 0.90 |
| 36 | Franz Orsi | 1:32:37 | +20:17 | Open | 0.84 |
| 37 | Hugo Steylaers | 1:32:40 | +20:20 | Open | 0.78 |
| 38 | Théotime Hervy | 1:33:36 | +21:16 | Open | 0.72 |
| 39 | Henri Roman | 1:33:38 | +21:18 | Open | 0.66 |
| 40 | Carsten Schuur | 1:33:52 | +21:32 | Open | 0.60 |
| 41 | Ludovic Machinet | 1:35:11 | +22:51 | Open | 0.57 |
| 42 | Sebastien Le Meaux | 1:35:19 | +22:59 | Open | 0.54 |
| 43 | Etienne Pree | 1:37:01 | +24:41 | Open | 0.51 |
| 44 | Vincent Lion | 1:39:31 | +27:11 | Open | 0.48 |
| 45 | Ismail Hasan | 1:42:36 | +30:16 | Open | 0.45 |
| 46 | Apehau Tching Piou | 1:44:49 | +32:29 | Open | 0.42 |
| 47 | Paul Graindorge | 1:46:14 | +33:54 | Open | 0.39 |
| 48 | Stanislas Bizard | 1:46:19 | +33:59 | Open | 0.36 |
| 49 | Francois Larsonneur | 1:46:28 | +34:08 | Open | 0.33 |
| 50 | Paolo Nardini | 1:46:33 | +34:13 | Open | 0.30 |
| 51 | Frédéric Bour | 1:46:38 | +34:18 | Open | 0.00 |
| 52 | Damien Le Bihan | 1:47:09 | +34:49 | Open | 0.00 |
| 53 | Emmanuel Michaut | 1:52:11 | +39:51 | Open | 0.00 |
| 54 | Maris Freimanis | 1:53:28 | +41:08 | Open | 0.00 |
| | | | | | |
| # | Athlete | Time | Gap | Class | Points |
| --- | --- | --- | --- | --- | --- |
| 1 | Susak Molinero | 1:22:17 | +9:57 | Open | 20.00 |
| 2 | Melanie Lafenetre | 1:24:21 | +12:01 | Junior | 15.00 |
| 3 | Julienne | 1:25:42 | +13:22 | Open | 12.00 |
| 4 | Chevarria Angela | 1:27:31 | +15:11 | Open | 10.00 |
| 5 | Ines Blatgé | 1:27:55 | +15:35 | Junior | 8.50 |
| 6 | Neza Jarc | 1:28:50 | +16:30 | Open | 7.00 |
| 7 | Noelani Sach | 1:28:51 | +16:31 | Open | 6.00 |
| 8 | Konstantina Kontarini | 1:32:15 | +19:55 | Open | 5.00 |
| 9 | Mihailova Julija | 1:32:49 | +20:29 | Open | 4.50 |
| 10 | Holly Henderson | 1:33:01 | +20:41 | Open | 4.00 |
| 11 | Julie Paoletti | 1:33:16 | +20:56 | Open | 3.60 |
| 12 | Virginie Samson | 1:33:37 | +21:17 | Open | 3.20 |
| 13 | Sara Oddera | 1:37:10 | +24:50 | Open | 3.00 |
| 14 | Nadine Cartron | 1:38:00 | +25:40 | Open | 2.80 |
| 15 | Anne Sophie Maugey | 1:47:30 | +35:10 | Open | 2.60 |
| 16 | Babette Schuur | 1:48:05 | +35:45 | Open | 2.40 |
| 17 | Anna Occhiogrosso | 1:52:06 | +39:46 | Open | 2.20 |
---
[notdevice][fbvideo link="https://www.facebook.com/totalsupofficial/videos/698490903693669/" width="645″ height="363″ onlyvideo="1″][/notdevice][device][fbvideo link="https://www.facebook.com/totalsupofficial/videos/698490903693669/" width="322″ height="181″ onlyvideo="1″][/device]
---
https://www.instagram.com/p/BcPT7ufFs1F/