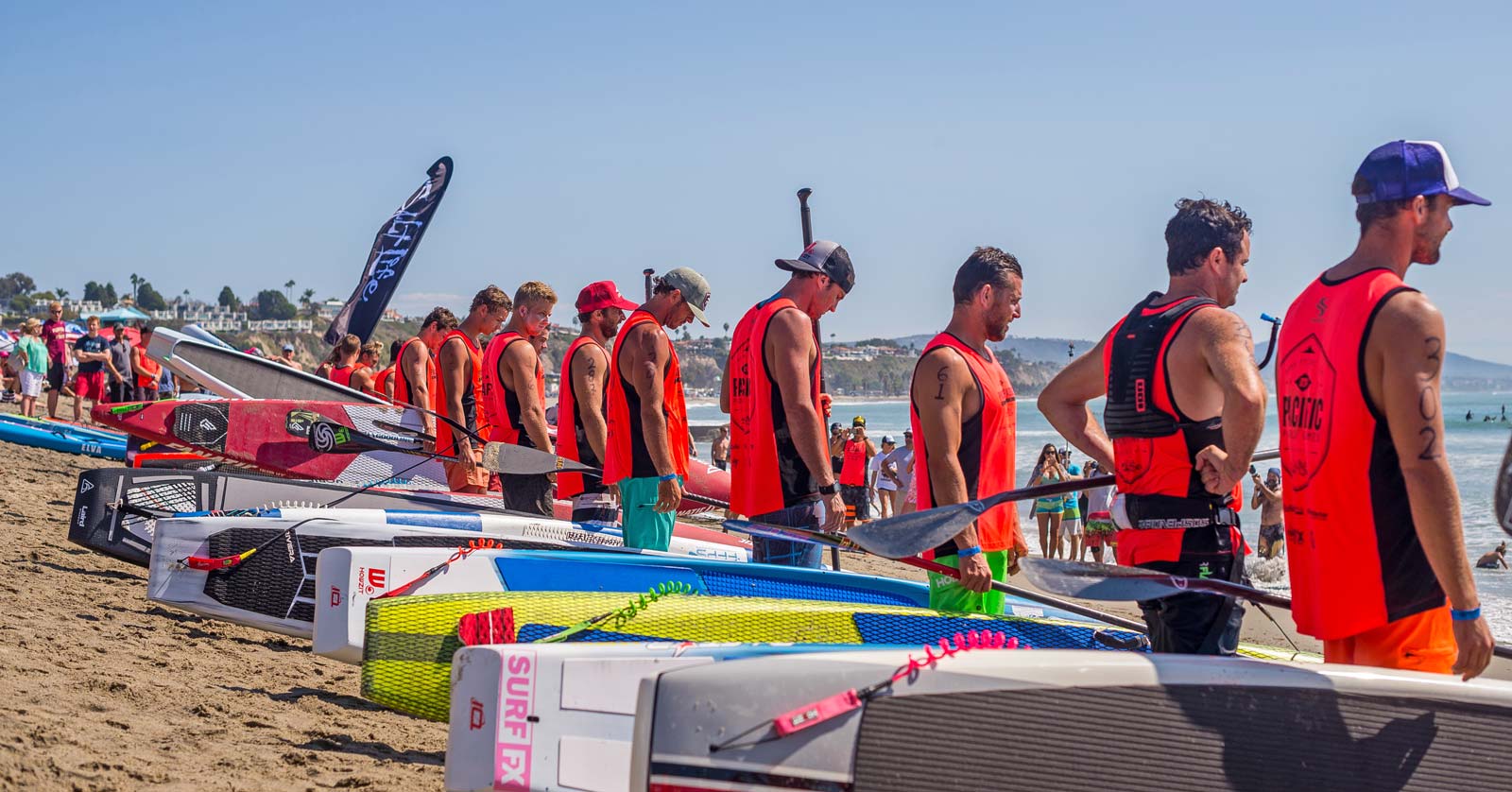 September 30, 2017
by Christopher Parker (@wheresbossman)
Pacific Paddle Games: Here are the heat draws for Saturday's quarters and semi-finals.
Good morning from Doheny State Beach in Dana Point, California, and welcome to the 2017 Pacific Paddle Games presented by Salt Life.
The biggest race of the year is set to be a cracking showdown once again, with a stacked field of international pros and hundreds of weekend warriors set to take over this iconic location.
Saturday is qualifying day in the pro divisions: The men's quarters and women's semi-finals start at 1:45pm with the top finishers heading through to finals day on Sunday.
There will be 4x heats for the pro men with the top 10 from each going through to the semi-finals on Sunday. The pro women will jump straight into their semis on Saturday afternoon, with the top 8 from each of the two heats going straight into Sunday afternoon's grand finale.
Remember you can watch the whole show LIVE over on SUP the Mag's Facebook page this afternoon. We'll be on air from around lunchtime building up to the start of the pro men's quarter-finals.
Take a look at who's racing down below. All the heats seem fairly evenly stacked (seeding was based on last year's PPGs beach race results), though if I had to pick a "heat of death" it would probably be the first one in the men's.
Note: The "trials round" on Saturday morning has been skipped, with all paddlers in the men's pro division going straight into the quarter-finals. There will be no repechage or second chance round.
SATURDAY
Men's quarter-finals @ 1:45pm
Women's semi-finals @ 3:45pm
SUNDAY
Distance race @ 8:30am
Men's semi-finals @ 12 noon
Women's final @ 2:00pm
Men's final @ 2:30pm
view the full schedule on the official site
WHEN TO WATCH AROUND THE WORLD
1:45pm Saturday California
= 10:45am Hawaii
= 4:45pm Florida
= 9:45pm UK
= 10:45pm Central Europe
= 3:45am Sunday Thailand
= 6:45am Sunday Australia
= 9:45am Sunday New Zealand
---
PRO MEN'S HEAT 1
Start time: 1:45pm Saturday
Top 10 advance to semi-finals
Watch LIVE on Facebook
Connor Baxter (Hawaii)
Michael Booth (Australia)
Lincoln Dews (Australia)
Martin Letourneur (France)
Josh Riccio (USA)
Titouan Puyo (France/New Caledonia)
Bruno Hasulyo (Hungary)
Ryan Funk (USA)
Claudio Nika (Italy)
Daniel Hasulyo (Hungary)
Itzel Delgado (Peru)
Alexandre Bicrel (France)
Jeremy Teulade (France)
Lois Chardebas (France)
Jeisson Tovar
Zach Rounsaville (USA)
Didier Leneil (France)
PRO MEN'S HEAT 2
Start time: 2:15pm Saturday
Top 10 advance to semi-finals
Watch LIVE on Facebook
Mo Freitas (Hawaii)
Danny Ching (USA)
Georges Cronsteadt (Tahiti)
Kody Kerbox (Hawaii)
Zane Schweitzer (Hawaii)
Matt Nottage (Australia)
Vinnicius Martins (Brazil)
Paolo Marconi (Italy)
Fernando Stalla (Mexico)
Jayden Jensen (Australia)
Martino Rogai (Italy)
Harry Maskell (Australia)
Ludovic Teulade (France)
Tamarua Cowan (Tahiti)
Erivaldo Silva
Bodie Shandro (USA)
Robert Stehlik (Hawaii)
PRO MEN'S HEAT 3
Start time: 2:45pm Saturday
Top 10 advance to semi-finals
Watch LIVE on Facebook
James Casey (Australia)
Arthur Arutkin (France)
Jake Jensen (Australia)
Guilherme dos Reis (Brazil)
Casper Steinfath (Denmark)
Martin Vitry (France)
Leo Nika (Italy)
Manatea Bopp du Pont (Tahiti)
Kenny Kaneko (Japan)
Dave Boehne (USA)
Belar Diaz (Spain)
Jackson Maynard (Australia)
Noic Garioud (France/New Caledonia)
Ollie Houghton (New Zealand)
Jose Cirilo (Portugal)
Manolo Simoncelli (Spain)
Daniel Miller (New Zealand)
Ty Judson (Australia)
PRO MEN'S HEAT 4
Start time: 3:15pm Saturday
Top 10 advance to semi-finals
Watch LIVE on Facebook
Slater Trout (USA)
Travis Grant (Australia)
Giorgio Gomez (USA)
Noa Hopper (USA)
Enzo Bennett (Tahiti)
Trevor Tunnington (New Zealand)
Bullet Obra (Hawaii)
Niuhiti Buillard (Tahiti)
Kelly Margetts (Australia)
Kieran Grant (USA)
Greg Closier (France)
Tommy Buday Jr (Canada)
Tom Auber (France)
Paul Jackson (New Zealand/Aus)
Gabriel Bachelet (France)
Rodney Ellis (USA)
Dan Gavere (USA)
Ekolu Kalama (Hawaii)
---
PRO WOMEN'S SEMI-FINAL #1
Start time: 3:45pm Saturday
Top 8 advance to final
Watch LIVE on Facebook
Candice Appleby (USA)
Olivia Piana (France)
Jade Howson (USA)
Fiona Wylde (USA)
Morgan Hoesterey (USA)
Seychelle Hattingh (USA)
April Zilg (USA)
Shannon Bell (Canada)
Susak Molinero (Spain)
Alejandra Brito (Mexico)
Alison Davenport (USA)
Chloe Walkerdene (Australia)
Marivane Figueredo
Vaimiti Maoni (Tahiti)
Stephanie Bodden
Susanne Lier (Germany)
Kiyomi Sheppard (Japan)
PRO WOMEN'S SEMI-FINAL #2
Start time: 4:15pm Saturday
Top 8 advance to final
Watch LIVE on Facebook
Terrene Black (Australia)
Shae Foudy (USA)
Annabel Anderson (New Zealand)
Sonni Honscheid (Germany)
Angie Jackson (Australia)
Lexi Alston (USA)
Hannah Hill (USA)
Izzi Gomez (USA)
Jennifer Lee (Hawaii)
Genna Flinkman (Canada)
Laura Quetglas (Spain)
Puatea Ellis (Tahiti)
Stephanie Shideler (USA)
Kristy Morris (USA)
Desirée Hernández (Puerto Rico)
Mary Howser (USA)
Sylvana Ozbolt (Tahiti)