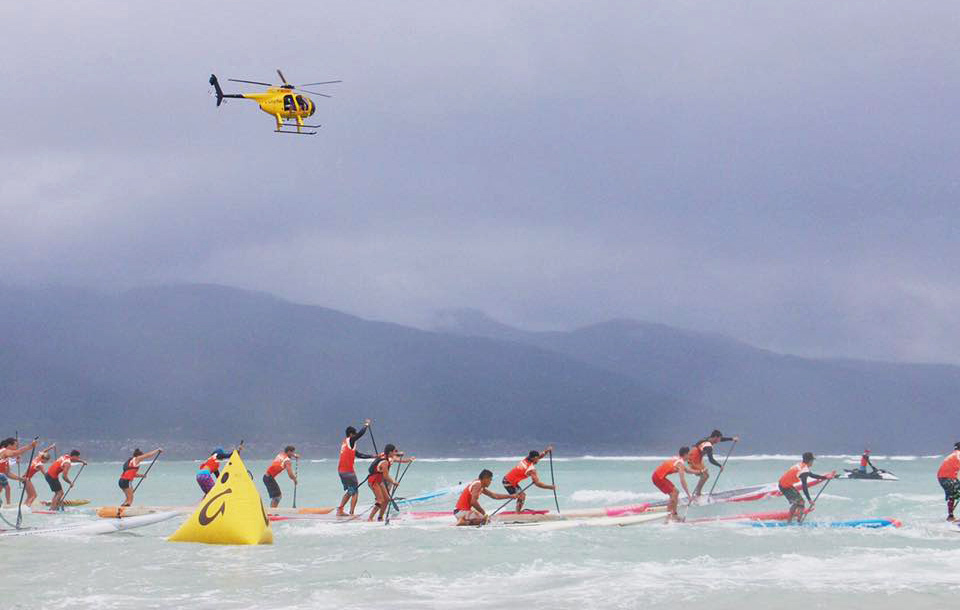 April 30, 2017
by Christopher Parker (@wheresbossman)
James Casey, Annabel Anderson Win the Weather-Affected OluKai 'Beach Race' on Maui (RESULTS)
https://www.instagram.com/p/BThVosTgA9z/
World number one Annabel Anderson and Sunova's James Casey have taken out the weather-affected OluKai Ho'olaulea race on Maui this morning, winning the modified 'beach race' event at Kanaha after the standard Maliko downwind run was canceled for the second time in two days following wild and unsafe conditions.
With swirling winds and stormy weather continuing to lash the Hawaiian coast, OluKai organisers wisely opted for safety over tradition, keeping the event inside the reef at Kanaha Beach Park instead of sending competitors on what would have been a somewhat-treacherous ocean paddle from Maliko Gulch.
This definitely wasn't OluKai as we know it, but there's not much you can do about mother nature. And despite the conditions producing a clearly-depleted field, there was still plenty of top talent on the start line for the approximately 40-minute course race.
James, or 'Jimmy' as he's known at home in Australia, saluted ahead of superstars Danny Ching, Travis Grant, Mo Freitas and five-time OluKai winner Connor Baxter. This is actually the first time Connor hasn't won OluKai since 2011, though considering the modified course you could argue that his 'OluKai-Maliko' winning streak is still intact.
https://www.instagram.com/p/BThc4JzASra/
Either way, this is a huge result for James Casey and Team Sunova. Those of us who follow the sport closely have long known Jimmy is a number one contender in all formats and conditions, but this is the first time the supremely-talented Aussie has saluted at a big international event.
Jimmy's victory also creates a 'weekend double' for Team Sunova after Kelly Margetts saluted at the Bay Bridge Paddle in Maryland yesterday (update: it's actually a treble with Annabel riding a Sunova board today as well).
It was also something of a return to form for Danny Ching, who had a disappointing 10th place finish at the massive showdown in Carolina last weekend.
Rising junior prospect Ryan Funk crossed the line just outside the top five, finishing a minute clear of the highly under-rated Josh Riccio, while Kody Kerbox, Tyler Jaggers and Riggs Napoleon rounded out the top 10.
Despite the drastically different course layout, the majority of paddlers stuck with their original board choice, which suggests that although this was a 'beach race' it was mostly straight line paddling with only a few buoy turns. It looks like 6 of the top 10 guys were on unlimiteds, while Connor, Ryan, Josh and Riggs were on stock 14 footers.
The winning board was Jimmy's unlimited dugout designed by Marcus Tardrew for Sunova, similar to what some of the Aussie boys used in Molokai last year (you can get a closer look at 'Pinky' on Instagram).
On the women's side, Annabel (unlimited) outlasted defending champ Sonni Honscheid (14') after the top two had a see-sawing battle around the course–the lead changed at least three times. The world number one eventually paddled clear though, with the fast-finishing Kiwi only missing a spot inside the men's top 10 by one second, while she was a minute clear of the powerful German.
https://www.instagram.com/p/BThePvJgNci/
This is Annabel's second big victory in two weeks following her fifth-straight Carolina Cup title last weekend, however Sonni also looked very strong on her stock 14 footer and will be the favourite to defend her EuroTour title next month.
Young guns Jade Howson and Kali'a Alexiou finished 3rd and 4th in the blustery conditions, continuing their string of top five results over the past 12-18 months (I believe both girls were on stock 14 footers). Jade and Kali'a are two of the leading junior women on the race scene right now and no doubt we'll be seeing their names for many more years to come.
Another star of the future, Erika Benitez, came home 6th behind seven-time OluKai champ Andrea Moller, who would have been in unfamiliar territory after the traditional downwind run was called off.
Look for in-depth coverage and photos of the event on supthemag.com later today, but in the meantime here are the top finishers plus some live vision from the finish line thanks to Will from SUP the Mag.
https://www.instagram.com/p/BTiM0eHhd-b/
---
2017 OluKai Ho'olaulea 'Beach Race' Results
| # | Athlete | Time | Points | Division |
| --- | --- | --- | --- | --- |
| 1 | James Casey | 0:37:13 | 40.00 | Elite unlimited |
| 2 | Danny Ching | 0:37:49 | 30.00 | Elite unlimited |
| 3 | Travis Grant | 0:38:33 | 24.00 | Elite unlimited |
| 4 | Mo Freitas | 0:39:42 | 20.00 | Elite unlimited |
| 5 | Connor Baxter | 0:40:34 | 17.00 | Elite 14 |
| 6 | Ryan Funk | 0:41:03 | 14.00 | Elite 14 |
| 7 | Josh Riccio | 0:42:23 | 12.00 | Elite 14 |
| 8 | Kody Kerbox | 0:43:25 | 10.00 | Elite unlimited |
| 9 | Tyler Jaggers | 0:43:38 | 9.00 | Elite unlimited |
| 10 | Riggs Napoleon | 0:44:14 | 8.00 | Elite 14 |
| 11 | Bart de Zwart | 0:46:15 | 7.20 | Open 14' |
| 12 | Tyler Bashor | 0:47:21 | 6.40 | Open 14' |
| 13 | Ethan Koopmans | 0:48:02 | 6.00 | Elite SUP |
| 14 | Bojan Bernard | 0:48:58 | 5.60 | Open 14' |
| 15 | Noah Garfield | 0:49:17 | 5.20 | Open 14' |
| 16 | Steven Dunlop | 0:49:24 | 4.80 | Open |
| 17 | Hans Wannemacher | 0:49:37 | 4.40 | Open 14' |
| 18 | Jeffrey Spencer | 0:49:38 | 4.00 | Open 14' |
| 19 | Robert Foriikekau | 0:50:08 | 3.60 | Elite SUP |
| 20 | Peter Kosinski | 0:50:46 | 3.20 | Open 14' |
| 21 | Keaton Rose | 0:51:23 | 3.00 | Open 14' |
| 22 | Warwick Gray | 0:52:15 | 2.80 | Open 14' |
| 23 | Livio Menelau | 0:52:49 | 2.60 | Elite SUP |
| 24 | Elijah Schoenig | 0:53:06 | 2.40 | Open 14' |
| 25 | Paul Zacharias | 0:53:28 | 2.20 | Open 14' |
| 26 | Rj Whener | 0:54:01 | 2.08 | Open 14' |
| 27 | John Walsh | 0:54:24 | 1.96 | Open 14' |
| 28 | Ricky Ikeda | 0:54:26 | 1.84 | Open 14' |
| 29 | Martin Giroud | 0:54:33 | 1.72 | Open 14' |
| 30 | Tom Pace | 0:54:40 | 1.60 | Open |
| 31 | Robert Howson | 0:54:55 | 1.52 | Open |
| 32 | Doug Thomas | 0:54:58 | 1.44 | Open 14' |
| 33 | Jeff Okuna | 0:56:13 | 1.36 | Open |
| 34 | Masao Fukayama | 0:56:14 | 1.28 | Open 14' |
| 35 | Ron Stjohn | 0:56:45 | 1.20 | Open 14' |
| 36 | Adam Schell | 0:56:57 | 1.12 | Open 14' |
| 37 | Michael Johnson | 0:56:59 | 1.04 | Open 14' |
| 38 | Jeffrey Oltman | 0:57:02 | 0.96 | Open |
| 39 | Brian Fishbook | 0:57:13 | 0.88 | Open 14' |
| 40 | Thomas Burke | 0:57:23 | 0.80 | Open 14' |
| 41 | Shiratake Hidemasa | 0:57:32 | 0.76 | Open |
| 42 | Finn Spencer | 0:57:40 | 0.72 | Open |
| 43 | Kyle Ellison | 0:57:49 | 0.68 | Open 14' |
| 44 | Zeke Rose | 0:58:13 | 0.64 | Open 14' |
| 45 | Zoltan Bazso | 0:58:15 | 0.60 | Open |
| 46 | Paul Pokorski | 0:59:06 | 0.56 | Open 14' |
| 47 | Ryan Cook | 0:59:11 | 0.52 | Open |
| 48 | Andrew Baker | 1:00:42 | 0.48 | Open 14' |
| 49 | Sharn Mentz | 1:00:51 | 0.44 | Open |
| 50 | Brandon McCormick | 1:00:51 | 0.40 | Open 14' |
| 51 | Steve Funk | 1:01:03 | 0.00 | Open 14' |
| 52 | Gary Candido | 1:01:12 | 0.00 | Open |
| 53 | Shawn Tierney | 1:01:28 | 0.00 | Open 14' |
| 54 | Derek Sproul | 1:01:38 | 0.00 | Open 14' |
| 55 | Stephen Pugh | 1:02:03 | 0.00 | Open |
| 56 | William Enoka | 1:02:12 | 0.00 | Open |
| 57 | Bryceen Silva | 1:02:32 | 0.00 | Open |
| 58 | Lee Harrison | 1:03:12 | 0.00 | Open 14' |
| 59 | Geoff James | 1:04:01 | 0.00 | Open |
| 60 | Nelson Carmichael | 1:04:52 | 0.00 | Open |
| 61 | Fred Andersen | 1:04:53 | 0.00 | Open 14' |
| 62 | Yasuharu Nakabayashi | 1:05:21 | 0.00 | Open 14' |
| 63 | Searay Beltran | 1:06:57 | 0.00 | Open 14' |
| 64 | Bill Worthington | 1:07:48 | 0.00 | Open 14' |
| 65 | Matt Murasko | 1:08:22 | 0.00 | Open |
| 66 | Ryder Tremble | 1:09:14 | 0.00 | Open 14' |
| 67 | Bryon Stevens | 1:10:15 | 0.00 | Open 14' |
| 68 | Fred Stanton | 1:12:52 | 0.00 | Open 14' |
| 69 | Peter Martin | 1:14:23 | 0.00 | Open |
| 70 | Jeffrey Janovich | 1:19:12 | 0.00 | Open |
| 71 | Craig Harris | 1:21:00 | 0.00 | Open 14' |
| # | Athlete | Time | Points | Division |
| --- | --- | --- | --- | --- |
| 1 | Annabel Anderson | 0:44:15 | 30.00 | Elite unlimited |
| 2 | Sonni Honscheid | 0:45:13 | 22.50 | Elite 14 |
| 3 | Jade Howson | 0:51:21 | 18.00 | Elite 14 |
| 4 | Kali'a Alexiou | 0:52:32 | 15.00 | Elite 14 |
| 5 | Andrea Moller | 0:53:41 | 12.75 | Elite Unlimited |
| 6 | Erika Benitez | 0:54:24 | 10.50 | Elite SUP |
| 7 | Annie Reickert | 0:56:06 | 9.00 | Elite SUP |
| 8 | Lara Claydon | 0:58:20 | 7.50 | Elite SUP |
| 9 | Jennifer Lee | 1:01:06 | 6.75 | Elite SUP |
| 10 | Kiyomi Sheppard | 1:04:18 | 6.00 | Elite SUP |
| 11 | Sharon Baldwin | 0:59:52 | 5.40 | Open SUP |
| 12 | Marjie Kahookele | 1:09:16 | 4.80 | Open SUP |
| 13 | Elizabeth Campos | 1:14:37 | 4.50 | Open SUP |
| 14 | Kristy Wright Schell | 1:09:57 | 4.20 | Rec SUP 14 |
| 15 | Marie Dautrude | 1:17:51 | 3.90 | Rec SUP 14 |
| 16 | Tomoe Yasu | 1:00:29 | 3.60 | Rec SUP 14 |
| 17 | Natalie Fon | 1:08:02 | 3.30 | Rec SUP 14 |
Raw results available on the official timing site
---
[notdevice][fbvideo link="https://www.facebook.com/supthemag/videos/1344100955672837/" width="645″ height="363″ onlyvideo="1″][/notdevice][device][fbvideo link="https://www.facebook.com/supthemag/videos/1344100955672837/" width="322″ height="181″ onlyvideo="1″][/device]