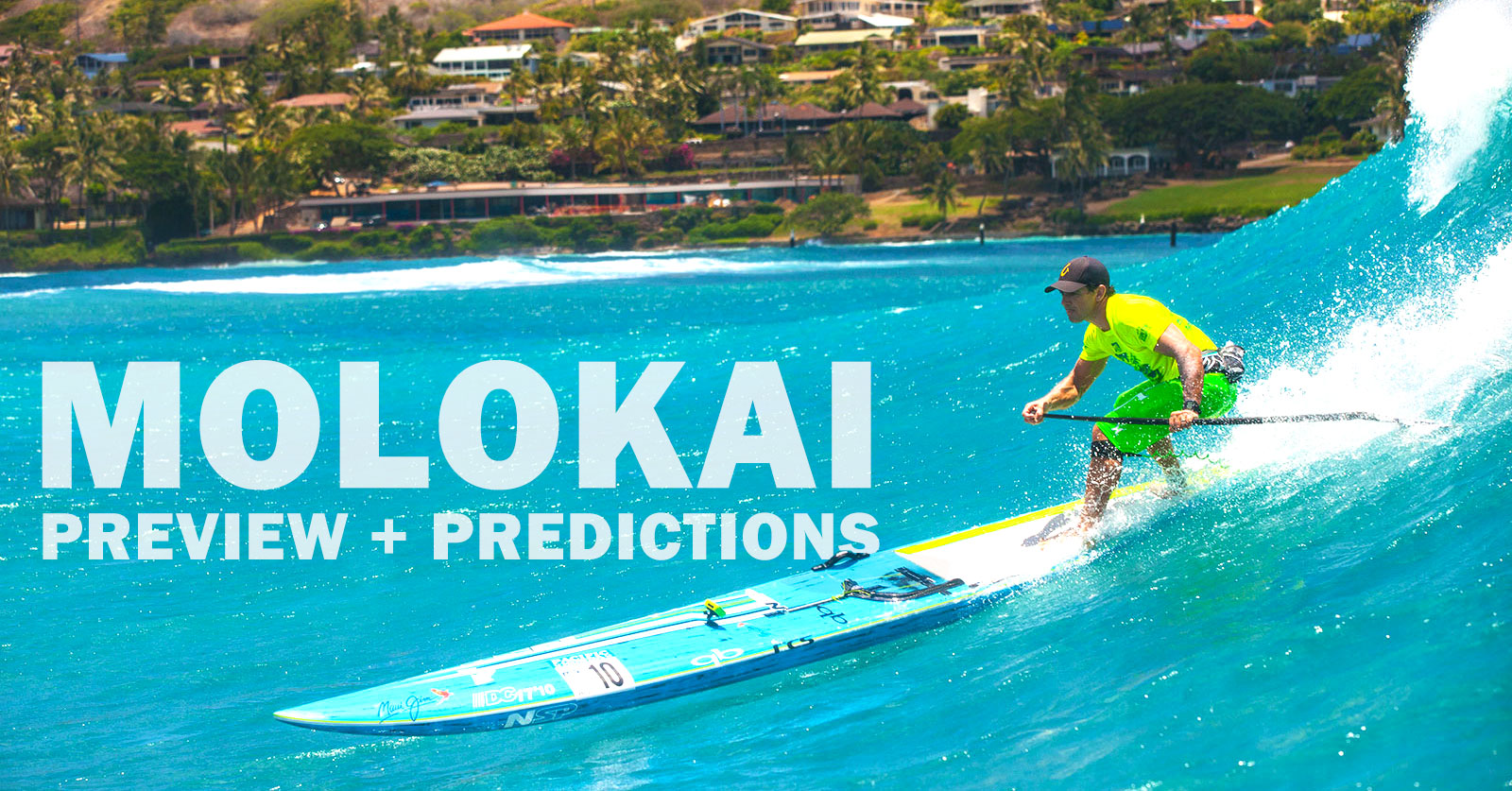 July 29, 2017
by Christopher Parker (@wheresbossman)
MOLOKAI 2017: Preview and Predictions for the Most Prestigious Race of the Year
We're just 24 hours away from one of the biggest races of the year: The 32-mile crossing of the infamous Ka'iwi Channel known as Molokai-2-Oahu. It's a race with so much history, so much prestige and so many stories.
But who's going to add their own chapter to the "M2O" saga this year?
Molokai holds a special place in our sport – it's sort of like the SUP racing equivalent of summiting Everest – and while for many it's a personal journey, not a race, for a select few elite athletes, Molokai represents an ultra-competitive showdown more valuable than any other event on the planet.
Whoever wins this race automatically earns a spot in the history books, so let's take a closer look at the contenders for the 21st annual Molokai-2-Oahu.
And this year I think we're in for an absolutely cracking showdown with several genuine contenders staking their claim on the title.
---
You can follow the race live on the Molokai-2-Oahu Facebook page plus the official official GPS tracking map. Race starts 8am Sunday Hawaii time.
---
So who's it going to claim the glory this year?
Molokai is usually a battle of just two or three genuine prospects, but for the first time we've got at least five guys who all have fairly legitimate claims to the crown.
Connor, Travis, Titou, Jimmy and Lincoln all have the form/talent to win this year. You could throw a blanket over this group, which sets up one of the closest and most competitive Molokai crossings ever.
Connor and Trav are the previous title-holders, while Titou showed the world just how good he is by defending his Carolina title earlier in the year. Jimmy and Lincoln are the two wildcards that could easily upset the big names based on their form so far in season 2017.
It's mighty tough to separate these guys, so I can't wait to see how the race unfolds tomorrow…
This "group of five" would have been six, however defending champ Kai Lenny (who was considering foiling the channel anyway) is heading to Mexico for the WSL big wave contest.
But who else will be up near the front of the field?
Vinni Martins, Kody Kerbox and Marcus Tardrew will all be hoping for a top five finish but probably don't have the form to crack the podium against the all-stars.
Vinni in particular is a really under-rated athlete in Hawaii – he's had some epic performances at M2O in previous years – though his form was a bit up and down in Europe so I'm not sure he's got the legs to push all the way. Marcus is hugely talented in the bumps and could take down a few big names if the downwind bumps are rolling big.
But I think the winner, and indeed the entire podium, is definitely going to be one of those top five guys.
The women's race is a different story: After three-time defending champ Sonni Honscheid withdrew recently, Annabel Anderson, who would have started slight favourite even with Sonni on the start line, suddenly became the raging hot favourite.
Terrene Black and Penelope Strickland will give Annabel solid resistance, but neither has the speed or power to match the world number one for five hours straight.
There's still the small matter of Annabel having to conquer the Ka'iwi Channel itself – a treacherous stretch of water that cannot be taken lightly – but last year's runner-up definitely starts a clear favourite for her maiden title.
For a more in-depth look at the form guide, check out a replay of the Molokai Facebook Live stream we did earlier today. Otherwise you can scroll down to jump straight into the predictions.
---
Facebook Live replay…
[fbvideo link="https://www.facebook.com/supracerr/videos/1450128968404483/" width="645″ height="363″ onlyvideo="1″]
---
I also asked a few other experts from the paddling community to share their tips, and a couple of clear themes have emerged.
So far, all of us have predicted the top three women in the exact same order, with Annabel the clear favourite.
We've also all picked the same top five men, however everybody has put the top contenders in a different finishing order. The only constant theme is Travis Grant being the #1 pick, with three out of the four tipsters predicting the Aussie will claim his third M2O crown and pull alongside Connor and Sonni on the all-time winners list (and the only hold-out said he'd finish runner-up, so Trav is the narrow but clear favourite).
The starting horn for the SUP divisions (both solo and teams) blows at 8am local Hawaiian time on Sunday morning, which is 11am California, 2pm East Coast, 8pm Central Europe; 4am Monday morning East Coast Oz. The winners are expected to cross the finish line on Oahu shortly after 12 noon local time.
Remember to tune into the Molokai-2-Oahu Facebook page for live updates + the live GPS tracker over on the official site, but in the meantime here are our bold (and not so bold) predictions for the Molokai 2017…
---
BOSS MAN
TOP 10 MEN
1st: Travis Grant
2nd: Connor Baxter
3rd: Titouan Puyo
4th: James Casey
5th: Lincoln Dews
6th: Vinnicius Martins
7th: Marcus Tardrew
8th: Kody Kerbox
9th: Niuhiti Buillard (stock)
10th: Josh Riccio (stock)
Notes:
– Almost impossible to split the top five guys. They definitely all have the form and talent to take the win. Jimmy and Lincoln could be particularly dangerous – Jimmy has already won three Hawaiian ocean races this season – but I think Trav's experience will get him home. Lincoln has been in red hot form this year as well and could easily cause an upset.
– How much energy does Connor have left after a long few months on the road? He told me he didn't have the Molokai preparation he would have liked due to an extended stint in Europe. I can see Titou, Jimmy and Lincoln going past him if he starts showing fatigue. Then again, Connor is world number one for a reason and will feel confident of reclaiming the crown he greatly covets.
– Titou is an unknown quantity on an unlimited and prefers downwinding without a rudder, but word is he's been training very well on Oahu and was keeping pace with Trav on a couple of Hawaii Kai runs. Could easily repeat his Carolina heroics.
TOP 3 WOMEN
1st: Annabel Anderson
2nd: Terrene Black
3rd: Penelope Strickland
TEAMS
1st: Andrew Logreco + Mo Freitas
2nd: Bernd Roediger + Michi Schweiger
Women: Andrea Moller + Devin Blish
---
KELLY MARGETTS
– Kelly is a SUP racing legend that needs no introduction. The Sunova team rider was top 10 at last year's Molokai and knows both the channel and all of the top contenders very well.
TOP 8 MEN
1st: Travis Grant
2nd: James Casey
3rd: Titouan Puyo
4th: Lincoln Dews
5th: Connor Baxter
6th: Marcus Tardrew
7th: Vinnicius Martins
8th: Kody Kerbox
TOP 3 WOMEN
1st: Annabel Anderson
2nd: Terrene Black
3rd: Penelope Strickland
---
CHRIS TING (VMG Blades)
– Based in Sydney, Chris is the founder of VMG Blades, the presenting sponsor of Battle of the Brands, and is an accomplished paddler in his own right. VMG, which has one of the most impressive team lineups in the sport (they'd comfortably be second on the teams leaderboard if we included non-board brands), will have a few team riders battling for the podiums tomorrow, including James Casey, Terrene Black and Josh Riccio.
When SUP Racer asked me to offer some predictions for the 2017 M2O, I thought I'd better do a bit of homework and speak to some of my team riders for a bit of a form guide.
Jimmy Casey aka "The Weatherman" said the forecast is looking good at the moment — solid east winds are on the cards, which should make for plenty of downwind bumps on Sunday.
The predictions for the unlimited men seems have everyone naming the same top 5 just in slightly different orders. In no particular order that top five is: James Casey, Connor Baxter, Lincoln Dews, Travis Grant and Titouan Puyo.
James, Lincoln and Travis are all on dugouts, and I hear Titouan is riding a prototype.
What will Connor be riding though? After the last few weeks with the dugouts getting awfully close to Connor at M2M and James winning the Poi Bowl, will we see Connor on a different board?
M2O has been Jimmy's training focus whilst at home in Sydney this year, and word on the street is Jimmy is going exceptionally fast on his Sunova Unlimited which moves through the water really nicely.
But it's not all about speed–will the experience of two-time winner Travis Grant prevail again?
Titou is a bit of an unknown on unlimiteds but his experience and talent can't be ignored. Plus I hear he's been matching Travis in training.
Lincoln has been in great form and has some great results in this race.
I'm going to go out on a limb here and pick the top five…
TOP 5 MEN
1st: James Casey
2nd: Travis Grant
3rd: Connor Baxter
4th: Lincoln Dews
5th: Titouan Puyo
On the women's side, it's hard to go past Annabel. She's always fast and this year is on the new Sunova.
With Sonni not racing and some question marks on some of the ladies pulling out, a fit and in form Terrene Black and Pea Strickland will be hard to split in the battle for second and third.
TOP 3 WOMEN
1st: Annabel Anderson
2nd: Terrene Black
3rd: Penelope Strickland
---
ALAIN TEURQUETIL (NSP)
– Hailing from France but now based in Australia, Alain is the head designer at NSP and therefore responsible for the shapes that Travis, Titou and several others will be paddling tomorrow. He's also an expert tipster and the first guy I run my predictions by at every major race. Alain will be on Travis' escort boat just as he was last year (and will hopefully give us a few mid-channel photos and clips).
TOP 5 MEN
1st: Travis Grant
2nd: Titouan Puyo
3rd: Connor Baxter
4th: James Casey
5th: Lincoln Dews
Notes: If Connor is paddling his regular board from previous years (as we assume) then I think he'll finish third. If he's on a new board, I say he'll probably be runner-up.
TOP 3 WOMEN
1st: Annabel Anderson
2nd: Terrene Black
3rd: Penelope Strickland
---
You…
Leave a comment over on Facebook with your own predictions…
Click here for the updated start list, and then tune in from 8am Hawaiian time on Sunday to follow this great race as it happens.