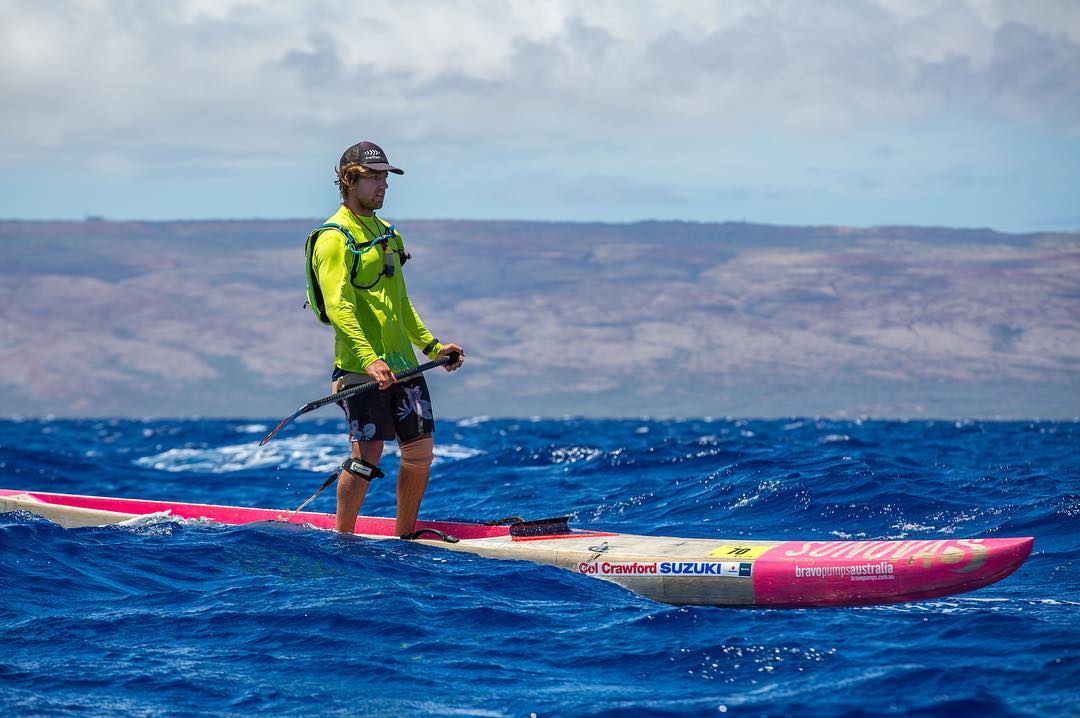 July 11, 2017
by Christopher Parker (@wheresbossman)
James Casey, Annabel Anderson Win the M2Molokai Challenge as Team Sunova Sweeps Top Spots
https://www.instagram.com/p/BWUCMgFjdo2/
In brief: Aussie James Casey has continued his winning ways in Hawaii, with the 2017 OluKai champ taking out the M2Molokai Challenge on the weekend as the ocean paddling world gears up for a big double header later this month.
Jimmy completed the 42km (26 mile) crossing from Maui to Molokai in a time of 3 hours, 19 minutes and 9 seconds, narrowly avoiding an upset at the hands of his Team Sunova board designer Marcus Tardrew, a lesser-known but extremely talented downwind paddler who crossed less than a minute later. Maui's Kody Kerbox restored some pride for the home team by snagging third place.
Annabel Anderson was in a league of her own in the women's race, claiming the win in 3:39:05, with Andrea Moller runner-up and stars-of-the-future Kali'a Alexiou and Lara Claydon enjoying a close battle for the third step on the podium.
Jimmy and Marcus were both paddling the new "dugout" unlimited designs from Sunova, where James is the star team rider and Marcus is the head designer. We'll see these interesting boards in action again next weekend at the big Maui2Molokai race (there are two separate M2M races in two weekends) as well as at the epic Molokai-2-Oahu showdown.
It was actually a treble for Team Sunova on Saturday, with Annabel jumping on a similar design as she gears up for an assault on M2O (Annabel isn't officially part of Team Sunova but the world number one will be paddling their unlimited boards during Downwind Month).
https://www.instagram.com/p/BWVeFnHhCyJ/
---
2017 M2Molokai Challenge
1st: James Casey (3:19:09)
2nd: Marcus Tardrew (3:19:53)
3rd: Kody Kerbox (3:21:06)
1st: Annabel Anderson (3:39:05)
2nd: Andrea Moller (3:47:11)
3rd: Kali'a Alexiou (4:14:39)
Click here for the full results
---
https://www.instagram.com/p/BWbIrw9hStq
Not to be confused with the 4-star 'Maui2Molokai race', which is happening next weekend (July 15th) and acts as the first of two big highlights in Downwind Month (the other, of course, being the M2O epic on July 30th), the 'M2Molokai Challenge' follows the same course as Maui2Molokai but is a completely separate event.
While the M2Molokai Challenge doesn't attract as many of the internationals as Maui2Molokai (I know, the names are really confusing), it does offer up the same world class downwind run; the crossing from the west coast of Maui to the south side of Molokai is often described by paddlers as the greatest downwinder on the planet.
The event is spread over two days: Saturday saw the crossing from Maui, while those who hung around on Molokai for the weekend were treated to another all-time downwinder during Sunday's M4M race ("Molokai 4 Molokai"). Here's a clip from Jimmy showing the bumps on day two…
In a novel twist, Saturday's inter-island race produced such good bumps that Zane Schweitzer decided to ditch his race board and take his foil for a spin across to Molokai.
Despite ceding about 10 ft worth of board length to the unlimited paddlers, Zane was the fastest racer on the water thanks to his magic flying fin. After starting 15 minutes behind the stand up paddlers, the Maui superstar caught Jimmy just before they hit Molokai's outer reef, however he was unable to take line honours after having to turn his board upside down and slowly paddle in over the shallow reef for the final kilometre.
[notdevice][fbvideo link="https://www.facebook.com/Mat5o/videos/1894666174134131/" width="645″ height="363″ onlyvideo="1″][/notdevice][device][fbvideo link="https://www.facebook.com/Mat5o/videos/1894666174134131/" width="322″ height="181″ onlyvideo="1″][/device]
https://www.instagram.com/p/BWVfz7-BAfm/
Stay tuned for more coverage of Downwind Month as the titans of ocean paddling do battle over the next few weeks. We'll have a preview of the big Maui2Molokai race in a few days' time, before we turn our attention to the most prestigious race in the sport: Molokai-2-Oahu.