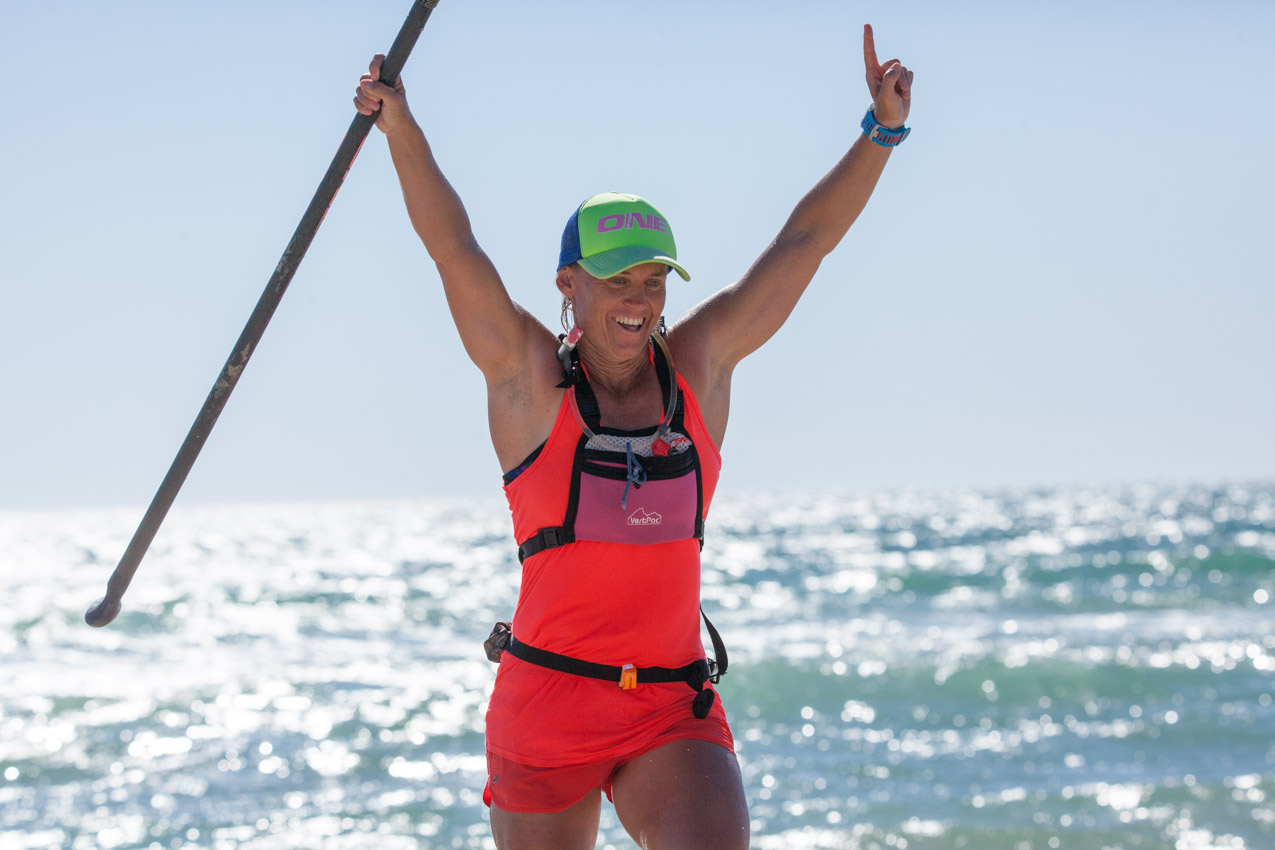 December 2, 2017
by Christopher Parker (@wheresbossman)
King of the Cut: Jake Jensen Dethrones Titouan Puyo, Angie Jackson Overpowers Karla Gilbert to Win Australia's Biggest Race
In brief: Jake Jensen and Angie Jackson have claimed victories at the Stand Up Surf Shop "King of the Cut" downwind showdown in Western Australia this afternoon, defeating a star-studded cast of ocean masters to give Team ONE a double victory.
Jake was too fast for defending champ and downwind dynamo Titouan Puyo, while last weekend's Doctor winner James Casey hit the podium once again with another classy performance. Michael Booth and Molokai hero Travis Grant rounded out the top five in a field that featured most of Australia's best, a few international guns and dozens of weekend warriors enjoying WA's famous conditions.
While most of the field were riding unlimiteds after King of the Cut organisers opened up the board classes this year, there was still an intriguing battle in the stock 14′ class. Matt Nottage narrowly held on for the home team against Gorge champion Bernd Roediger, while 15-year-old Noic "Chicken" Garioud took third.
After mixed forecasts all week had a few paddlers worried, conditions ended up being really good on the famous downwind run along the Dawesville Cut. There were light bumps in the first half of the race but things really picked up on the run home, with endless runners producing some very quick times (7 minutes faster than last year's run).
Titou said after the race that it was a great run even though he lost his crown: "Light at the start which suited me. But Jake passed me near the end and I couldn't do anything. It was a super event as always and we had good conditions. And also one dolphin!"
I also got a quick word from Travis after the race who said it was a really good run considering the winds were lighter than usual, before adding that "Man, everyone is going so fast now."
On the women's side, Angela Jackson dethroned 2016 winner Karla Gilbert with a stunning performance that saw the Queenslander shave 11 minutes off her time from last year. Angie finished over six minutes ahead of the defending champ to give Team ONE the golden double, with local wildcard Belinda Stowell-Brett rounding out the podium after a solid performance of her own.
Ang told me after the race that she was beyond stoked by the result, which is just reward for her committed training regime — the champ has recently been using Boothy's custom training program and it's clearly paying dividends. "Wind was relatively light but lots of well-groomed bumps. You had to really work for them though. Stoked with my result and time — Boothy's training is the bomb!"
The double victory from Jake and Angie is also the biggest result thus far for boutique brand ONE, while another of the little guys that are punching above their weight, Sunova, also enjoyed a strong presence in the field.
We'll have a full recap up soon, but in the meantime here's a quick look at today's top finishers — get the full results on the GPS-tracking page.
---
| # | Athlete | Time | Board | Points |
| --- | --- | --- | --- | --- |
| 1 | Jake Jensen | 1:41:14 | unlimited | 40.00 |
| 2 | Titouan Puyo | 1:42:38 | unlimited | 30.00 |
| 3 | James Casey | 1:43:16 | unlimited | 24.00 |
| 4 | Michael Booth | 1:45:18 | unlimited | 20.00 |
| 5 | Travis Grant | 1:46:23 | unlimited | 17.00 |
| 6 | Beau O'Brian | 1:47:24 | unlimited | 14.00 |
| 7 | Marcus Tardrew | 1:47:34 | unlimited | 12.00 |
| 8 | Matt Nottage | 1:48:08 | 14 | 10.00 |
| 9 | Bernd Roediger | 1:48:39 | 14 | 9.00 |
| 10 | James Knowles | 1:48:54 | unlimited | 8.00 |
| 11 | Ben Tardrew | 1:50:22 | unlimited | 7.20 |
| 12 | Paul Jackson | 1:51:36 | unlimited | 6.40 |
| 13 | Noic Garioud | 1:52:27 | 14 | 6.00 |
| 14 | David Kissane | 1:53:04 | unlimited | 5.60 |
| 15 | sam parker | 1:54:49 | unlimited | 5.20 |
| 16 | William Lee | 1:55:14 | 14 | 4.80 |
| 17 | Ty Judson | 1:58:39 | unlimited | 4.40 |
| 18 | Sam McCullough | 1:58:44 | 14 | 4.00 |
| 19 | Bryn Hoyd | 2:04:15 | unlimited | 3.60 |
| 20 | Olivier Garioud | 2:04:24 | 14 | 3.20 |
| 21 | Mark Huxley | 2:04:29 | unlimited | 3.00 |
| 22 | Jason Oliphant | 2:07:07 | unlimited | 2.80 |
| 23 | john gerlach | 2:07:20 | unlimited | 2.60 |
| 24 | Scott McCluskey | 2:07:28 | unlimited | 2.40 |
| 25 | Ben Mardon | 2:07:33 | unlimited | 2.20 |
| 26 | Dale Chapman | 2:10:38 | unlimited | 2.08 |
| 27 | Andy Davies | 2:11:05 | 14 | 1.96 |
| 28 | Luke Hallam | 2:12:14 | 14 | 1.84 |
| 29 | Alain Teurquetil | 2:12:35 | unlimited | 1.72 |
| 30 | Adam Fahey | 2:14:09 | unlimited | 1.60 |
| 31 | Jason Kennett | 2:16:54 | 14 | 1.52 |
| 32 | Derek Jones | 2:17:22 | unlimited | 1.44 |
| 33 | Travis Murphy | 2:17:28 | 14 | 1.36 |
| 34 | Glenn Morgan | 2:17:37 | unlimited | 1.28 |
| 35 | Willis Casey | 2:17:43 | unlimited | 1.20 |
| 36 | David Hume | 2:18:29 | unlimited | 1.12 |
| 37 | Crawford Olney | 2:18:41 | 14 | 1.04 |
| 38 | Kevin Johnson | 2:18:48 | 14 | 0.96 |
| 39 | Darren Pratt | 2:19:25 | unlimited | 0.88 |
| 40 | Cameron McKay | 2:19:35 | 14 | 0.80 |
| 41 | Dave White | 2:20:30 | unlimited | 0.76 |
| 42 | Alessio Voliani | 2:20:48 | unlimited | 0.72 |
| 43 | Damian England | 2:21:07 | 14 | 0.68 |
| 44 | Greg Kerr | 2:22:54 | unlimited | 0.64 |
| 45 | Luke Jenkins | 2:23:35 | 14 | 0.60 |
| 46 | Dany Leclerc | 2:24:02 | 14 | 0.56 |
| 47 | Stuart Speechley | 2:26:31 | 14 | 0.52 |
| 48 | Ben de Chaneet | 2:26:51 | 14 | 0.48 |
| 49 | Jade Denton | 2:27:20 | 14 | 0.44 |
| 50 | Kent Wright | 2:27:56 | 14 | 0.40 |
| 51 | Gordon Salvage | 2:29:20 | 14 | 0.00 |
| 52 | Tony Strang | 2:30:59 | 14 | 0.00 |
| 53 | Peter Baldwin | 2:31:21 | 14 | 0.00 |
| 54 | Glen Andrews | 2:34:11 | unlimited | 0.00 |
| 55 | Samuel Maurice | 2:34:22 | 14 | 0.00 |
| 56 | Steve McCullough | 2:36:11 | 14 | 0.00 |
| 57 | Blair Harrison | 2:39:16 | unlimited | 0.00 |
| 58 | Steve Malcom | 2:40:25 | unlimited | 0.00 |
| 59 | Matt Mudie | 2:41:06 | 14 | 0.00 |
| 60 | phil pretty | 2:42:22 | unlimited | 0.00 |
| 61 | Darron McNab | 2:43:27 | 14 | 0.00 |
| 62 | Darren Hope | 2:44:35 | 14 | 0.00 |
| 63 | Matthew Kelly | 2:45:41 | unlimited | 0.00 |
| 64 | Chris Ting | 2:47:04 | unlimited | 0.00 |
| 65 | Alex Fossilo | 2:53:25 | 14 | 0.00 |
| 66 | Neil James | 2:56:51 | unlimited | 0.00 |
| 67 | brook ekers | 3:17:05 | 14 | 0.00 |
---
| # | Athlete | Time | Points |
| --- | --- | --- | --- |
| 1 | Angie Jackson | 2:07:41 | 30.00 |
| 2 | Karla Gilbert | 2:14:12 | 22.50 |
| 3 | Belinda Stowell-Brett | 2:21:23 | 18.00 |
| 4 | Yuka Sato | 2:24:20 | 15.00 |
| 5 | Jade Lane | 2:25:22 | 12.75 |
| 6 | Suzanna Wilson | 2:27:38 | 10.50 |
| 7 | Cristiana Chessa | 2:33:18 | 9.00 |
| 8 | Jacklyn Nichols | 2:37:41 | 7.50 |
| 9 | Sofie Simonsson | 2:57:13 | 6.75 |
| 10 | Tracey Mouque | 3:15:05 | 6.00 |
---
Click here for the full results