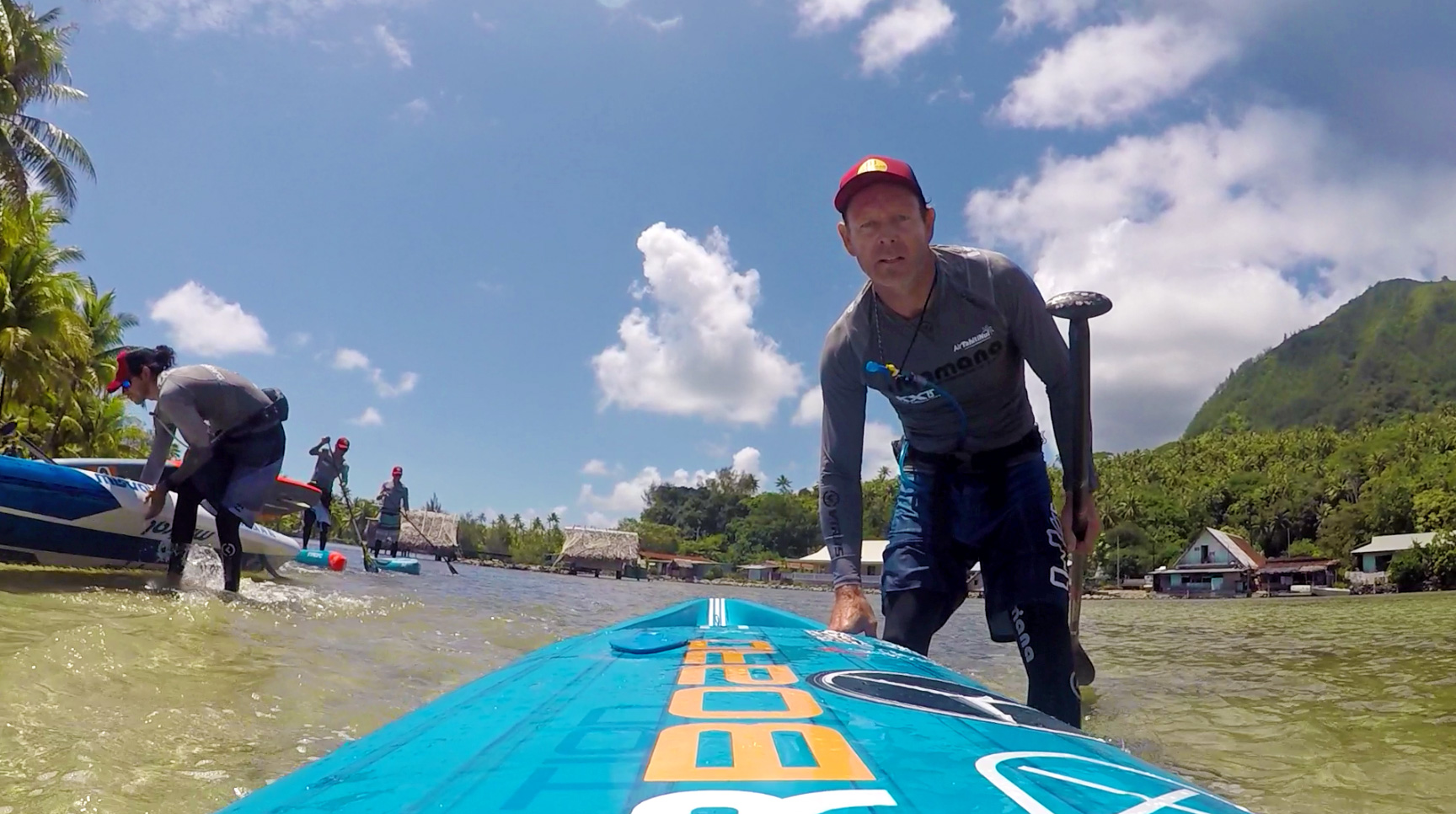 December 7, 2017
by Bart de Zwart
IRONMANA: Follow the World's Craziest Race with Daily Updates from Postcard-Perfect Huahine
Boss Man's note: We've got one last race to finish the year, and it seems we've saved the best – or at the very least: the toughest – for last. IRONMANA is a week-long, multi-discipline race in the postcard-perfect Tahitian islands that offers both an extraordinary holiday in paradise and an extraordinary physical challenge. It's an interesting mix.
This year the event moved from Bora Bora to the equally picturesque island of Huahine, and once again it'll feature a smorgasbord of tough racing including SUP, prone, outrigger and swimming. We simply call it "Five Days of Pain in Paradise."
The 2018 edition of IRONMANA also acts as the final stop of the new Waterman World Tour, which is an extension of the Waterman Tour Tahiti that offers a dozen mini-Ironmanas throughout the season. Each event combines swimming, prone'ing and SUP'ing to produce a torturous "paddleboarding triathlon" style race.
But IRONMANA is the grand daddy of them all, and over the next week we'll take you inside the belly of the beast with daily updates and insights from Starboard veteran Bart de Zwart…
---
---
DAY FIVE
Saturday
---
DAY FOUR
Friday
---
DAY TWO/THREE
Another crazy beautiful and exciting day here in Huahine.
Every day it is constant surprise about what we're doing and how far we're doing it. Yesterday was prone, swimming and OC6. Today we started at 4:30am and climbed to a mountaintop with the whole team.
After that we SUP raced to an idyllic little beach where we had to swim for another 2km.
A local lunch on self-made plates and then off to some cliff jumping.
The OC6 was a highlight especially when we took an inside line though the pass and got hammered by a wave. We ended up on the reef for the next 15 min before we could continue our journey…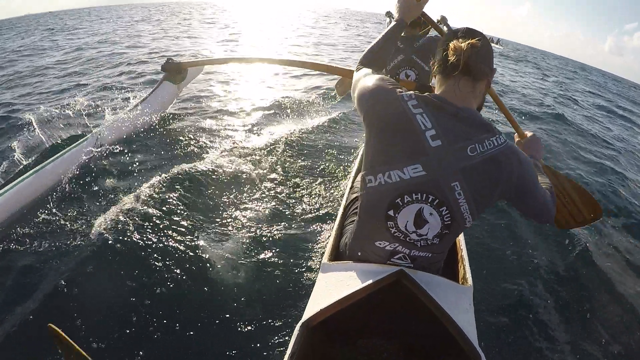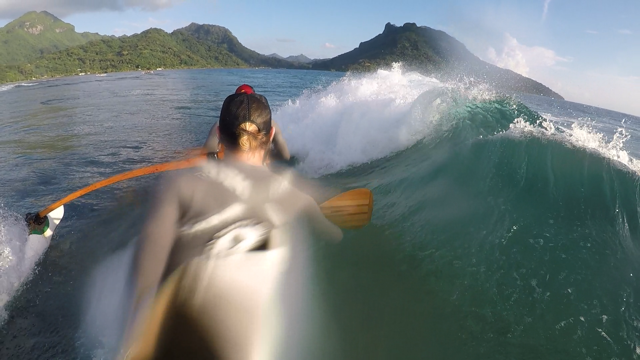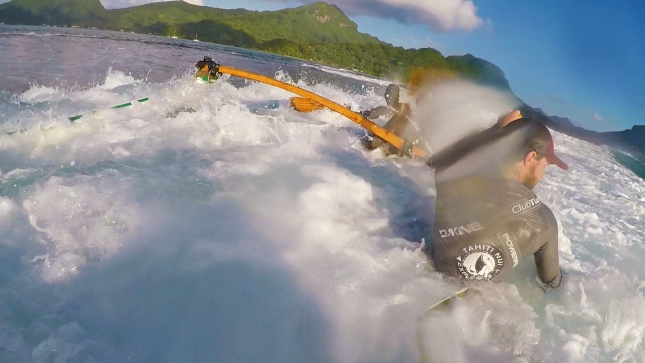 ---
DAY ONE
You are arrive in Huahine and you feel right at home. We are on a tiny little airport right next to the ocean with a tiny little plane.
Huahine is a laid back island with all the characteristics of paradise. Lush green mountains, turquoise water, a light trade wind and a beautifully formed wave in the reef pass. I checked out the wave the day before the race with my inflatable — beautiful but scary because the wave is hollow and the reef sucks dry right next to where you are surfing.
Yesterday the competitors arrived from many different corners of the world, then the event started this morning.
Stephane the race organizer keeps things interesting by not telling what will happen that day or even that hour. He is always full of surprises. It started last night when he announced that all competitors had to give up their sport drinks, gels or any other race supplements. This week it is just water and bananas (or any other regular food).
This morning we loaded all the SUP boards and were told to only bring one water pack for a whole morning of racing (still not knowing what kind and how long of a SUP race it would be).
When we arrived it turned out to be a downwinder on an inside lake of Huahine, after which we did an upwind – downwind race, and after that an upwind and downwind time trail.
Still with only with 1.5 liter of water, at 2 pm we got back and were all thirsty and hungry. We were given a good 2 hours to recuperate before we had the final event of the day, a 2.5km swim.
Although I think of my self as a good swimmer, I always realize here that in short, I suck. I swim well and long but with no speed unlike some of the other competitors like Ryan who was almost last in SUP but won the swim. And on the flipside is local gun Niuhiti Buillard who won all the SUP races but was almost last in the swim.
So things have been interesting here on our little paradise island. This year we sleep all together in a community house just like kids camp when we were young with 40 mattresses on the ground. What we will have the next 5 days is still a surprise. Right now we are all happy but tired.
---
IRONMANA PREVIEW
The Ironmana is almost upon us, and this year it's at an exciting new location!
In two days I will be flying to one of the nicest, hardest, most beautiful, grueling but also unique races I know. It is not one of my long endurance races but nonetheless challenging in many other ways.
Some call it a boot camp, some call it their daily routine. Over the years the Ironmana has grown to be a waterman race where you can expect anything. There is never a clear schedule of the events what will take place, it is mostly a surprise you will find out just after breakfast — all while you are in one of the most extraordinary places in the world.
This year it takes place in Huahine, a small tropical paradise which belongs to the French Polynesian islands and lays about 200 miles West from the main island of Tahiti.
Where the last years it has been mostly endurance races, this year all we know is that it's mostly sprint races in SUP, swimming, OC1, surfski, sailing canoe and running.
Most athletes who compete are good in one discipline and just ok in the rest. You can do only the events you like and are good in, but funny enough almost all people who do IRONMANA will do all the races and see it as a fun event that challenges you and makes you try it all.
It is an exciting concept which is big in Tahiti with the season long Waterman Tour Tahiti events.
Stephane Lambert, a great waterman himself, is the main organizer of this event. He lives on Tahiti and organizes over 30 events throughout French Polynesia. What I like most about his events that he tries to come up with original courses and rules to make his races different and exciting.
I didn't say easy.
If he thinks it is exciting for the event to integrate a one hour paddle into the wind for a particular course, he will do so. I met him a few years ago when he assisted with my arrival after my solo unsupported crossing from Tahiti to Bora Bora. As an illustration of what he thinks is fun, he paddled with me the last 4 hrs around the reef at Bora Bora just for something to do.
So it promises to be a great week. Internet allowing, I will post daily short stories, photos and videos of the all what will be going on in Huahine.