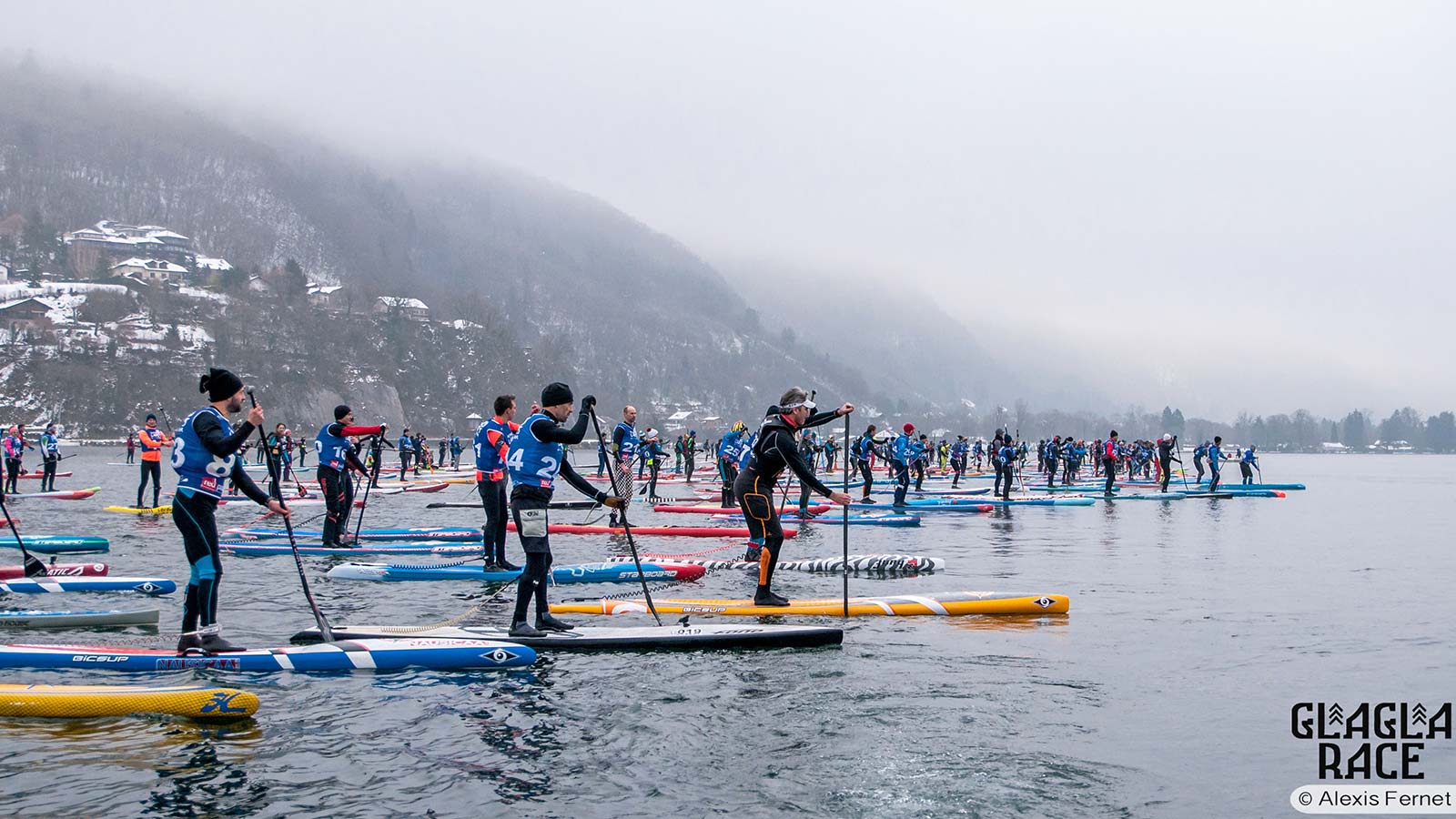 January 21, 2017
by Christopher Parker (@wheresbossman)
Martin Letourneur, Olivia Piana Win the 'GlaGla Race' as 345 Paddlers Descend on Beautiful Lake Annecy in the French Alps
In brief: Martin Letourneur and Olivia Piana have taken out the 2017 GlaGla Race in the French Alps, with a massive 345 competitors descending upon a cold but sunny Lake Annecy in what was an amazing celebration of the sport.
After 13km of flat and sometimes foggy paddling, Martin edged out world number 13 Leo Nika by the narrowest of margins, winning a photo finish with an official margin of 0.6 seconds.
As the sun poked through to setup a beautiful afternoon, Olivia crossed the line 10 minutes later to make it a double victory for the host nation, with the Frenchwoman in a league of her own that saw her finish top 20 on the men's leaderboard.
Promising French kayaker Matthieu Chauvel and unheralded Slovenian Jost Zakrajsek (who has a whitewater canoe background) were both very impressive in sticking with Martin and Leo all the way to the end, while Swiss-turned-Aussie Nico Schenk paddled strong to round out the top five.
After losing by mere centimetres in the morning, Leo had some revenge on Martin in the afternoon, with Starboard rider from Italy taking out the 5km 'Beach Race' event by a similar margin.
But the real story of the event was the sheer number of participants who braved the below-freezing temperatures for the first big race of the year. The air temp was -4 when the distance race started, while the water temp would have been hovering around +4 or +5. Most of us couldn't feel our toes, but everyone I spoke to said it was an amazing race to be part of.
Watching 345 paddlers charge off the start line must have been an incredible sight — stay tuned for some awesome drone footage on SUP Racer's Facebook and Instagram later tonight and tomorrow.
This is the kind of race that reminds you why our sport is so much fun.
Huge thanks to Benoit from the Alpine Lakes Tour for creating this crazy but amazing race in an epic location. It was an absolutely freezing day on the water, but I'm already looking forward to next year's event.
Thanks also to Red Paddle Co for hooking me up with an elite inflatable to race on (I'll have a review of their new 2017 boards later this week). Speaking of Red, we also got to witness the epic 'Red Dragon' four-person inflatable race–keep an eye out for some awesome drone footage of that one as well.
Check back after the weekend for a full recap of the race, full results full results below, photo gallery and more video of this amazing race. In the meantime, follow SUP Racer on Facebook and Insta for more insights.
UPDATE: Here's the epic drone footage // scroll down for full results
[notdevice][fbvideo link="https://www.facebook.com/supracerr/videos/1236182163132499/" width="645″ height="363″ onlyvideo="1″][/notdevice][device][fbvideo link="https://www.facebook.com/supracerr/videos/1236182163132499/" width="322″ height="181″ onlyvideo="1″][/device]
---
https://www.instagram.com/p/BPhrpQsl6uL/
---
2017 GlaGla Race
| # | M/F | M/F # | Name | Time | Board | Nation |
| --- | --- | --- | --- | --- | --- | --- |
| 1 | M | 1 | Martin Letourneur | 1:21:57 | 14' carbon | FRA |
| 2 | M | 2 | Leonard Nika | 1:21:58 | 14' carbon | ITA |
| 3 | M | 3 | Matthieu Chauvel | 1:22:06 | 14' carbon | FRA |
| 4 | M | 4 | Jost Zakrajšek | 1:22:11 | 14' carbon | SLO |
| 5 | M | 5 | Nico Schenk | 1:23:25 | 14' carbon | SUI |
| 6 | M | 6 | Yanis Maire | 1:26:11 | 12'6 carbon | FRA |
| 7 | M | 7 | Philippe Lachenal | 1:26:15 | 14' carbon | FRA |
| 8 | M | 8 | Nick Crettenand | 1:26:20 | 14' carbon | SUI |
| 9 | M | 9 | Pierre Adrien | 1:26:25 | 14' carbon | FRA |
| 10 | M | 10 | Samuel Carbillet | 1:26:38 | 14' carbon | FRA |
| 11 | M | 11 | Tom Constant | 1:27:24 | 14' carbon | FRA |
| 12 | M | 12 | Sebastien Le Meaux | 1:27:43 | unlimited | FRA |
| 13 | M | 13 | Leandro Cruz | 1:29:51 | 12'6 carbon | FRA |
| 14 | M | 14 | Ugo Clay | 1:29:53 | 12'6 carbon | FRA |
| 15 | M | 15 | Vincent Verhoeven | 1:30:01 | 14' inflatable | FRA |
| 16 | M | 16 | Matthieu Thiolet | 1:30:02 | 12'6 carbon | FRA |
| 17 | M | 17 | Pampinella Tommaso | 1:30:22 | 14' carbon | ITA |
| 18 | F | 1 | Olivia Piana | 1:31:16 | 14' carbon | FRA |
| 19 | M | 18 | Vincent Jouhanneaud | 1:31:22 | 12'6 carbon | FRA |
| 20 | M | 19 | Michael Frosch | 1:31:23 | 14' carbon | AUT |
| 21 | M | 20 | Wolfgang Ortfried Leeb | 1:31:30 | 14' carbon | ALL |
| 22 | M | 21 | Alain Teurquetil | 1:31:31 | 14' carbon | FRA |
| 23 | M | 22 | Jean-christophe Dillon | 1:32:01 | 12'6 carbon | FRA |
| 24 | M | 23 | Nicolas Lebeau | 1:32:05 | 14' carbon | FRA |
| 25 | M | 24 | Yann Redouin | 1:32:58 | 14' carbon | FRA |
| 26 | M | 25 | Wolfgang Guetg | 1:33:06 | 12'6 inflatable | SUI |
| 27 | M | 26 | Laurent Chenivesse | 1:33:07 | unlimited | FRA |
| 28 | M | 27 | Pierre Guerre Berthelot | 1:33:15 | 14' carbon | FRA |
| 29 | M | 28 | Benoit Fernet | 1:33:19 | 14' carbon | FRA |
| 30 | M | 29 | Didier Varon | 1:33:50 | 14' carbon | FRA |
| 31 | M | 30 | Stephane Danfreville | 1:34:05 | 14' carbon | FRA |
| 32 | M | 31 | Vincent Claeskens | 1:34:56 | 14' carbon | BEL |
| 33 | M | 32 | Alain Morotti | 1:35:03 | 12'6 carbon | FRA |
| 34 | M | 33 | Stive Lener | 1:35:04 | 12'6 carbon | FRA |
| 35 | M | 34 | Serge Senalada | 1:35:51 | 14' carbon | SUI |
| 36 | M | 35 | Thierry Martinet | 1:36:02 | 14' carbon | FRA |
| 37 | M | 36 | William Brasseur | 1:36:03 | 12'6 inflatable | FRA |
| 38 | M | 37 | Antoine Ribault | 1:36:14 | 12'6 carbon | FRA |
| 39 | F | 2 | Melanie Lafenetre | 1:36:37 | 12'6 carbon | FRA |
| 40 | M | 38 | Ghislain Romé | 1:37:15 | 12'6 carbon | FRA |
| 41 | F | 3 | Marie-elphege Julienne | 1:37:16 | 12'6 carbon | FRA |
| 42 | M | 39 | Olivier Comazzi | 1:37:21 | 14' carbon | FRA |
| 43 | F | 4 | Ines Blatge | 1:37:53 | 12'6 carbon | FRA |
| 44 | M | 40 | Alexandre Laguian | 1:38:05 | 14' carbon | SUI |
| 45 | M | 41 | Stephane Guillermin | 1:38:25 | 12'6 carbon | SUI |
| 46 | M | 42 | Alexandre Wack | 1:38:27 | 12'6 carbon | FRA |
| 47 | M | 43 | Gilles Mathieu | 1:38:34 | 12'6 inflatable | FRA |
| 48 | M | 44 | Patrick Lamarre | 1:38:41 | 14' carbon | FRA |
| 49 | M | 45 | Antoine Badin | 1:38:48 | 12'6 carbon | FRA |
| 50 | M | 46 | Sebastien Tripognez | 1:38:56 | 12'6 carbon | FRA |
| 51 | M | 47 | Stephane Koch | 1:39:18 | 14' carbon | SUI |
| 52 | M | 48 | Eric Devaux | 1:39:26 | 12'6 carbon | FRA |
| 53 | M | 49 | Alexandre Agudo | 1:40:11 | 12'6 carbon | FRA |
| 54 | M | 50 | Frederic Pree | 1:40:16 | 14' carbon | FRA |
| 55 | F | 5 | Sigrid Baumgartner | 1:40:19 | 14' carbon | SUI |
| 56 | M | 51 | Christian Moutsakos | 1:40:25 | 14' carbon | AUT |
| 57 | M | 52 | Christopher Parker | 1:40:27 | 12'6 inflatable | AUS |
| 58 | M | 53 | Jeremy Laugerat | 1:40:34 | 12'6 inflatable | FRA |
| 59 | M | 54 | Alexandre Dallant | 1:40:35 | 14' carbon | FRA |
| 60 | M | 55 | Didier Scovron | 1:41:02 | 14' carbon | FRA |
| 61 | F | 6 | Edith Teulade | 1:41:06 | 14' carbon | FRA |
| 62 | M | 56 | Herve Lalanne | 1:41:33 | 14' carbon | FRA |
| 63 | M | 57 | Arnaud Pronost | 1:41:40 | 14' carbon | FRA |
| 64 | M | 58 | Stephane Bentoumi | 1:41:47 | 12'6 carbon | FRA |
| 65 | M | 59 | Serge Paulin | 1:42:10 | 12'6 carbon | FRA |
| 66 | M | 60 | Marc Degraef | 1:42:17 | 12'6 carbon | FRA |
| 67 | M | 61 | Stephane Hocquinghem | 1:42:27 | 14' inflatable | FRA |
| 68 | M | 62 | Gilles Lelievre | 1:42:36 | 12'6 carbon | FRA |
| 69 | M | 63 | Kevin Kohn | 1:42:37 | 12'6 inflatable | SUI |
| 70 | F | 7 | Lidvina Champendal | 1:42:56 | 12'6 carbon | SUI |
| 71 | M | 64 | Yvan Tacher | 1:42:57 | 12'6 inflatable | FRA |
| 72 | M | 65 | Mickaël Dumont | 1:43:14 | 12'6 carbon | FRA |
| 73 | M | 66 | Laurent Barberet | 1:43:23 | 12'6 carbon | FRA |
| 74 | M | 67 | Titouan Ropiot | 1:43:27 | 14' carbon | FRA |
| 75 | M | 68 | Mathieu Ackermann | 1:43:33 | 14' carbon | FRA |
| 76 | M | 69 | Philippe Ropiot | 1:43:56 | 12'6 carbon | FRA |
| 77 | M | 70 | Loic Gourmelen | 1:43:57 | 12'6 inflatable | FRA |
| 78 | M | 71 | Lionel Geldreich | 1:44:21 | 12'6 carbon | FRA |
| 79 | M | 72 | Benoit Lelievre | 1:44:23 | 12'6 inflatable | FRA |
| 80 | M | 73 | Jerome Vasquez | 1:44:30 | 14' carbon | FRA |
| 81 | M | 74 | Thomas Coussot | 1:44:49 | 12'6 carbon | FRA |
| 82 | M | 75 | Eric De Maulde | 1:44:50 | 12'6 inflatable | FRA |
| 83 | M | 76 | David Vandenbossche | 1:44:57 | 12'6 carbon | FRA |
| 84 | M | 77 | Patrice Remoiville | 1:44:57 | unlimited | FRA |
| 85 | M | 78 | Lionel Lacaze | 1:44:58 | 14' carbon | FRA |
| 86 | F | 8 | Emmanuelle Marcon | 1:45:25 | 14' carbon | FRA |
| 87 | M | 79 | Matthieu Conus | 1:45:27 | 12'6 carbon | SUI |
| 88 | M | 80 | #231 Paddler | 1:45:28 | - | FRA |
| 89 | M | 81 | Hicham Elhonsali | 1:45:30 | 12'6 inflatable | FRA |
| 90 | M | 82 | Wayne Druian | 1:45:45 | 14' inflatable | AFR |
| 91 | F | 9 | Tanja Ecker | 1:45:55 | 14' inflatable | ALL |
| 92 | F | 10 | Shara Dubeau | 1:45:56 | 14' inflatable | FRA |
| 93 | M | 83 | Olivier Drut | 1:46:22 | unlimited | FRA |
| 94 | M | 84 | Damien Maire | 1:46:28 | 12'6 carbon | FRA |
| 95 | M | 85 | Thibaut Gallice | 1:46:32 | 12'6 carbon | FRA |
| 96 | F | 11 | Estelle Combet | 1:46:40 | 14' carbon | FRA |
| 97 | M | 86 | Jean-yves Cann | 1:47:19 | 12'6 carbon | FRA |
| 98 | F | 12 | Emilie Vaslet | 1:47:30 | 14' carbon | FRA |
| 99 | F | 13 | Audrey Ammon | 1:47:49 | 12'6 carbon | FRA |
| 100 | M | 87 | Christian Hermouet | 1:47:56 | unlimited | FRA |
| 101 | M | 88 | Jean marc Frequelin | 1:48:06 | 12'6 carbon | FRA |
| 102 | M | 89 | Philippe Aerts | 1:48:18 | 14' carbon | FRA |
| 103 | F | 14 | Anne Ly | 1:48:20 | 12'6 carbon | FRA |
| 104 | M | 90 | Uli Schmohl | 1:48:33 | 14' carbon | SUI |
| 105 | F | 15 | Camille Houron | 1:48:38 | 12'6 carbon | FRA |
| 106 | M | 91 | Nicolas Fortin | 1:48:51 | 14' carbon | FRA |
| 107 | M | 92 | Lionel Faverolles | 1:49:16 | 12'6 carbon | FRA |
| 108 | F | 16 | Morgane Dody | 1:49:18 | 14' carbon | SUI |
| 109 | M | 93 | David Ferrand | 1:49:32 | 12'6 inflatable | FRA |
| 110 | F | 17 | Cecile Jan | 1:50:00 | 12'6 carbon | FRA |
| 111 | M | 94 | Hammiche Madjid | 1:50:03 | 12'6 carbon | FRA |
| 112 | M | 95 | Emmanuel Bouchel | 1:50:35 | 12'6 carbon | FRA |
| 113 | M | 96 | Pierrick Wattecamps | 1:50:38 | 12'6 inflatable | FRA |
| 114 | M | 97 | Daniel Ferri | 1:50:44 | 12'6 inflatable | FRA |
| 115 | M | 98 | Bertrand Priouzeau | 1:50:59 | 12'6 inflatable | FRA |
| 116 | M | 99 | Yoann Le Ven | 1:51:02 | 12'6 inflatable | FRA |
| 117 | M | 100 | Frederic Baralon | 1:51:27 | 12'6 inflatable | FRA |
| 118 | F | 18 | Julie Tocqueville | 1:51:37 | 12'6 carbon | FRA |
| 119 | M | 101 | Alain Condon | 1:51:43 | 12'6 carbon | FRA |
| 120 | M | 102 | Mathieu Cottave | 1:52:50 | 12'6 carbon | FRA |
| 121 | F | 19 | Isabelle Kondolff | 1:53:03 | 12'6 carbon | FRA |
| 122 | M | 103 | Etienne Pree | 1:53:17 | 14' carbon | FRA |
| 123 | M | 104 | Quentin Guerre Berthelot | 1:53:31 | 14' carbon | FRA |
| 124 | M | 105 | Fred Pierreuse | 1:53:47 | 12'6 inflatable | FRA |
| 125 | F | 20 | Ingrid Ulrich | 1:54:19 | 14' inflatable | FRA |
| 126 | M | 106 | Adrien Bellenger | 1:54:21 | 14' inflatable | FRA |
| 127 | M | 107 | Paul ulrich Pollanka | 1:54:36 | 14' carbon | AUT |
| 128 | M | 108 | Mehdi Ouadhi | 1:55:28 | 12'6 inflatable | ALG |
| 129 | M | 109 | Jean-baptiste Melchio | 1:55:53 | 12'6 carbon | FRA |
| 130 | M | 110 | Philippe Merle | 1:56:12 | 12'6 carbon | FRA |
| 131 | M | 111 | Guillaume Ferment | 1:56:29 | 14' inflatable | FRA |
| 132 | M | 112 | Franck Rutyna | 1:56:37 | 14' carbon | FRA |
| 133 | M | 113 | Olivier Bardo | 1:57:32 | 12'6 inflatable | FRA |
| 134 | F | 21 | Carole Aerts | 1:58:12 | 12'6 carbon | FRA |
| 135 | M | 114 | Sebastien Bonnet | 1:58:59 | 12'6 inflatable | FRA |
| 136 | M | 115 | Alexandre Musso | 1:59:34 | 12'6 inflatable | FRA |
| 137 | F | 22 | Sophie Le Ven | 1:59:56 | 12'6 inflatable | FRA |
| 138 | F | 23 | Aude Spindler | 1:59:57 | 12'6 carbon | FRA |
| 139 | M | 116 | Franck Brasseur | 2:00:01 | 12'6 carbon | FRA |
| 140 | F | 24 | Lylou Haettel | 2:00:45 | 12'6 carbon | FRA |
| 141 | F | 25 | Eleonore Roux De Lusignan | 2:01:23 | 12'6 carbon | FRA |
| 142 | M | 117 | Mike Philippy | 2:01:44 | 12'6 carbon | SUI |
| 143 | M | 118 | Robert Bunet | 2:03:09 | 12'6 inflatable | FRA |
| 144 | F | 26 | Helen Percival | 2:03:14 | 12'6 inflatable | UK |
| 145 | F | 27 | Melodie Kolan | 2:03:19 | 12'6 inflatable | FRA |
| 146 | F | 28 | Sandra Trouvé | 2:04:17 | 12'6 carbon | FRA |
| 147 | M | 119 | Vinzio Thierry | 2:04:31 | 14' carbon | SUI |
| 148 | M | 120 | Damien Haettel | 2:04:46 | 12'6 carbon | FRA |
| 149 | M | 121 | Christophe Briere | 2:05:05 | 12'6 inflatable | FRA |
| 150 | M | 122 | Denis De Anna | 2:05:36 | 12'6 inflatable | FRA |
| 151 | M | 123 | Frederic Le Diabat | 2:08:26 | 12'6 carbon | FRA |
| 152 | M | 124 | Xavier Joly | 2:08:54 | 12'6 inflatable | FRA |
| 153 | F | 29 | Stephanie Guéneuguès | 2:09:28 | 12'6 inflatable | FRA |
| 154 | F | 30 | Anaïs Quelen | 2:09:29 | 12'6 inflatable | FRA |
| 155 | F | 31 | Carine Colombani | 2:09:54 | 14' inflatable | FRA |
| 156 | M | 125 | Damien Ustache | 2:10:00 | 12'6 inflatable | FRA |
| 157 | M | 126 | Gregory Maury | 2:10:23 | 12'6 inflatable | FRA |
| 158 | F | 32 | Nathalie Guigné | 2:10:26 | 12'6 inflatable | FRA |
| 159 | F | 33 | Vanessa Boulou | 2:13:21 | 12'6 inflatable | FRA |
| 160 | M | 127 | Guillaume Pain | 2:14:43 | 12'6 inflatable | FRA |
| 161 | M | 128 | Fabien Brusson | 2:16:03 | 12'6 inflatable | FRA |
| 162 | M | 129 | Olivier Copin | 2:21:51 | 12'6 inflatable | FRA |
| 163 | F | 34 | Laetitia Lambert | 2:27:42 | Tandem | FRA |
| 164 | F | 35 | Pascale Tessier | 2:28:33 | 12'6 inflatable | FRA |
| 165 | F | 36 | Anita Anton | 2:28:34 | 12'6 inflatable | FRA |
| 166 | F | 37 | Juliette Bouvier | 2:31:30 | 12'6 carbon | FRA |
| 167 | F | 38 | Emeline Barat | 2:35:39 | 12'6 inflatable | FRA |
2017 GlaGla Race – 5km results
coming soon
2017 GlaGla Beach Race
| # | M/F | Name | | Time |
| --- | --- | --- | --- | --- |
| 1 | M | Leonard Nika | | 0:30:52 |
| 2 | M | Martin Letourneur | | 0:30:54 |
| 3 | M | Matthieu Chauvel | | 0:30:56 |
| 4 | M | Nico Schenk | | 0:31:39 |
| 5 | M | Yanis Maire | | 0:32:21 |
| 6 | M | Samuel Carbillet | | 0:33:00 |
| 7 | M | Philippe Lachenal | | 0:33:04 |
| 8 | M | Leandro Cruz | | 0:33:09 |
| 9 | M | Nick Crettenand | | 0:33:15 |
| 10 | M | Matthieu Thiolet | | 0:33:17 |
| 11 | M | Vincent Jouhanneaud | | 0:33:43 |
| 12 | M | Yoann Le Ven | | 0:33:59 |
| 13 | M | Laurent Guyout | | 0:34:03 |
| 14 | M | Pierre Adrien | | 0:34:11 |
| 15 | M | Ugo Clay | | 0:34:17 |
| 16 | M | Antoine Ribault | | 0:34:57 |
| 17 | M | Stive Lener | | 0:35:07 |
| 18 | M | Wolfgang Guetg | | 0:35:31 |
| 19 | M | Alain Morotti | | 0:36:07 |
| 20 | F | Melanie Lafenetre | | 0:36:27 |
| 21 | F | Ines Blatge | | 0:36:35 |
| 22 | M | Olivier Comazzi | | 0:36:40 |
| 23 | M | Vincent Wouters | | 0:36:46 |
| 24 | M | Pierre Guerre Berthelot | | 0:36:54 |
| 25 | M | Jeremy Laugerat | | 0:36:58 |
| 26 | M | #176 ?Dossard | | 0:37:03 |
| 27 | M | Ghislain Romé | | 0:37:06 |
| 28 | M | Thierry Martinet | | 0:37:12 |
| 29 | M | Laurent Chenivesse | | 0:37:17 |
| 30 | M | Mathieu Ackermann | | 0:37:21 |
| 31 | F | Marie-elphege Julienne | | 0:37:26 |
| 32 | M | Didier Scovron | | 0:37:42 |
| 33 | M | Serge Paulin | | 0:37:49 |
| 34 | M | Didier Varon | | 0:38:01 |
| 35 | M | Antoine Badin | | 0:38:11 |
| 36 | M | Alexandre Wack | | 0:38:17 |
| 37 | M | Loic Gourmelen | | 0:38:21 |
| 38 | M | David Vandenbossche | | 0:38:41 |
| 39 | M | Lionel Geldreich | | 0:39:04 |
| 40 | M | Jean-pierre Billant | | 0:39:10 |
| 41 | F | Sigrid Baumgartner | | 0:39:11 |
| 42 | M | Jerome Vasquez | | 0:39:14 |
| 43 | F | Lidvina Champendal | | 0:39:19 |
| 44 | F | Barbara Grollimund | | 0:39:29 |
| 45 | M | Mabel Eugster | | 0:39:36 |
| 46 | M | Eric De Maulde | | 0:39:37 |
| 47 | M | Jean-yves Cann | | 0:40:03 |
| 48 | M | Vincent Marti | | 0:40:13 |
| 49 | F | Emmanuelle Marcon | | 0:40:47 |
| 50 | F | Cecile Jan | | 0:41:05 |
| 51 | F | Sandrine Genet | | 0:41:11 |
| 52 | M | Pierrick Wattecamps | | 0:41:36 |
| 53 | M | Jean Gaudin | | 0:41:50 |
| 54 | M | Jerome Dujardin | | 0:42:09 |
| 55 | M | Fred Pierreuse | | 0:42:34 |
| 56 | F | Segolene Delattre | | 0:42:47 |
| 57 | M | Bryan Bachelard | | 0:42:54 |
| 58 | F | Shara Dubeau | | 0:43:10 |
| 59 | M | Guillaume Ferment | | 0:43:15 |
| 60 | M | Gregory Gonzalez-Reffe | | 0:43:49 |
| 61 | M | Alexandre Musso | | 0:43:54 |
| 62 | M | Thibaut Zwolinski | | 0:44:32 |
| 63 | M | Adrien Chereau | | 0:46:59 |
| 64 | F | Laetitia Lambert | | 0:48:31 |
---