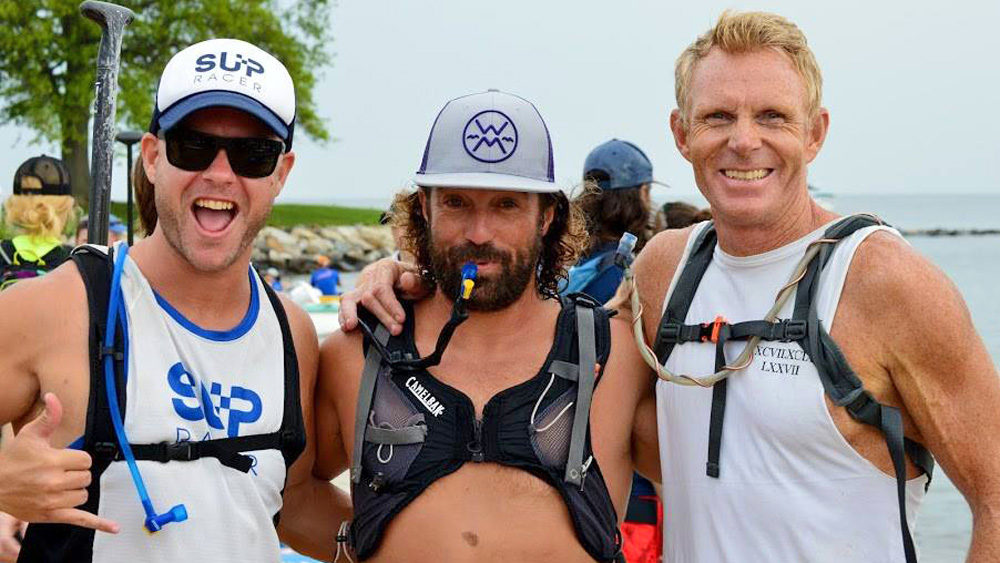 May 3, 2017
by Christopher Parker (@wheresbossman)
350 Paddlers Conquered the Chesapeake Bay Bridge on the Weekend (and Reminded Us Why This Sport Is So Great)

More than 300 paddlers of all levels took part in the 2nd Annual Bay Bridge Paddle on Saturday, cementing this regional event as a bucket list race and reminding us exactly why our sport is so great to begin with.
"Bay Bridge" refers to the mighty Chesapeake Bay Bridge, a dual-span formation that stretches more than 4 miles (close to 7kms) across the largest estuary in the United States. To say the it's an imposing structure would be an understatement.
With the unique opportunity to paddle between the two giant spans that dissect this massive waterway, the Bay Bridge Paddle has quickly become a must-do event, drawing in paddlers from all over the East Coast and even a few from around the world.
The prize purse is small, the fuss is minimal and the hype is non-existent, but judging by the sheer number of paddlers on the water and smiles at the finish line, the Bay Bridge Paddle is making an impact on our sport far greater in size than its humble gravity would suggest.
I was lucky enough to spend the past week in Maryland with crew from Capital SUP and be part of this year's race, and everything I saw about the event impressed me. From the level of organisational detail on land to the raw challenge on the water to the all-round stoke and positive vibes, the Bay Bridge Paddle gets high marks on virtually every criteria.
And although organisers were forced into a last minute course change after an overnight storm whipped up a few too many bumps in the far reaches of the Bay, we still got to paddle beneath the main span of the bridge (through washing machine-like conditions, no less) and marvel at this feat of modern engineering.
The course change ended up being a blessing in disguise though, with the 9-mile race turning into a giant, three-lap triangle course that provided plenty of room for strategy and more than a few chances to milk the leftover bumps and pull away from the trains.
After a flying start off the beach, the pace soon settled down as visiting international Kelly Margetts – fresh off a 7th-place finish at Carolina and on the last leg of his month-long 'Sunova Tour' – took control up front along with defending champ and three-time Olympian Tommy Buday Jr. from Canada.
The elite race would stay that way until the end, with the Aussie showing his class and pulling clear to win by nearly three minutes. Tommy had to settle for the second step on the podium this year, though he was still well clear of the peleton and showed once again why crossover athletes are so dangerous in our sport.
Coming home third was the under rated Ron Gossard from Ocean City, who snagged the golden buoy money shot ahead of Kelly (and yours truly) before paddling through for a strong podium finish.
Outside the podium was the official new local dark horse Fielding Pagel (pictured below), who did the sizable Capital SUP contingent proud with his 4th-place finish just ahead of fellow NSP rider and Boston's most famous paddling export, Jeramie Vaine.
In the women's race it was all April Zilg, with the Wrightsville Beach local – an unsung hero of this year's Carolina Cup – paddling strong once again to finish in a time of 2 hours 6 minutes, just 13 minutes off the pace of Kelly and almost good enough to be top 10 in the men's field.
Hometown heroes Mary Howser and Lindsay Cook finished 2-3 in a double podium result for the Capital SUP team.
My own race was highlighted by a distinct lack of race training in recent months, however I was kept in a semi-respectable position on the results sheet thanks to my board: The 14ft Ocean Faast Pro model from Sunova, which was picking up barely-visible bumps and milking them dry to keep me ahead of some paddlers that I had no right beating.
Once again the 'dugout' style board, which Brian Szymanski pioneered way back in 2008, is proving to be the design of choice in uneven conditions. In addition to Sunova, the dugout models from ONE, NSP and Starboard also performed well.

I would later discover the advertised 9 miles had ballooned out to 11.5 (18.5 kms), which made me feel slightly better about feeling so exhausted on the last lap. It also happened to be a beautiful, sunny, 32-degree (89°F) day in Maryland on Saturday, which made for a ridiculously draining but also quite rewarding morning on the water.
Despite being unable to lift my arms above my shoulders on Sunday, this race was actually a lot of fun. There were just enough bumps on offer to keep it interesting, not to mention the incredible experience of paddling beneath the Bay Bridge itself. But most of all it was just a great, positive event to be in the middle of.
Not surprisingly, the real story came outside of the elite race, where only 50 of the approximately 260 stand up paddlers were actually racing (there was also another 80 odd kayak, surf ski and outrigger paddlers in the event).
The biggest field by far was in the 5K Open Race where over 150 paddlers raced around a 3 mile loop. That included 15-year-old local lad Jack Ballard, below, who absolutely blitzed the field to win by a wide margin and give us a glimpse of the potential future paddling talent in this part of the world.
Everyone that crossed the line was made to feel like a champion – we literally all got a medal as we finished – but the biggest cheer of the day was reserved for masters competitor Cindy Eisele, who completed the 18k race in a grueling time of 3 hours 27 minutes, and in doing so highlighted that our sport is just as much about the weekend warriors as it is the pros.
So a big thank you to race director Shendon Grove and his team for pulling off a great event, as well as to every paddler and supporter that helped make it such a fun day at the beach.
(Organising this race was no small feat: it involved, among other things, gaining permission to shut down one of the busiest shipping lanes on the East Coast.)
Though my biggest thank you goes to the team from Capital SUP for looking after us all week and showing us such a good time in Maryland.
Capital SUP is a 'part-business, part-lifestyle' group that have built up one of the most impressive paddling operations I've ever seen. Sure, there are squads in California and Australia with more top guns, but for sheer stoke, enthusiasm and getting new paddlers on the water this crew is hard to match.
The fact that Capital SUP has built their entourage in Annapolis, Maryland – not exactly the first place that springs to mind when you think of paddling – makes it even more impressive.
We made camp for the week in the 'Paddle Palace' right on the water above Capital SUP's original paddle board rental location (they'll soon open their fourth location), where we discovered what really makes this crew so successful, and what other paddling communities/businesses/events should take note of: These guys and girls knows how to have as much fun off the water as they do on it, as evidenced by our post-race bar crawl through downtown Annapolis on Saturday night that ended in a festive display of what can only be described as "Riding The Panda" by race winner Kelly Margetts.
Fun times in Maryland for sure.
Follow the Bay Bridge Paddle, Capital SUP and Sunrise SUP on Facebook for more photos, and add the 2018 Bay Bridge Paddle to your bucket list.
---
Results shortcut: 5K Open Race | 1.5K Rec Race | 18K Elite Women | 18K Elite Men | 18K Ski/Kayak/OC
5K Open Race
| # | Name | Time | Division | # |
| --- | --- | --- | --- | --- |
| 1 | Jack Ballard | 0:34:13 | Guy SUP 12'6" U17 | 1/3 |
| 2 | Justin Markel | 0:37:55 | Guy SUP 12'6" 18-49 | 1/13 |
| 3 | Tyler Grove | 0:38:13 | Guy SUP 12'6" U17 | 2/3 |
| 4 | F M Lendor | 0:38:27 | Guy SUP 14' 18-49 | 1/11 |
| 5 | Max Singer | 0:38:37 | Guy SUP 14' 18-49 | 2/11 |
| 6 | Chris Morgan | 0:38:47 | Guy SUP 14' 50+ | 1/5 |
| 7 | Mike Higgins | 0:39:08 | Guy SUP 12'6" 50+ | 1/10 |
| 8 | Scotty Scott | 0:39:32 | Guy SUP 12'6" 18-49 | 2/13 |
| 9 | Nicholas Barrish | 0:39:45 | Guy SUP 14' U17 | 1/1 |
| 10 | Colin Gload | 0:39:53 | Guy SUP 12'6" 18-49 | 3/13 |
| 11 | Sarah Nelson | 0:40:13 | Girl SUP 12'6" 18-49 | 1/37 |
| 12 | Courtney Clarke | 0:40:20 | Girl SUP 12'6" 18-49 | 2/37 |
| 13 | Kate Grove | 0:40:29 | Girl SUP 12'6" 18-49 | 3/37 |
| 14 | Brad Hill | 0:40:32 | Guy SUP 14' 50+ | 2/5 |
| 15 | Patrick Mona | 0:41:00 | Guy SUP 14' 18-49 | 3/11 |
| 16 | Mark Sanfacon | 0:41:33 | Guy SUP 12'6" 18-49 | 4/13 |
| 17 | Julie Borsetti | 0:41:44 | Girl SUP 12'6" 18-49 | 4/37 |
| 18 | Jill Krawczewicz | 0:41:52 | Girl SUP 14' 18-49 | 1/6 |
| 19 | Teresa Plitt | 0:41:55 | Girl SUP 12'6" 18-49 | 5/37 |
| 20 | Luis Dall | 0:42:17 | Guy SUP Surfboard 18-49 | 1/14 |
| 21 | Dave Wacht | 0:42:25 | Guy SUP Surfboard 18-49 | 2/14 |
| 22 | Jeanna Bunting | 0:42:52 | Girl SUP 12'6" 18-49 | 6/37 |
| 23 | Crispin Blamphin | 0:43:08 | Guy SUP 12'6" U17 | 3/3 |
| 24 | Berkeley Jeffress | 0:43:11 | Guy Sea Kayak 18-49 | 1/3 |
| 25 | Lindsey Bauer | 0:43:16 | Girl SUP 14' 18-49 | 2/6 |
| 26 | Travis Loop | 0:43:36 | Guy SUP 12'6" 18-49 | 5/13 |
| 27 | Jessica Morgan | 0:43:40 | Girl SUP 12'6" 18-49 | 7/37 |
| 28 | Tommy Luc | 0:43:47 | Guy SUP 12'6" 50+ | 2/10 |
| 29 | Rich Price | 0:44:02 | Guy SUP 14' 18-49 | 4/11 |
| 30 | Kenna Oseroff | 0:44:07 | Girl SUP 12'6" 18-49 | 8/37 |
| 31 | Mackenzie Rawls | 0:44:13 | Girl SUP 12'6" 18-49 | 9/37 |
| 32 | Jacqueline Oliver | 0:44:16 | Girl SUP 14' 18-49 | 3/6 |
| 33 | Todd Bruner | 0:44:22 | Guy SUP 14' 18-49 | 5/11 |
| 34 | Jd Baudean | 0:44:24 | Guy SUP 14' 18-49 | 6/11 |
| 35 | Zachary Feltz | 0:44:33 | Guy Sea Kayak 18-49 | 2/3 |
| 36 | Aisha Gomez | 0:44:42 | Girl SUP 12'6" 18-49 | 10/37 |
| 37 | Julie Coyle | 0:44:42 | Girl SUP 12'6" 50+ | 1/13 |
| 38 | Mike Clarke | 0:45:00 | Guy SUP Surfboard 18-49 | 3/14 |
| 39 | Ben Pierce | 0:45:05 | Guy SUP 12'6" 18-49 | 6/13 |
| 40 | Caroline Karditzas | 0:45:38 | Girl SUP 12'6" 18-49 | 11/37 |
| 41 | Drew Aromando | 0:46:18 | Guy SUP 14' 18-49 | 7/11 |
| 42 | William Barrish | 0:46:25 | Guy SUP Surfboard 18-49 | 4/14 |
| 43 | Andrea Palmisano | 0:46:33 | Girl Sea Kayak 18-49 | 1/4 |
| 44 | William Karditzas | 0:46:37 | Guy SUP 12'6" 18-49 | 7/13 |
| 45 | Andrea Heinlein | 0:46:38 | Girl SUP 14' 18-49 | 4/6 |
| 46 | Joseph Feltz | 0:47:03 | Guy Sea Kayak 50+ | 1/1 |
| 47 | Catherine Ebersberger, Nadine Taylor | 0:47:08 | Girl Sea Kayak Double 50+ | 1/1 |
| 48 | Nadine Taylor | 0:47:12 | Girl Sea Kayak 50+ | 1/5 |
| 49 | Colleen Gresham | 0:47:13 | Girl Sea Kayak 50+ | 2/5 |
| 50 | Sarah Minard | 0:47:32 | Girl SUP 14' 18-49 | 5/6 |
| 51 | Rebecca Levitz | 0:47:37 | Girl Sea Kayak 50+ | 3/5 |
| 52 | Tony Chapman | 0:47:54 | Guy SUP 14' 50+ | 3/5 |
| 53 | Marcus Collier | 0:48:02 | Guy SUP 12'6" 50+ | 3/10 |
| 54 | Dana Gregory | 0:48:07 | Girl SUP 12'6" 18-49 | 12/37 |
| 55 | Doug Henry | 0:48:11 | Guy SUP 12'6" 18-49 | 8/13 |
| 56 | Pam Bader | 0:48:14 | Girl SUP 12'6" 50+ | 2/13 |
| 57 | Chris Warner | 0:48:21 | Guy SUP Surfboard 18-49 | 5/14 |
| 58 | Cristian Munoz | 0:48:27 | Guy SUP Surfboard 18-49 | 6/14 |
| 58 | Scott Cooper | 0:48:27 | Guy SUP 14' 50+ | 4/5 |
| 60 | Michael Stewart | 0:48:28 | Guy SUP 12'6" 18-49 | 9/13 |
| 61 | Julie Santoboni | 0:48:48 | Girl SUP 12'6" 18-49 | 13/37 |
| 62 | Marissa Walch | 0:48:53 | Girl SUP Surfboard 18-49 | 1/15 |
| 63 | Brian Lounsberry | 0:48:55 | Guy SUP 14' 18-49 | 8/11 |
| 64 | Reid Mclaughlin | 0:48:59 | Guy SUP Surfboard 18-49 | 7/14 |
| 65 | Macky Stafford | 0:49:14 | Girl SUP 12'6" 18-49 | 14/37 |
| 66 | Patrick Williams | 0:49:30 | Guy SUP 14' 18-49 | 9/11 |
| 67 | Justin Mcclimans | 0:49:53 | Guy SUP 12'6" 18-49 | 10/13 |
| 68 | Matthew Treuth | 0:50:14 | Guy SUP 12'6" 50+ | 4/10 |
| 69 | Alexander Soulas | 0:50:19 | Guy SUP 14' 18-49 | 10/11 |
| 70 | Krista Chapman | 0:50:26 | Girl SUP 14' 18-49 | 6/6 |
| 71 | Hannah Richardson | 0:50:42 | Girl SUP 12'6" 18-49 | 15/37 |
| 72 | Johanna White | 0:50:43 | Girl Sea Kayak 50+ | 4/5 |
| 73 | Kenneth Menzies | 0:50:48 | Guy SUP 12'6" 50+ | 5/10 |
| 74 | Charles Lategano | 0:51:06 | Guy SUP Surfboard 50+ | 1/5 |
| 75 | Jaime Davis | 0:51:27 | Girl SUP 12'6" 18-49 | 16/37 |
| 76 | Kyle Borsare | 0:51:58 | Girl SUP 12'6" 50+ | 3/13 |
| 77 | Phil Park | 0:52:11 | Guy SUP 12'6" 50+ | 6/10 |
| 78 | David Black | 0:52:24 | Guy SUP Surfboard 18-49 | 8/14 |
| 79 | Erica Baker | 0:52:44 | Girl SUP Surfboard 18-49 | 2/15 |
| 80 | Olivia Wright | 0:52:48 | Girl SUP 12'6" U17 | 1/3 |
| 81 | Pete Wright | 0:52:48 | Guy SUP Surfboard 18-49 | 9/14 |
| 82 | Lindsey Alexander | 0:53:02 | Girl SUP 12'6" 18-49 | 17/37 |
| 83 | Nate Tower | 0:53:21 | Guy SUP 14' 50+ | 5/5 |
| 84 | Suanne Burgos | 0:53:25 | Girl Sea Kayak 50+ | 5/5 |
| 85 | Amanda Carletti | 0:53:35 | Girl SUP Surfboard 18-49 | 3/15 |
| 86 | Maggie Grove | 0:53:37 | Girl SUP 12'6" U17 | 2/3 |
| 87 | Eileen Kurtz | 0:54:28 | Girl SUP 12'6" 18-49 | 18/37 |
| 88 | Lauren Grove | 0:54:34 | Girl SUP 12'6" U17 | 3/3 |
| 89 | Brandt Green | 0:55:03 | Guy SUP 14' 18-49 | 11/11 |
| 90 | Alex Young | 0:55:04 | Guy SUP 12'6" 50+ | 7/10 |
| 91 | Shelley Hillyer | 0:55:07 | Girl SUP 12'6" 50+ | 4/13 |
| 92 | Colin Wilkinson | 0:55:29 | Guy SUP 12'6" 18-49 | 11/13 |
| 93 | Laury Parramore | 0:55:52 | Girl SUP 12'6" 50+ | 5/13 |
| 94 | Keli Hiester | 0:56:04 | Girl SUP 12'6" 18-49 | 19/37 |
| 95 | Jennifer Mcgee | 0:56:29 | Girl Sea Kayak 18-49 | 2/4 |
| 96 | Jennifer Cherrey | 0:56:35 | Girl SUP 12'6" 18-49 | 20/37 |
| 97 | Rebecca Trapp | 0:56:58 | Girl SUP 12'6" 18-49 | 21/37 |
| 98 | Kelsa Mclaughlin | 0:57:00 | Girl SUP Surfboard 18-49 | 4/15 |
| 99 | Kara Curl | 0:57:04 | Girl SUP Surfboard 18-49 | 5/15 |
| 100 | Laura Burton | 0:57:08 | Girl SUP 12'6" 18-49 | 22/37 |
| 101 | Angie Didier | 0:57:20 | Girl SUP Surfboard 18-49 | 6/15 |
| 102 | Justin Hoover | 0:57:36 | Mixed SUP 12'6" 18-49 | 1/1 |
| 103 | Mary Beth Green | 0:57:47 | Girl SUP 12'6" 18-49 | 23/37 |
| 104 | Rachael Minnich | 0:57:47 | Girl SUP Surfboard 18-49 | 7/15 |
| 105 | Rick Miller | 0:58:04 | Guy SUP 12'6" 50+ | 8/10 |
| 106 | Andrew Novak | 0:58:05 | Guy SUP Surfboard 18-49 | 10/14 |
| 107 | David Strang | 0:58:06 | Guy SUP Surfboard 50+ | 2/5 |
| 108 | Greg Smith | 0:58:10 | Guy SUP Surfboard 18-49 | 11/14 |
| 109 | Charles Suggs | 0:58:27 | Guy Sea Kayak 18-49 | 3/3 |
| 110 | Brittany Fong | 0:58:29 | Girl Sea Kayak 18-49 | 3/4 |
| 111 | Kimberly Ayers | 0:58:51 | Girl SUP 12'6" 18-49 | 24/37 |
| 112 | Jennifer Finter | 0:59:01 | Girl SUP Surfboard 18-49 | 8/15 |
| 113 | Leah Burman | 0:59:07 | Girl SUP 12'6" 18-49 | 25/37 |
| 114 | Jack Heisler | 0:59:16 | Guy SUP Surfboard 50+ | 3/5 |
| 115 | Jeff Sanfacon | 0:59:18 | Guy SUP 12'6" 18-49 | 12/13 |
| 116 | Mike Petrella | 0:59:27 | Guy SUP Surfboard 18-49 | 12/14 |
| 117 | Liddy Marquez | 0:59:45 | Girl SUP Surfboard 50+ | 1/4 |
| 118 | Rebecca Clemson | 0:59:59 | Girl SUP 12'6" 18-49 | 26/37 |
| 119 | Coral French | 1:00:11 | Girl SUP 12'6" 50+ | 6/13 |
| 120 | Rick Behringer | 1:00:15 | Guy SUP 12'6" 50+ | 9/10 |
| 121 | Angela Kinsella | 1:00:18 | Girl SUP 12'6" 50+ | 7/13 |
| 122 | Carole Miller | 1:00:57 | Girl SUP 12'6" 50+ | 8/13 |
| 123 | Jennifer Parks | 1:01:02 | Girl SUP 12'6" 18-49 | 27/37 |
| 124 | Laurie Bond | 1:01:26 | Girl SUP Surfboard 18-49 | 9/15 |
| 125 | Ginna Quinn | 1:02:01 | Girl SUP 12'6" 50+ | 9/13 |
| 126 | Edward Bessman | 1:02:06 | Guy SUP Surfboard 50+ | 4/5 |
| 127 | Jenn Williams | 1:02:57 | Girl SUP Surfboard 18-49 | 10/15 |
| 128 | Tracy St Germain | 1:02:57 | Girl SUP 12'6" 50+ | 10/13 |
| 129 | Stacey Davis | 1:03:16 | Girl SUP Surfboard 18-49 | 11/15 |
| 130 | Nancy Roth | 1:03:20 | Girl SUP 12'6" 50+ | 11/13 |
| 131 | Stephen Hazzard | 1:04:02 | Guy SUP 12'6" 50+ | 10/10 |
| 132 | Brianne Baudean | 1:04:05 | Girl SUP 12'6" 18-49 | 28/37 |
| 133 | William Pyne | 1:06:05 | Guy SUP 12'6" 18-49 | 13/13 |
| 134 | Halley Smith | 1:07:55 | Girl SUP Surfboard 18-49 | 12/15 |
| 135 | Logan Hays | 1:07:56 | Guy Sea Kayak U17 | 1/1 |
| 136 | Katy Bylen | 1:09:23 | Girl Sea Kayak 18-49 | 4/4 |
| 137 | Kathleen Loughran | 1:10:34 | Girl SUP Surfboard 50+ | 2/4 |
| 138 | Tammy Callender | 1:10:59 | Girl SUP 12'6" 18-49 | 29/37 |
| 139 | Laura Treuth | 1:11:22 | Girl SUP 12'6" 50+ | 12/13 |
| 140 | Anna Leventis | 1:11:30 | Girl SUP Surfboard 50+ | 3/4 |
| 141 | Jennifer Watson | 1:11:57 | Girl SUP Surfboard 18-49 | 13/15 |
| 142 | Brian Wu | 1:12:06 | Guy SUP Surfboard 18-49 | 13/14 |
| 143 | Melinda Brennan | 1:12:13 | Girl SUP Surfboard 18-49 | 14/15 |
| 144 | Evan Hays | 1:13:02 | Guy SUP Surfboard 18-49 | 14/14 |
| 145 | Margaret Hall | 1:14:24 | Girl SUP 12'6" 50+ | 13/13 |
| 146 | Wendy Hoitt | 1:14:50 | Girl SUP 12'6" 18-49 | 30/37 |
| 147 | Joanna Steele | 1:14:55 | Girl SUP 12'6" 18-49 | 31/37 |
| 148 | Beth Hancock | 1:15:07 | Girl SUP Surfboard 18-49 | 15/15 |
| 149 | Christy Sporidis | 1:15:12 | Girl SUP 12'6" 18-49 | 32/37 |
| 150 | Jill Camm | 1:16:53 | Girl SUP Surfboard 50+ | 4/4 |
| 151 | Gerard Hopkins | 1:17:12 | Guy SUP Surfboard 50+ | 5/5 |
| 152 | Katie Bacon | 1:17:41 | Girl SUP 12'6" 18-49 | 33/37 |
| 153 | Sarah Verge | 1:19:24 | Girl SUP 12'6" 18-49 | 34/37 |
| 154 | Kristen Kapi | 1:19:27 | Girl SUP 12'6" 18-49 | 35/37 |
| 155 | Shari King | 1:28:32 | Girl SUP 12'6" 18-49 | 36/37 |
| 156 | Catherine Gustafson | 1:33:54 | Girl SUP 12'6" 18-49 | 37/37 |
---
1.5K Rec Race
| # | Name | Time | Division | # |
| --- | --- | --- | --- | --- |
| 1 | Shawn Mcdowell | 0:14:12 | Guy SUP 12'6" | 1/3 |
| 2 | Steven Ripkin | 0:15:52 | Guy SUP Surfboard | 1/4 |
| 3 | Richard Burke | 0:16:08 | Guy SUP Surfboard | 2/4 |
| 4 | Christine Cots | 0:16:20 | Girl SUP Surfboard | 1/24 |
| 5 | Emily Cook | 0:16:26 | Girl SUP Surfboard | 2/24 |
| 5 | Brian Leimkuhler | 0:16:26 | Guy SUP 12'6" | 2/3 |
| 7 | Tabitha Ripkin | 0:16:53 | Girl SUP Surfboard | 3/24 |
| 8 | Mike Drucis | 0:17:14 | Guy SUP 12'6" | 3/3 |
| 9 | Sokeng Leng | 0:17:35 | Girl SUP 12'6" | 1/10 |
| 10 | Julia Calvert | 0:17:45 | Girl SUP Surfboard | 4/24 |
| 11 | Brian Guth, Susan Guth | 0:18:02 | Guy Sea Kayak Double | 1/1 |
| 12 | Kathy Jones | 0:18:33 | Girl SUP Surfboard | 5/24 |
| 13 | Jennifer Carlson | 0:18:39 | Girl SUP Surfboard | 6/24 |
| 14 | Jess Mastriana | 0:18:48 | Girl SUP Surfboard | 7/24 |
| 15 | Jean Hogan | 0:18:52 | Girl SUP 12'6" | 2/10 |
| 16 | Connie Groah | 0:19:03 | Girl SUP 12'6" | 3/10 |
| 17 | Amy Whitmore | 0:20:29 | Girl SUP Surfboard | 8/24 |
| 18 | Michele Roush | 0:20:55 | Girl SUP Surfboard | 9/24 |
| 19 | Kelly Blackburn | 0:21:28 | Girl SUP 12'6" | 4/10 |
| 20 | Kimberly Adams | 0:21:35 | Girl SUP Surfboard | 10/24 |
| 21 | Sigrun Kalatschn | 0:21:48 | Girl SUP 12'6" | 5/10 |
| 22 | Jack Baudean, Nancy Baudean | 0:22:04 | Mixed Sea Kayak Double | 1/1 |
| 23 | Amanda Gilley | 0:22:14 | Girl SUP 14' | 1/4 |
| 24 | Tyler Hughes | 0:22:18 | Guy SUP Surfboard | 3/4 |
| 25 | Catherine Reichert | 0:22:29 | Girl Sea Kayak | 1/5 |
| 26 | Rebecca Matchett | 0:23:00 | Girl SUP 14' | 2/4 |
| 27 | Jennifer Reichert | 0:23:02 | Girl Sea Kayak | 2/5 |
| 28 | Yvonne Deaver | 0:23:03 | Girl SUP Surfboard | 11/24 |
| 29 | Angela Vincent | 0:23:08 | Girl SUP Surfboard | 12/24 |
| 30 | Debra Mauk | 0:23:26 | Girl SUP Surfboard | 13/24 |
| 31 | Silvia Freyre | 0:23:36 | Girl SUP 14' | 3/4 |
| 32 | Tabatha Doherty | 0:23:36 | Girl SUP 14' | 4/4 |
| 33 | Ben Burr | 0:23:50 | Guy SUP Surfboard | 4/4 |
| 34 | Elana Washburn | 0:23:51 | Girl SUP Surfboard | 14/24 |
| 35 | Heather Geare | 0:23:52 | Girl SUP Surfboard | 15/24 |
| 36 | Tracy Price | 0:23:52 | Girl SUP Surfboard | 16/24 |
| 37 | Christine Leimkuhler | 0:23:55 | Girl Sea Kayak | 3/5 |
| 38 | Sharon Elvin-fuller | 0:23:55 | Girl SUP 12'6" | 6/10 |
| 39 | Roxanne Malozi | 0:24:12 | Girl SUP Surfboard | 17/24 |
| 40 | Caroline Hughes | 0:24:51 | Girl SUP Surfboard | 18/24 |
| 41 | Caroline Reichert | 0:25:12 | Girl SUP 12'6" | 7/10 |
| 42 | Paul Reichert | 0:25:14 | Guy SUP 14' | 1/1 |
| 43 | Nadine Gerrity | 0:26:15 | Girl SUP 12'6" | 8/10 |
| 44 | Sarah Mcglone | 0:26:15 | Girl SUP 12'6" | 9/10 |
| 45 | Tori Wright | 0:27:30 | Girl Sea Kayak | 4/5 |
| 46 | Sue Wright | 0:27:39 | Girl Sea Kayak | 5/5 |
| 47 | Courtney Howell | 0:28:06 | Girl SUP 12'6" | 10/10 |
| 48 | Jess Ritchey | 0:29:35 | Girl SUP Surfboard | 19/24 |
| 49 | Kris Ohler | 0:29:36 | Girl SUP Surfboard | 20/24 |
| 50 | Tiffany Sylvester | 0:29:46 | Girl SUP Surfboard | 21/24 |
| 51 | Nicole Melton | 0:29:47 | Girl SUP Surfboard | 22/24 |
| 52 | Meagan White | 0:51:30 | Girl SUP Surfboard | 23/24 |
| 53 | Kathryn Miller | 0:57:51 | Girl SUP Surfboard | 24/24 |
---
18K Elite SUP Race: Women
| # | Name | Time | Division | # |
| --- | --- | --- | --- | --- |
| 1 | April Zilg | 2:06:24 | Girl 12'6" 18-49 | 1/3 |
| 2 | Mary Howser | 2:25:36 | Girl 12'6" 18-49 | 2/3 |
| 3 | Lindsay Cook | 2:34:17 | Girl 12'6" 18-49 | 3/3 |
| 4 | Kate Dowling | 2:48:57 | Girl 12'6" 50+ | 1/2 |
| 5 | Cindy Eisele | 3:27:00 | Girl 12'6" 50+ | 2/2 |
---
18K Elite SUP Race: Men
| # | Name | Time | Division | # |
| --- | --- | --- | --- | --- |
| 1 | Kelly Margetts | 1:53:34 | Guy 14' 18-49 | 1/33 |
| 2 | Tommy Buday | 1:56:16 | Guy 14' 18-49 | 2/33 |
| 3 | Ron Gossard | 1:58:39 | Guy 14' 18-49 | 3/33 |
| 4 | Fielding Pagel | 1:59:44 | Guy 14' 18-49 | 4/33 |
| 5 | Jeramie Vaine | 1:59:58 | Guy 14' 18-49 | 5/33 |
| 6 | Joe Ward | 2:01:10 | Guy 14' 18-49 | 6/33 |
| 7 | Robert Hess | 2:02:20 | Guy 14' 18-49 | 7/33 |
| 8 | Brian Meyer | 2:03:09 | Guy 14' 18-49 | 8/33 |
| 9 | Christopher Norman | 2:03:10 | Guy 14' 18-49 | 9/33 |
| 10 | Ryan Oliver | 2:03:13 | Guy 14' 18-49 | 10/33 |
| 11 | Harrison Deisroth | 2:03:45 | Guy 14' U17 | 1/1 |
| 12 | Jeremy Whitted | 2:04:54 | Guy 14' 18-49 | 11/33 |
| 13 | Emerson Smith | 2:04:59 | Guy 14' 18-49 | 12/33 |
| 14 | Brian Schmid | 2:07:24 | Guy 14' 18-49 | 13/33 |
| 15 | Corey Curtis | 2:09:20 | Guy 14' 18-49 | 14/33 |
| 16 | Dan Gavere | 2:11:29 | Guy 14' 18-49 | 15/33 |
| 17 | Michael Fithian | 2:11:53 | Guy 14' 18-49 | 16/33 |
| 18 | Chris Moylan | 2:11:54 | Guy 14' 18-49 | 17/33 |
| 19 | Christopher Parker | 2:15:57 | Guy 14' 18-49 | 18/33 |
| 20 | Daniel Rapp | 2:16:04 | Guy 14' 18-49 | 19/33 |
| 21 | Matt Kalwinsky | 2:16:21 | Guy 14' 18-49 | 20/33 |
| 22 | Scott Cleveland | 2:16:43 | Guy 14' 18-49 | 21/33 |
| 23 | Jeff Cook | 2:19:18 | Guy 14' 18-49 | 22/33 |
| 24 | Tim Burke | 2:20:44 | Guy 14' 18-49 | 23/33 |
| 25 | Kevin Haigis | 2:21:10 | Guy 12'6" 18-49 | 1/4 |
| 26 | Richard Cubelo | 2:22:13 | Guy 14' 50+ | 1/5 |
| 27 | Jim Calvert | 2:23:29 | Guy 14' 18-49 | 24/33 |
| 28 | Robert Bowman | 2:25:18 | Guy 12'6" 18-49 | 2/4 |
| 29 | Alejandro Schwedhelm | 2:27:38 | Guy 14' 18-49 | 25/33 |
| 30 | Jason Howell | 2:27:45 | Guy 14' 18-49 | 26/33 |
| 31 | Jason Phipps | 2:28:28 | Guy 12'6" 18-49 | 3/4 |
| 32 | Wyatt Everhart | 2:29:57 | Guy 14' 18-49 | 27/33 |
| 33 | Tyler Marshall | 2:30:29 | Guy 12'6" 18-49 | 4/4 |
| 34 | Bryan Barton | 2:31:09 | Guy 14' 18-49 | 28/33 |
| 35 | Matt Nacy | 2:32:08 | Guy 14' 50+ | 2/5 |
| 36 | Josh Hill | 2:32:33 | Guy 14' 18-49 | 29/33 |
| 37 | Erik Kauffman | 2:33:16 | Guy 14' 18-49 | 30/33 |
| 38 | Jay Schwarz | 2:34:00 | Guy 14' 50+ | 3/5 |
| 39 | Mark Mcculloh | 2:35:41 | Guy 14' 50+ | 4/5 |
| 40 | Chris Sperry | 2:37:24 | Guy 14' 18-49 | 31/33 |
| 41 | Scott Jorss | 2:42:40 | Guy 12'6" 50+ | 1/2 |
| 42 | Lakin Ducker | 2:54:04 | Guy 14' 18-49 | 32/33 |
| 43 | Matthew Mcosker | 2:54:29 | Guy 14' 18-49 | 33/33 |
| 44 | Charlie Martel | 3:12:20 | Guy 14' 50+ | 5/5 |
| 45 | John Richardson | 3:13:42 | Guy 12'6" 50+ | 2/2 |
---
18K Ski/Kayak/OC Race
| # | Name/Team | Time | Division |
| --- | --- | --- | --- |
| 1/5 | Jeff Lusk | 1:59:18 | Guy Sea Kayak 50+ |
| 2/5 | Marshall Seddon | 2:00:23 | Guy Sea Kayak 18-49 |
| 3/5 | Brien Jones-lantzy | 2:39:49 | Guy Sea Kayak 50+ |
| 4/5 | Timothy Mccubbin | 2:43:03 | Guy Sea Kayak 50+ |
| 5/5 | Shawn Mccubbin | 2:43:04 | Guy Sea Kayak 18-49 |
| 1/11 | Sean Brennan | 1:26:40 | Guy Surfski Single 18-49 |
| 2/11 | Jesse Lishchuk | 1:34:16 | Guy Surfski Single 18-49 |
| 3/11 | Eric Costanzo | 1:35:15 | Guy Surfski Single 18-49 |
| 4/11 | Kurt Smithgall | 1:36:37 | Guy Surfski Single 18-49 |
| 5/11 | Dennis Parkinson | 1:45:20 | Guy Surfski Single 18-49 |
| 6/11 | Darren Crozier | 1:46:23 | Guy Surfski Single 50+ |
| 7/11 | Tommy Price | 1:46:25 | Guy Surfski Single 18-49 |
| 8/11 | Bill Hoker | 1:53:16 | Guy Surfski Single 50+ |
| 9/11 | Matt Schoener | 1:56:06 | Guy Surfski Single 50+ |
| 10/11 | Christopher Sleat | 2:31:59 | Guy Surfski Single 50+ |
| 11/11 | Jason Sullivan | 2:44:13 | Guy Surfski Single 18-49 |
| 1/6 | Dan Havens | 1:50:05 | Guy OC-1 Golden Masters 60+ |
| 2/6 | Nate Day | 1:50:49 | Guy OC-1 Masters 40-49 |
| 3/6 | Dale Andrade | 1:50:56 | Guy OC-1 Golden Masters 60+ |
| 4/6 | Sunny Jackson | 2:06:09 | Girl OC-1 Open 20-39 |
| 5/6 | Sharon Adamski | 2:11:41 | Girl OC-1 Open 20-39 |
| 6/6 | Natasha Quiroga | 2:13:53 | Girl OC-1 Open 20-39 |
| 1/4 | Theresa Haught, Blaise Rhodes | 1:35:59 | Mixed OC-2 Open (All Ages) |
| 2/4 | Pam Boteler, Kelly Rhodes | 1:36:17 | Girl OC-2 Open (All Ages) |
| 3/4 | Vu Deo, Troy Pham | 1:49:58 | Guy OC-2 Open (All Ages) |
| 4/4 | Erin Kampschroer, Kwansene Kenner | 1:50:39 | Girl OC-2 Open (All Ages) |
| 1/5 | Team Nathaniel Day | 1:34:13 | Mixed OC6 Open (All Ages) |
| 2/5 | Team Matt Butcher 1 | 1:37:38 | Mixed OC6 Open (All Ages) |
| 3/5 | Team Washington Canoe Club | 1:39:40 | Guy OC6 Open (All Ages) |
| 4/5 | Team Kelly Rhodes | 1:40:07 | Girl OC6 Open (All Ages) |
| 5/5 | Team Matthew Butcher 2 | 1:54:48 | Mixed OC6 Open (All Ages) |
---