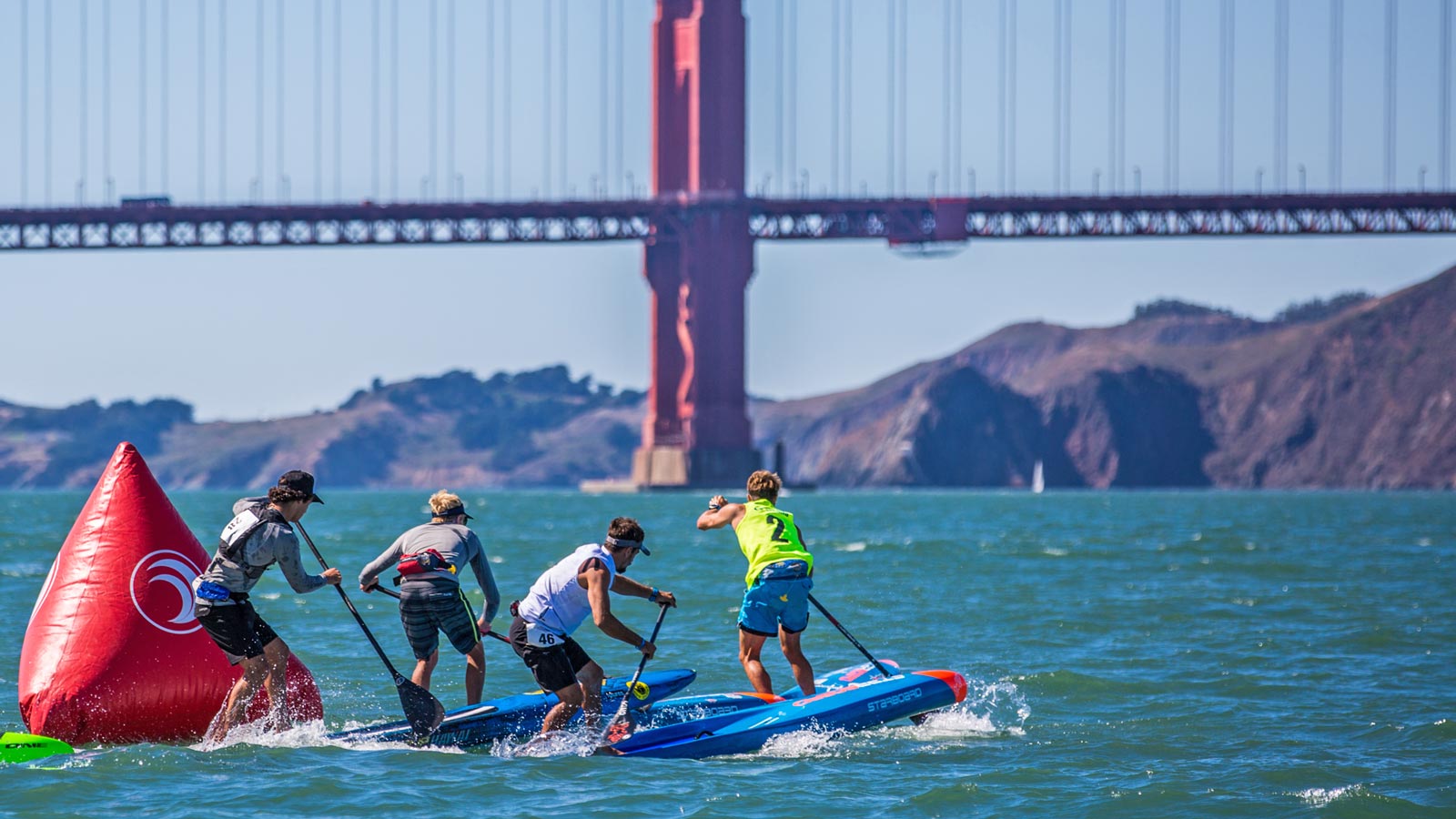 September 23, 2017
by Christopher Parker (@wheresbossman)
Battle of the Bay: Annabel Anderson, Connor Baxter Victorious in Iconic San Francisco
Annabel Anderson and Connor Baxter have highlighted their respective world number one statuses here at today's 7th Annual Battle of the Bay in San Francisco, claiming this morning's race around iconic landmarks Alcatraz Island and the Golden Gate Bridge before backing up with victories in this afternoon's beach race.
Here are the overall results.
Check back on Monday morning for a full recap and some stellar photos of the scenic course. You can also watch a full replay of our Battle of the Bay live stream.
---
Elite Men
| | | | | | | | |
| --- | --- | --- | --- | --- | --- | --- | --- |
| # | Athlete | Distance | # | Beach Race | # | Combined | Points |
| 1 | Connor Baxter | 1:10:49 | 1 | 0:34:35 | 1 | 2 | 30.00 |
| 2 | Michael Booth | 1:10:58 | 2 | 0:35:37 | 3 | 5 | 22.50 |
| 3 | Matt Nottag | 1:11:10 | 4 | 0:35:31 | 2 | 6 | 18.00 |
| 4 | Leonard Nika | 1:11:10 | 3 | 0:36:22 | 7 | 10 | 15.00 |
| 5 | Josh Riccio | 1:11:29 | 5 | 0:36:32 | 8 | 13 | 12.75 |
| 6 | Kelly Margetts | 1:12:02 | 7 | 0:36:17 | 6 | 13 | 10.50 |
| 7 | Bullet Obra | 1:12:44 | 9 | 0:35:46 | 4 | 13 | 9.00 |
| 8 | Jake Jensen | 1:11:32 | 6 | 0:37:45 | 10 | 16 | 7.50 |
| 9 | Mo Freitas | 1:13:19 | 11 | 0:36:06 | 5 | 16 | 6.75 |
| 10 | Claudio Nika | 1:13:14 | 10 | 0:37:29 | 9 | 19 | 6.00 |
| 11 | Ludovic Teulade | 1:13:24 | 12 | 0:37:50 | 12 | 24 | 5.40 |
| 12 | Jackson Maynard | 1:13:41 | 13 | 0:37:49 | 11 | 24 | 4.80 |
| 13 | Chase Kosterlitz | 1:12:32 | 8 | DNS | 20 | 28 | 4.50 |
| 14 | Harry Maskell | 1:18:46 | 15 | 0:38:38 | 13 | 28 | 4.20 |
| 15 | Jeremy Teulade | 1:18:29 | 14 | 0:39:26 | 15 | 29 | 3.90 |
| 16 | Jayden Jensen | 1:18:59 | 16 | 0:39:03 | 14 | 30 | 3.60 |
| 17 | Zach Rounsaville | 1:22:47 | 17 | 0:42:33 | 18 | 35 | 3.30 |
| 18 | Colin Guinn | 1:24:54 | 18 | DNS | 20 | 38 | 3.00 |
| 19 | Paul Jackson | DNF | 22 | 0:39:39 | 16 | 38 | 2.70 |
| 20 | Trent Carter | 1:25:48 | 19 | DNS | 20 | 39 | 2.40 |
| 21 | Belar Diaz | 1:28:57 | 20 | 0:46:14 | 19 | 39 | 2.25 |
| 22 | Jay Wild | DNS | 22 | 0:39:52 | 17 | 39 | 2.10 |
| 23 | Adam Hoffman | 1:58:20 | 21 | DNS | 20 | 41 | 1.95 |
---
Elite Women
| # | Athlete | Distance | # | Beach Race | # | Combined | Points |
| --- | --- | --- | --- | --- | --- | --- | --- |
| 1 | Annabel Anderson | 1:31:11 | 1 | 0:38:46 | 1 | 2 | 30.00 |
| 2 | Seychelle Hattingh | 1:31:23 | 2 | 0:41:49 | 5 | 7 | 22.50 |
| 3 | April Zilg | 1:32:34 | 4 | 0:41:26 | 3 | 7 | 18.00 |
| 4 | Terrene Black | 1:33:15 | 5 | 0:40:48 | 2 | 7 | 15.00 |
| 5 | Angie Jackson | 1:31:41 | 3 | 0:42:22 | 6 | 9 | 12.75 |
| 6 | Lexi Alston | 1:38:48 | 6 | 0:41:31 | 4 | 10 | 10.50 |
| 7 | Susanne Lier | 1:41:32 | 7 | 0:44:47 | 7 | 14 | 9.00 |
---
Junior and Open Races
Junior Alcatraz race (7.5 mile) girl's champion: Delila Quinn
Junior Alcatraz race (7.5 mile) boy's champion: Cooper Honeywell
Junior race (2 mile) champion: Nick Campbell
Open Alcatraz race (7.5 mile) men's champion: Pete Gauvin
Open Alcatraz race (7.5 mile) women's champion: Julieta Gismondi
Open beach race men's champion: John Hadley
Open beach race women's champion: Shannon Upton
Grom beach race champion: Alexander Alvarez
Click here to see full results from all races and divisions
---