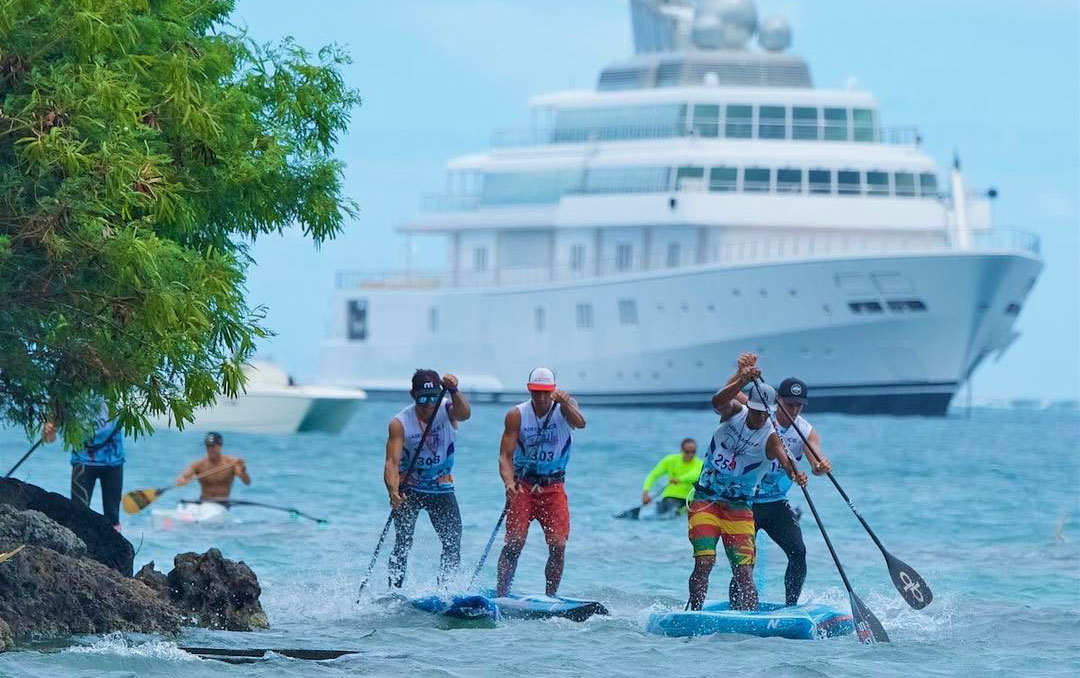 April 8, 2017
by Christopher Parker (@wheresbossman)
Yoann Cronsteadt Upsets Tahiti's Finest to Win Air France Paddle Festival; Sonni Hönscheid Women's Champ (Full Results)
In brief: Yoann Cronsteadt has upset the titans of Tahitian stand up paddling to claim the 2-star Air France Paddle Festival ahead of his well-known brother Georges and fellow internationals Steeve Teihotaata and Rete Ebb, while Sonni Honscheid has saluted in the women's race.
Full recap and results coming soon.
UPDATE: Full results below.
You can also watch a full replay of the Air France Paddle Festival live webcast, which was surely one of the highest-quality broadcasts our sport has ever seen (we just need some English commentary next year).
https://www.instagram.com/p/BSpcr-Vj_yS/
---
24km Elite Race Results – Men
| # | Athlete | Time | Division | Age | Points |
| --- | --- | --- | --- | --- | --- |
| 1 | Yoann Cronsteadt | 2:16:54 | Open | 29 | 20.00 |
| 2 | Georges Cronsteadt | 2:17:01 | Open | 36 | 15.00 |
| 3 | Steeve Teihotaata | 2:17:20 | Open | 25 | 12.00 |
| 4 | Rete Ebb | 2:17:37 | Open | 25 | 10.00 |
| 5 | Manatea Bopp du Pont | 2:18:03 | Open | 28 | 8.50 |
| 6 | Tamarua Cowan | 2:19:03 | Open | 28 | 7.00 |
| 7 | Lorenzo Bennett | 2:24:04 | Open | 20 | 6.00 |
| 8 | Taaroa Dubois | 2:25:13 | Open | 28 | 5.00 |
| 9 | Lono Teururai | 2:26:53 | Open | 31 | 4.50 |
| 10 | Charles Taie | 2:28:06 | Open | 32 | 4.00 |
| 11 | Tevai Maroaunui | 2:28:17 | Open | 25 | 3.60 |
| 12 | Raimoana Terou | 2:29:58 | Open | 28 | 3.20 |
| 13 | Haapoua Mai | 2:31:24 | Open | 21 | 3.00 |
| 14 | Niuhiti Buillard | 2:32:50 | Open | 25 | 2.80 |
| 15 | Ricky Aitamai | 2:33:06 | Open | 25 | 2.60 |
| 16 | Keoni Sulpice | 2:33:20 | Juniors | 12 | 2.40 |
| 17 | Heiva Pate | 2:34:25 | Open | 30 | 2.20 |
| 18 | Nainoaiki David | 2:35:22 | Open | 18 | 2.00 |
| 19 | Bruno Tauhiro | 2:35:43 | Open | 34 | 1.80 |
| 20 | Poenaiki Raioha | 2:36:19 | Open | 20 | 1.60 |
| 21 | Rauhiri Varuahi | 2:36:47 | Veteran | 43 | 1.50 |
| 22 | Eric Leou-On | 2:37:04 | Open | 30 | 1.40 |
| 23 | Heimoana de Longeaux | 2:37:47 | Open | 18 | 1.30 |
| 24 | Steeve Kenji Villierme | 2:39:08 | Open | 35 | 1.20 |
| 25 | Teavatea Wong | 2:40:04 | Juniors | 17 | 1.10 |
| 26 | Tiavairau Chang | 2:40:34 | Juniors | 16 | 1.04 |
| 27 | Atamu Conti | 2:41:14 | Open | 31 | 0.98 |
| 28 | Teiki Conti | 2:41:15 | Veteran | 49 | 0.92 |
| 29 | Moana Sulpice | 2:41:59 | Open | 20 | 0.86 |
| 30 | Matahi Mao | 2:43:16 | Open | 28 | 0.80 |
| 31 | Keahi Agnieray | 2:44:12 | Juniors | 16 | 0.76 |
| 32 | Alexandre Pelou | 2:45:14 | Open | 38 | 0.72 |
| 33 | Patrick Vero | 2:47:57 | Open | 28 | 0.68 |
| 34 | Heimanu Philippe | 2:49:49 | Open | 29 | 0.64 |
| 35 | Steve Itchner | 2:50:48 | Open | 30 | 0.60 |
| 36 | Edwin Tuohe Mohuuatua | 2:51:02 | Veteran | 47 | 0.56 |
| 37 | Paitu Raoulx | 2:52:09 | Veteran | 46 | 0.52 |
| 38 | Heimana Matapo | 2:56:33 | Open | 28 | 0.48 |
| 39 | Tehei Pugibet | 2:57:19 | Veteran | 45 | 0.44 |
| 40 | Teavanui Tehetia | 2:58:22 | Open | 31 | 0.40 |
| 41 | Vetea Terai | 3:02:08 | Open | 39 | 0.38 |
| 42 | Arii Brillant | 3:03:17 | Veteran | 43 | 0.36 |
| 43 | Manuiva Doucet | 3:04:50 | Juniors | 16 | 0.34 |
| 44 | Eugene Temaiana | 3:05:22 | Veteran | 47 | 0.32 |
| 45 | Jerome Chapelier | 3:22:24 | Veteran | 42 | 0.30 |
| 46 | Tehema Timoteo | 3:22:52 | Open | 20 | 0.28 |
| 47 | Kenny Nui | 4:04:59 | Open | 27 | 0.26 |
---
24km Elite Race Results – Women
| # | Athlete | Time | Division | Age | Points |
| --- | --- | --- | --- | --- | --- |
| 1 | Sonni Honscheid | 2:33:49 | Open | 35 | 20.00 |
| 2 | Sylvana Ozbolt | 3:04:26 | Open | 27 | 15.00 |
| 3 | Puatea Ellis | 3:16:09 | Open | 35 | 12.00 |
| 4 | Marguerite Temaiana | 3:21:43 | Open | 40 | 10.00 |
| 5 | Teanatea Tetoe | 3:23:16 | Open | 37 | 8.50 |
| 6 | Poema Lirand | 3:36:56 | Veteran | 46 | 7.00 |
---
Open Race Results
coming soon