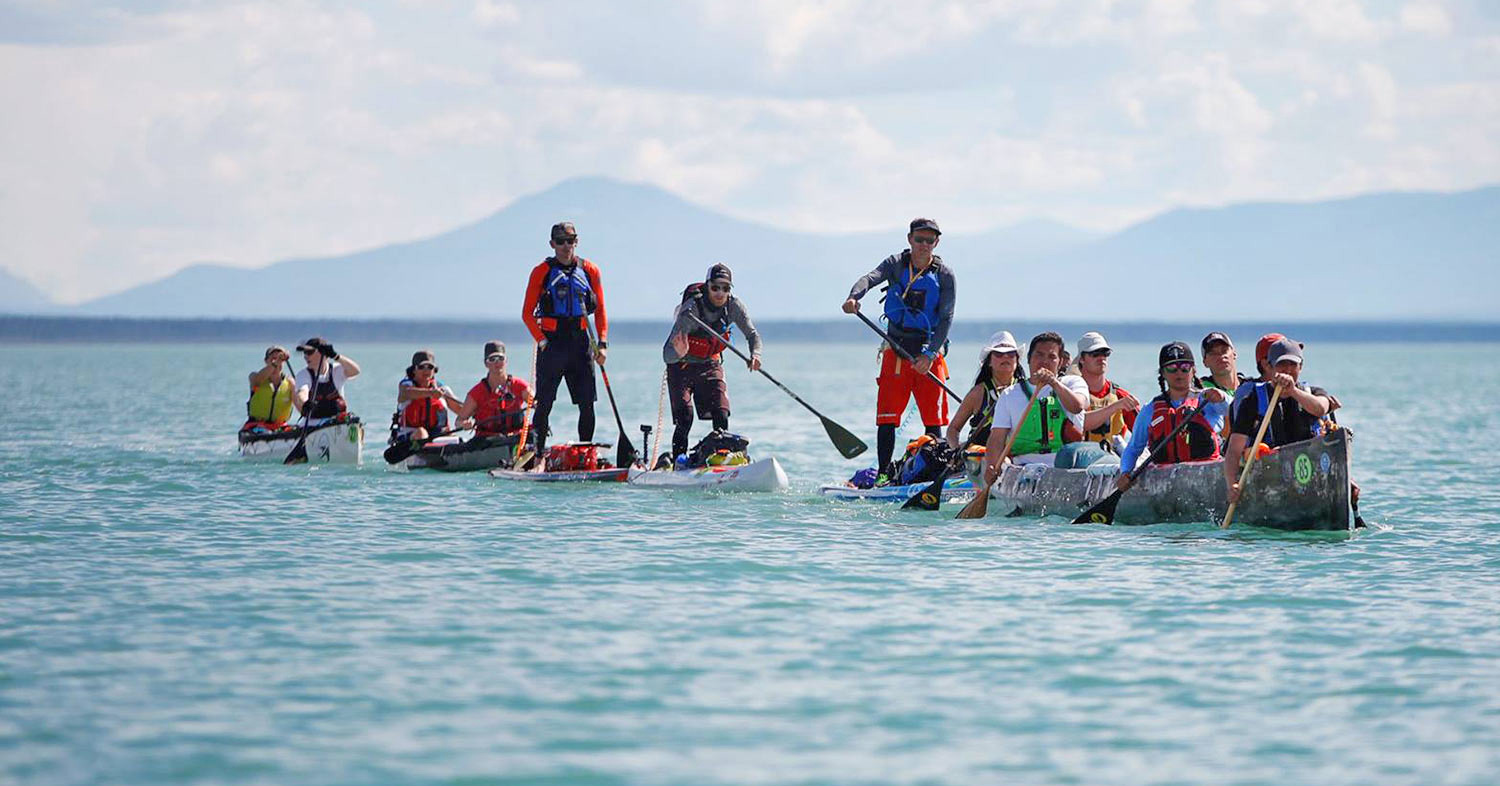 July 9, 2016
by Christopher Parker (@wheresbossman)
Yukon River Quest: Bart de Zwart's Fascinating Insights into the World's Toughest SUP Race
What's it like to paddle 55 hours through the Canadian wilderness, at race pace and with virtually no sleep? Just ask Bart de Zwart, winner of last week's Yukon River Quest.
Bart, the first ever stand up paddle champion of the world's longest annual paddle race, has just returned to civilisation, and now you can read his interesting insights into this truly epic voyage.
The Starboard team rider (Bart was on the 2016 14×25′ All Star) crossed the line in a time of 54 hours and 41 minutes, which, with an additional 10 hours of mandatory rest stops included (the first was 7 hours and the second just 3), meant he spent more than two and a half days on the river.
>> Relive our rolling coverage of the 2016 Yukon River Quest
Of course this isn't the first time Bart has done something like this: The Dutchman turned Maui local has won the 220km 11 City Tour a record four times, while he's also completed many solo expeditions that required several days of almost non-stop paddling.
I've hand picked a few choice quotes below, but I encourage you to read Bart's full recap over on the Starboard blog. There are some fascinating insights into what is surely the toughest paddle race on the planet.
Bart was one of 11 competitors in the "experimental" SUP division – this year was the first time stand up paddlers have been invited to compete – with Norm Hann finishing 2nd, Jason Bennett 3rd, and Lina Augaitis claiming the inaugural women's title.
Another of the 11 was Joanne Hamilton-Vale, one of the most determined paddlers you'll ever meet but who was forced to retire from this year's race after falling seriously ill on the river.
Joanne will definitely be back next year though: In what is one of just many fascinating stories to come out of this race, the tenacious Brit told me she gave her wedding ring to the race organiser with specific instructions not to return it until she completes the course next year. Talk about commitment.
[notdevice] [/notdevice]

[notdevice] [/notdevice]
"Coming into this race, we were considered an experimental class because most of the organisers weren't sure if we could make it."


"Night was starting, but it was still full day light. Although the sun sets at 11:30 at night there is still good light until the sun comes up again at 3.30."


"At the 7 hour rest stop my support crew helped me very quickly with food and my gear, and an hour later I was resting/sleeping. An hour before the start, I ate again, sorted my gear and food for the rest of the race, and off we went."


"Although we were already 25hrs on our way we were not even half way. "


"I did start to feel the paddle miles in the muscles of my back and was looking forward to the finish. We were paddling for the second night now and it was a lot colder."


"I only got about 1.5 hrs of sleep but I felt like new after this."


"The last half of the race became increasingly more difficult because of many small islands on the river. Every time, you have to make a left or right choice to get the fastest current, and there are big, big differences. Someone who was 400 meters behind could be suddenly ahead of you just 2kms later. So I realised that I had to paddle hard and build in as much margin as possible to create a buffer for any future mistakes."


"3 hrs before my finish I made a big error, it was in the middle of the night with only just enough light, and I made the wrong choice and ended up on the wrong side of an island where there was no current, and with a long alternative route to get back to the main part of the river."


"When I got close to the finish line, I almost got emotional. I crossed the line after 54hrs and 40 min. And I did it, first winner of the Yukon River Quest. Most will never realise what kind a effort you have to give to paddle a race like this. When I spoke to most other paddles after the race you could see in their eyes they truly had a hard time."


"Norm came in second and Jason directly after him, just under 55hrs. Jason got to the line and fainted for a moment, he clearly left nothing on the river."


"About 6 hours later Lina came in also visibly rocked by her race. Later she tells she had many hallucinations which had clearly frightened her."


"The Hardest race, I or any of us, ever did. Once you finish, for sure it is all worth it."

[notdevice] [/notdevice]