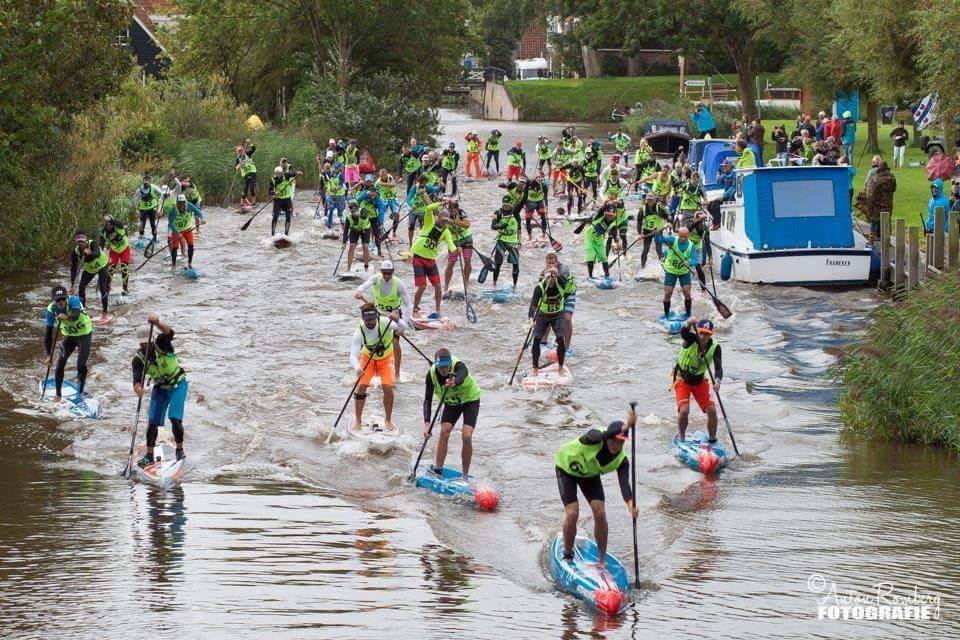 February 20, 2016
by Christopher Parker (@wheresbossman)
Entries Now Open for the 11 City Tour – the 'Tour de France of SUP'
Entries are now open for the 2016 SUP 11 City Tour, with exactly 200 days until one of the longest, toughest and craziest stand up paddle races in the world begins.
For the uninitiated, the 11 City Tour is a five-day, 220km (136 miles) race through the rural Dutch province of Friesland. It's a grueling experience, both physically and mentally, but also an extremely rewarding one — despite the pain, it's actually quite "fun" in its own special way.
The Tour is run as a stage race, similar to how the Tour de France works. There's a mass start each morning, with competitors' daily finishing times accumulating on the overall leaderboard. Most stages are between five and eight hours, depending on how fit you are (or how crazy the weather is), while the overall winning times are close to 24 hours.
There is a leisurely "tour division" for those that just want to cruise through the countryside and check out the windmills, however the main division, the "solo competition," is getting more and more competitive.
Last year we saw Team Mistral make a clean sweep of the event, with Tahiti's dark horse Steeve Teihotaata and Florida's Seychelle Hattingh winning every stage of the men's and women's solo competition respectively. In a sign of how much the level has increased, four-time winner Bart de Zwart – who was the defending champ going into last year's event – finished 6th overall.
(See: 2015 SUP 11 City Tour results)
We also witnessed breakout performances from the likes of Daniel and Bruno Hasulyo, who seem very hungry to return and conquer the 11 Cities this year, as well as France's ultra dark horse, Florent Dode.
There's something truly special about the 11 City Tour. It's definitely not your average SUP race, and not only because it's ridiculously long but also because it has such an amazing atmosphere. Spending that much time on the water with your fellow paddlers creates a common bond, while most athletes also share accommodation on a flotilla of hundred-year-old, traditional Dutch ships that act as a sort of "floating hostel."
Throw in the classic daily rituals of free pancakes in the morning and free massages in the afternoon, and you start to develop a unique spirit that no other stand up paddle race can offer.
(Oh and there's also a "non stop solo division" in case you want to do all 220kms in one go. Seriously. Though personally I think the five day version is more than hard enough.)
I was lucky enough to compete in both 2014 and 2015 Tours, and I can't wait to get back for the 2016 edition. There's just something about this race that I can't resist, even if it is incredibly painful.
The SUP 11 City Tour is like a drug: You're either gonna love it and keep returning for more, or have a rough first experience and never want to go back. There are several competitors that return every single year to get their fix (yours truly included), however there's also a long list of athletes that have only ever done it once.
But here's the thing: I think you kinda have to do this race at least once in your paddling life. It's like the pilgrimage to Mecca.
You'll love it, you'll hate it. You'll laugh, you'll cry. You'll make new friends, and you'll lose a few layers of skin off your hands. There's really nothing like the SUP 11 City Tour.
And as of today you can register to be part of the fun. Though you better start training now; Sure, there are still 200 days until the race begins, but trust me, you're gonna need every single one.
Oh and remember to bring some gloves…
https://www.instagram.com/p/7Xk1v9yssc/