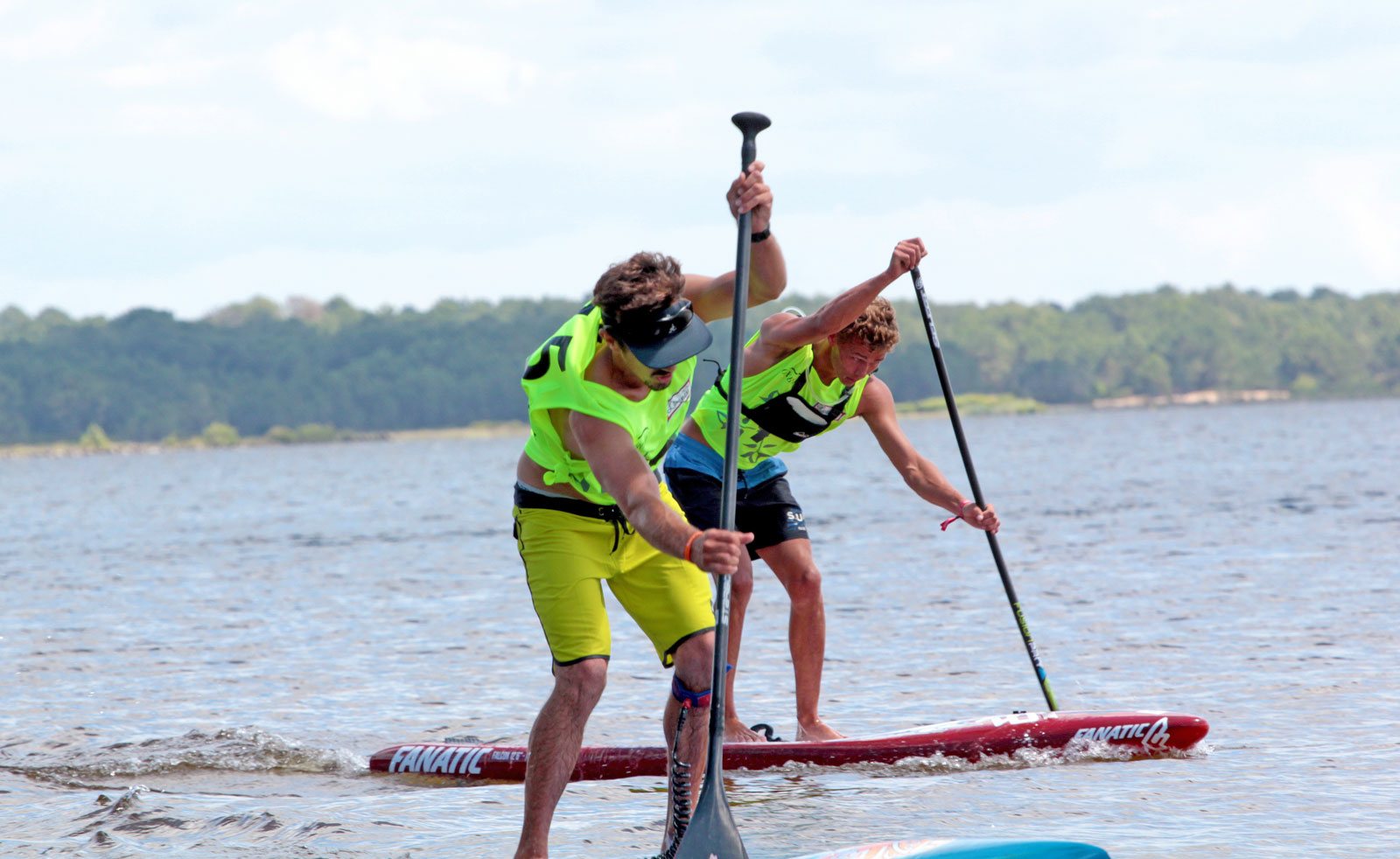 June 19, 2016
by Christopher Parker (@wheresbossman)
Arthur Arutkin, Olivia Piana Win the Oxbow SUP Challenge in Preparation for 'The Euros'
Arthur Arutkin (Fanatic) and Olivia Piana (Starboard) won yesterday's Oxbow SUP Challenge at home in France, with the race acting as the official warm-up event for the inaugural "EuroSUP" championships (aka 'The Euros') that begin on Monday.
Arthur, who will be representing Team France here in Lacanau over the next week, edged out the former king of European paddling, Eric Terrien, who has enjoyed something of a return to form this season. Coming home third but very unlucky not to be any higher on the podium was Italian gun Leo Nika.
It was another 1-2 for France in the women's, with national team rep Olivia Piana finishing a minute clear of an increasingly impressive Amandine Chazot, while Italy's Chiara Nordin came home third to perfectly mirror the podium flags between the men's and women's races.
It was a good race, though I can say from personal experience that it was a little painful at times, with a stiff breeze blowing us across Lake Lacanau and providing one too many long headwind sections.
It was also a rather interesting race, with a couple of mistakes costing the top guys dearly.
After the top three had eventually broken away from the field, Leo was leading the train at the end of the second lap. However the Starboard rider forgot there was actually a third lap, so while Arthur and Eric were turning 90 degrees and starting their final loop around the 2.5km course, Leo paddled straight ahead, crossed the line, and triumphantly threw his paddle in the air. By the time he realised his mistake and recovered his paddle, Arthur and Eric had gained an unbeatable lead.
The race became even more intriguing after the finish, with Arthur penalised for not wearing the mandatory leggie ('leash'), which, in an interesting compromise, saw him stripped of the prize money but still able to claim the win.
Apart from the lead trio, other guys to impress out there yesterday included Paolo Marconi and Giordana Capparella from Italy, as well as the Teulade Brothers from France. It was great to see so many European nations represented, with paddlers from across the continent having converged on the surfing mecca of Lacanau for the inaugural "ESF European Championships".
The Euros, which are being organised by the European Surfing Federation (ESF) in association with the iconic Lacanau Surf Club, and which are basically a European version of the ISA Worlds, begin on Monday and run through til Thursday.
The first gold medals to be decided are in the surf race, which will see the likes of Titouan Puyo and Casper Steinfath (who sat out yesterday's race) go up against Arthur, Leo and two dozen more paddlers from around 18 different nations.
We'll have full coverage of the Euros throughout the week, but in the meantime here are the official results from yesterday.
# / Time / Surname / First name (bold = women)
1. 51:47.51 : 1 Arutkin Arthur
2. 52:10.90 : 2 Terrien Eric
3. 52:36.16 : 15 Nika Leonard
4. 53:00.19 : 21 Paolo Marconi
5. 53:02.91 : 5 Teulade Jeremy
6. 53:05.50 : 14 Caparella Giordano
7. 53:38.86 : 4 Teulade Ludovic
8. 55:13.08 : 18 Jinvresse Boris
9. 56:02.14 : 11 Martino Rogai
10. 56:33.26 : 12 Bicrel Alexandre
11. 56:41.03 : 6 Sudrat Julien
12. 56:46.53 : 16 Georges Dimitri
13. 56:52.38 : 30 Darrieumerlou Olivier
14. 57:14.05 : 3 Dulou Ludovic
15. 57:34.89 : 150 Anderson Christian
16. 57:44.01 : 25 Chardebas Lois
17. 58:07.96 : 120 Svensson Andreas
18. 58:17.82 : 23 Baechler Bertrand
19. 58:26.15 : 13 Stertzik Alexandre
20. 58:53.42 : 20 Villedary Tom
21. 59:00.49 : 115 Girard Frederic
22. 59:59.30 : 7 Piana Olivia
23. 1:00:58.64 : 17 Chazot Amandine
24. 1:01:18.19 : 151 Perrier David (SUP 14′)
25. 1:02:31.66 : 131 Guyout Laurent
26. 1:03:13.17 : 22 Nordin Chiara
27. 1:04:10.15 : 24 Parker Chris
28. 1:04:33.21 : 116 Boiteaud Eric
29. 1:05:20.54 : 137 Blay Stephane
30. 1:05:26.04 : 121 Persson Maya
31. 1:06:25.15 : 140 Broquere Jean Charles
32. 1:07:17.56 : 19 Villedary Gregory
33. 1:07:49.63 : 122 Dume Stevy
34. 1:07:56.58 : 134 Coussot Philippe
35. 1:09:49.60 : 130 Debord Jean Claude
36. 1:10:07.53 : 31 Chardebas Yannick
37. 1:10:18.63 : 161 King Emily
38. 1:11:47.97 : 127 Mora Christophe
39. 1:12:20.84 : 125 Queraux Laurent
40. 1:12:36.97 : 142 Ferry Daniel
41. 1:12:52.56 : 180 Billot Nicolas
42. 1:13:18.32 : 148 Bouin Sebastien
43. 1:14:22.40 : 152 Oriol Lionel
44. 1:14:58.12 : 157 Lazeras Philippe
45. 1:17:40.07 : 133 Coussot Thomas
46. 1:18:44.39 : 132 Agudo Alexandre (A raté une bouée)
47. 1:19:41.51 : 159 Bouty Nally
48. 1:22:07.38 : 129 Louppe Virginie
49. 1:24:08.24 : 146 Van Ruymbeke Jean Francois
50. 1:24:20.37 : 143 Tellier Alexandre
51. 1:24:22.92 : 119 Marion Laurent
52. 1:25:01.73 : 126 Riera Hubert
53. 1:25:06.89 : 158 Jarvis Matt
54. 1:25:25.32 : 141 Lucas Willy
55. 1:26:11.64 : 153 Bonnant Valerie
56. 1:26:23.11 : 154 Vergez Benoit
57. 1:26:45.68 : 123 Rondi Sandrine
58. 1:28:25.75 : 136 Pringeuey Christophe
59. 1:28:50.57 : 117 Boiteaud Valerie
60. 1:29:42.10 : 114 Kieffer Oliver
61. 1:29:52.36 : 135 Rancurel Jean Claude
62. 1:34:16.86 : 144 Farjat Stephane
63. 1:34:51.84 : 113 Ripoche Benoit
64. 1:36:02.56 : 139 Walter Delphine
65. 1:36:42.43 : 160 Micouin Rachel
66. 1:39:38.06 : 149 Gairin Wilfried
67. 1:42:07.84 : 112 Vaillant Celine
68. 1:45:31.94 : 124 Kriebs Michel
69. 1:45:43.96 : 128 Rio Frederic