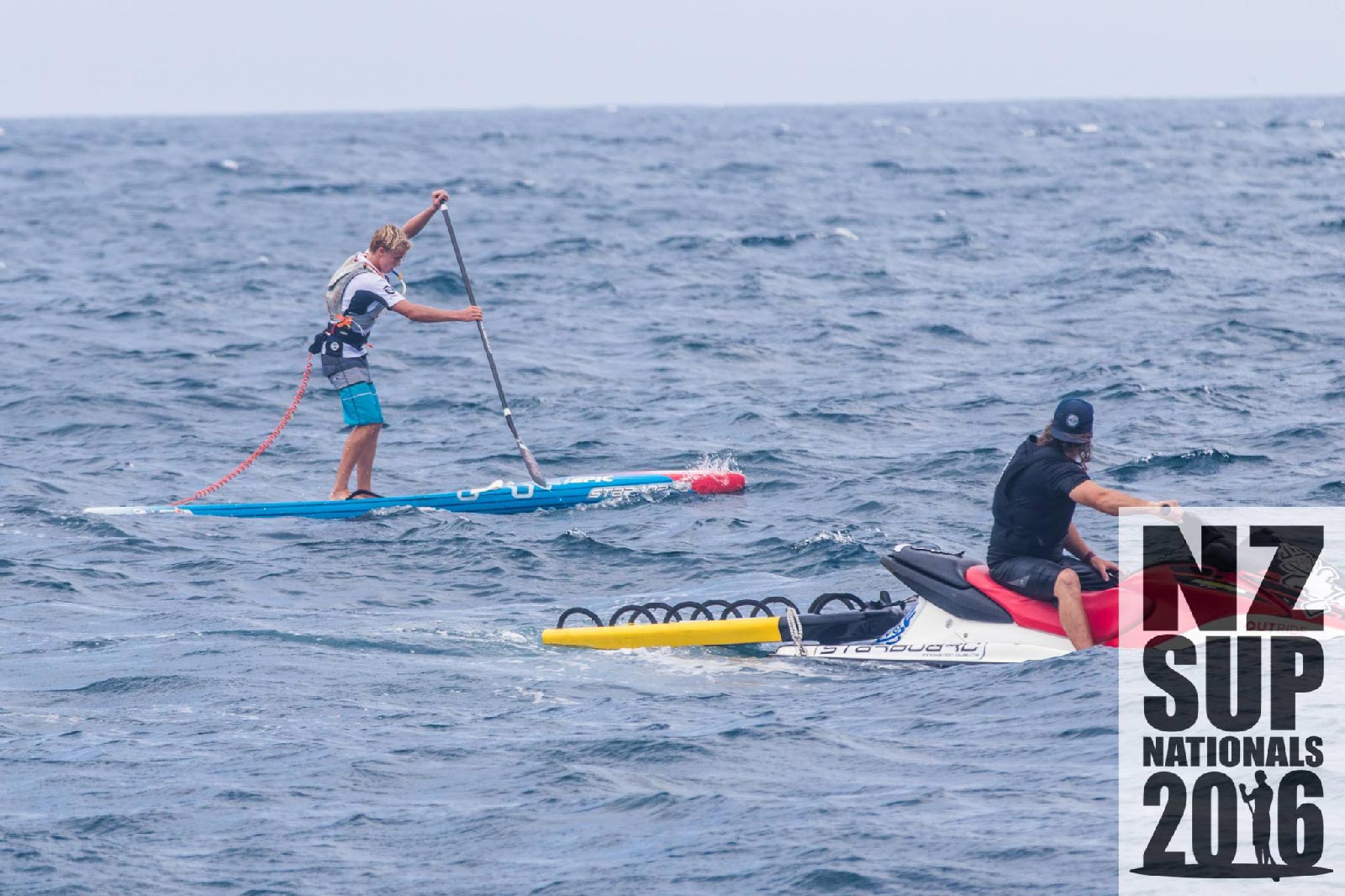 February 28, 2016
by Christopher Parker (@wheresbossman)
Annabel Anderson, Titouan Puyo and Ollie Houghton Star at the New Zealand Nationals (Updated)
In brief: Visiting superstar Titouan Puyo has made it a clean sweep of the NZ SUP Nationals, defeating a strong local crowd led by rising prospect Ollie Houghton, while world number one Annabel Anderson claimed her 6th national title.
The 2016 National Titles, which act as the sole selection event for Team NZ ahead of the ISA Worlds, consisted of a 15km downwinder on Saturday and a beach race in and out through the surf on Sunday. Titou claimed line honours in both events for his new team NSP, however in the battle for a spot on Team NZ it was Ollie Houghton (Starboard) who really stood up.
(Titou represents France; New Zealand is unique in allowing foreigners to compete in their national titles.)
The results suggest young Ollie, who turned heads during the ISA Worlds in Mexico (especially that heroic performance in the team relay), will get an invite for both the distance and course races at the 2016 Worlds, while Annabel, who paddles for the Lahui Kai stable, will be first choice on the women's side. We'll have to wait for the full results before we know who gets the second spot on the men's side.
(We'll also have to wait and see where the 2016 Worlds will actually be… there's still been no announcement from the ISA, though Fiji in November is firming as the likely venue.)
The racing has only just wrapped up, so check back on Monday for more pics and full results. Also keep an eye on the NZ SUP Nationals Facebook page for regular updates.
Early results below…
UPDATE: Huge photo gallery from day one right here. Looks like a fun little downwinder.
SATURDAY – DOWNWINDER
1st: Titouan Puyo (12'6)
2nd: Jeremy Stephenson (14′)
3rd: Ollie Houghton (12'6)
1st: Annabel Anderson
SUNDAY – SURF RACES
12'6 Men
1. Ollie Houghton
2. Marcus Hansen
3. Cormac McCullough
International Men
1. Titouan Puyo
2. Peter Kosinski
3. Paulo Junior
12'6 Women
1. Annabel Anderson
2. Penelope Strickland Armstrong
3. Victoria Stuart
14′ Open
1. Felipe dos Santos
2. Sam Thom
3. Marius Lina
Junior Men
1. Jack Evans
2. Oscar Murrell
3. Luca Menzi-Smith
Junior Women
1. Brianna Orams
2. Nadia Murrell
Masters Men
1. Gavin Houghton
2. Mike Tohill
3. Shane Murrell
Masters Women
1. Nicola Hocking
2. Kristin Percy
3. Rosie Houghton
Surfboard Men
1. Mike Ward
2. Mike Gundry
3. Phil Ash
Surfboard Women
1. Angela McKee
2. Dana Harvey
Check the NZ SUP Nationals Facebook page for full results (coming soon)