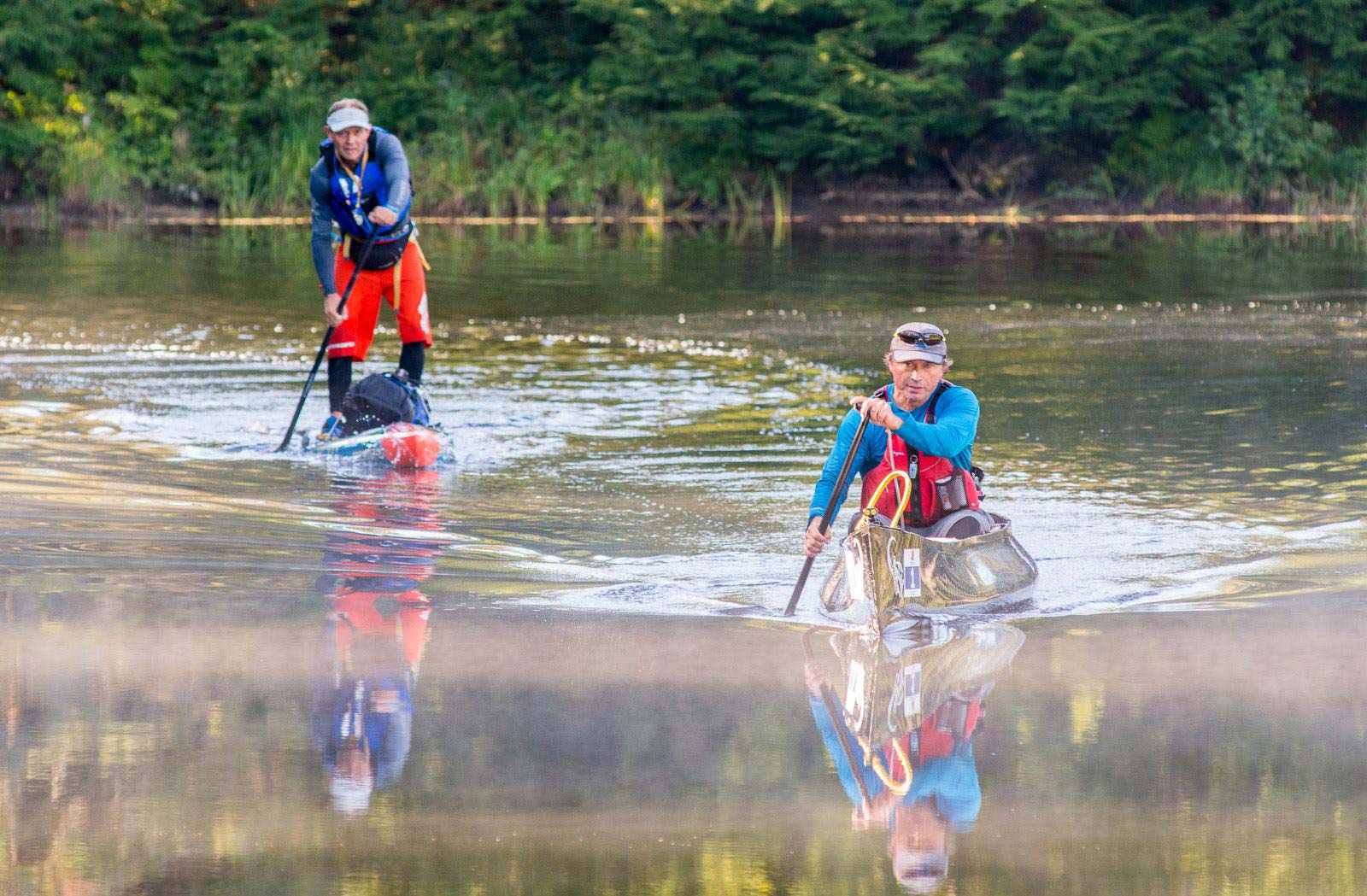 September 19, 2016
by Bart de Zwart
Bart de Zwart Overcomes Rain, Fog and Fatigue to Conquer Canada's 220km Muskoka River X Adventure Paddle Race. Again.
Boss Man's note: The undisputed king of ultra long distance paddling, Bart de Zwart, has done it again. Not long after his victories in the Yukon (715km) and Missouri (547km), and literally straight off the back of his 200+ km effort in the Netherlands last week, Bart has just taken out the Muskoka River X race in Ontario, Canada. Again.
Not only did Bart win the SUP division of the Muskoka race for the third year in a row, he was competing in the hardest division possible for the second straight year: the harcore, 220km "Coureur des Bois" version of the race, which sees paddlers complete the entire journey without any form of human support or electronic navigation, and with no "refueling" supply stops allowed.
The Coureur des Bois (literally "Runner of the Woods" in French) division was added last year to offer even *more* of a challenge to the standard 130km Muskoka course. As the official website declares:
"The River X crew announced an expansion course to the Muskoka River X Classic in 2015. Building on the heritage of the canal expeditions of the 1800s, the Coureur des Bois will challenge even the most experienced expedition and marathon paddlers. Teams will travel along the expedition routes of these early explorers as they traverse Algonquin Park east to west from Whitney to Oxtongue Lake."
To say it's a little gnarly would be an understatement, but these are the sort of adventures Bart seems to live for. It's his fourth "ultra" race of the year as he tackles the world's longest SUP races one by one in season 2016 (1,702 kilometres and counting).
Fortunately for us, despite being dead tired, Bart took some time to jot down a few post-race thoughts as he flew home from Canada to Maui…
---
2016 Muskoka River X Race
Division: "Coureur des Bois" unsupported 220km
Board: Starboard All Star 14×25
Time: 32 hours 42 minutes (1st place)
The Muskoka River X is one of my favourite races in the world, and this is my third year in a row participating. I like Muskoka because it's a real combination of an adventure and a SUP race. Very challenging but very rewarding.
This year, paddlers could participate in three different versions of the race: The 80km "sprint" race, the 130km "classic" edition and the "Coureur des Bois" 220km unsupported version of the event. Almost 100 paddlers signed up for the challenge, though not too many were in the 220km division. And yes, this is perhaps the only race in the world where 80kms (50 miles) could possibly be considered a "sprint"…
Just like last year, I signed up for the 220km "Coureur" division, which is a two-day race with a stop after 90km at the end of the first day. At the stop you have to rest (sleep) and refuel (eat/drink) with the gear that you paddled with. You are not allowed to re-supply or re-fuel at the halfway mark or any other point in the race: you have to carry absolutely everything you need on your board or in your canoe or kayak during the entire race.
This means a lot of gear, including a whole list of compulsory items ranging from safety equipment to extra food, sleeping equipment and navigational tools (though no electronic navigation equipment is allowed).
I managed to pack everything in one dry bag, which I can throw on my back during one of the 30 portages you encounter along the course. These portages are where you get out of the water and carry your board (and your gear) walking or running around waterfalls, beaver dams and other obstacles ranging from 100 metres to 2 kilometres in length.
And all of this you must navigate with nothing more than a paper map, a compass and some way points. That's not so difficult if you have a bit of orienteering practice, however throw in the darkness, fog and fatigue and it starts getting complicated fast. But that's all just part of the adventure.
Fortunately you are on the water paddling, not running, for most of the time. We paddle across wild, remote lakes and along beautiful rivers (both up and down stream). It's a challenging course with even more challenging weather, but it's also a very beautiful part of the world.
This year we started at 7am in the morning on Friday 16th September (note: That's less than five days after Bart crossed the finish line at the 220km 11 City Tour in Holland), departing from the town of Whitney blanketed in a very thick layer of fog.
It was almost a total "white out" right after the start, so I quickly realised the only way to find the course was to take a bearing on the map and simply follow my compass until I hit land on the other side of the lake, at which point I could go from landmark to landmark to gradually find the route. It's a very basic method of navigation, but when you are surrounded by nothing but whiteness even this was still quite challenging.
It took a couple of hours for the fog to start clearing. In that time I lost contact with the two-man canoe teams, who generally have a faster speed, and who I was hoping would lead the way for me. But I managed to find my way in the sea of white, while a bunch of competitors paddled just behind me hoping I knew where I was going…
Some of the paddlers lost their bearings and lost valuable hours at the very beginning of the race. One stand up paddler pulled even out of the event after getting badly lost and spending several hours searching for a waypoint.
After the fog disappeared, it became a beautiful day and I paddled along the course at a consistent pace. This year, the organisers included a few "decision points" where you had to decide if you wanted to paddle or do a portage run, either because there was a potential shortcut over the land or because the water was too shallow and challenging. This made for some interesting time differences as competitors chose different routes.
At one point the course went through a nature reserve, which was truly beautiful. I made good time compared to last year and came in at the 90km rest stop after 12 and a half hours of paddling, just before dark at the end of day one.
Around a campfire we all prepared our own food and setup shelter for the night. I travel very light in these adventure races, so I set up my bivy sack and slept in my down clothing inside the thick emergency style bivy bag, which was very light, efficient and warm. I managed to stay dry all through the night, however there was a big change in weather waiting for us at the start of day two…
On the second day, those of us in the 220km division were transitioned into the start of the 80km sprint and 130km classic races with all the other paddlers. The moment the race started, the rain came down and the wind came up. There were four of us stand up paddlers clinging together in the front but that didn't last long.
After the first two lakes we got to the "Lake of Bays", which is a part I dreaded because I saw in the forecast there would be a stiff headwind from the south that we couldn't avoid. South wind is rare in these parts but during the race it was very real and we simply had to deal with it. All of the paddle craft have difficulty in head wind, but especially us stand up paddlers because our bodies act like sails (the solo canoe competitors were also struggling).
The rain was relentless. After five hours of battling the wind and rain, I got to the entrance of the river at Baysville. The current wasn't what I hoped for but it was still better than being on the open, exposed lake, so I took the next few hours to paddle at my own pace and recover a little, because I knew we were all in for a long night.
Doing the portage runs at this point in the race was actually quite fun, even though they were hard work; at least it was a chance to briefly relax the paddling muscles.
The most important thing in races like this is to eat and drink, eat and drink, all the time. I drink my endurance fuel consistently, combined with sips of plain water along with a banana, bar, nuts or dry fruit. It's good to mix it up because it's actually hard to eat as much as you need to; you burn up to 10,000 calories which is very hard to replenish.
I was feeling ok and was ahead of all the stand up competitors in my 220km division, and behind only one of the guys that had started the 130km division alongside us that morning. I tried to push hard and close the gap, however I could really feel the lack of sleep from the night before.
At one point we experienced something like a tropical downpour, just in case we weren't wet enough already. Along the more populated parts of the course, we could see people in their backyards still outside BBQ'ing and cheering us on. Canadians are funny that way: they don't mind the weather and just do whatever they planned on doing.
At a couple of the late-stage portages, I slipped on the wet rocks and steep trail climbs, which doesn't help after you've been paddling for so long already.
After the second check point we started to paddle up river; finally, after 10 hours of non-stop rain, the weather cleared. From there until the third check point it was all up-stream, however there wasn't so much water flow so fortunately it wasn't too difficult; at some of the rapids I even had to hop off and push my board because it was too shallow to paddle.
I didn't manage to pass all the portages before nightfall. It's a little harder to find your way in the dark. Our boards have a safety light and we all have to bring a head lamp as well (and even a backup one just in case), but the darkness definitely still slows you down during the portages and shallow water sections.
The final hours of the race were a real grind. I fell in the water once after hitting a submerged tree stump. Another time I hit my head on the board when I was pushing off in shallow water. Then I got a little wound from hitting my head on a rock.
But most of all I was really tired.
These races are partly about physical endurance but are very much a mental challenge. You have to keep pushing on even when everything hurts. Fortunately I was close to the end of the course and could almost smell the finish line.
(I joked about this during the Yukon River Quest in June, saying to the other two lead guys, Norm Hann and Jason Bennett, "Hey guys, can you smell that?" putting our noses out there in the air, "I can smell the finish line." We'd been paddling two whole days and still had 12 hours to go at that point, but a sense of humour can really keep you going when you're ultra tired.)
For the final stretch of this year's Muskoka race I was on complete autopilot. Eat, drink, paddle. Eat, drink, paddle. I eventually met a couple in a two-person canoe team, Paul and Susan, and we paddled together to the finish line.
I came in around 3am after 20 straight hours of paddling. My total combined race time from the two days was 32 hours, 32 minutes. This was enough to give me first place on a SUP in the Coureur des Bois division.
At the finish line they had nice drinks and chips waiting for us. Chips was the one thing everybody was craving: salty, fat and nice. I quickly gobbled down three bags.
By 5am I was in my bed, only to wake up at 9am and go to the awards ceremony. Some paddlers had a little more sleep than me, though many slept only for an hour or not at all.
So far this year I've done almost 2,000km of paddling in these ultra long distance races, which I think hasn't gone unnoticed: Throughout the year I've met a lot of people who have said they've felt inspired to go out and do similar races like this, or just go on a small paddling and camping expedition adventure.
For me that's the greatest compliment, to be able to inspire others to explore. In turn that inspires me to keep exploring further, and now, along with Starboard, help promote the reduction of plastic and other waste in our rivers and oceans.
2016 Muskoka River X Race: SUP Divisions
220km "Coureur des Bois" edition: 1st place Bart de Zwart in 32 hours 42 minutes
130km "Classic" edition: Oliver in 17 hours 22 minutes
80km "Sprint" edition: Simon Whitfield in 12 hours 5 minutes
Visit the Muskoka River X official site and Facebook page for more coverage