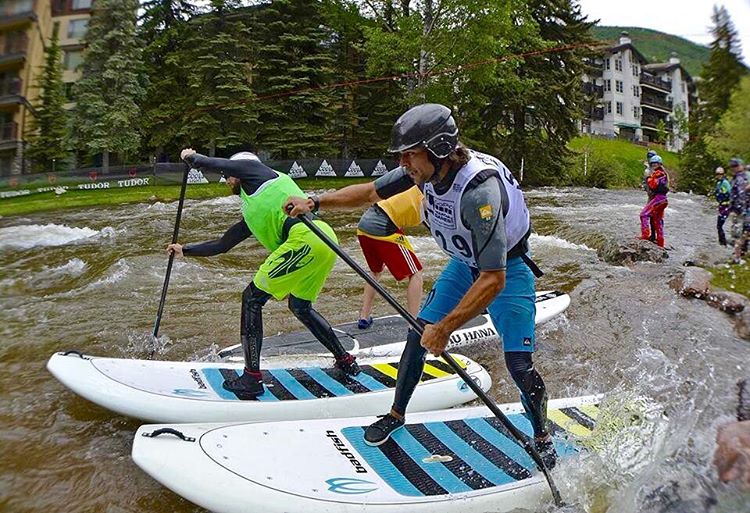 June 15, 2016
by Christopher Parker (@wheresbossman)
GoPro Mountain Games: Spencer Lacy Makes It a Clean Sweep in Colorado
https://www.instagram.com/p/BGpBmeCAitI/
In brief: Spencer Lacy has taken out the 2016 GoPro Mountain Games in Vail, Colorado, as the event showcased what is surely one of the most entertaining versions of our sport.
With the big Payette River Games on hiatus this year (and perhaps indefinitely), the Mountain Games represent arguably the biggest whitewater race on the calendar. The multi-sport festival, which covers everything from SUP and kayak racing to slacklining and yoga, once again attracted a who's who from the SUP river world to the iconic ski resort.
In the downriver sprints, Spencer nailed the fastest time of the day, crossing the line in 17 minutes 52 seconds, just a few seconds clear of his fellow whitewater charger and Onewheel pioneer Mike Tavares, with Japan's ever-smiling Masayuku "Yacu" Takahata in third.
Spencer made it a clean sweep with the SUP cross, once again relegating Mike T to the runner-up position after a series of stacked heats whittled the field down to a four-man final.
In the women's event, 2015 Payette River Games champ Rebecca Giddens won the downriver sprints but was edged out by Camille Swan in the SUP Cross final. Rebecca's husband, Eric, had a photo finish (literally) for 3rd/4th with Luke Hopkins in the men's SUP cross final.
https://www.instagram.com/p/BGm26zpGKnV/
Men's SUP Cross Final
1st: Spencer Lacy
2nd: Mike Tavares
3rd: Luke Hopkins
4th: Eric Giddens
Women's SUP Cross Final
1st: Camille Swan
2nd: Rebecca Giddens
3rd: Nadia Almuti
4th: Trinity Wall
Men's Downriver Sprints
1st: Spencer Lacy (0:17:52.37) —
2nd: Mike Tavares (0:17:55.41) +3.04
3rd: Masayuki TAKAHATA 42 Fujisawa Kanagawa, JPN 18:02.43 +10.06
4th: Brent Redden (18:13.14) +20.77
5th: Dan Gavere (18:15.22) +22.85
6th: Eric Giddens (18:19.97) +27.60
7th: Ben Sarrazin (18:23.11) +30.74
8th: Charlie Macarthur (18:25.01) +32.64
9th: Jeremiah Williams (18:29.30) +36.93
10th: Alex Mauer (18:34.57) +42.20
Women's Downriver Sprints
1st: Rebecca Giddens (18:50.64) —
2nd: Camille Swam (19:37.95) +47.31
3rd: Ashley Bean (19:53.15) +1:02.51
4th: Hiiroko Kinuki (19:59.53) +1:08.89
5th: Jenny Macarthur (20:01.09) +1:10.45
6th: Izzi Gomez (20:09.28) +1:18.64
7th: Natali Zollinger (20:09.82) +1:19.18
8th: Elaine Campbell (20:38.57) +1:47.93
9th: Gentian Nuzzo (20:39.77) +1:49.13
10th: Mary Sundblom (20:46.65) +1:56.01
Click here for the full results
https://www.instagram.com/p/BGilWYuAitw/
https://www.instagram.com/p/BGmUKxLgilC/