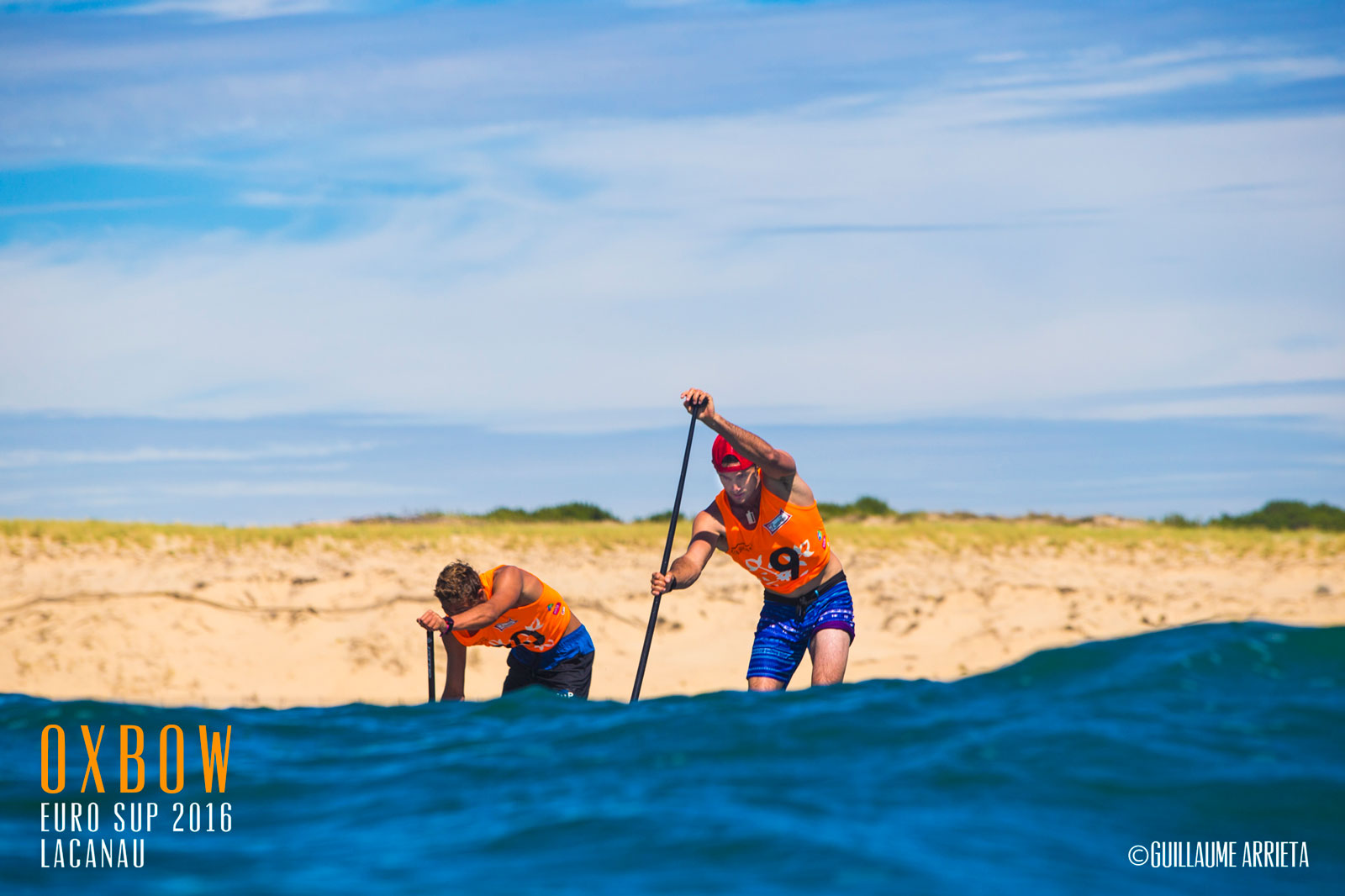 June 20, 2016
by Christopher Parker (@wheresbossman)
Golden Day for the Host Nation at the EuroSUP Championships in France
https://www.instagram.com/p/BG4lJKRyssI/

In brief: Titouan Puyo and Olivia Piana have made it a golden start to the Oxbow EuroSUP Championships for Team France, claiming victories in the men's and women's course races respectively, with Arthur Arutkin finishing a close runner-up to make it a clean sweep for the host nation.
With small waves but plenty of wind making for a bumpy race here in the surf mecca of Lacanau, Olivia proved far too strong for the other women, paddling clear to win by three minutes from the rapidly-improving Susak Molinero (Spain) and the always consistent Marie Buchanan (England).
Olivia has been getting stronger and stronger with every race this summer, culminating with her EuroTour victory in San Sebastian last week. After taking a season off last year, the Starboard team rider is looking fitter and faster than ever, and will fly the flag for Team France again at the ISA Worlds in Fiji later this year.
Because the EuroSUP Championship (which we've nicknamed 'The Euros') follows the ISA model of two men/one woman per team per event, the men's course race this afternoon had twice as many starters as the women's, and with several top ranked athletes on the line it was always going to be a tough race.
But with the plenty of bumps and small waves making drafting a luxury, Titou and Arthur quickly broke and then pulled away from the field after making the best of the tricky conditions.

https://www.instagram.com/p/BG4dcFdSsnu/

Milking every bump for all it was worth, the French duo broke the fast-starting Danish Viking, Casper Steinfath, while Leo Nika from Team Italy and Roman Frejo from Spain also paddled clear of the peleton to record excellent results. The Portuguese duo of Filipe Meira and Ruben Alfonso were also impressive, claiming 7th/8th and plenty of valuable points for their team on the overall leaderboard
Casper fought hard but couldn't keep pace with Titou and Arthur on the small downwind sections during each of the 3x 1.7km laps, with the Frenchies paddling clear to make it a perfect start for the home team.
The Euros, which are basically a European-only version of the ISA Worlds, have attracted 11 nations to the inaugural edition. The event is sanctioned by the European Surfing Federation (ESF) and is organised/hosted by the iconic Lacanau Surf Club.
The fun continues tomorrow with the SUP surfing (with good waves forecast), before the long distance race hits the water on Wednesday. Here's the highlights reel from today, and you can scroll down for more photos plus the full results.

[notdevice][fbvideo link="https://www.facebook.com/goSUPracer/videos/1045541062196611/" width="645″ height="363″ onlyvideo="1″][/notdevice][device][fbvideo link="https://www.facebook.com/goSUPracer/videos/1045541062196611/" width="322″ height="181″ onlyvideo="1″][/device]


MEN'S COURSE RACE
1st: Titouan Puyo (France) 0:34:25
2nd: Arthur Arutkin (France) 0:34:34
3rd: Casper Steinfath (Denmark) 0:35:27
4th: Leo Nika (Italy) 0:36:53
5th: Roman Frejo (Spain) 0:37:29
6th: Filipe Meira (Portugal) 0:38:20
7th: Ruben Alfonso (Portugal) 0:38:47
8th: Jurgi Zulaika (Spain) 0:39:08
9th: Giordano Capparella (Italy) 0:39:20
10th: Damian Warner (England) 0:40:23
11th: Mads Ring (Denmark) 0:40:27
12th: Glenn Eldridge (England) 0:41:00
13th: Pete Kosinski (Ireland) 0:41:13
14th: Kjell de Bruyn (Belgium) 0:41:18
15th: Tom Ameije (Belgium) 0:41:46
16th: Magnus Lindstedt (Sweden) 0:42:03
17th: Andreas Svensson (Sweden) 0:43:07
18th: Kai-Nicolas Steimer (Germany) 0:44:19
19th: Keith McGuirt (Ireland) 0:46:32
20th: Sean Smith (Wales) 0:49:01
21st: Andy Dalrymple (Wales) 0:49:15
WOMEN'S COURSE RACE
1st: Olivia Piana (France) 0:41:55
2nd: Susak Molinero (Spain) 0:44:58
3rd: Marie Buchanan (England) 0:45:42
4th: Susanne Lier (Germany) 0:46:15
5th: Angela Fernandes (Portugal) 0:46:54
6th: Nicoline Rasmussen (Denmark) 0:47:24
7th: Chiara Nordin (Italy) 0:50:32
8th: Mi Richardson (Wales) 0:53:07
9th: Maya Persson (Sweden) 0:55:28
10th: Corinne Piquer (Ireland) 0:59:02