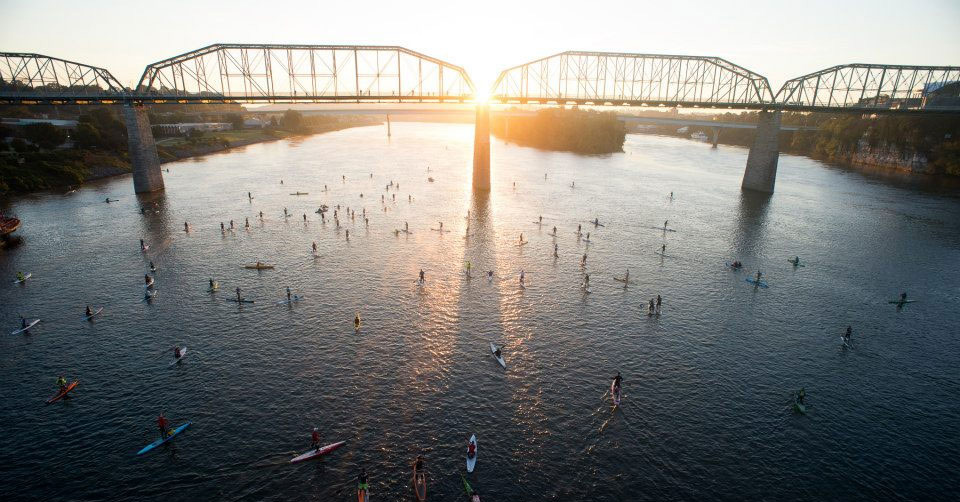 October 23, 2016
by Christopher Parker (@wheresbossman)
Larry Cain Makes It a Three-Peat at Chattajack
Larry Cain has won Tennessee's 31 mile Chattajack race, aka the "Inland Molokai", for the third year in a row, outlasting Bart de Zwart in a repeat of last year's result to claim victory in 5 hours, 14 minutes.
After the 2015 race was decided in a sprint to the line, the 1984 Olympic canoeing Gold Medalist broke free well before the finish to secure a big win, coming home 11 minutes clear of his Starboard teammate.
It's yet another impressive performance from Larry, who is aged 53 but regularly keeps pace with (or out-paces) guys less than half his age.
Mike Tavares rounded out the podium for the second year in a row, leading home a group that included Joe Ward and Justin Schaay. In the women's event, Kim Hillhouse won in a time of 6 hours 12 minutes, with Trish Miller and Julieta Gismondi also going top three.
Despite the grueling nature of the course, Chattajack is one of the most beloved stand up paddle races in America, with the event almost always selling out well ahead of race day, and competitors traveling from far and wide for a chance to paddle along the beautiful Tennessee River Gorge.
Conditions always dictate the times, with the wind and current having a big impact. Larry's win this year was just over 15 minutes outside his 2015 pace, so it looks like it was a tough year.
For Bart, this marks the end of his six-race, 1800km tour of the world's longest stand up paddleboarding races. The renowned adventure paddler summed up the race like this:
https://www.instagram.com/p/BL4YNZOjiLq/
Here are the top times. Plenty more coverage over on the official Facebook page and via Distressed Mullet.
Add this event to your bucket list.
Top 10 – Men's 14′
1st: Larry Cain (5:14:35)
2nd: Bart de Zwart (5:25:24)
3rd: Mike Tavares (5:27:42)
4th: Joe Ward (5:27:43)
5th: Justin Schaay (5:27:44)
6th: Brian Meyer (5:31:27)
7th: Greg Jaudon (5:33:05)
8th: Christopher Norman (5:34:32)
9th: Ryan Oliver (5:35:10)
10th: Phil Coffman (5:36:36)
Top 10 – Women's 12'6/14′
1st: Kim Hillhouse (6:12:17)
2nd: Trish Miller (6:25:01)
3rd: Julieta Gismondi (6:31:33)
4th: Katherine Pyne (6:33:27)
5th: Hannah McEwan (6:40:56) 14′
6th: Catherine Uden (6:46:13)
7th: Dawn Ehman (6:47:04)
8th: Gina di Primio (6:50:52)
9th: Meg Bosi (6:56:51)
10th: Hannah Elrod (6:57:30)
Click here for the full results.
Oh and one of the angles of this race I love is the board lineup. Competitors place their boards on the steps leading down to the river on the eve of the race, which produces some really cool imagery such as this one:
https://www.instagram.com/p/BL7HrRshBzK/