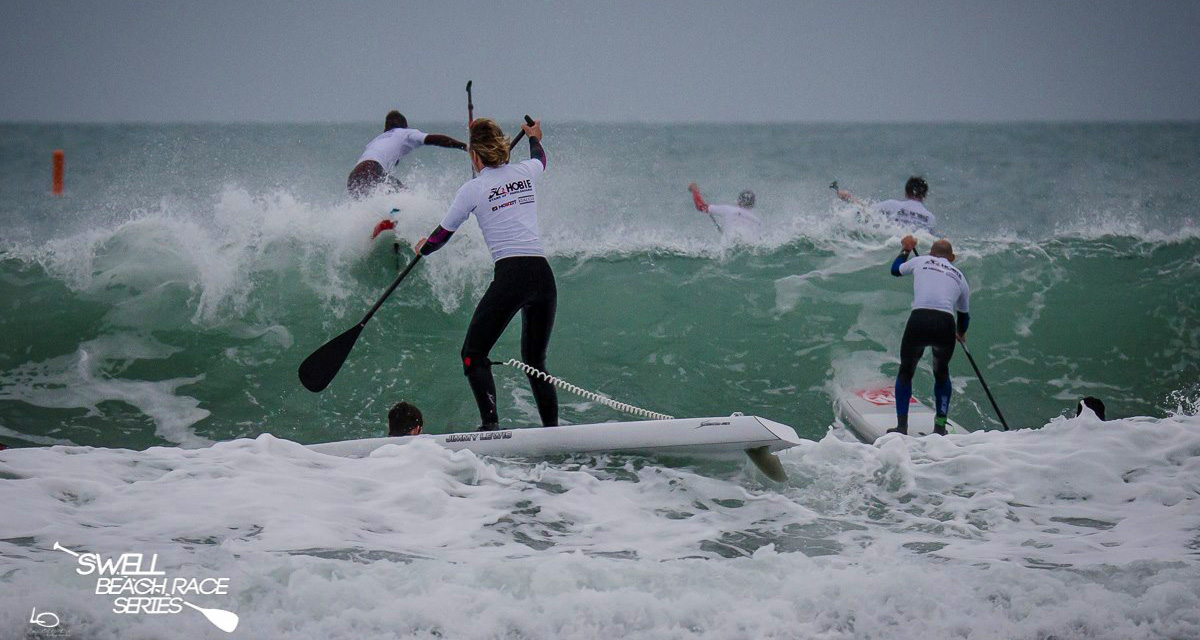 February 22, 2015
by Christopher Parker (@wheresbossman)
Fun Waves (And A Few Wipeouts) For Stop #3 Of France's Swell Beach Race Series

This weekend saw stop #3 of the 2015 Swell Beach Race Series, a long-running tour held in the French province of Brittany. France has always been the powerhouse of European SUP racing and the Swell Beach Race Series is one of the great local tours that helps drive the sport at the domestic level.
With Swell Beach Race stalwart Greg Closier on an extended trip to California, we've got a guest post from Martin Letourneur, who also happens to be the winner of today's race. Martin is one of the rising stars and leaders of the new wave of European SUP racing, where the kids are really starting to step it up and take it to the older guard.
The Hobie team rider became a minor celebrity at last year's BOP in Salt Creek, where his wave of the weekend won him the "Most Courageous" award (backing up his extremely impressive Top 15 finish in the Elite Race). Here's Martin's recap from France…
2015 Swell Beach Race Series – Race #3 (Blancs Sablons Beach)
As you can see from the photos, the weather conditions haven't changed so much in France since the last Swell Beach Race in January. I actually think it's even colder this weekend haha! Lots of rain this time, in addition to the usual waves and a bit of wind.
This weekend saw a solid little swell, with 3-4 ft waves, and a 10-15knot side wind. The race was 3x laps of a 1.5km course, so 4.5km (2.8 miles) in total. There were 29 brave paddlers who dared to race in the cold, rainy conditions, including two women and four juniors.

After a tough start passing through the waves, Joseph Gueguen, Yoann Cornelis and myself took the lead. We all pushed hard but remained together until the end of the 2nd lap, when I tried to make a move and gain a short distance.
However right at the last buoy of the lap, a big set wave came through that changed the race. I was very late dropping on, Joseph decided it was too late to go at all, while Yoann was just passing the buoy and managed to get on it before us.
I somehow just hung on, however Yoann broke his leash and lost his board, which meant he had to catch the jetski back to the beach and therefore was disqualified. The water temperature is 8 degrees (46 F), so when you fall in it's dangerously cold and if you lose your board, it's better to catch the ski and be disqualified than try and swim!

By the end of the race I managed to stay in the lead with Joseph coming in second. I'm sure this guy will be the revelation of the 2015 Swell Beach Race Series! Joseph is a former RSX (windsurfing) junior world champion and is a machine on both upwind and flat water sections. He finished 7th at the Paris Crossing (ahead of Kai Lenny) and will be a dark horse to watch this year!
Sometimes one man's loss is another man's gain and with the misfortune of Yoann, the third place went to the another young revelation of the Swell Beach Race Series, the new Fanatic team rider Tom Auber. Tom is only 16 but, just like Joseph, is getting stronger and stronger at each event (14th open and 4th junior at last November's French Titles).
Outside the top three, there was a big sprint finish with four of Brittany's finest paddlers, including Jeremy Branchu (F-One), Mathieu Carpentier (Benoit's brother – the Carpentier boys, who focus more on SUP surfing, are always very dangerous in racing as well!), Mathieu Raimon (NSP) and Renaud Noyelle (Nah Skwell).
On the women's side, local paddler and Brittany's #1, Solange Pruvost, came away with another win against Anne Crozet. Solange is training hard looking ahead to the second round of French National Team selections in April, and seems to be looking really good on the new Hobie Apex Raw race board.
This weekend was again a great event, and it also marked the middle of the Swell Beach Race Series circus as we now have 3x more events left before we crown Britanny's Beach Race Champion!
Pics below by Loic Olivier (more on Facebook) there are also some great shots from Boris Jinvresse on Facebook as well.