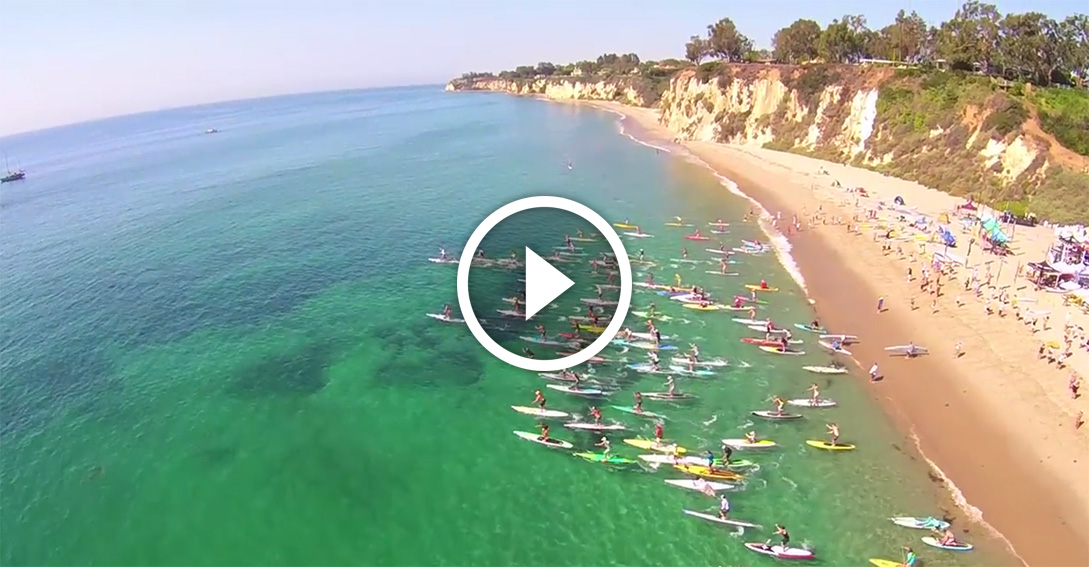 April 20, 2015
by Christopher Parker (@wheresbossman)
Results, Video And A Bit Of Team Spirit From Malibu's 'Stand Up For Clean Water' Race
Watch this cool little aerial clip from Saturday's Stand Up For Clean Water race in Malibu.
Despite the SoCal paddling community being split between this event and the Mongoose Cup down in Dana Point, the 4th annual SUP 4 Clean Water attracted a solid turnout to the aptly named Paradise Cove.
There were 98 finishers in the five miler and another 70 odd in the fun race. Throw in the kids racing and it was probably around 200. Antoinette Cocco was the quickest of the women, while Slater Trout and Chuck Glynn shared the spoils in the Men's Elite 14 division ahead of SIC's new Team Manager Belar Diaz.
After a tight battle for three quarters of an hour, Slater and Chuck crossed the line at the same time, finishing brothers-in-arms in what was a good show of sportsmanship. It's also a good show of the team spirit & camaraderie the Americans will take into Mexico next month: Slater and Chuck will be heading to Sayulita from May 10-17 to battle the Aussies, Hawaiians and two dozen other nations at the ISA World Championship.
Another athlete that's gearing up for that event took out the men's 12'6 division: Crille Forsberg, who will be flying the flag for Team Sweden at the Worlds next month.
Anyway the excellent SUP Examiner has a great recap of the day, so check that out or take a look at the full results below.
There are also plenty of great event photos floating around thanks to Benjamin Morris and the insanely prolific OnIt Pro (who, like always, has around 1,000 photos of the event up on Facebook).
---
2015 Stand Up For Clean Water Race
Course: 5 miles
Conditions: Glassy
Click here for the raw results (including Fun Race results)

| # | Name | Time | Class | # | Division | # |
| --- | --- | --- | --- | --- | --- | --- |
| 1 | Chuck Glynn | 0:45:39 | Men's 14' | 1 | Elite | 1 |
| 2 | Slater Trout | 0:45:39 | Men's 14' | 2 | Elite | 2 |
| 3 | Belar Diaz | 0:48:10 | Men's 14' | 3 | Elite | 3 |
| 4 | Garrit Barth | 0:48:23 | Men's 14' | 4 | 18-39 | 1 |
| 5 | Rodney Ellis | 0:49:08 | Men's 14' | 5 | 40-49 | 1 |
| 6 | Jedd Hasay | 0:49:41 | Men's 14' | 6 | Elite | 4 |
| 7 | Mark Miyamoto | 0:50:16 | Men's 14' | 7 | Elite | 5 |
| 8 | Trent Hickman | 0:50:46 | Men's 14' | 8 | 18-39 | 2 |
| 9 | Phil Coffman | 0:50:54 | Men's 14' | 9 | 40-49 | 2 |
| 10 | Yann Lauletta | 0:51:12 | Men's 14' | 10 | 18-39 | 3 |
| 11 | Michael Kelley | 0:51:16 | Men's 14' | 11 | 40-49 | 3 |
| 12 | Merten Stroetzel | 0:51:23 | Men's 14' | 12 | 40-49 | 4 |
| 13 | Crille Forsberg | 0:51:34 | Men's 12'6 | 1 | 40-49 | 1 |
| 14 | Ryland Hart | 0:51:40 | Men's 12'6 | 2 | U17 | 1 |
| 15 | Brandon Sauls | 0:52:17 | Men's 14' | 13 | Elite | 6 |
| 16 | Hunter Mcintyre | 0:52:39 | Men's 14' | 14 | Elite | 7 |
| 17 | Derek Turner | 0:52:52 | Men's 14' | 15 | 50+ | 1 |
| 18 | John Bland | 0:53:18 | Men's 14' | 16 | 50+ | 2 |
| 19 | Eric Diggins | 0:53:21 | Men's 12'6 | 3 | 40-49 | 2 |
| 20 | Jeff Warner | 0:53:33 | Men's 12'6 | 4 | 40-49 | 3 |
| 21 | Gene Tarsan Smith | 0:53:51 | Men's 12'6 | 5 | 50+ | 1 |
| 22 | Jeremiah Murphy | 0:53:59 | Men's 12'6 | 6 | 40-49 | 4 |
| 23 | Alan Chalom | 0:54:09 | Men's 14' | 17 | 50+ | 3 |
| 24 | Mace Camhe | 0:55:06 | Men's 14' | 18 | 40-49 | 5 |
| 25 | Francois Clausse | 0:55:23 | Men's 12'6 | 7 | 40-49 | 5 |
| 26 | Fritz Rometsch | 0:55:52 | Men's Inflatable | 1 | 18-39 | 1 |
| 27 | Jack Hill | 0:55:57 | Men's 12'6 | 8 | U17 | 2 |
| 28 | Ben Smith | 0:56:02 | Men's 14' | 19 | 18-39 | 4 |
| 29 | Sam George | 0:56:05 | Men's 12'6 | 9 | 50+ | 2 |
| 30 | Peter Lakos | 0:56:05 | Men's 12'6 | 10 | 40-49 | 6 |
| 31 | Steve Crane | 0:56:22 | Men's 14' | 20 | 40-49 | 6 |
| 32 | Simon Swart | 0:56:29 | Men's 14' | 21 | Elite | 8 |
| 33 | Antoinette Cocco | 0:56:31 | Women's 12'6 | 1 | 18-39 | 1 |
| 34 | Doug Anderson | 0:57:01 | Men's 14' | 22 | 40-49 | 7 |
| 35 | Nigel Morris | 0:57:13 | Men's 14' | 23 | 50+ | 4 |
| 36 | Jeff Sweet | 0:57:19 | Men's 14' | 24 | Elite | 9 |
| 37 | Bret Warner | 0:57:35 | Men's 14' | 25 | 18-39 | 5 |
| 38 | Gerry Wallfesh | 0:57:41 | Men's 14' | 26 | 40-49 | 8 |
| 39 | Juerg Geser | 0:58:17 | Men's 14' | 27 | 40-49 | 9 |
| 40 | Ron Hughes | 0:58:42 | Men's 14' | 28 | 50+ | 5 |
| 41 | Richard Briant | 0:58:56 | Men's 12'6 | 11 | 40-49 | 7 |
| 42 | John Hill | 0:58:57 | Men's 14' | 29 | 50+ | 6 |
| 43 | Garth Davis | 0:59:19 | Men's 12'6 | 12 | 50+ | 3 |
| 44 | Zack Schwartz | 0:59:31 | Men's 14' | 30 | 18-39 | 6 |
| 45 | Samson Grunwald | 0:59:39 | Men's 14' | 31 | U17 | 1 |
| 46 | Pat Ryan | 1:00:16 | Men's 14' | 32 | 50+ | 7 |
| 47 | Mark Williams | 1:00:23 | Men's 14' | 33 | 50+ | 8 |
| 48 | Tony Stearns | 1:00:54 | Men's 12'6 | 13 | 50+ | 4 |
| 49 | John Nordin | 1:01:14 | Men's 12'6 | 14 | 40-49 | 8 |
| 50 | Andy Hope | 1:01:26 | Men's 14' | 34 | 40-49 | 10 |
| 51 | Kym Rodger | 1:01:34 | Women's 14' | 1 | Elite | 1 |
| 52 | Mike Miller | 1:01:44 | Men's 14' | 35 | 40-49 | 11 |
| 53 | Craig Stiff | 1:02:07 | Men's 12'6 | 15 | 40-49 | 9 |
| 54 | Kylie Lakos | 1:02:21 | Women's 14' | 2 | Elite | 2 |
| 55 | Andreas Frick | 1:02:38 | Men's 12'6 | 16 | 40-49 | 10 |
| 56 | Kelly Mcgovern | 1:02:50 | Women's 14' | 3 | 40-49 | 1 |
| 57 | Rene Bruz | 1:02:58 | Men's Inflatable | 2 | 40-49 | 1 |
| 58 | Tyler Daigler | 1:03:15 | Men's 12'6 | 17 | 18-39 | 1 |
| 59 | Alex Groswird | 1:03:22 | Men's 14' | 36 | 50+ | 9 |
| 60 | Tony Philp | 1:04:47 | Men's Surf | 1 | 40-49 | 1 |
| 61 | Gary Cziko | 1:05:02 | Men's 12'6 | 18 | 50+ | 5 |
| 62 | Terri Wargo | 1:05:54 | Women's 14' | 4 | Elite | 3 |
| 63 | Carl Brunst | 1:06:07 | Men's 14' | 37 | 40-49 | 12 |
| 64 | Cassidy Watton | 1:06:23 | Women's 14' | 5 | Elite | 4 |
| 65 | Tiffany Grunwald | 1:06:34 | Women's 12'6 | 2 | 40-49 | 1 |
| 66 | Dd Doolan | 1:07:08 | Men's Surf | 2 | 18-39 | 1 |
| 67 | Patricia Volger | 1:07:18 | Women's 12'6 | 3 | 40-49 | 2 |
| 68 | Layton Petersen | 1:07:26 | Men's 14' | 38 | 18-39 | 7 |
| 69 | Wes Bishop | 1:07:35 | Men's 12'6 | 19 | 18-39 | 2 |
| 70 | Craig Hibbard | 1:07:59 | Men's 14' | 39 | 50+ | 10 |
| 71 | Cindy Tolhurst | 1:08:08 | Women's 12'6 | 4 | 50+ | 1 |
| 72 | David Elliott | 1:08:18 | Men's 14' | 40 | 50+ | 11 |
| 73 | Frank Umipig | 1:09:22 | Men's 12'6 | 20 | 50+ | 6 |
| 74 | Harry Petersen | 1:09:36 | Men's 14' | 41 | 50+ | 12 |
| 75 | Jennifer Lakos | 1:09:42 | Women's 12'6 | 5 | 40-49 | 3 |
| 76 | Steve Dahlberg | 1:10:17 | Men's 14' | 42 | 50+ | 13 |
| 77 | Kevin Wright | 1:10:20 | Men's Surf | 3 | 40-49 | 2 |
| 78 | Anastasia Alexander | 1:10:33 | Women's 12'6 | 6 | 18-39 | 2 |
| 79 | Danica Bujic Perez | 1:11:03 | Women's 14' | 6 | Elite | 5 |
| 80 | David Michaels | 1:11:04 | Men's Surf | 4 | 40-49 | 3 |
| 81 | Mark Sisson | 1:11:51 | Men's 12'6 | 21 | 50+ | 7 |
| 82 | Stephanie Lindsay | 1:12:09 | Women's 12'6 | 7 | 18-39 | 3 |
| 83 | Martha Lockie | 1:13:01 | Women's 12'6 | 8 | 50+ | 2 |
| 84 | Evan B Stone | 1:13:23 | Men's 12'6 | 22 | 40-49 | 11 |
| 85 | David Kohl | 1:13:47 | Men's 14' | 43 | 40-49 | 13 |
| 86 | Sheila Shea | 1:14:56 | Women's 14' | 7 | 50+ | 1 |
| 87 | Mike Tsoi | 1:15:21 | Men's Inflatable | 3 | 40-49 | 2 |
| 88 | Robert Wasserman | 1:16:08 | Men's Surf | 5 | 40-49 | 4 |
| 89 | Stephanie Dahlberg | 1:16:30 | Women's 14' | 8 | 40-49 | 2 |
| 90 | Art Reiss | 1:17:10 | Men's 12'6 | 23 | 50+ | 8 |
| 91 | Frank Perna | 1:18:50 | Men's 14' | 44 | 50+ | 14 |
| 92 | Lisa Michaels | 1:19:02 | Women's 12'6 | 9 | 40-49 | 4 |
| 93 | Juli Schulz | 1:19:21 | Women's Surf | 1 | 40-49 | 1 |
| 94 | Katherine Aronsson | 1:23:42 | Women's Surf | 2 | 18-39 | 1 |
| 95 | Amy Zimmerman | 1:24:14 | Women's 12'6 | 10 | 50+ | 3 |
| 96 | Beatriz Marx | 1:24:56 | Women's Surf | 3 | 50+ | 1 |
| 97 | Tony Montero | 1:31:24 | Men's 14' | 45 | 50+ | 15 |
| 98 | Blades Williamson | 1:39:32 | Men's 12'6 | 24 | 50+ | 9 |