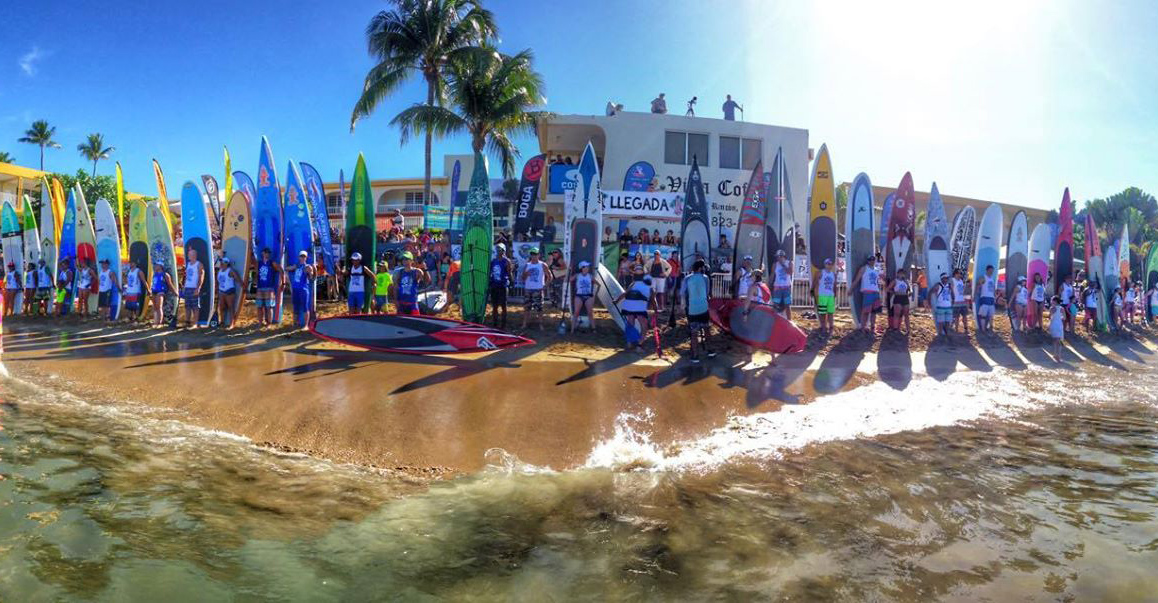 April 13, 2015
by Christopher Parker (@wheresbossman)
RESULTS: Ryan Helm, Gail Vento Win The 7th Annual Rincon Beachboy

Ryan Helm and Gail Vento have taken out the 2015 Rincon Beachboy SUP Race in Puerto Rico, as over 300 paddlers descended on the island for another classic event.
Now in its seventh year, the Beachboy has gained a reputation of being a massive community race, with hundreds of local, Caribbean and quite a few international paddlers of all ages coming out for the show.
But in the battle of the pros – where there was $17,000 prize money up for grabs – it was Ryan Helm's day. The Riviera Paddlesurf team rider claimed his 3rd Beachboy title by outlasting Jack Sauvé and local boy Nick Leason around the 8 mile course. This continues Ryan's good run of early season form after he took out last month's Punta Sayulita Classic.
In the women's Beachboy (Beachgirl?) race, Gail won the elite division in a time of 1 hour 22 minutes, finishing two minutes clear of local Giselle Delgado.
Looks like it was another big year for the Rincon Beachboy. This one's been on my bucket list for a while and I can definitely recommend you add it to yours. Apart from it being a great race, one of the cool highlights is the wall of honour that paddlers form right before the start. Stretches for quite a ways…
Full results below. Scroll down for a few choice pics and click here for another hundred great shots. You can also relive the race through the GPS live tracking map.
---
2015 Rincon Beachboy – Elite Race
– Click "Division" to switch between Men's and Women's / 12'6 and 14′ results
– Click here for the raw results of the Open Race and Kids Race

| # | Name | Time | Division | # | Age |
| --- | --- | --- | --- | --- | --- |
| 1 | Ryan Helm | 1:08:11 | Men's 14' | 1 | 40 |
| 2 | Jack Sauve | 1:09:56 | Men's 14' | 2 | 27 |
| 3 | Nick Leason | 1:12:56 | Men's 14' | 3 | 30 |
| 4 | Elvin Maldonado | 1:13:12 | Men's 14' | 4 | 43 |
| 5 | Franck Fifils | 1:14:21 | Men's 14' | 5 | 39 |
| 6 | Greg Jaudon | 1:15:54 | Men's 12'6 | 1 | 54 |
| 7 | Corey Taylor | 1:15:56 | Men's 14' | 6 | 29 |
| 8 | Christopher Norman | 1:16:09 | Men's 14' | 7 | 26 |
| 9 | Brian Meyer | 1:16:19 | Men's 14' | 8 | 27 |
| 10 | Miguel Jesus Alvarez | 1:18:28 | Men's 14' | 9 | 17 |
| 11 | Alex Maldonado | 1:18:47 | Men's 12'6 | 2 | 39 |
| 12 | Jorge Quintana | 1:20:50 | Men's 14' | 10 | 32 |
| 13 | Russ Scully | 1:20:50 | Men's 14' | 11 | 45 |
| 14 | Jorge Adrian Garcia | 1:20:51 | Men's 12'6 | 3 | 39 |
| 15 | Luis Lopez | 1:20:57 | Men's 12'6 | 4 | 28 |
| 16 | Brian Schmid | 1:21:15 | Men's 14' | 12 | 26 |
| 17 | Gilberto Natal | 1:21:17 | Men's 12'6 | 5 | 34 |
| 18 | Miguel Beltran | 1:21:46 | Men's 12'6 | 6 | 40 |
| 19 | Taito Diaz | 1:22:31 | Men's 12'6 | 7 | 38 |
| 20 | Gail Vento | 1:22:54 | Women's 12'6 | 1 | 39 |
| 21 | Manuel O Lopez | 1:23:05 | Men's 14' | 13 | 38 |
| 22 | Stanley Comas | 1:23:38 | Men's 14' | 14 | 48 |
| 23 | Robert Bechtel | 1:23:52 | Men's 12'6 | 8 | 28 |
| 24 | Ramon Mercado | 1:24:22 | Men's 14' | 15 | 41 |
| 25 | Miguel Martinez | 1:24:58 | Men's 14' | 16 | 41 |
| 26 | Giselle Delgado | 1:25:14 | Women's 12'6 | 2 | 39 |
| 27 | Kelvin Maldonado | 1:25:39 | Men's 12'6 | 9 | 18 |
| 28 | Greg Carson | 1:26:40 | Men's 14' | 17 | 47 |
| 29 | Mark De Armas | 1:26:40 | Men's 14' | 18 | 49 |
| 30 | Eric Bednorz | 1:27:06 | Men's 12'6 | 10 | 38 |
| 31 | Guillermo De Pedro | 1:27:15 | Men's 14' | 19 | 37 |
| 32 | Rafael Cruet | 1:27:28 | Men's 14' | 20 | 48 |
| 33 | Kevin de Armas | 1:27:58 | Men's 12'6 | 11 | 18 |
| 34 | Edward Rivera | 1:29:28 | Men's 12'6 | 12 | 45 |
| 35 | Mariecarmen Rivera | 1:29:30 | Women's 12'6 | 3 | 21 |
| 36 | Jose Sanchez | 1:29:52 | Men's 14' | 21 | 36 |
| 37 | Evelyn Odoherty | 1:30:28 | Women's 12'6 | 4 | 46 |
| 38 | Christian Camejo | 1:30:55 | Men's 14' | 22 | 28 |
| 39 | Jose Martinez | 1:31:06 | Men's 12'6 | 13 | 49 |
| 40 | Juliana Perez Laspiur | 1:32:41 | Women's 12'6 | 5 | 39 |
| 41 | Miguel Alvarez | 1:34:18 | Men's 12'6 | 14 | 45 |
| 42 | Kym Freeman | 1:35:56 | Women's 12'6 | 6 | 49 |
| 43 | Victor Pina | 1:36:42 | Men's 14' | 23 | 39 |
| 44 | Jason Karpinski | 1:37:02 | Men's 12'6 | 15 | 40 |
| 45 | Sergio Rodriguez | 1:38:44 | Men's 12'6 | 16 | 43 |
| 46 | Jeffrey Owen | 1:40:24 | Men's 12'6 | 17 | 48 |
| 47 | John Buckley | 1:43:13 | Men's 12'6 | 18 | 56 |
| 48 | Hector Davila | 1:44:13 | Men's 14' | 24 | 40 |
| 49 | Scott Crowley | 1:44:26 | Men's 12'6 | 19 | 38 |
| 50 | Jose Cruz | 1:44:44 | Men's 12'6 | 20 | 46 |
| 51 | Kim Reilly | 1:44:45 | Women's 12'6 | 7 | 50 |
| 52 | Vicky Lowe | 1:46:54 | Women's 12'6 | 8 | 49 |
| 53 | Pamela Baez | 1:47:12 | Women's 12'6 | 9 | 23 |
| 54 | Gustavo Bague | 1:47:24 | Men's 12'6 | 21 | 43 |
| 55 | Ana Bonnin | 1:49:18 | Women's 12'6 | 10 | 36 |
| 56 | Naomi Soto | 1:49:41 | Women's 12'6 | 11 | 38 |
| 57 | Nydia del Mar Rafols | 1:50:13 | Women's 12'6 | 12 | 27 |
| 58 | Jose Pomales Delgado | 1:52:59 | Men's 14' | 25 | 45 |
| 59 | Jose Javier Ramirez | 1:56:26 | Men's 12'6 | 22 | 44 |
| 60 | Javier Vasquez | 1:56:28 | Men's 12'6 | 23 | 39 |
| 61 | Teresa Rogers | 2:01:37 | Women's 12'6 | 13 | 54 |
| 62 | Roberto Pagan | 2:01:40 | Men's 14' | 26 | 50 |
| 63 | Dennis Farrell | 2:01:53 | Men's 14' | 27 | 64 |
| 64 | Brian Dalton | 2:04:50 | Men's 12'6 | 24 | 40 |
| 65 | Poppy Bednorz | 2:09:31 | Women's 12'6 | 14 | 36 |
| 66 | Nicole Steinborn | 2:09:45 | Women's 12'6 | 15 | 40 |