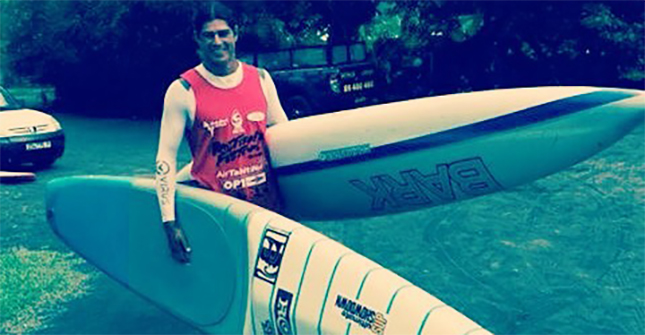 August 9, 2015
by Christopher Parker (@wheresbossman)
Fernando Stalla, Georges Cronsteadt Win In Tahiti
Check out the results from the latest SUP race in Tahiti, aka the land of a thousand dark horses. Tahiti is home to some of the strongest paddlers on the planet, and it's fast becoming home to a solid little domestic race circuit as well. On the weekend it was the Rautirare Festival in the paddling mecca of Mataiea, a small village just up the road from the world-famous Teahupoo.
Rogue team rider and part-time Tarzan impersonator, Fernando Stalla, was victorious in the swim/prone/SUP race, which only lasted just over 10 minutes but looked like very intense work. Stalla held off local Teiva Poulain, a former triathlete turned paddler, followed closely by Tahiti's strong men Bruno Tauhiro and Georges Cronsteadt.
Though Georges showed he's still the SUP king in Tahiti, taking out the long distance race ahead of fellow outrigger veteran Bruno and up-and-comer Niuhiti Buillard. Hina Yiou was the quickest of the women.
The event also featured a unique night race, just to spice things up and keep paddlers on their toes, while I hear there was also some fafaru involved…
Anyway I'll try and round up some photos for you, as well as an extended recap, but in the meantime here are the results.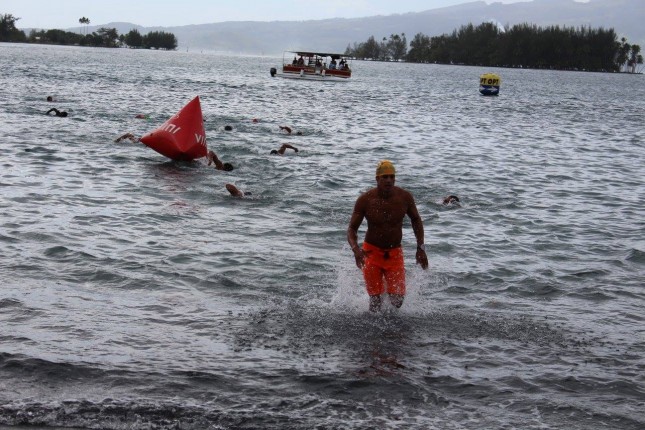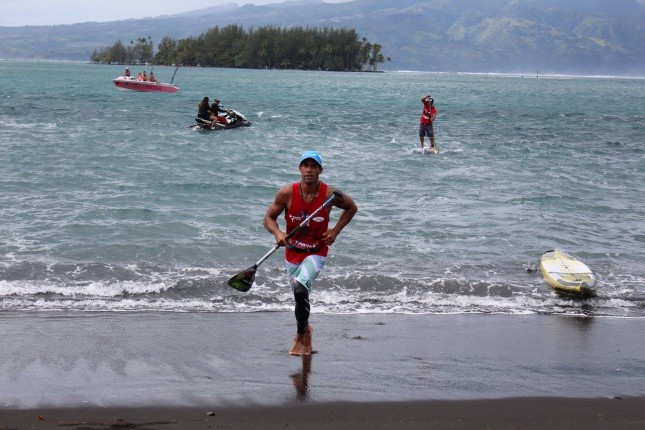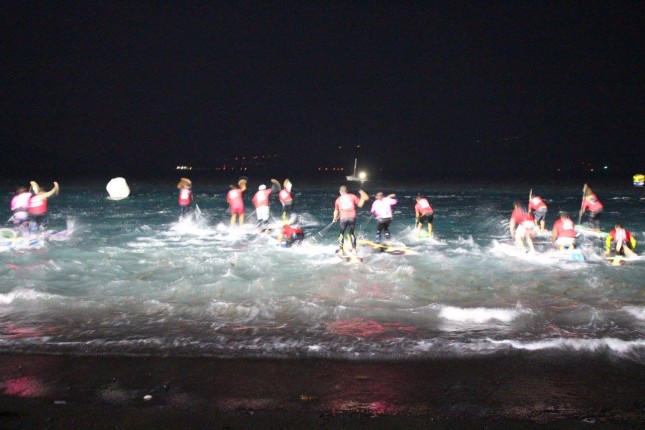 Swim/Prone/SUP
1st: Fernando Stalla (0:11:23)
2nd: Teiva Poulain (0:11:28)
3rd: Bruno Tauhiro (0:11:48)
4th: Georges Cronsteadt (0:12:09)
5th: Enzo Bennett (0:12:21)
6th: Rangitea Bennett (0:12:39)
7th: Eric Cavanie (0:13:03)
8th: Hapowa Mai (0:13:06)
9th: Brice Lanoe (0:13:11)
10th: Niuhiti Buillard (0:13:45)
11th: Arapo Temauri (0:13:55)
12th: Alexy Berthet (0:13:56)
13th: Patrick Vero (0:14:12)
14th: Eric Leou On (0:14:34)
15th: Hina Yiou (0:15:17)
16th: Douglas Pehau (0:15:18)
17th: Manutahi Gatata (0:15:32)
18th: Jerome Chapelier (0:16:02)
19th: Puatea Ellis (0:16:03)
Men's Distance Race
1st: Georges Cronsteadt (1:08:48)
2nd: Bruno Tauhiro (1:09:02)
3rd: Niuhiti Buillard (1:09:38)
4th: Enzo Bennett (1:11:32)
5th: Fernando Stalla (1:11:45)
6th: Eric Leou On (1:12:25)
7th: Teiva Poulain (1:13:00)
8th: Hapowa Mai (1:13:33)
9th: Tuheiarii Bernadino (1:14:09)
10th: Patrick Vero (1:14:35)
11th: Nainoaiki David (1:15:01)
12th: Patua Delord (1:16:06)
13th: Vincent Tarati (1:17:18)
14th: Chris Miley (1:17:47)
15th: Teiki Mai (1:19:26)
16th: Tenuanua Tepa (1:21:52)
17th: Arapo Temauri (1:22:36)
18th: Edwin Tuohe (1:23:47)
19th: Teiva Veronique (1:23:49)
20th: Tiavairau Chang (1:23:56)
21st: Angelo Paro (1:26:36)
22nd: Ramon Ah-Choy (1:31:01)
23rd: Alexandre Moilon (1:32:12)
24th: Manutahi Gatata (1:34:58)
25th: Jerome Chapelier (1:37:12)
26th: Tavai Bougues (1:41:04)
Women's Distance Race
1st: Hina Yiou (1:25:06)
2nd: Hinatea Poroi (1:27:27)
3rd: Vaimiti Maoni (1:30:43)
4th: Chantal Bigot (1:34:13)
5th: Puatea Ellis (1:44:59)