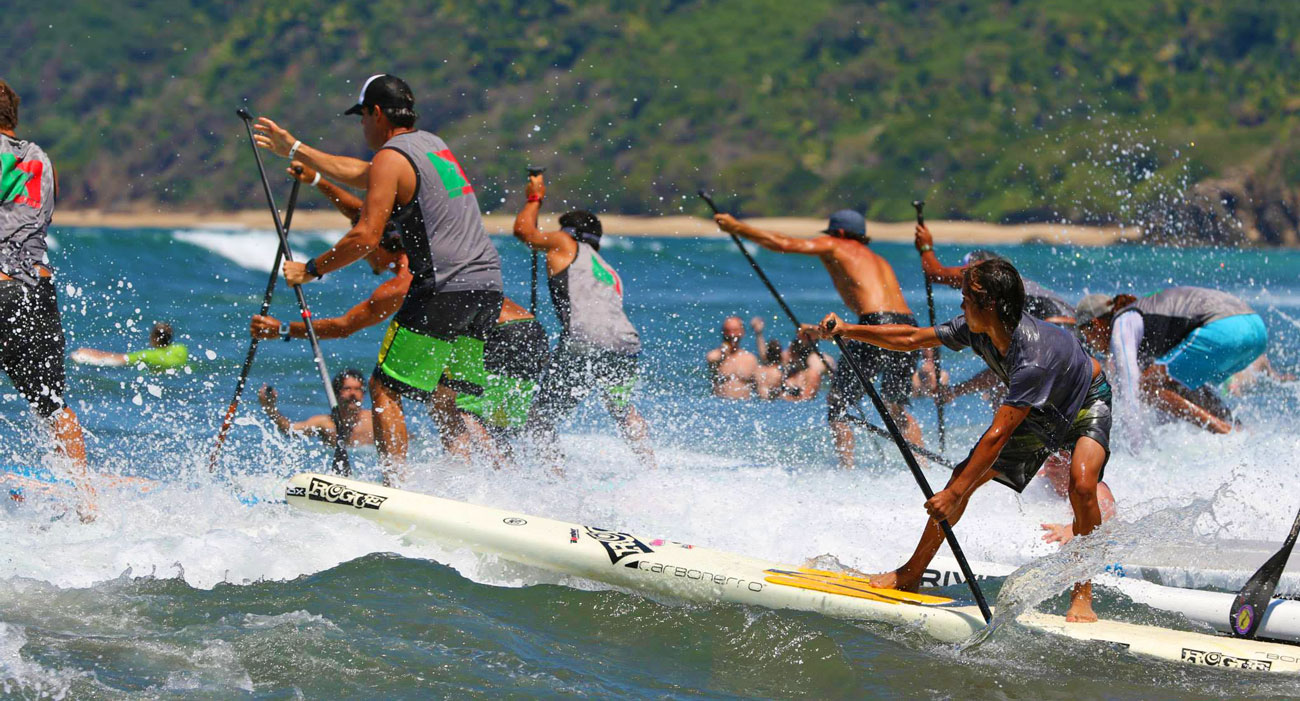 March 22, 2015
by Christopher Parker (@wheresbossman)
Fun Times In Sayulita

We've just wrapped up the 2015 Punta Sayulita SUP Classic, where the local world beaters have shown that Team Mexico will be a force to be reckoned with at the upcoming ISA Worlds.
Javier "Bicho" Jimenez took out today's distance race to back up his runner-up finish in Saturday's Elite Race. Bicho swapped 1-2 finishes with expat Ryan Helm, the head coach of the Mexican national team (and, rather ironically, a strong contender to compete for Team USA at the Worlds, which will be held here in Sayulita in May).
There was a strong showing from everybody's favourite Tarzan body double, Fernando Stalla (finishing 3rd in the Elite Race and 4th in the distance), while local dark horse Felipe Rodriguez (4th and 3rd) showed the talent runs deep in these parts. Meanwhile Shelby Rose Taylor made it a clean sweep of the women's races.

Saturday's Elite Race was held on a fun but challenging course, one which could be a preview of what we'll see when the world descends on this little town in May. With a moderate seabreeze blowing onshore, a triangle course was set that involved a light upwind leg, a fun little mini-downwinder and then two chances to catch waves on each of the four laps. It was an entertaining race that saw positions changing regularly. Except for the guy in front: That was always Ryan Helm.
After a fast start, Ryan progressively made the gap larger and larger. This guy is looking both frighteningly fit and frighteningly fast these days, just in time for the start of the international racing season next month.

Bicho is looking also very strong and may have even taken the lead on Team Mexico ahead of long-time #1 Fernando. Virtually all of Team Mexico's members hail from Sayulita, so this event was in many ways a test run for the national team's performance on the world stage in May (the ISA Worlds will be held in Sayulita from May 10-17).
The long distance race was less "fun" and more "grueling" than the elite race. With a blazing Mexican sun beating down, competitors slugged it out for 10 kilometres of thirsty paddling before Bicho and Shelby came up trumps.
In between the elite racing, there were open races, fun races and kids competitions, while down the beach at the surf break the SUP surfing contest ran all weekend. Sunday finished with an after party at one of the many beach bars here in Sayulita. I forget the name of the place but "Margaritaville" would seem quite fitting.

It was a great event, though it almost didn't happen at all… Late last year the headline sponsor – the Punta Sayulita development company – changed management, while many other local sponsors were focusing their resources on the upcoming Worlds. Until a couple of months ago, the official word was that the Punta Sayulita Classic would be put on the shelf for 2015.
But in mid-January organisers of the excellent new Mexico SUP Tour – Mat and Leyla from Stand Up Paddle Mexico – took up the task of reviving this classic. And while you can't expect an international-level race in that short a time-frame, I was very impressed with the setup at this year's Sayulita event.
In fact the hosts, the Stand Up Paddle Mexico shop here in Sayulita, has become something of a mini-mecca for the local paddling community. All the local top guns use it as a base for their training runs, while Mat & Leyla will always find you a board to use no matter what your level.
All in all the 2015 Punta Sayulita event was a lot of fun and gives me great confidence this town can host an amazing ISA World Champs in May. The location is perfect for stand up paddling, while the locals are friendly and welcoming. And because margaritas.
Punta Sayulita SUP Classic – Men's Elite Race Podium
1st: Ryan Helm
2nd: Javier "Bicho" Jimenez
3rd: Fernando Stalla
Punta Sayulita SUP Classic – Women's Elite Race Podium
1st: Shelby Rose Taylor
2nd: Kim Barnes
3rd: Karen Jacobson
Punta Sayulita SUP Classic – Men's Distance Race Podium
1st: Javier "Bicho" Jimenez
2nd: Ryan Helm
3rd: Felipe "Pipe" Rodriguez
Punta Sayulita SUP Classic – Women's Distance Race Podium
1st: Shelby Rose Taylor
2nd: Kim Barnes
3rd: Alejandra Isabel
Thanks to Ed from Wicked Fotos for capturing the fun. More pics here.