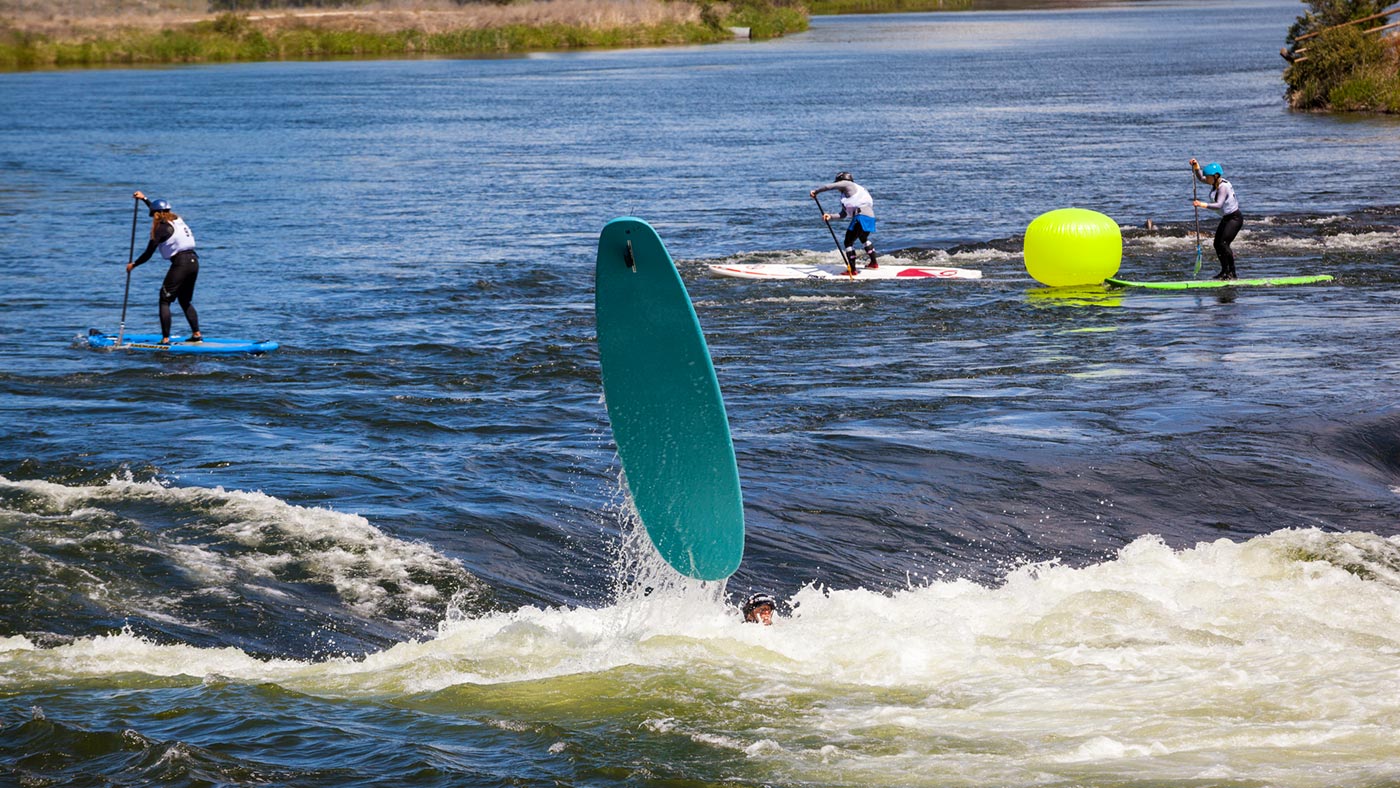 May 26, 2015
by Christopher Parker (@wheresbossman)
Payette River Games: New Course, New Boards, and Everything Else You Need to Know (Rise of the Inflatables?)
The Countdown to Idaho is on. In just under a month, a whole stack of the world's best paddlers will descend on the sleepy little hamlet of Cascade, Idaho, for a long weekend of festivities on and off the water.
The Payette River Games, scheduled for June 19-21, is set to be a pretty big show this year. We've already listed it as one of the "Majors" for 2015, and I know that more than half the world's top names will be in Idaho for the showdown. Throw in an exclusive TV broadcast deal with CBS Sports and I think it's safe to say Payette will be one of the highlights of 2015.
But if you're returning to Idaho this year, or it's your first time and you're not sure what to expect, here's quick little primer to make sure you're up to speed…
NEW BOARDS
The Payette River Games has two simple new rules this year: No boards over 11 feet in length, and you've gotta race the same board all weekend.
You can still paddle any type of board you like: Inflatable, carbon, wooden, a board made out of plastic bottles. Whatever you want.
Your board can be as narrow and lightweight as you please. It can be any shape and have as many fins as you so desire. It just can't be any longer than 11 feet, and after the competition starts on Friday morning, you're paddling that same board the rest of the weekend (unless you break it).
This new "11 ft" rule came in for a couple of simple/logical reasons: Firstly, there's no real need to have a traditional race board (12'6 or 14′) in the river. It has little to no advantage. In most cases it's actually a disadvantage.
The host venue for the PRGs, Kelly's Whitewater Park, is pretty tame as far as whitewater paddling goes – anyone with a bit of paddling experience can handle it – but it's still whitewater. And traditional race boards + whitewater just isn't a good mix.
Yeah, at the 2014 PRGs we all used race boards in the "Downriver Sprint" race, however that event has been scrapped in favour of a more technical slalom course. So in short: You don't need a race board.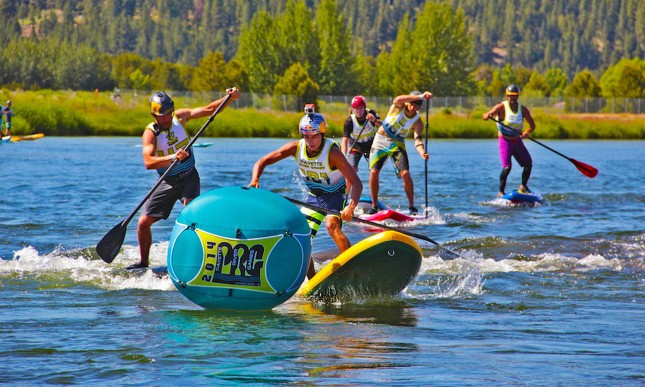 Second: It's a pain in the ass trying to get a 12'6 or 14 footer up to Idaho. It's Idaho. It's in the middle of nowhere. Most of us fly in, and we all know that both 12'6 and 14 foot boards are universally despised by airlines.
Bring an inflatable. You'll have an easy time traveling and you won't have to worry about dinging your board on the rocks. Oh and you'll be just as fast as everyone else around the course. This race isn't about speed, it's about skill.
So what boards will everyone be racing? The weapon of choice will probably be a 10-11′ inflatable. I watched Kai Lenny very nearly win last year's PRGs on a fat, wide 10'5″ inflato. Those Badfish boards that Mike Tavares cruises around on will also be pretty quick around the course. Plus I know a few of the hardcore guys are having custom 11′ river boards made, though for us mere mortals, we should be fine on a production rig.
Just look for something that's wide, stable and has nice round rails – the rivers in Idaho show no mercy to anyone paddling a sharp-rail board. Oh and also hassle Mike Tavares and Dan Gavere on Facebook. They know more about racing SUPs in the rivers than anyone.
I also recommend coming up to Idaho a few days early and getting in some practice runs. I watched last year as Fernando Stalla – a guy who's lived on the ocean his entire life – went from total kook to grand champion in the space of 96 hours. Stalla was practicing all day every day before the main event, and that time on the water paid off big time, with Fernando walking home $10k richer.
More info on the board rules over on the official site. Actually that official site has plenty of info on everything else you need to know as well – travel, accommodation, all the random events that are on offer. Check it out.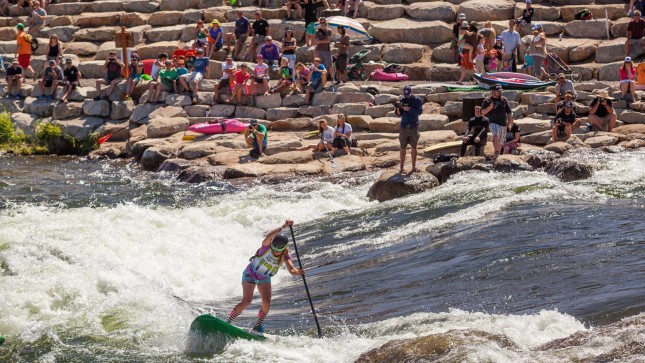 NEW COURSES
The stand up paddling event at the Payette River Games is actually two separate races, with the world-record $50,000 prize purse being awarded based on overall results.
If you were at PRG14, or you watched the videos/webcast, you'll be familiar with one half of this year's lineup: The SUP Xross race.
The SUP Xross (I assume that's pronounced "SUP Cross" but with a funky German accent) is the real highlight of the Payette River Games. It's basically your standard course race around buoys, only it's held in and around a big whitewater feature, which means carnage, chaos and plenty of entertainment (at least for those of us watching from the sidelines).
You know those Boarder Cross/Ski Cross races in the Winter Olympics? Where it's short, sharp, intense and highly entertaining? Where the leader can go from first to last in a matter of seconds (and vice versa)? That's what the Payette River Games looks like. It's quite possibly the most entertaining course we have in our sport right now. And I for one can't wait to see what the CBS production crew can make of it.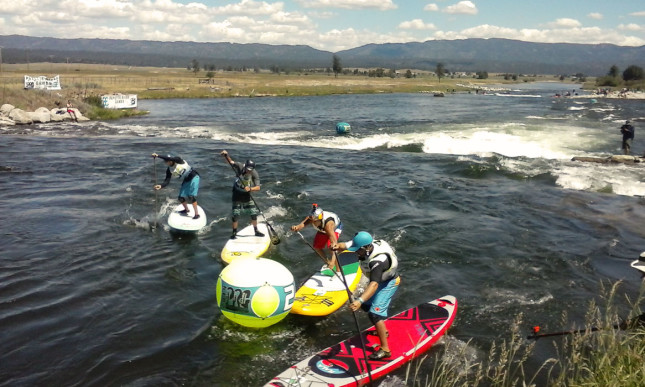 The other half of this year's PRGs SUP event is the new one: The Giant Slalom, aka the Super G Race.
The Super G is pretty much as it sounds: It's a big slalom course, with lots of buoy turns, lots of navigating across/up/down the river, and no doubt lots of paddling through the whitewater. The race will start in the same spot as the SUP Xross, right above the main feature of Kelly's Whitewater Park, before heading upstream, then back downstream and finishing at the end of the rapids.
While we'll have to wait and see what new race director Dan Gavere dishes up for us, I assume the Super G Race will be a zig-zag up the river, cross-crossing around several buoys and forcing paddlers to read the fast-flowing river currents and eddies to gain an advantage. It'll probably then zig-zag back down, smash its way through the whitewater and finish in the same spot as the SUP Xross.
The Super G should be a very good mix of power and skill. The ocean guys will be competitive in this one as there's enough flat water paddling involved, however the river specialists will still be able to use their whitewater skills to full effect.
And the Super G will also be a lot more entertaining than last year's "Downriver Sprint", which paled in comparison to the SUP Xross.
So there you go. The 2015 Payette River Games is two SUP races in one: The Super G and the SUP Xross. Perform well in both and you might just be holding the $10,000 winner's check on the Sunday afternoon.
But the stand up paddling is only half the fun at Payette. There's also the classic lumberjack tournament (axe throwing plus log rolling), beach flags (my personal favourite – you're going down Stalla) and a bunch of other random fun.
If you want to join in the festivities, go register and then look for flights to Boise, Idaho. All the rego money goes to a good cause, so at least you can feel good about yourself while you're floating down the river on your backside…