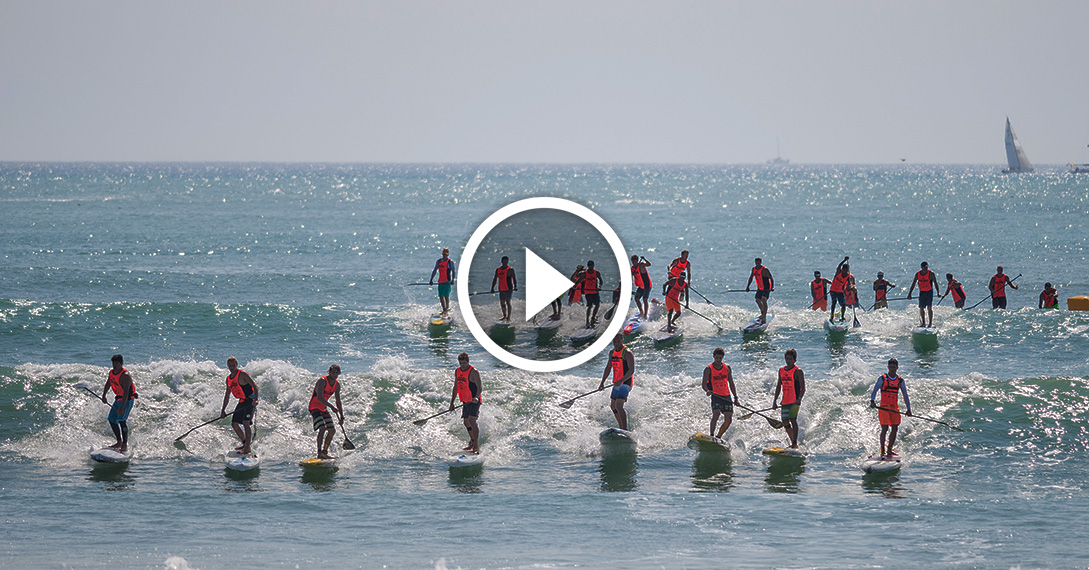 October 23, 2015
by Christopher Parker (@wheresbossman)
Relive the Pacific Paddle Games with Buzzy Kerbox's Race Recap (Awesome Photos)
If you still haven't had your fill of crazy, chaotic, carnage-filled imagery from the inaugural Pacific Paddle Games, you'll enjoy this clip.
Watch Buzzy Kerbox give us a play-by-play recap of the main event at the PPGs.
Buzzy's commentary includes special mention of Connor Baxter, who enjoyed a "come from behind" performance in both the distance and surf races. His performance in the surf race was particularly noteworthy, as he had to survive the chaos and somehow pull away from the likes of Danny and Kai to join the "Gang of Five" that had broken away earlier.
Oh and there was also Mo Freitas, who seemingly crossed the line half an hour ahead of everyone else in one of the most dominant victories of the year.
World number five Titouan Puyo also gets a shout out in there. Titou was one of the heart-break stories of the PPGs, finishing 12th overall despite being in a position to realistically win both races. He fell at a key point of the distance race, before losing a golden position in the course race where he should have battled for the win with Mo (you can see the sequence of where Mo won and Titou lost right here).
Buzzy, father of pro athlete Kody Kerbox and is himself a renowned ocean charger, follows the sport of SUP racing more closely than most. Every time there's a big race, Buzzy sends me a video of his previews and predictions. And they're usually pretty spot on. Oh and he's also a pretty handy racer in is own right. Buzzy made it all the way to the semi-finals at the Pacific Paddle Games.
With the PPGs attracting virtually every one of the world's best paddlers to Doheny, there was a lot to talk about and a lot of great photos coming out of the event. So Buzzy (who's an avid photographer himself) teamed up with photog extraordinaire Andrew Welker, who captured some of the most incredible imagery of the event, to produce this cool little recap reel.
Watch and above and enjoy…