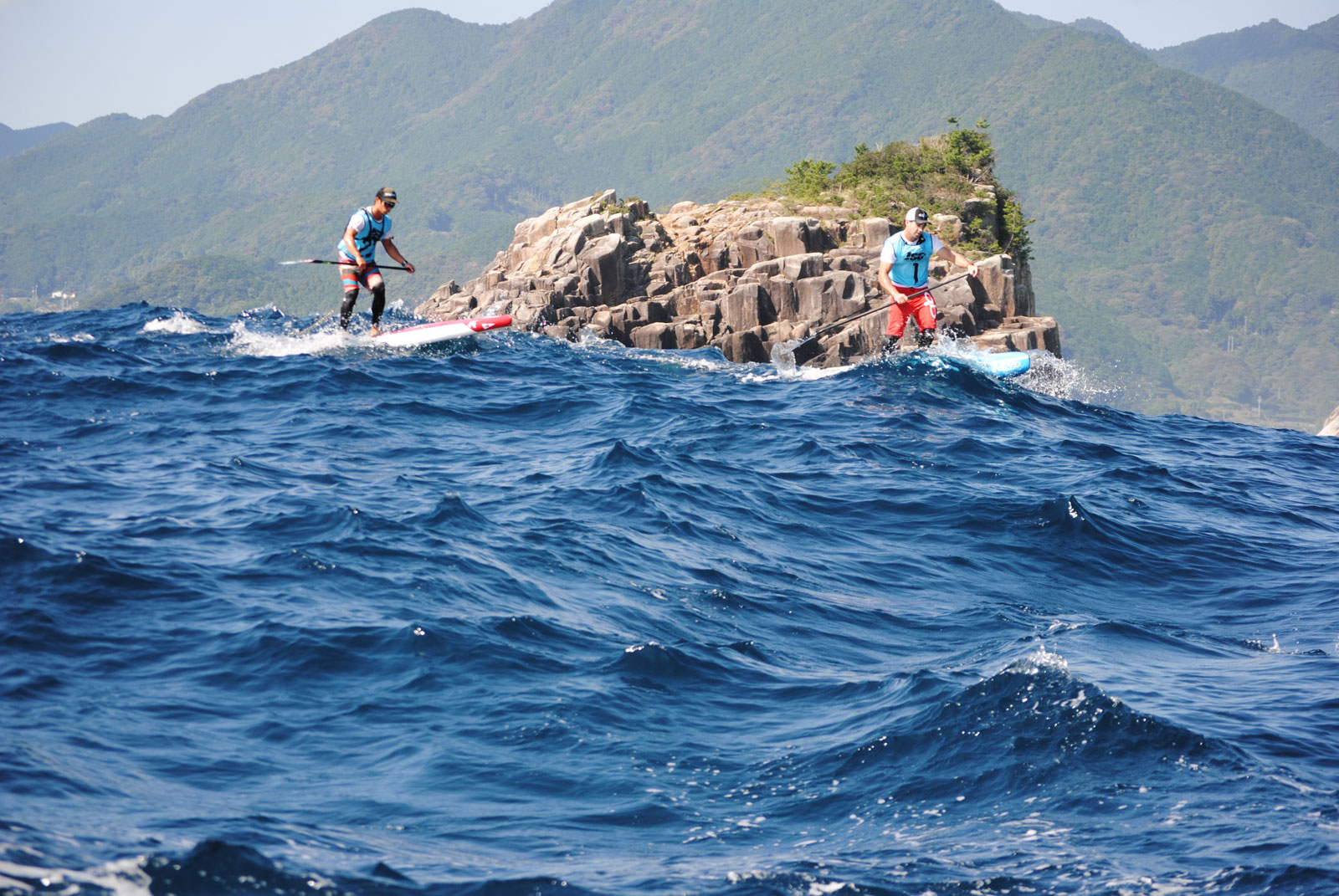 October 20, 2015
by Christopher Parker (@wheresbossman)
Travis Grant and Kenny Kaneko Tame the Wild Oceans of Japan (PHOTOS)
Travis Grant has taken out Japan's "Kumano SUP Marathon" for the second year in a row, with the current world number two holding off an impressive Kenny Kaneko in wild ocean conditions.
In what looked to be a beautiful sunny day in a very picturesque part of the country, the pro divisions were sent out of the protected Atashika Bay and into the open ocean. Once outside, they paddled along a rugged coastline of jagged cliffs and small islets that were getting slammed by swells, creating a backwash effect that looked either a whole lot of fun or an absolute nightmare (depending on how wide your board was).
As you can see from the amazing photos down below, the pair were battling it out in conditions that wouldn't have looked out of place in Hawaii.
It was a close race for the first half but Travis eventually pulled clear to claim the win for Team NSP and Quickblade. Trav is well known around the world as the hero of Molokai and conqueror of Carolina's infamous "Graveyard" course, however Kenny, a member of SIC's international squad, has only really burst onto the top-level scene this year.
Kenny, who grew up in Southern California but returned to native Japan as a 17-year-old to pursue a pro soccer career, was originally hooked on outrigger paddling (the same base that Travis, Danny, Georges and many other top paddlers share) before jumping into stand up paddling a few years ago. He's quickly risen through the ranks since then, and was a standout at the Gorge race in August where he beat home almost all of the world's best in the distance race.
When I chatted with him today, Kenny described this year's Kumano race as "Epic and rough conditions but good racing," before adding that it's "always fun to compete against and learn from Travis."
The 2015 Kumano SUP Marathon attracted 221 competitors between the amateur and pro divisions, which is mighty impressive for a country that's only embraced stand up paddling in the past few years. Japan seems to have a fast-growing scene and is already home to a couple of major races, including the biggest in terms of participation, the Japan Cup, which was held in mid-September, along with a stop of the World Series that attracted big names such as Kai, Connor and Candice a couple of weeks before that.
I chatted to Travis last night and he had this to say about the trip, which sounded more like a holiday than a SUP race.
"Loved Japan.
The people are super friendly and the place is so safe and clean. The little seaside town that hosted the race is nothing like you'd imagine. Beautiful, quiet little spot, miles away from the hustle and bustle of the big cities.
This is the second year in a row I've done this race. Really solid turnout. Over 200 paddlers all up. Some people drove 8 hours from Tokyo just to compete.
We got well looked after and experienced full Japanese style accommodation. We were staying at this really nice placed called the Resort Kumano Club, and when we went to our traditional breakfast (delicious by the way), we wore kimonos and even these special wooden sandal things ("Geta" I think they're called). Even got some time in the outdoor hot springs ("Onsen"). That was pretty neat.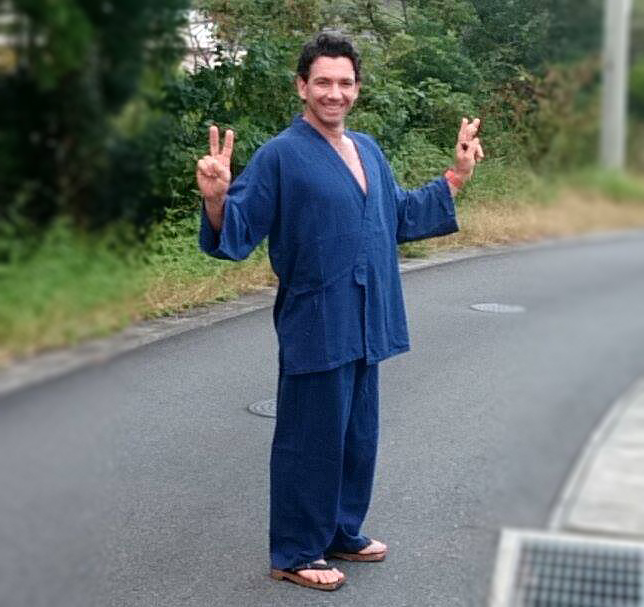 SUP really seems to be taking off in Japan and the race itself was pretty cool. You can see from the pics conditions were rough on the outside in the open ocean, with swells bouncing off big jagged cliffs, but it was actually a beautiful sunny day.
Battled with Kenny for most of the race, he seems to be Japan's biggest paddling star and if he keeps improving at this pace he'll be one of the international stars full stop.
Thanks for the hospitality Japan. Loved it."
So there you go. Put Japan on your SUP bucket list. The Kumano region actually features a UNESCO World Heritage site, while Atashika Bay looks like a picture postcard perfect spot that was built to host a SUP race. The country seems to have great potential as a real hotbed of stand up paddling, and I wouldn't be surprised if it leapfrogs the other "SUP meccas" around the world and becomes the #2 market behind the USA (both for events and industry sales) in the next few years.
And while Travis and Kenny were the hot favourites on the weekend, there were plenty of other dark horses waiting in the wings.
Starboard rider Kota Kayashima was third in the pro division behind Travis and Kenny, followed by Naish's Yoshi Nagamatsu and the NSP boys Hoshio Kashiwagi and Seiji Kashiwagi.
In the women's marathon; Mizuha Sato from Team SIC was first across the line ahead of her team mate Yumi Hoshino, with Noah Nic's Takayo Yokoyama rounding out the podium.
Big thanks to Sachi Suzuki for capturing and sharing these awesome angles. Check out the complete gallery (hundreds of pics) right here.
And one last bonus shot below: Kenny Kaneko standing in front of the imposing shorebreak inside the protected bay at Kumano.
https://instagram.com/p/9CSLfZpcy3/
[notdevice] [/notdevice]