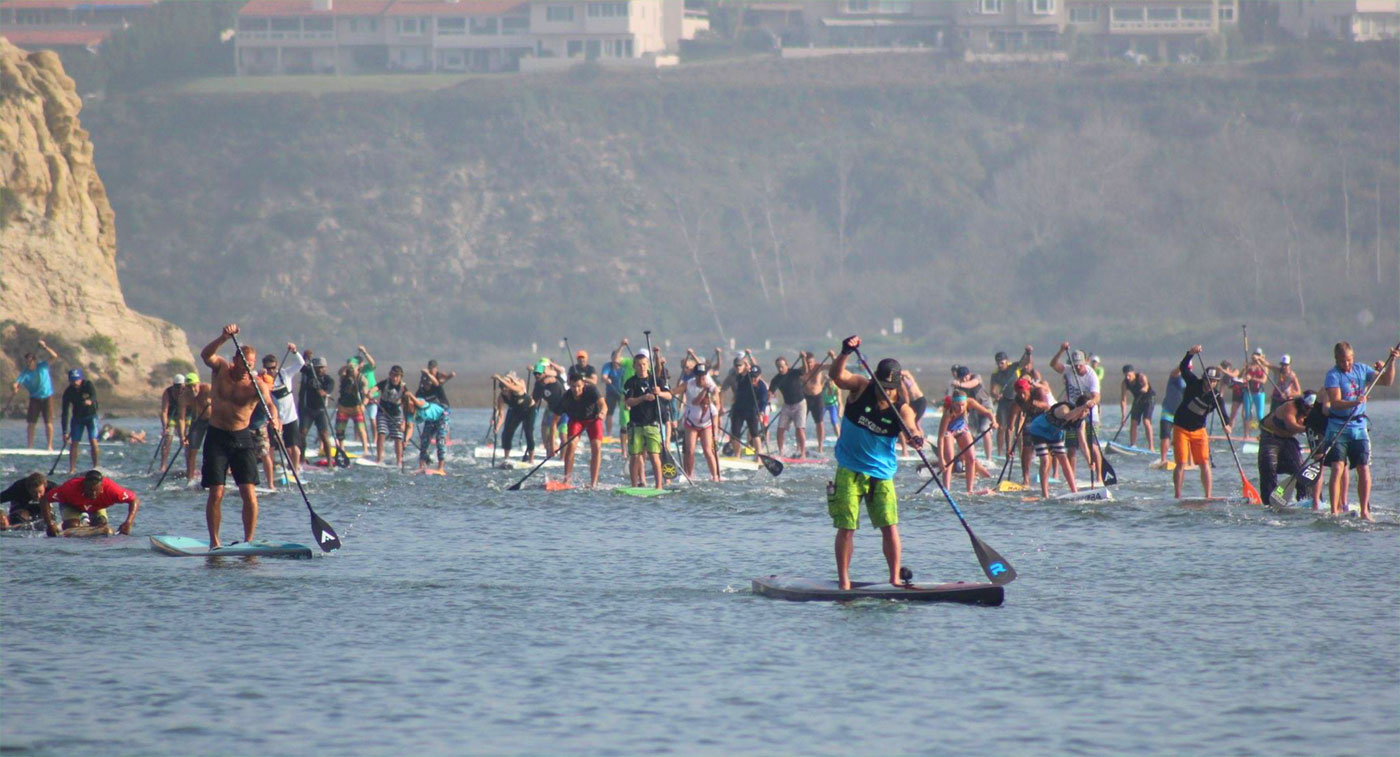 February 7, 2015
by Christopher Parker (@wheresbossman)
RESULTS: Hal Rosoff Classic At The Newport Aquatic Center
Full results from today's Hal Rosoff Classic in California.
Held at the famous NAC (Newport Aquatic Center) training facility, the Hal Rosoff Classic is a bit of an institution in the southern California paddling scene. This year the race once again attracted a strong field – in total over 200 paddlers were out there on Newport Harbor this morning.
Line honours in the 5.5 mile (9km) Short Course race went to Thomas Maximus on his unlimited.
In the battle of the 14 footers it was Daniel Russell narrowly edging out Chance Fielder for the win, while visiting Frenchman Greg Closier was just 8 seconds further adrift in third. Belar Diaz was 4th, with Chuck Glynn taking 5th overall but finishing the quickest of the 12'6 paddlers.
Meanwhile in the women's, Riviera's Shae Foudy put in a massive effort to claim both the division win and an overall victory. The Team USA young gun took line honours on her 12'6 in a time of 50 minutes 35 seconds, while Bailey Rosen was runner-up just over a minute behind. SoCal SUP stalwart Kristin Thomas was the 4th female over the line and comfortably won the Masters division.
Great to see so many paddlers getting out there for an early season workout.
It was also great to see a well-supported kids race, where two of the under 12 girls – Alexandria Higginson and Keagan Lamar – took the top two spots.
Full results below. Check OnIt Pro's Facebook page in the morning for their usual batch of 300-400 race photos.
---
2015 Hal Rosoff Classic – Short Course Results
Course: 5.5 miles (8.8kms)
[notdevice]Click "M/F" to switch between Men's and Women's results
Click "Class" or "Division" to sort results by board class and age division
Click "Time" to reset the results
Click here for the raw results on PaddleGuru[/notdevice]
[notdevice]
| # | M/F | # | Name | Time | Class | # | Division | # |
| --- | --- | --- | --- | --- | --- | --- | --- | --- |
| 1 | M | 1 | Thomas Maximus | 0:45:21 | Unlimited | 1 | 40-49 | 1 |
| 2 | M | 2 | Scott Shoemaker | 0:46:26 | Unlimited | 2 | 40-49 | 2 |
| 3 | M | 3 | Michael Porra | 0:47:45 | Prone UL | 1 | 50-59 | 1 |
| 4 | M | 4 | Daniel Russell | 0:48:01 | 14' | 1 | 20-39 | 1 |
| 5 | M | 5 | Chance Fielder | 0:48:03 | 14' | 2 | 40-49 | 1 |
| 6 | M | 6 | Chuck Glynn | 0:48:08 | 12'6 | 1 | 20-39 | 1 |
| 7 | M | 7 | Gregory Closier | 0:48:11 | 14' | 3 | 40-49 | 2 |
| 8 | M | 8 | Belar Diaz | 0:48:47 | 14' | 4 | 20-39 | 2 |
| 9 | M | 9 | Garrit Barth | 0:48:58 | 14' | 5 | 20-39 | 3 |
| 10 | M | 10 | Anthony Vela | 0:49:23 | Prone UL | 2 | 40-49 | 1 |
| 11 | M | 11 | Jeramie Vaine | 0:49:25 | 14' | 6 | 20-39 | 4 |
| 12 | M | 12 | George Plsek | 0:49:26 | Prone UL | 3 | 40-49 | 2 |
| 13 | M | 13 | Nick Scheel | 0:49:28 | 12'6 | 2 | 16U | 1 |
| 14 | M | 14 | Tyler Schmuckle | 0:49:36 | 14' | 7 | 20-39 | 5 |
| 15 | M | 15 | Ryan Knysh | 0:50:33 | 14' | 8 | 20-39 | 6 |
| 16 | F | 1 | Shae Foudy | 0:50:35 | F12'6 | 1 | 20-39 | 1 |
| 17 | M | 16 | Tyler Bashor | 0:50:59 | 12'6 | 3 | 16U | 2 |
| 18 | M | 17 | Clayton Walking Eagle | 0:51:15 | 14' | 9 | 20-39 | 7 |
| 19 | M | 18 | Rodney Ellis | 0:51:18 | 14' | 10 | 40-49 | 3 |
| 20 | M | 19 | Phil Coffman | 0:51:24 | 14' | 11 | 40-49 | 4 |
| 21 | M | 20 | Ron Remeyer | 0:51:30 | 14' | 12 | 50-59 | 1 |
| 22 | M | 21 | Dale Marnati | 0:51:36 | 14' | 13 | 60+ | 1 |
| 23 | M | 22 | Robert Howson | 0:51:52 | 12'6 | 4 | 50-59 | 1 |
| 24 | F | 2 | Bailey Rosen | 0:51:55 | F12'6 | 2 | 20-39 | 2 |
| 25 | M | 23 | Patrick Cleveland | 0:52:34 | 12'6 | 5 | 16U | 3 |
| 26 | M | 24 | Keith Meter | 0:52:40 | 12'6 | 6 | 40-49 | 1 |
| 27 | M | 25 | Andew Mencinsky | 0:53:01 | 14' | 14 | 40-49 | 5 |
| 28 | M | 26 | Will Schmidt | 0:53:19 | 14' | 15 | 20-39 | 8 |
| 29 | M | 27 | Eric Diggins | 0:53:22 | 12'6 | 7 | 40-49 | 2 |
| 30 | M | 28 | Justin Van Dyck | 0:53:33 | 12'6 | 8 | 40-49 | 3 |
| 31 | M | 29 | Alan Chalom | 0:53:50 | 14' | 16 | 50-59 | 2 |
| 32 | M | 30 | Derek Turner | 0:53:59 | 14' | 17 | 50-59 | 3 |
| 33 | F | 3 | Erika Benitez | 0:54:20 | F12'6 | 3 | 16U | 1 |
| 34 | M | 31 | Les Hopper | 0:54:21 | 14' | 18 | 50-59 | 4 |
| 35 | M | 32 | Ryan Ekedal | 0:54:39 | 14' | 19 | 20-39 | 9 |
| 36 | M | 33 | Dane Mcbride | 0:54:48 | 12'6 | 9 | 20-39 | 2 |
| 37 | F | 4 | Kristin Thomas | 0:55:02 | F12'6 | 4 | 50-59 | 1 |
| 38 | M | 34 | Bob Crane | 0:55:04 | 14' | 20 | 50-59 | 5 |
| 39 | F | 5 | Lexi Alston | 0:55:05 | F12'6 | 5 | 16U | 2 |
| 40 | M | 35 | Dale Goode | 0:55:09 | 14' | 21 | 50-59 | 6 |
| 41 | M | 36 | John Bland | 0:55:11 | 14' | 22 | 60+ | 2 |
| 42 | M | 37 | Karl Treiberg | 0:55:15 | 12'6 | 10 | 50-59 | 2 |
| 43 | M | 38 | Adam Hart | 0:55:17 | Unlimited | 3 | 20-39 | 1 |
| 44 | M | 39 | Shawn Tierney | 0:55:50 | 14' | 23 | 40-49 | 6 |
| 45 | M | 40 | Brandon Sauls | 0:55:52 | 14' | 24 | 20-39 | 10 |
| 46 | M | 41 | Tony Zandovskis | 0:56:10 | 12'6 | 11 | 40-49 | 4 |
| 47 | M | 42 | Chris Hammond | 0:56:23 | 14' | 25 | 40-49 | 7 |
| 48 | M | 43 | John Andel | 0:56:31 | 12'6 | 12 | 20-39 | 3 |
| 49 | M | 44 | Jack Hill | 0:56:45 | 12'6 | 13 | 19U | 1 |
| 50 | M | 45 | Stephen Baker | 0:56:51 | 12'6 | 14 | 16U | 4 |
| 51 | M | 46 | Liko Mcbride | 0:57:01 | 12'6 | 15 | 19U | 2 |
| 52 | M | 47 | Ernie Villanueva | 0:57:06 | 14' | 26 | 50-59 | 7 |
| 53 | M | 48 | Jim Baumann | 0:57:09 | 14' | 27 | 60+ | 3 |
| 54 | M | 49 | Ray Nosse | 0:57:17 | 14' | 28 | 50-59 | 8 |
| 55 | M | 50 | Rob Griffin | 0:57:21 | 12'6 | 16 | 40-49 | 5 |
| 56 | M | 51 | Pete Bagoye | 0:57:32 | 14' | 29 | 50-59 | 9 |
| 57 | M | 52 | Garth Davis | 0:57:33 | 14' | 30 | 50-59 | 10 |
| 58 | M | 53 | Jeff Sargeant | 0:57:57 | 14' | 31 | 60+ | 4 |
| 59 | M | 54 | Dwayne Bora | 0:58:01 | 14' | 32 | 50-59 | 11 |
| 60 | M | 55 | Dave Daum | 0:58:02 | 14' | 33 | 50-59 | 12 |
| 61 | M | 56 | Lawrence Johnson | 0:58:08 | 12'6 | 17 | 50-59 | 3 |
| 62 | M | 57 | Erik Alston | 0:58:21 | 12'6 | 18 | 40-49 | 6 |
| 63 | F | 6 | Kerstin Ouellet | 0:58:30 | F12'6 | 6 | 40-49 | 1 |
| 64 | M | 58 | Rick Stinson | 0:58:40 | 14' | 34 | 40-49 | 8 |
| 65 | M | 59 | Eric Thompson | 0:58:45 | 14' | 35 | 60+ | 5 |
| 66 | M | 60 | John Hill | 0:58:47 | 14' | 36 | 50-59 | 13 |
| 67 | M | 61 | Dave Boehne | 0:59:00 | Prone stock | 1 | 20-39 | 1 |
| 68 | F | 7 | Ruthy Vesler | 0:59:06 | F12'6 | 7 | 20-39 | 3 |
| 69 | M | 62 | Kurt Benson | 0:59:25 | 14' | 37 | 50-59 | 14 |
| 70 | F | 8 | Maggie Adams | 0:59:32 | F12'6 | 8 | 50-59 | 2 |
| 71 | F | 9 | Jill Vickery | 0:59:37 | F12'6 | 9 | 50-59 | 3 |
| 72 | M | 63 | Cameron Fraser | 0:59:40 | 12'6 | 19 | 50-59 | 4 |
| 73 | M | 64 | Brent Lacher | 1:00:12 | 14' | 38 | 40-49 | 9 |
| 74 | M | 65 | Pat Ryan | 1:00:28 | 14' | 39 | 60+ | 6 |
| 75 | M | 66 | Juerg Geser | 1:00:30 | 14' | 40 | 40-49 | 10 |
| 76 | M | 67 | John Gabriel | 1:00:32 | 12'6 | 20 | 20-39 | 4 |
| 77 | F | 10 | Helen Taylor | 1:00:36 | F14' | 1 | 50-59 | 1 |
| 78 | M | 68 | Terry Iles | 1:00:46 | 14' | 41 | 50-59 | 15 |
| 79 | M | 69 | Jaime Moreno | 1:01:05 | 14' | 42 | 20-39 | 11 |
| 80 | M | 70 | Larry Vickery | 1:01:20 | 12'6 | 21 | 60+ | 1 |
| 81 | F | 11 | Gretchen Benedetto | 1:01:42 | F12'6 | 10 | 50-59 | 4 |
| 82 | M | 71 | Greg Renna | 1:01:51 | 14' | 43 | 50-59 | 16 |
| 83 | F | 12 | Steffi Schulz | 1:02:01 | F12'6 | 11 | 40-49 | 2 |
| 84 | M | 72 | Chris Sinatra | 1:02:05 | 14' | 44 | 40-49 | 11 |
| 85 | M | 73 | Michael Erlinger | 1:02:09 | Prone UL | 4 | 40-49 | 3 |
| 86 | M | 74 | Matt Chebatoris | 1:02:21 | 12'6 | 22 | 40-49 | 7 |
| 87 | M | 75 | Elijah Schoenig | 1:02:23 | 12'6 | 23 | 16U | 5 |
| 88 | M | 76 | Marc Nava | 1:02:56 | 12'6 | 24 | 20-39 | 5 |
| 89 | M | 77 | Terry Kipper | 1:03:00 | 12'6 | 25 | 60+ | 2 |
| 90 | M | 78 | David Schwanbeck | 1:03:02 | 12'6 | 26 | 20-39 | 6 |
| 91 | F | 13 | Rosemary Vasquez | 1:03:21 | F12'6 | 12 | 40-49 | 3 |
| 92 | M | 79 | Hugo Martinez | 1:03:31 | 12'6 | 27 | 20-39 | 7 |
| 93 | F | 14 | Suzie Yeo | 1:03:43 | F12'6 | 13 | 50-59 | 5 |
| 94 | F | 15 | Maya Yoshida | 1:04:11 | F12'6 | 14 | 20-39 | 4 |
| 95 | M | 80 | Nevvar Hickmet | 1:04:14 | Prone stock | 2 | 40-49 | 1 |
| 96 | M | 81 | Craig Stiff | 1:04:29 | 12'6 | 28 | 40-49 | 8 |
| 97 | F | 16 | Terri Wargo | 1:04:48 | F14' | 2 | 40-49 | 1 |
| 98 | F | 17 | Peggy Munoz | 1:05:10 | F14' | 3 | 60+ | 1 |
| 99 | F | 18 | Lisa Hazelton | 1:05:13 | F12'6 | 15 | 50-59 | 6 |
| 100 | F | 19 | Jill Austin | 1:05:21 | F12'6 | 16 | 20-39 | 5 |
| 101 | M | 82 | Dave Ekedal | 1:05:57 | 14' | 45 | 60+ | 7 |
| 102 | F | 20 | Loraine Gruber | 1:06:35 | F12'6 | 17 | 50-59 | 7 |
| 103 | F | 21 | Jeanne Stavron | 1:08:06 | F12'6 | 18 | 50-59 | 8 |
| 104 | M | 83 | Alexander Crosby | 1:08:45 | Prone stock | 3 | 20-39 | 2 |
| 105 | M | 84 | Thomas Arnold | 1:09:59 | 12'6 | 29 | 60+ | 3 |
| 106 | M | 85 | Jim Brown | 1:12:22 | Prone stock | 4 | 40-49 | 2 |
| 107 | M | 86 | Rusty Doms | 1:13:47 | 14' | 46 | 60+ | 8 |
| 108 | M | 87 | Sam Puleri | 1:14:05 | 12'6 | 30 | 20-39 | 8 |
| 109 | F | 22 | Jane Culp | 1:14:07 | F14' | 4 | 50-59 | 2 |
| 110 | M | 88 | Mark Meierhoefer | 1:15:14 | 12'6 | 31 | 40-49 | 9 |
| 111 | M | 89 | Kyle Kipper | 1:15:23 | Unlimited | 4 | 20-39 | 2 |
| 112 | M | 90 | Nate Gabehart | 1:15:38 | 12'6 | 32 | 40-49 | 10 |
| 113 | M | 91 | Glyn Lister | 1:16:42 | 12'6 | 33 | 40-49 | 11 |
| 114 | M | 92 | Jason Girvin | 1:18:34 | 12'6 | 34 | 40-49 | 12 |
| 115 | F | 23 | Veronica Kingsbury | 1:19:04 | F12'6 | 19 | 40-49 | 4 |
| 116 | M | 93 | Andy Duran | 1:23:07 | 12'6 | 35 | 20-39 | 9 |
| 117 | M | 94 | Jason Wexler | 1:23:32 | 12'6 | 36 | 20-39 | 10 |
| 118 | F | 24 | Kathy Coryea | 1:25:08 | F12'6 | 20 | 50-59 | 9 |
| 119 | F | 25 | Alida Ramganesh | 1:25:08 | F12'6 | 21 | 40-49 | 5 |
| 120 | F | 26 | Julie Garrido | 1:25:10 | F14' | 5 | 40-49 | 2 |
[/notdevice][device]
| # | Name | Time | Class |
| --- | --- | --- | --- |
| 1 | Thomas Maximus | 0:45:21 | Unlimited |
| 2 | Scott Shoemaker | 0:46:26 | Unlimited |
| 3 | Michael Porra | 0:47:45 | Prone UL |
| 4 | Daniel Russell | 0:48:01 | 14' |
| 5 | Chance Fielder | 0:48:03 | 14' |
| 6 | Chuck Glynn | 0:48:08 | 12'6 |
| 7 | Gregory Closier | 0:48:11 | 14' |
| 8 | Belar Diaz | 0:48:47 | 14' |
| 9 | Garrit Barth | 0:48:58 | 14' |
| 10 | Anthony Vela | 0:49:23 | Prone UL |
| 11 | Jeramie Vaine | 0:49:25 | 14' |
| 12 | George Plsek | 0:49:26 | Prone UL |
| 13 | Nick Scheel | 0:49:28 | 12'6 |
| 14 | Tyler Schmuckle | 0:49:36 | 14' |
| 15 | Ryan Knysh | 0:50:33 | 14' |
| 16 | Shae Foudy | 0:50:35 | F12'6 |
| 17 | Tyler Bashor | 0:50:59 | 12'6 |
| 18 | Clayton Walking Eagle | 0:51:15 | 14' |
| 19 | Rodney Ellis | 0:51:18 | 14' |
| 20 | Phil Coffman | 0:51:24 | 14' |
| 21 | Ron Remeyer | 0:51:30 | 14' |
| 22 | Dale Marnati | 0:51:36 | 14' |
| 23 | Robert Howson | 0:51:52 | 12'6 |
| 24 | Bailey Rosen | 0:51:55 | F12'6 |
| 25 | Patrick Cleveland | 0:52:34 | 12'6 |
| 26 | Keith Meter | 0:52:40 | 12'6 |
| 27 | Andew Mencinsky | 0:53:01 | 14' |
| 28 | Will Schmidt | 0:53:19 | 14' |
| 29 | Eric Diggins | 0:53:22 | 12'6 |
| 30 | Justin Van Dyck | 0:53:33 | 12'6 |
| 31 | Alan Chalom | 0:53:50 | 14' |
| 32 | Derek Turner | 0:53:59 | 14' |
| 33 | Erika Benitez | 0:54:20 | F12'6 |
| 34 | Les Hopper | 0:54:21 | 14' |
| 35 | Ryan Ekedal | 0:54:39 | 14' |
| 36 | Dane Mcbride | 0:54:48 | 12'6 |
| 37 | Kristin Thomas | 0:55:02 | F12'6 |
| 38 | Bob Crane | 0:55:04 | 14' |
| 39 | Lexi Alston | 0:55:05 | F12'6 |
| 40 | Dale Goode | 0:55:09 | 14' |
| 41 | John Bland | 0:55:11 | 14' |
| 42 | Karl Treiberg | 0:55:15 | 12'6 |
| 43 | Adam Hart | 0:55:17 | Unlimited |
| 44 | Shawn Tierney | 0:55:50 | 14' |
| 45 | Brandon Sauls | 0:55:52 | 14' |
| 46 | Tony Zandovskis | 0:56:10 | 12'6 |
| 47 | Chris Hammond | 0:56:23 | 14' |
| 48 | John Andel | 0:56:31 | 12'6 |
| 49 | Jack Hill | 0:56:45 | 12'6 |
| 50 | Stephen Baker | 0:56:51 | 12'6 |
| 51 | Liko Mcbride | 0:57:01 | 12'6 |
| 52 | Ernie Villanueva | 0:57:06 | 14' |
| 53 | Jim Baumann | 0:57:09 | 14' |
| 54 | Ray Nosse | 0:57:17 | 14' |
| 55 | Rob Griffin | 0:57:21 | 12'6 |
| 56 | Pete Bagoye | 0:57:32 | 14' |
| 57 | Garth Davis | 0:57:33 | 14' |
| 58 | Jeff Sargeant | 0:57:57 | 14' |
| 59 | Dwayne Bora | 0:58:01 | 14' |
| 60 | Dave Daum | 0:58:02 | 14' |
| 61 | Lawrence Johnson | 0:58:08 | 12'6 |
| 62 | Erik Alston | 0:58:21 | 12'6 |
| 63 | Kerstin Ouellet | 0:58:30 | F12'6 |
| 64 | Rick Stinson | 0:58:40 | 14' |
| 65 | Eric Thompson | 0:58:45 | 14' |
| 66 | John Hill | 0:58:47 | 14' |
| 67 | Dave Boehne | 0:59:00 | Prone stock |
| 68 | Ruthy Vesler | 0:59:06 | F12'6 |
| 69 | Kurt Benson | 0:59:25 | 14' |
| 70 | Maggie Adams | 0:59:32 | F12'6 |
| 71 | Jill Vickery | 0:59:37 | F12'6 |
| 72 | Cameron Fraser | 0:59:40 | 12'6 |
| 73 | Brent Lacher | 1:00:12 | 14' |
| 74 | Pat Ryan | 1:00:28 | 14' |
| 75 | Juerg Geser | 1:00:30 | 14' |
| 76 | John Gabriel | 1:00:32 | 12'6 |
| 77 | Helen Taylor | 1:00:36 | F14' |
| 78 | Terry Iles | 1:00:46 | 14' |
| 79 | Jaime Moreno | 1:01:05 | 14' |
| 80 | Larry Vickery | 1:01:20 | 12'6 |
| 81 | Gretchen Benedetto | 1:01:42 | F12'6 |
| 82 | Greg Renna | 1:01:51 | 14' |
| 83 | Steffi Schulz | 1:02:01 | F12'6 |
| 84 | Chris Sinatra | 1:02:05 | 14' |
| 85 | Michael Erlinger | 1:02:09 | Prone UL |
| 86 | Matt Chebatoris | 1:02:21 | 12'6 |
| 87 | Elijah Schoenig | 1:02:23 | 12'6 |
| 88 | Marc Nava | 1:02:56 | 12'6 |
| 89 | Terry Kipper | 1:03:00 | 12'6 |
| 90 | David Schwanbeck | 1:03:02 | 12'6 |
| 91 | Rosemary Vasquez | 1:03:21 | F12'6 |
| 92 | Hugo Martinez | 1:03:31 | 12'6 |
| 93 | Suzie Yeo | 1:03:43 | F12'6 |
| 94 | Maya Yoshida | 1:04:11 | F12'6 |
| 95 | Nevvar Hickmet | 1:04:14 | Prone stock |
| 96 | Craig Stiff | 1:04:29 | 12'6 |
| 97 | Terri Wargo | 1:04:48 | F14' |
| 98 | Peggy Munoz | 1:05:10 | F14' |
| 99 | Lisa Hazelton | 1:05:13 | F12'6 |
| 100 | Jill Austin | 1:05:21 | F12'6 |
| 101 | Dave Ekedal | 1:05:57 | 14' |
| 102 | Loraine Gruber | 1:06:35 | F12'6 |
| 103 | Jeanne Stavron | 1:08:06 | F12'6 |
| 104 | Alexander Crosby | 1:08:45 | Prone stock |
| 105 | Thomas Arnold | 1:09:59 | 12'6 |
| 106 | Jim Brown | 1:12:22 | Prone stock |
| 107 | Rusty Doms | 1:13:47 | 14' |
| 108 | Sam Puleri | 1:14:05 | 12'6 |
| 109 | Jane Culp | 1:14:07 | F14' |
| 110 | Mark Meierhoefer | 1:15:14 | 12'6 |
| 111 | Kyle Kipper | 1:15:23 | Unlimited |
| 112 | Nate Gabehart | 1:15:38 | 12'6 |
| 113 | Glyn Lister | 1:16:42 | 12'6 |
| 114 | Jason Girvin | 1:18:34 | 12'6 |
| 115 | Veronica Kingsbury | 1:19:04 | F12'6 |
| 116 | Andy Duran | 1:23:07 | 12'6 |
| 117 | Jason Wexler | 1:23:32 | 12'6 |
| 118 | Kathy Coryea | 1:25:08 | F12'6 |
| 119 | Alida Ramganesh | 1:25:08 | F12'6 |
| 120 | Julie Garrido | 1:25:10 | F14' |
[/device]
---
Kids Race
Under 12 Girls
1st: Alexandria Higginson (0:07:44)
2nd: Keagan Lamar (0:07:46)
3rd: Belah Ellis (0:08:58)
4th: Lily Schryer (0:12:45)
5th: Dalila Escobar (0:14:20)
Under 12 Boys
1st: Keagan Lamar (0:07:48)
2nd: Gavin Rawle (0:08:13)
3rd: Gavin Mecinsky (0:08:16)
4th: Clinton Haltom (0:10:14)
5th: Micah di Stefano (0:10:25)
Under 10 Girls
1st: Kayla McLaucghlin (0:09:59)
2nd: Shyanne McWilliams (0:10:51)
3rd: Morgein Eash (0:12:10)
Under 10 Boys
1st: Zeke Rose (0:08:56)
2nd: Cooper Allen (0:09:01)
3rd: Chris Gregg (0:11:05)
Under 8 Boys
1st: Reagan Willey (0:09:40) *9th overall
Under 10 Girls Prone
1st: Abby Hatch (0:15:00)
---
Get more stand up paddle race results with our epic Results by Riviera archive: