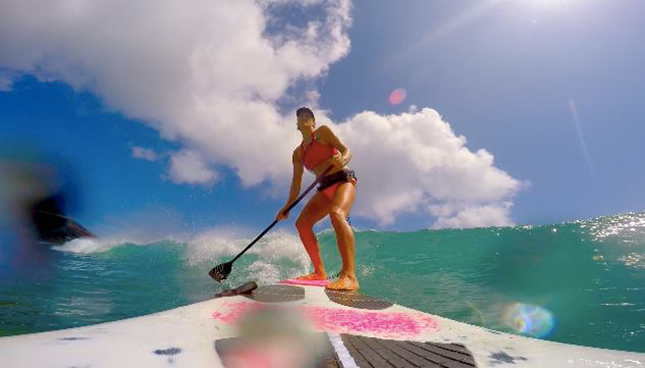 July 13, 2015
by Christopher Parker (@wheresbossman)
What You Missed In… Hawaii: Mo Freitas, Terrene Black Win The Independence Day Race
This is part of our "What You Missed In…" series that we'll be running today, where we update a bunch of races that we failed to cover in the past few weeks.
The Independence Day Race: Now in its 37th year, it's safe to say this event is now an annual tradition on Oahu's iconic North Shore. The race, part downwind race, part day out at the beach, attracted over 400 paddlers once again this year. But finishing on top of the pile was Mo Freitas, who's probably still on a high after his beyond-epic win at the Payette River Games a couple of weeks prior.
Mo took out the elite long course race on his unlimited board ahead of ultra-dark horse Aussie Matt Nottage. Another name-to-watch from Oz land took third, James Casey, while Bullet Obra and Riggs Napoleon rounded out the top five on their 14 footers. It's great to see young Riggsy back on the race scene after shoulder surgery kept him off the water for several months.
Aussie Terrene Black, who's in Hawaii to try and reclaim the Molokai crown she won a couple of years ago, was the quickest of the women in 1:14:09.
The official results list 110 finishers in the long course and a further 329 in the short course, for a total of 439. That's pretty damn big. A lot of those were on outriggers and prone boards, but either way the 4th of July race, organised by North Shore custodians Da Hui, was a pretty big show once again this year.
While the long course was where most of the big names were at, a special mention goes to a very famous face that competed in the short course. Jamie Mitchell, the 10x Molokai champ, Battle of the Paddle winner, ISA gold medalist and all-round big wave hell man, paddled the race tandem with his eight-months-pregnant girlfriend…
1st: Mo Freitas (1:03:55)
2nd: Matt Nottage (1:04:56)
3rd: James Casey (1:05:08)
4th: Bullet Obra (1:07:14) 14′
5th: Riggs Napoleon (1:09:01) 14′
Get the full results over on PSE