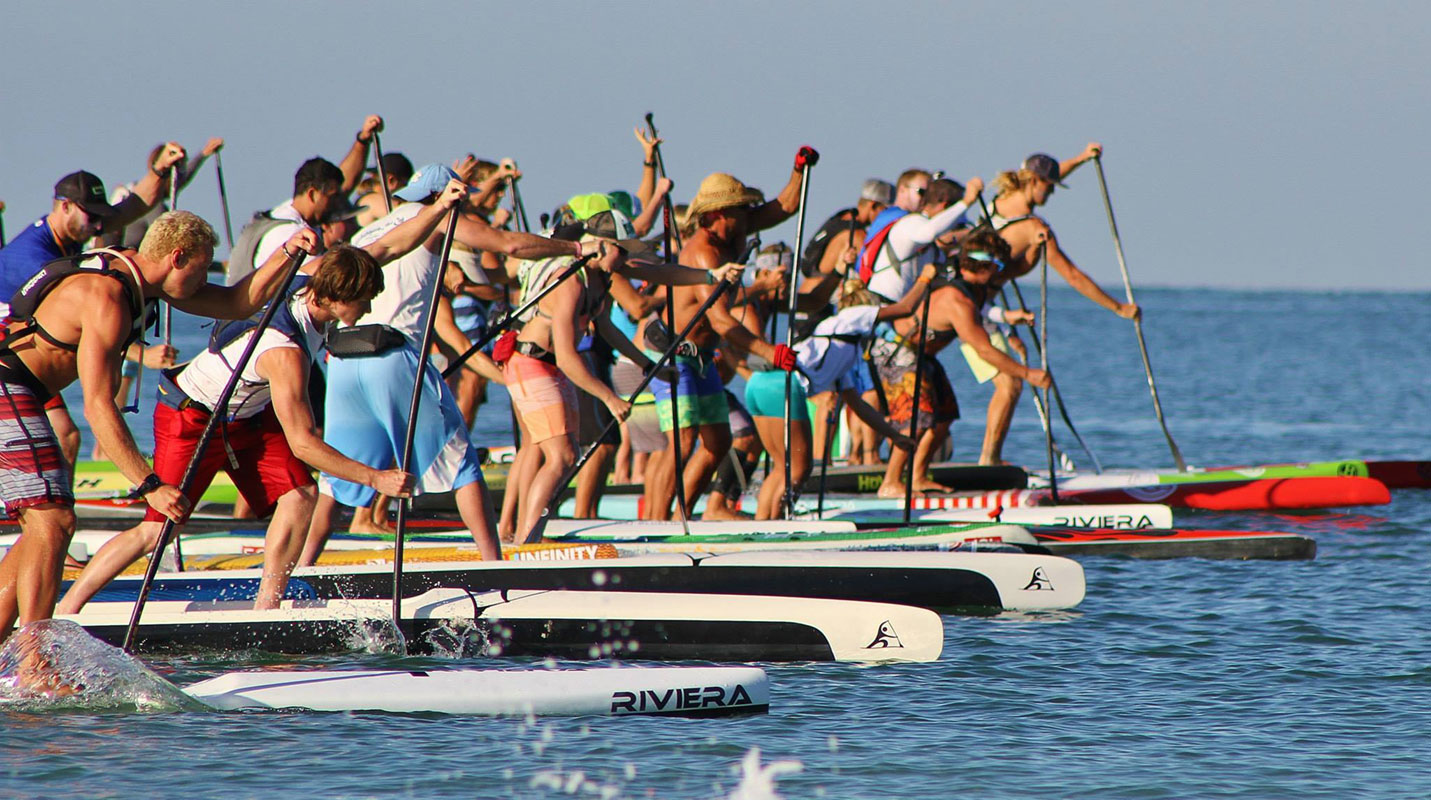 October 25, 2014
by Christopher Parker (@wheresbossman)
RESULTS: WPA Paddle Champs – Danny Ching, April Zilg, Ryan Helm Take The Wins

The 2014 WPA Paddle Championships is happening today at St. Pete Beach in Florida, with a couple of big names going for the cash and plenty of locals trying to keep up.
Following the Battle of the Paddle tradition, this afternoon (Saturday) sees the Elite Course Race while tomorrow it's the distance event.
Right now it's just after 1pm on Saturday and the main event is about to hit the water (with the likes of Danny Ching and Chase Kosterlitz starting as favourites) so check back shortly to see how it all went down
UPDATED FULL RESULTS below
Saturday – Course Race: Danny takes the win ahead of Ryan Helm and Chase, while April Zilg is the fastest of the women.
Sunday – Distance Race: Looks like Danny did the OC-1 division while Chase sat out this race (Chase has a pretty good excuse – he's getting married today), which left the door open for Ryan to claim the win. Meanwhile April – a North Carolina paddler that probably doesn't get the recognition she deserves outside of the East Coast – made it a clean sweep in the women's.
Scroll down for the full results.
PHOTOS: Full event gallery | Day 2 gallery
The Paddle Championships is the year-end, showcase event for the WPA, or World Paddle Association. It's an event with quite a bit of history, dating back several years to the original "Hennessey's Paddleboard World Championships" in California (an event that helped lay the foundation for SUP racing as we know it). The WPA Championships were originally known as the World Championships but that moniker has since been dropped, with the event losing its appeal as a serious elite race in the past few years.
While they've done some great things in the USA, the WPA was never successful in expanding internationally, which is somewhat of an issue when your organisation starts with the word World. At a time when stand up paddle racing resembles the Wild West more than an organised sport, it'll be interesting to see where the WPA fits in the future.
But for now, let's save the debate and celebrate the 2014 Paddle Championship race for what it is: A race.
RESULTS: 2014 WPA Paddle Championships @ St. Pete
MEN'S ELITE COURSE RACE (14′ boards)

| # | Name | Time |
| --- | --- | --- |
| 1 | Danny Ching | 0:47:55 |
| 2 | Ryan Helm | 0:48:48 |
| 3 | Chase Kosterlitz | 0:49:17 |
| 4 | Kieran Grant | 0:52:36 |
| 5 | Bill Kraft | 0:53:43 |
| 6 | William Swezey Jr | 0:54:05 |
| 7 | Matt Arensman | 0:54:47 |
| 8 | Byron Kurt | 0:55:43 |
| 9 | Austin Hollingshead | 0:56:28 |
| 10 | Brian Meyer | 0:56:46 |
| 11 | Mark Athanacio | 0:56:52 |
| 12 | Christopher Norman | 0:57:18 |
| 13 | Jeramie Vaine | 0:57:45 |
| 14 | Colin Mcphillips | 0:58:47 |
| 15 | Garrett Fletcher | 0:59:12 |
| 16 | Cristian Prado | 1:00:59 |
| 17 | John O'hara | 1:01:25 |
| 18 | Tyler Marshall | 1:05:34 |
| 19 | Gavin Ross | 1:06:41 |
| 20 | Nathaniel Richard | 1:09:10 |
| 21 | Corey Curtis | 1:11:47 |
| 22 | Jason Colclough | 1:14:58 |
| 23 | Heath Marston | 1:16:37 |
| 24 | Ricardo Chiari | 1:16:54 |
| 25 | Ian Ross | 1:16:58 |
| 26 | Stephen Chase | 1:17:28 |
| 27 | Mark Ingemi | 1:18:58 |
| 28 | Conrad Garcia | 1:26:21 |
| 29 | Al Simmons | 1:27:08 |
WOMEN'S ELITE COURSE RACE (12'6 boards)

| # | Name | Time |
| --- | --- | --- |
| 1 | April Zilg | 0:51:11 |
| 2 | Helga Goebel | 0:52:08 |
| 3 | Kimberly Barnes | 0:53:52 |
| 4 | Dani Schmidt | 0:57:47 |
| 5 | Mary Scheerer | 0:59:23 |
| 6 | Melissa Trinidad | 0:59:31 |
| 7 | Bernadette Leach | 0:59:45 |
| 8 | Lexi Alston | 1:01:38 |
| 9 | Shari Hymes | 1:07:10 |
DISTANCE RACE

| # | Name | Time | Class | # | Division | |
| --- | --- | --- | --- | --- | --- | --- |
| 1 | Ryan Helm | 1:09:31 | Men's 14' | 1 | 40-49 | 1 |
| 2 | Garrett Fletcher | 1:10:35 | Men's 14' | 2 | 18-39 | 1 |
| 3 | Kieran Grant | 1:11:26 | Men's 14' | 3 | 18-39 | 2 |
| 4 | Jeramie Vaine | 1:11:29 | Men's 14' | 4 | 18-39 | 3 |
| 5 | Christopher Norman | 1:11:39 | Men's 14' | 5 | 18-39 | 4 |
| 6 | Bill Kraft | 1:11:50 | Men's 14' | 6 | 40-49 | 2 |
| 7 | Matt Arensman | 1:11:50 | Men's 14' | 7 | 18-39 | 5 |
| 8 | Brian Meyer | 1:11:50 | Men's 14' | 8 | 18-39 | 6 |
| 9 | Rand Perkins | 1:12:36 | Men's 14' | 9 | 50-59 | 1 |
| 10 | Austin Hollingshead | 1:13:07 | Men's 14' | 10 | 17U | 1 |
| 11 | Corey Taylor | 1:13:29 | Men's 14' | 11 | 18-39 | 7 |
| 12 | Mark Athanacio | 1:14:22 | Men's 14' | 12 | 40-49 | 3 |
| 13 | William Swezey Jr | 1:14:49 | Men's 14' | 13 | 18-39 | 8 |
| 14 | Jim Valenti | 1:15:29 | Men's 14' | 14 | 50-59 | 2 |
| 15 | Trip Saunders | 1:16:01 | Men's 14' | 15 | 18-39 | 9 |
| 16 | David Starr | 1:16:32 | Men's 14' | 16 | 18-39 | 10 |
| 17 | Joey Huempfner | 1:16:52 | Men's 14' | 17 | 17U | 2 |
| 18 | John O'hara | 1:16:57 | Men's 14' | 18 | 50-59 | 3 |
| 19 | John Sekas | 1:17:36 | Men's 14' | 19 | 50-59 | 4 |
| 20 | Jamie Twigg | 1:17:39 | Men's 12'6 | 1 | 18-39 | 1 |
| 21 | James Farber | 1:17:45 | Men's 12'6 | 2 | 18-39 | 2 |
| 22 | Gavin Ross | 1:18:00 | Men's 14' | 20 | 18-39 | 11 |
| 23 | Nick Bjork | 1:18:16 | Men's 14' | 21 | 18-39 | 12 |
| 24 | David Dean | 1:19:14 | Men's 14' | 22 | 50-59 | 5 |
| 25 | Carmine Pici | 1:19:40 | Men's 14' | 23 | 50-59 | 6 |
| 26 | Dennis Navarrete | 1:20:10 | Men's 12'6 | 3 | 40-49 | 1 |
| 27 | Nathaniel Richard | 1:20:10 | Men's 14' | 24 | 18-39 | 13 |
| 28 | Cristian Prado | 1:20:31 | Men's 12'6 | 4 | 18-39 | 3 |
| 29 | Quintin Chiapperino | 1:20:38 | Men's 12'6 | 5 | 17U | 1 |
| 30 | Connor Rush | 1:20:43 | Men's 12'6 | 6 | 17U | 2 |
| 31 | Tyler Marshall | 1:21:30 | Men's 12'6 | 7 | 18-39 | 4 |
| 32 | April Zilg | 1:21:37 | Women's 12'6 | 1 | 18-39 | 1 |
| 33 | Helga Goebel | 1:21:39 | Women's 12'6 | 2 | 18-39 | 2 |
| 34 | Kimberly Barnes | 1:21:47 | Women's 12'6 | 3 | 18-39 | 3 |
| 35 | Stephen Chase | 1:23:25 | Men's 14' | 25 | 18-39 | 14 |
| 36 | Chris Rockwood | 1:24:17 | Men's 12'6 | 8 | 17U | 3 |
| 37 | Lexi Alston | 1:24:38 | Women's 12'6 | 4 | 17U | 1 |
| 38 | Kevin Haigis | 1:24:41 | Men's 14' | 26 | 18-39 | 15 |
| 39 | Will Compton | 1:25:32 | Men's 12'6 | 9 | 60+ | 1 |
| 40 | Melissa Trinidad | 1:26:09 | Women's 12'6 | 5 | 18-39 | 4 |
| 41 | David Martin | 1:26:50 | Men's 14' | 27 | 40-49 | 4 |
| 42 | Mike Ross | 1:27:22 | Men's 14' | 28 | 18-39 | 16 |
| 43 | Mary Scheerer | 1:27:36 | Women's 12'6 | 6 | 50-59 | 1 |
| 44 | Bernadette Leach | 1:28:12 | Women's 12'6 | 7 | 50-59 | 2 |
| 45 | Ian Ross | 1:28:39 | Men's 14' | 29 | 18-39 | 17 |
| 46 | Lance Chambers | 1:28:58 | Men's 12'6 | 10 | 40-49 | 2 |
| 47 | Andrew Dickey | 1:30:11 | Men's 14' | 30 | 18-39 | 18 |
| 48 | Claudia Klenke | 1:30:26 | Women's 12'6 | 8 | 40-49 | 1 |
| 49 | Will Marston | 1:30:44 | Men's 12'6 | 11 | 17U | 4 |
| 50 | Karrie Mcfadden | 1:30:52 | Women's 14 | 1 | 40-49 | 1 |
| 51 | David Rush | 1:31:39 | Men's 14' | 31 | 50-59 | 7 |
| 52 | Shari Hymes | 1:33:42 | Women's 12'6 | 9 | 50-59 | 3 |
| 53 | Al Simmons | 1:34:08 | Men's 12'6 | 12 | 60+ | 2 |
| 54 | Richard Rodriguez | 1:34:20 | Men's 12'6 | 13 | 50-59 | 1 |
| 55 | Rachel Ferguson | 1:38:11 | Women's 12'6 | 10 | 18-39 | 5 |
| 56 | Emily Ghosh | 1:41:05 | Women's 12'6 | 11 | 18-39 | 6 |
| 57 | Asia Kop-rojas | 1:43:50 | Women's 12'6 | 12 | 17U | 2 |
| 58 | Dani Schmidt | 1:44:51 | Women's 12'6 | 13 | 18-39 | 7 |
Click here for the raw results + results from the Open Race