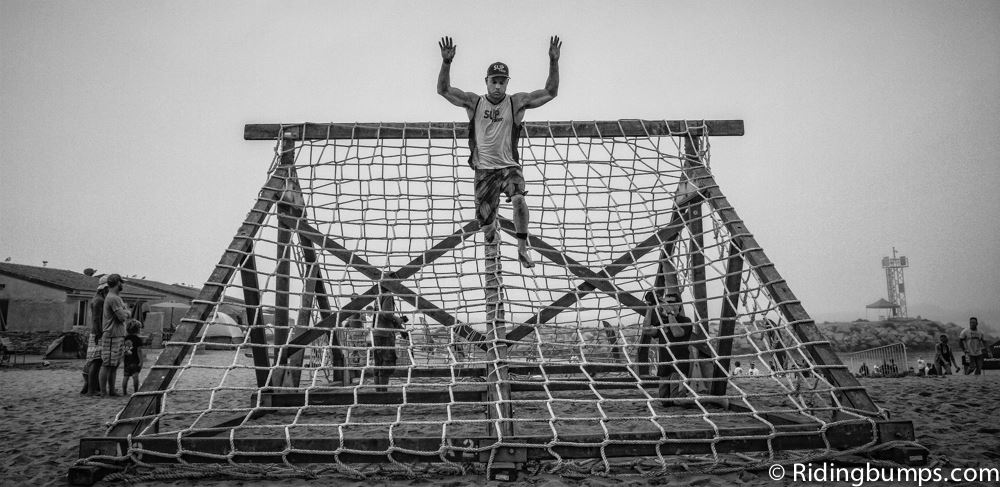 September 11, 2014
by Christopher Parker (@wheresbossman)
It's Back: The Water Warrior Race (aka Camp Pendleton's Torture Chamber) Is On This Weekend

One of the hardest/funnest/craziest races I did last year was the Water Warrior event at the Camp Pendleton Marine Corps Base. It was part SUP race, part army obstacle course, part torture chamber.
The racing involved everything from sprinting in and out of the waves, climbing up and down sand pits, ascending (and quickly descending) giant inflatable slides in the middle of the water course, scaling cargo net walls and a bunch of other challenges that organisers Chuck Patterson and the Riding Bumps crew invented for their own sadistic pleasure.
I don't think I've ever felt as out of breath as I did during that race. It was, to use my new favourite term, brutal.

And now the Water Warrior is back: It's all happening again this Saturday and, just like last year, looks set to be a very painful day out.
There are plenty of races on offer during the event, however the highlight is certainly the Amphibious Assault Race, which involves all the soft sand running, cargo net scaling, inflatable slide jumping madness. It's sort of like a cross between a tough mudder, a SUP race and a children's party.
And it's a hell of a lotta fun.
So to get more info and register, head on over to the official site.
http://instagram.com/p/eP7DA1ysgi/
http://instagram.com/p/eOf1PZOJJY/
http://instagram.com/p/eS9nkQOJAY/
One of the highlights, apart from the crazy obstacles, was having actual marines caddying our boards, with military precision, between the water two water legs. The race twelve months ago also enjoyed some gnarly thick fog, just to make the whole thing even more surreal.
Given how close it was to the Battle, last year's event drew a very elite crew, with Connor Baxter and Annabel Anderson proving their all round fitness by taking out the elite race. We're warming up for Battle Month again right now, so expect some of the top names to be back at the Water Warrior again this year.
If you want to give yourself a good fitness test (or just want an excuse to play on a giant inflatable aqua slide), then head down to Camp Pendleton Marine Corps Base on Saturday morning. It's definitely not your average SUP race.
http://instagram.com/p/eR1MMZOJEu/