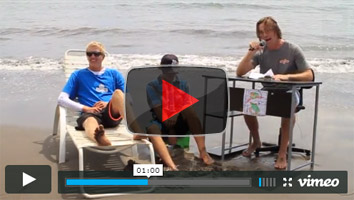 January 20, 2014
by Christopher Parker (@wheresbossman)
VIDEO: The Ultimate SUP Showdown Stirs To Life With Bizarre Teaser Clip
http://vimeo.com/84501091
I'm not sure what I just watched, but I believe it was a promo for the 2014 Ultimate SUP Showdown. In what is easily the most unique stand up paddling video that's come across our virtual desk in… ever, this two minute trailer features Connor Baxter and Zane Schweitzer doing everything from riding giant waves to receiving a pedicure.
The clip is a teaser for an extended series of webisodes that'll be debuting soon, with the aim of entertaining and spreading the word of stand up paddling to a new demographic (the focus is on "people who have no experience of SUP… reaching a new audience" according to Showdown organisers) while also promoting the Ultimate SUP Showdown brand at the same time.
Remember the "Showdown"? It was that SUP race that landed with a bang in mid 2013 and which drew one of the most competitive fields of the year. Apart from the lineup of elite talent (Baxter, Grant, Mitchell, Schweitzer, etc) there was also a $15,000 prize purse (paid out in cash straight at the awards ceremony) plus a very slick Ultimate SUP Showdown highlights reel to boot.
All in all, the Ultimate SUP Showdown got more attention than most races, especially considering this was the inaugural event. Since then it's been all quiet on the Showdown front, though it seems a lot has been happening behind the scenes.
Details of the 2014 Ultimate SUP Showdown are leaking out and it looks set to be a major, one-off event, perhaps sometime during August. There was talk of an Hawaiian-wide tour this year, however the format's either been changed or put on hold, as the 2014 edition will almost certainly be a single event.
Showdown 2014 may actually return to where it began, at Duke's OceanFest in August, though either way the idea is to make this year's race a big event with very significant prize money. That could help fill the hole oh Oahu that was left when the BOP Hawaii/Waikiki Paddle Festival called it quits a couple of years ago.
Anyway we'll keep you posted with the latest Ultimate SUP Showdown updates, but in the meantime just watch the clip above to see two of the sport's fastest paddlers being put through some rather awkward situations…