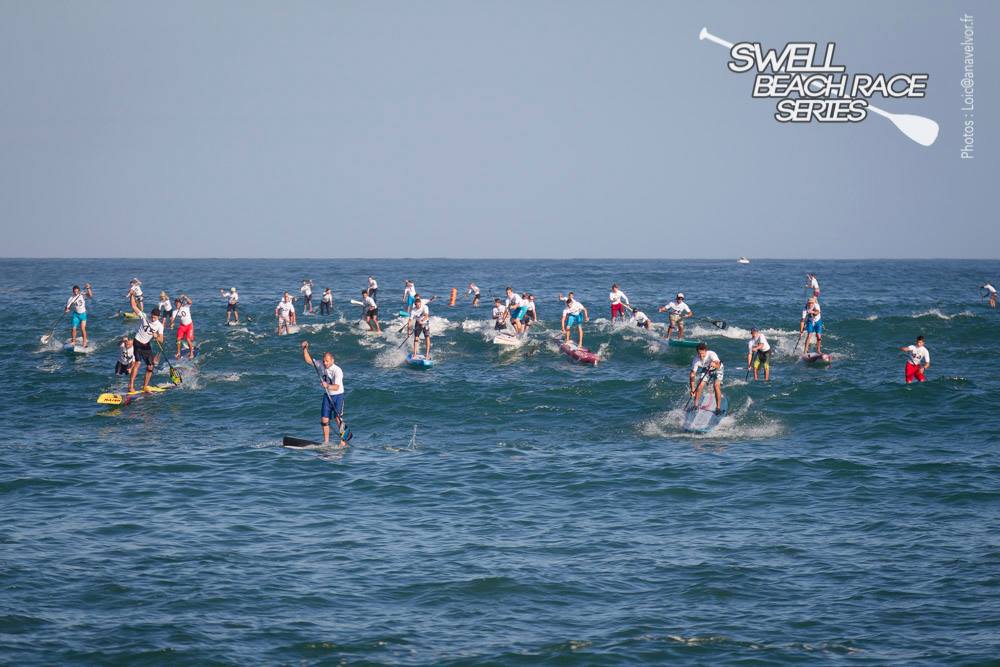 September 4, 2014
by Christopher Parker (@wheresbossman)
Greg Closier Wins The Swell Beach Race Series Finale In France

Greg Closier has notched up another victory in the long running and always entertaining Swell Beach Race Series in France. Closier came home half a minute ahead of rising star Martin Letourneur to claim the 7th and final race of the season at Penfoul Beach.
With its signature fun little waves and enthusiastic crowd of French paddlers, the Swell Beach Race Series ended the year as it began.
On a picture perfect day in Brittany, the French Hobie stalwart Closier paddled away from Yoann Cornelis and a trio of juniors to record his second win of the year. Valerie Vitry was too strong in the women's division.
The victory wasn't enough to give Closier the overall Series win though; that title went to young Letourneur, who was rewarded for his consistency in finishing top four at every race of the season. Arthur Daniel, who's currently on fire over in the States, won four of the six events this season (one of the seven was canceled) while Closier won the other two, but a couple of missed races bumped the pair down on the overall rankings.
So in the end Letourneur hung on with 4,040 points to Daniel's even 4,000, with Closier in third on 3,590. The runner-up on the weekend, Solange Pruvost, took out the overall title on the women's side of the Series.
Scroll down for full results from the weekend plus the overall season standings.
Photo credit: Loic Olivier / SwellAddiction.com (more pics on Facebook)

RESULTS: Swell Beach Race Series #7 – Penfoul Beach
1st: Greg Closier (0:38:06)
2nd: Yoann Cornelis (0:38:43)
3rd: Martin Letourneur (0:39:23) *1st junior
4th: Thomas Hebert (0:40:22) *2nd junior
5th: Francois Pellen (0:41:04) *3rd junior
6th: Renaud Noyelle (0:41:07)
7th: Jeremy Branchu (0:41:18)
8th: Martin Vitry (0:41:57)
9th: Franck Leven (0:42:27) *1st masters
10th: Joseph Guegen (0:42:30)
11th: Simon Michelin (0:42:32)
12th: Christophe Guerin (0:42:36)
13th: Amaury Dormet (0:43:25)
14th: Thomas Kimpflin (0:43:42)
15th: Gregoire Vitry (0:44:28)
16th: Mattieu Raimon (0:44:35)
17th: Fred Istin (0:44:48)
18th: Benoit Carpentier (0:45:14) *4th junior
19th: Ronan Autret (0:45:48)
20th: David Amemoutou (0:45:52)
21st: Yoan Leven (0:46:05) *5th junior
22nd: Stive Lener (0:46:29)
23rd: Ildut Marzin (0:46:55)
24th: Jean Letourneur (0:47:00) *6th junior
25th: Tanguy Richard (0:47:05) *7th junior
26th: Morgan vourch (0:47:10)
27th: Jean-Pierre Letourneur (0:47:15) *2nd masters
28th: Stephane Prigent (0:48:00)
29th: Sebastien Squiban (0:48:37)
30th: Valerie Vitry (0:48:47) *1st female
31st: benjamin Perrot (0:48:57) *8th junior
32nd: Ronan Botrel (0:49:25) *3rd masters
33rd: Solange Pruvost (0:49:33) *2nd female
34th: Anne Crozet (0:53:04) *3rd female
35th: Gilbert Carpentier (0:55:21) *4th masters
36th: Michael Guilbert (0:56:33)
37th: Erwan Blanchard (0:56:51)
38th: Simon legall (0:58:02) *9th junior
39th: Catherine Letourneur (1:03:01) *4th female
40th: Sebastien Le Meaux (1:09:47)
40th: Apehau Tching Piou (1:09:47)
42nd: TANDEM: Matthieu Carpentier & Pierre Carpentier (1:15:58)
2014 Swell Beach Race Series – Overall Championship Results