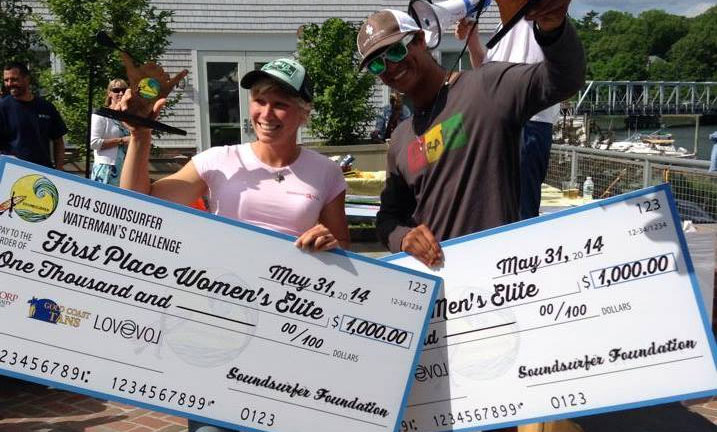 Fernando Stalla And April Zilg Win The Soundsurfer Race In… Connecticut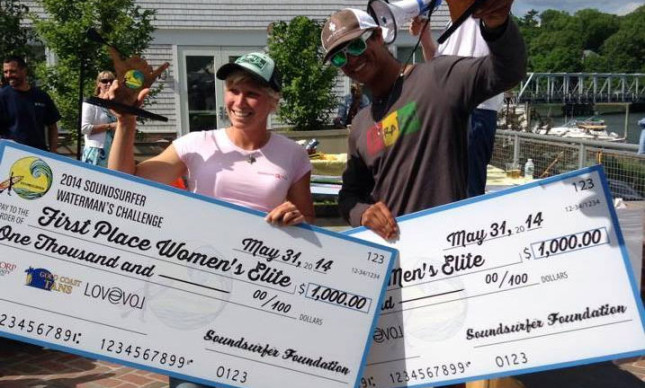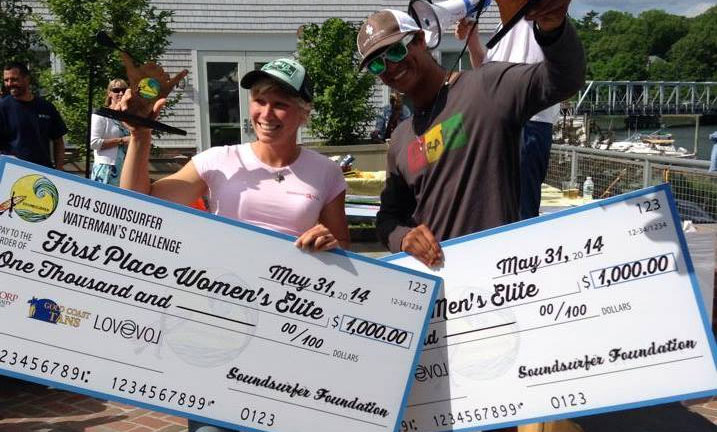 SUP racing is apparently alive and well in Connecticut (above New York/below Boston) with over a hundred paddlers turning out for the Soundsurfer Waterman's Challenge on the weekend.
One of those traveled a rather long way to get there, with Mexico's Fernando Stalla taking out the elite 7 mile race ahead of Jeramie Vaine and Terry Kent. Over in the women's April Zilg was too strong, paddling her 12'6 over the line in a time of 1 hour 27 minutes, which was faster than a lot of the guys in the 14′ division.
2014 Soundsurfer Waterman's Challenge RESULTS
Course: 7 Mile Elite Race
Click "Class" to switch between Men's and Women's results

| # | Name | Time | Class | # | Division |
| --- | --- | --- | --- | --- | --- |
| 1 | Fernando Stalla | 1:12:13 | 14' | 1 | 18-39 |
| 2 | Jeramie Vaine | 1:13:31 | 14' | 2 | 18-39 |
| 3 | Terry Kent | 1:15:46 | 14' | 3 | 50-59 |
| 4 | Taylor Resnick | 1:17:57 | 14' | 4 | 18-39 |
| 5 | Rod Mclain | 1:18:02 | 14' | 5 | 50-59 |
| 6 | James Rothwell | 1:19:47 | 14' | 6 | 40-49 |
| 7 | Mark Colino | 1:20:43 | 14' | 7 | 50-59 |
| 8 | Robert Flynn | 1:22:25 | 14' | 8 | 40-49 |
| 9 | Eric Trudon | 1:22:56 | 14' | 9 | 40-49 |
| 10 | Jack Egan | 1:23:11 | 14' | 10 | 40-49 |
| 11 | Ross Stevens | 1:23:33 | 14' | 11 | 40-49 |
| 12 | Andrew Kellar | 1:24:36 | 12'6 | 1 | 18-39 |
| 13 | Sean Thomas | 1:24:38 | 14' | 12 | 18-39 |
| 14 | Adrian Johnson | 1:25:58 | 12'6 | 2 | 18-39 |
| 15 | Josip Mars | 1:26:15 | 14' | 13 | 18-39 |
| 16 | Bob Arnot | 1:26:28 | Unlim | 1 | 60+ |
| 17 | Will Brant | 1:26:29 | 14' | 14 | 17U |
| 18 | April Zilg | 1:27:20 | Women's 12'6 | 1 | 18-39 |
| 19 | Scott Lewis | 1:28:02 | 14' | 15 | 18-39 |
| 20 | Joe Peirik | 1:28:26 | 14' | 16 | 50-59 |
| 21 | Stephanie Shideler | 1:28:42 | Women's 12'6 | 2 | 18-39 |
| 22 | Jm Kostallas | 1:30:31 | 12'6 | 3 | 18-39 |
| 23 | Dani Schmidt | 1:30:38 | Women's 12'6 | 3 | 18-39 |
| 24 | Ian Knowles | 1:31:45 | 14' | 17 | 18-39 |
| 25 | Mary Scheerer | 1:32:05 | Women's 12'6 | 4 | 50-59 |
| 26 | Kevin Woodin | 1:32:26 | 14' | 18 | 18-39 |
| 27 | Thomas Blackwell | 1:32:38 | 14' | 19 | 50-59 |
| 28 | Dave Grainger | 1:33:05 | 14' | 20 | 60+ |
| 29 | William Sodano | 1:33:38 | 14' | 21 | 40-49 |
| 30 | Marta Downing | 1:33:41 | Women's 12'6 | 5 | 40-49 |
| 31 | Evelyn O'doherty | 1:33:59 | Women's 12'6 | 6 | 40-49 |
| 32 | Kim Reilly | 1:36:17 | Women's 12'6 | 7 | 40-49 |
| 33 | Craig Stepnowski | 1:36:33 | 12'6 | 4 | 18-39 |
| 34 | Paul Brant | 1:37:48 | 14' | 22 | 40-49 |
| 35 | Johnny Ryan | 1:39:43 | 12'6 | 5 | 40-49 |
| 36 | Jessica White | 1:41:33 | Women's 12'6 | 8 | 18-39 |
| 37 | Michael Penfield | 1:43:56 | 14' | 23 | 50-59 |
| 38 | Timothy Kelly | 1:44:30 | 14' | 24 | 18-39 |
| 39 | David Lockwood | 1:45:01 | 14' | 25 | 40-49 |
| 40 | Shari Hymes | 1:45:03 | Women's 12'6 | 9 | 50-59 |
| 41 | Carly Tillotson | 1:45:29 | Women's 12'6 | 10 | 18-39 |
| 42 | Kevin Blagys | 1:47:14 | 14' | 26 | 18-39 |
| 43 | Keith Stephan | 1:48:15 | 14' | 27 | 18-39 |
| 44 | Tony Chapman | 1:52:23 | 14' | 28 | 50-59 |
| 45 | Mike Navarra | 1:52:34 | 14' | 29 | 40-49 |
| 46 | Hoffman Jim | 1:52:40 | 14' | 30 | 50-59 |
| 47 | James Jurney | 1:52:43 | 14' | 31 | 40-49 |
| 48 | William Kerr | 1:53:57 | 12'6 | 6 | 18-39 |
| 49 | Heidi Diehl | 1:55:52 | Women's 12'6 | 11 | 50-59 |
| 50 | Jonathan Bischof | 2:00:24 | 12'6 | 7 | 50-59 |
| 51 | Samantha Carey | 2:03:11 | Women's 12'6 | 12 | 40-49 |
| 52 | Nicole Iacovetta | 2:04:15 | Women's 12'6 | 13 | 18-39 |
| 53 | Scott Harper | 2:05:09 | 12'6 | 8 | 18-39 |
| 54 | Sean Lavine | 2:06:24 | 14' | 32 | 40-49 |
| 55 | Linda Cirigliano | 2:12:01 | Women's 12'6 | 14 | 40-49 |
| 56 | Allison Vodola | 2:12:14 | Women's 12'6 | 15 | 18-39 |
| 57 | Denise Westman | 2:40:43 | Women's 12'6 | 16 | 60+ |
| 58 | Roxane Robinson | 2:40:49 | Women's 12'6 | 17 | 50-59 |
| 59 | Kevin Quinn | 2:47:39 | Surf | 1 | 18-39 |
Results from the Open Race available on PaddleGuru.com