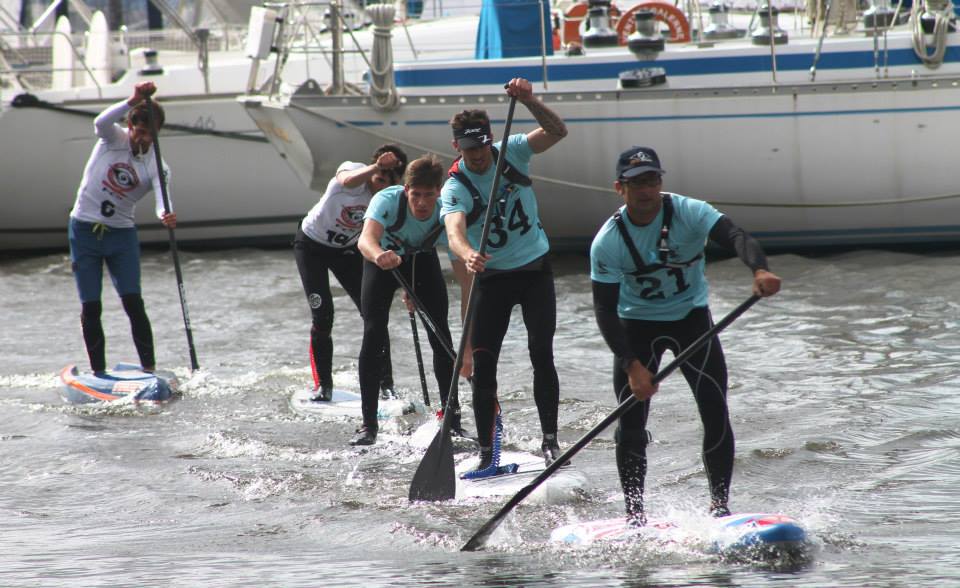 March 24, 2014
by Christopher Parker (@wheresbossman)
Eric Terrien Wins In France Before Jetsetting Across The Atlantic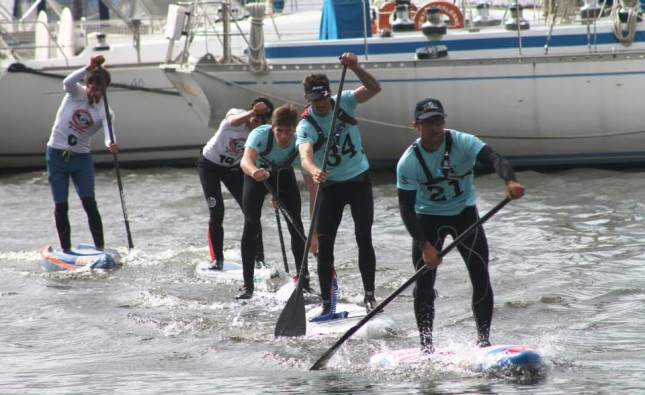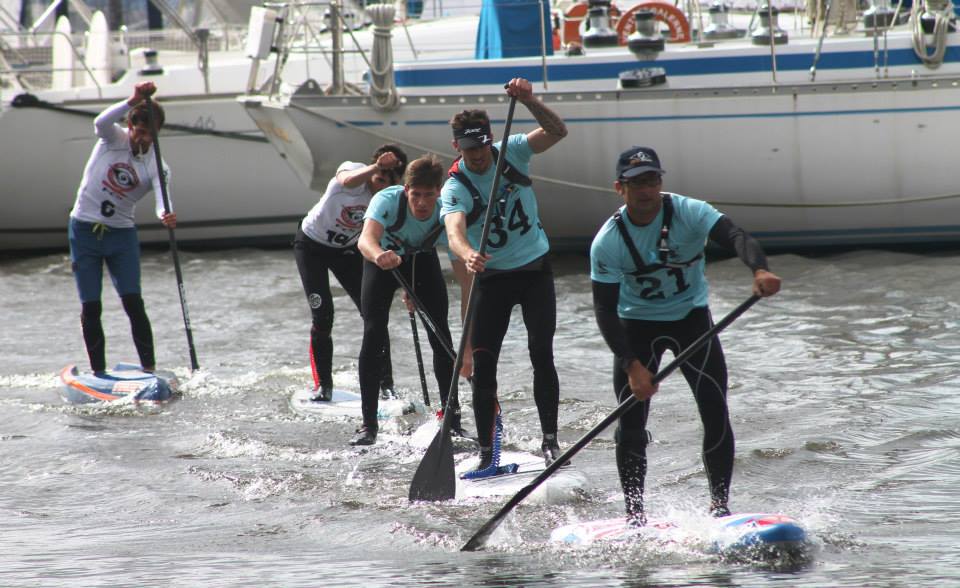 Eric Terrien has won another SUP race in France, surprising absolutely nobody but showing he's in good form ahead of a big month on the road. Eric took out the Raid Paddle Race yesterday in the west coast city of Vannes, pushing his new (and very uniquely coloured) 12'6 race board clear of a strong field, eventually finishing half a minute in front of rising star Arthur Daniel. Eric's original French sparring partner, Gaetene Sene, was third and the rehabilitated Greg Closier claimed fourth.
Meanwhile Faustine Merret took out the women's race on the weekend, in an event that drew 103 paddlers on a chilly late-winter's afternoon, proving again that SUP racing in France is growing stronger and stronger.
There was little time for Eric to celebrate though; today he starts his travel to Brazil where he'll compete in the World Series opener next week. After that it's straight to Abu Dubai for the All Stars event, before a brief pit-stop at home and then another trans-Atlantic flight, this time to Nicaragua where in early May he'll be representing France for the third straight year at the ISA Worlds.
GetUp SUP Mag has a good recap (which you can also read in Google English) and there are more pics on the official Facebook page.
| # | Last Name / First Name | Time | Division | # | Class |
| --- | --- | --- | --- | --- | --- |
| 1 | Terrien Eric | 01:28:00 | Open Men | 1 | 12'6 |
| 2 | Daniel Arthur | 01:28:33 | Open Men | 2 | 12'6 |
| 3 | Séné Gaétan | 01:28:45 | Open Men | 3 | 12'6 |
| 4 | Closier Gregory | 01:29:00 | Open Men | 4 | 12'6 |
| 5 | Cornelis Yoann | 01:29:47 | Open Men | 5 | 14 |
| 6 | Letourneur Martin | 01:29:55 | Open Men | 6 | 12'6 |
| 7 | Dode Florent | 01:32:19 | Open Men | 7 | 12'6 |
| 8 | Branchy Jérémy | 01:34:13 | Open Men | 8 | 12'6 |
| 9 | De la Monneraye Pierre | 01:36:15 | Open Men | 9 | 14 |
| 10 | Guiomar stephane | 01:36:18 | Open Men | 10 | 12'6 |
| 11 | Le Ven Franck | 01:37:10 | Open Men | 11 | 12'6 |
| 12 | Michelin Simon | 01:37:18 | Open Men | 12 | 12'6 |
| 13 | Letourneur Thomas | 01:38:12 | Open Men | 13 | 12'6 |
| 14 | Guerin Christophe | 01:38:13 | Open Men | 14 | 12'6 |
| 15 | Vitry Grégoire | 01:39:05 | Open Men | 15 | 12'6 |
| 16 | Mouton jacques | 01:40:07 | Juniors | 1 | 12'6 |
| 17 | Letourneur Jean | 01:40:40 | Juniors | 2 | 12'6 |
| 18 | Roué Jean Marc | 01:40:50 | Open Men | 16 | 14 |
| 19 | Raimon Matthieu | 01:41:00 | Open Men | 17 | 12'6 |
| 20 | Mattheyses Yves Marie | 01:43:40 | Open Men | 18 | 14 |
| 21 | Marzin | 01:43:42 | Open Men | 19 | 12'6 |
| 22 | Letourneur Jean Pierre | 01:44:04 | Open Men | 20 | 14 |
| 23 | Sery Eric | 01:44:53 | Open Men | 21 | 12'6 |
| 24 | Merret Faustine | 01:45:00 | Open Women | 1 | 12'6 |
| 25 | Girard frederic | 01:45:21 | Open Men | 22 | 12'6 |
| 26 | Le Provos Fred | 01:49:23 | Open Men | 23 | 14 |
| 27 | Trebaul Philippe | 01:49:26 | Open Men | 24 | 12'6 |
| 28 | Vitry Valérie | 01:49:31 | Open Women | 2 | 12'6 |
| 29 | Richard Tanguy | 01:49:50 | Juniors | 3 | 12'6 |
| 30 | Vernack William | 01:50:43 | Open Men | 25 | 12'6 |
| 31 | Lalanne Hervé | 01:51:47 | Open Men | 26 | 12'6 |
| 32 | Paul Eric | 01:53:57 | Open Men | 27 | 12'6 |
| 33 | Prigent Stéphane | 01:54:30 | Open Men | 28 | 12'6 |
| 34 | Dolle Luc | 01:55:02 | Open Men | 29 | 12'6 |
| 35 | Gondre Cécile | 01:55:44 | Open Women | 3 | 12'6 |
| 36 | Crozet Anne | 01:56:44 | Open Women | 4 | 12'6 |
| 37 | Frank Albarede | 01:57:45 | Open Men | 30 | 12'6 |
| 38 | Villedary gregory | 01:58:17 | Open Men | 31 | 12'6 |
| 39 | Gricourt Eric | 01:58:30 | Open Men | 32 | 12'6 |
| 40 | Geffrault Alain | 01:58:38 | Open Men | 33 | 14 |
| 41 | Villedary Tom | 02:00:57 | Juniors | 4 | 12'6 |
| 42 | Curet richard | 02:04:11 | Open Men | 34 | 14 |
| 43 | Michelot frederic | 02:09:34 | Open Men | 35 | 12'6 |
| 44 | Corre Alain | 02:10:53 | Open Men | 36 | 12'6 |
(
Click here
for the Open Race results)