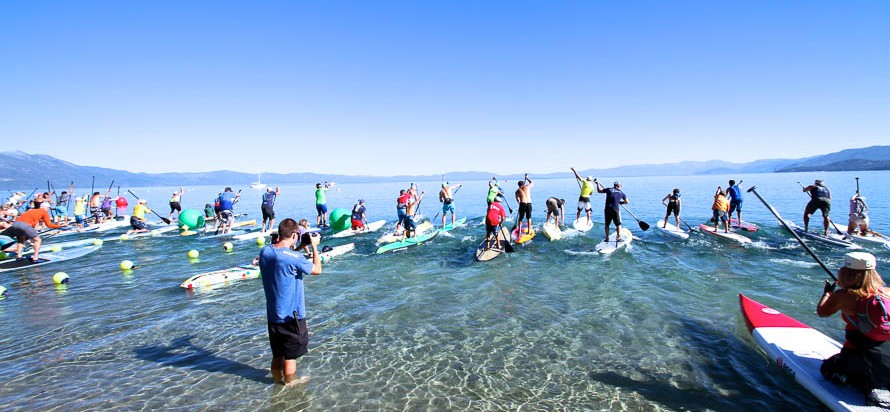 March 6, 2014
by Christopher Parker (@wheresbossman)
Race The Lake Of The Sky Says No To Prize Money, Becomes The 'Feel Good Race Of The Summer'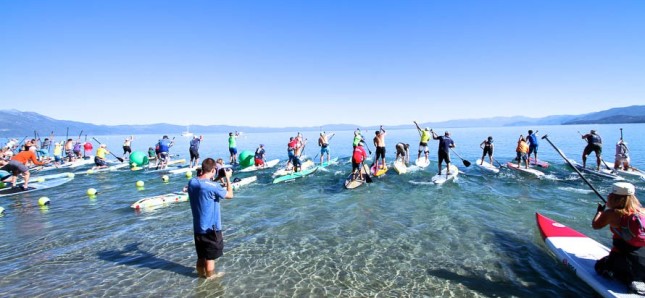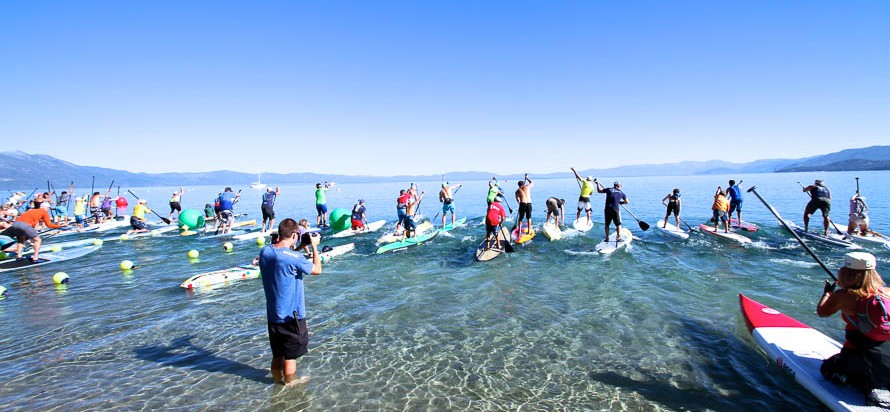 One of the races I can't wait to get to this Northern Summer is the Race The Lake of the Sky up at Tahoe. It's happening at the end of June (28th-29th) and will no doubt feature some pretty big names alongside hundreds of stoked out weekend warriors. Yet it won't be the lure of a big cash prize that draws the elite paddlers to Lake Tahoe, because Race The Lake of the Sky is offering a prize purse of exactly zero dollars this year.
The zero dollar prize purse is no different to what the 2012 and 2013 Race The Lake events offered, so why exactly is it news-worthy this year? Well here's where it gets interesting this time round: organisers were actually offered $10,000 by an outside group to put up as prize money, however they decided to stick to their traditions and keep Race The Lake as a grassroots Stand Up Paddling event, rather than offer a big cash purse and turn it into some sort an "elite" race. Or in other words: The organisers said no to $10k because they felt it was in the best interests of the event. That's bold…
The basic story goes something like this: The main organiser, Chris Brackett of South Tahoe Stand Up Paddle, was offered $10,000 prize money by a local tourism board to lure some big names, which in turn would give the event (and the Tahoe region) some added buzz. It was a generous offer that most race organisers would be pretty stoked about, yet for Chris there was just something not quite right about it…
There had been no prize money in the first two editions of Race The Lake of the Sky, yet both of those had still received A+ reviews from all who attended. In its short life, the event had quickly garnered a reputation of being more about participation than professional competition. It had become one of those races that defined the pure spirit of SUP. In short: Chris didn't believe the event needed prize money to be successful and that it might actually harm the grassroots nature of the event if it was introduced.
So after a lot of deep thought as well as consultation with some seasoned paddlers, Chris decided to turn down the offer in order to maintain the integrity of the event.
There's been a lot of debate about prize money in SUP recently, both positive and negative, while many races in general are trying to outdo each other with prize checks to draw paddlers. I have absolutely no problem with big money flowing into the sport (in fact I wholeheartedly encourage it) but at the same time it's very refreshing to see an event take a step back and say no to the dollar signs.
I have no doubt that Race The Lake of the Sky will still receive support from many of the elite guys and girls. In fact if anything, I'd say this decision to forego prize money will actually boost the elite involvement, as it will reinforce the event's status as one of the must-do races of the year (because even pro paddlers like to have fun and give back to the sport, whether there's financial gain or not).
So there you go. Race The Lake Of The Sky officially says no to prize money. And in doing so it also becomes the official feel good race of the summer…