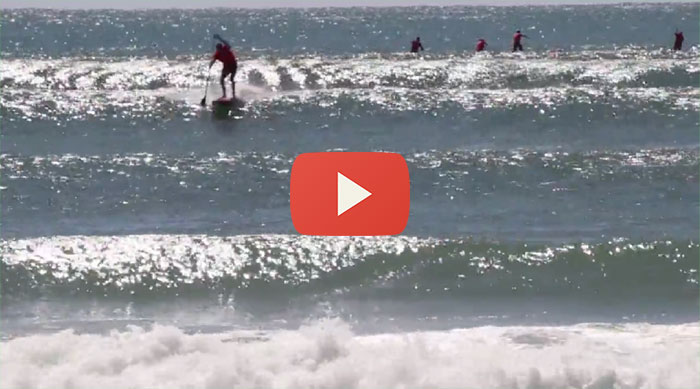 August 29, 2014
by Christopher Parker (@wheresbossman)
Jake Jensen, Beau O'Brian And Karla Gilbert Win The Queensland State Titles
The 2014 Immerse SUP & Paddle Festival (aka the Queensland State SUP Titles) is happening this weekend at the paddling mecca of Currumbin.
The QLD State Titles are a lead in for the Aussie Titles in a couple of months time, which will decide who represents the three-time-champion Team Australia at 2015 ISA Worlds. Following ISA protocol, the State and National Titles in Australia offer a course race (the uninspiringly-titled "Technical Course Race") and long distance race (the "Marathon Race").
DAY 1 UPDATE: In Friday's Battle of the Paddle-style course race, it was Jake Jensen taking out the Open Men's division while Karla Gilbert was the quickest of the ladies. Jake's win comes just a couple of days after he stepped off the plane following his Showdown/Gorge adventure.
As you can see in the video above, Jake took off like a rocket: That's him paddling well clear of the waves just after the start (45 second mark). However the young gun totally kooked it at the first buoy (1:20 mark), taking 25 seconds to untangle himself and allowing Lincoln Dews to pass him and a few others to catch right up.
Jake did enough to regain the lead by the end of the course, though I'm still waiting to hear what happened with Lincoln – he was right up there for much of the race but didn't even finish top 4.
Looked like super fun conditions for a BOP-style race, with light winds and consistent 2-3ft waves rolling through on the Gold Coast.
Anyway enjoy the vid above courtesy of Paul 'Jacko' Jackson (of Super Lap fame). We'll try and round up the full results for you asap but in the meantime here are the podiums.
DAY 2 UPDATE: Beau O'Brian takes out the distance race on day 2, narrowly defeating Kelly Margetts and Jake Jensen. Youngsters Matt Nottage and Trevor Tunnington finished 4th and 5th respectively.
Looks like it was a five way draft train for much of the race, before Kelly and Jake made a break in the final 500 metres. However Beau managed to snag a wave at the right time (the distance race was held out in the ocean with the final stretch coming in through the surf) and overtook Jake, then outsprinted an unlucky Kelly to the line.
We'll have full results shortly. In the meantime Jacko has a good 150 odd photos up on Facebook.
Seems numbers in general were well down this year, leading some to question why this event isn't more popular. A spirited debated flared up on the 'Breeze after the weekend, with a lot of theories being put forth. It's always struck me as being odd that Australia (and in particular Queensland's Gold Coast) has had such a high concentration of paddling talent, but has never had any big international races, or even any races that have big numbers, period. If you get more than 100 people at a race in Australia it's a talking point…
2014 Queensland State SUP Titles
Technical Course Race (BOP-style) RESULTS
OPEN MEN
1st: Jake Jensen
2nd: Andrew Kerr
3rd: Tim Cyprien
4th: Kelly Margetts
5th: Steve Walker
6th: Jon Locke
7th: Trevor Tunnington
8th: Ben Tardrew
9th: Matthew Delahunty
10th: Michael Booth
11th: Oliver Murphy
12th: Lincoln Dews
OPEN WOMEN
1st: Karla Gilbert
2nd: Sondra purser
3rd: Ke'ale Dorries
4th: Alison Fullagar
OVER 40s MEN
1st: Paul Jones
2nd: Dale Chapman
3rd: Troy Pease
4th: Chris Carter
Marathon Race
1st: Beau O'Brian (1:42:00)
2nd: Kelly Margetts (1:42:01)
3rd: Jake Jensen (1:43:15)
4th: Matt Nottage (1:43:31)
5th: Trevor Tunnington (1:44:29)
6th: Jon Locke (1:45:21)
7th: Steve Walker (1:45:55)
8th: Tim Cyprien (1:47:50)
9th: MIchael Booth (1:50:14)
10th: Troy Pease (1:50:22) *1st over 40
11th: Karla Gilbert (1:51:06) *1st female
12th: Andrew Kerr (1:51:12)
13th: Dale Chapman (1:51:1) *2nd over 40
14th: Nicola Masci (1:51:28)
15th: Scott Hargreaves (1:52:26)
16th: Brenden Clark (1:53:45) *3rd over 40
17th: Alain Teurquetil (1:54:29) *1st over 50
18th: Chad Islip (1:55:10)
19th: Kevin Johnson (1:56:58) *2nd over 50
20th: Jonno Walker (1:59:36) *3rd over 50
21st: Shane Lynch (2:02:59) *4th over 50
22nd: Mark Woelders (2:08:18) *4th over 40
23rd: Andrew Worling (2:09:10) *5th over 40
24th: Andrew Worling (2:09:10) *6th over 40
25th: Sue Dorries (2:09:50) *2nd female
26th: Nigel Milnes (2:11:21) *5th over 50
27th: Jenny Cosgrove (2:15:30) *3rd female