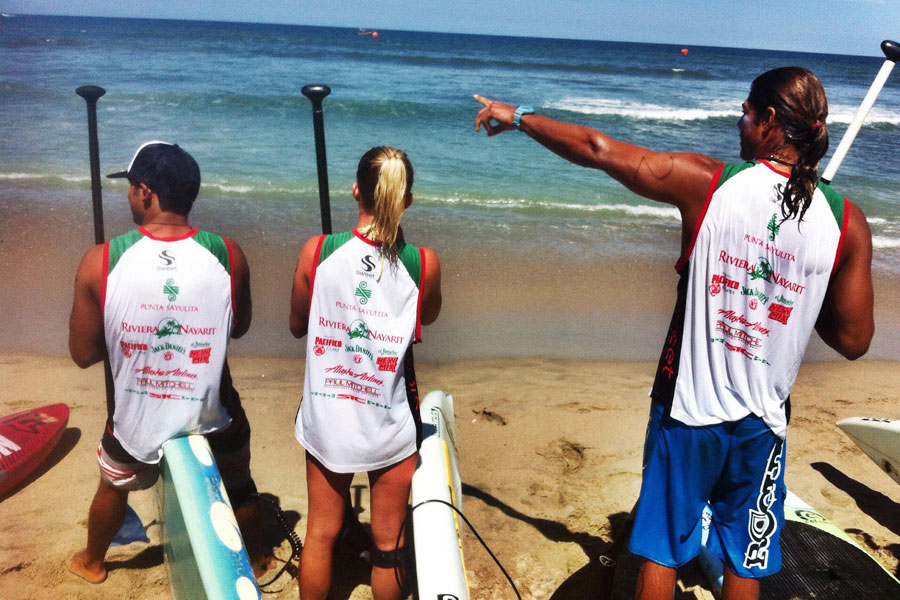 [RESULTS] Georges Cronsteadt, Lina Augaitis Too Strong In Sayulita
Results are in from the Punta Sayulita Classic in Mexico and it looks like the weekend belonged to Team SIC. Taking out both events (the Surf Race on Saturday and 10k Distance Race on Sunday) was Georges Cronsteadt of Tahiti, while teammate Lina Augaitis from Canada was too strong on the women's side.
In the Surf Race, Georges was the only paddler to make it clean to the first buoy, as a set swept through the field right after the start. From there, the Tahitian big guy controlled the waves and the race to finish around half a minute clear. Sayulita locals Ryan Helm and Fernando Stalla filled the men's podium, with Ryan overtaking Fernando on the sprint up the beach to the line. Meanwhile Shelby Dela Rosa Taylor and Kristin Thomas took second and third respectively on the women's.
Sounds like there were some big waves rolling through during the race! A lot of paddlers actually pulled out due to the conditions, however on the plus side that means we can expect plenty of good "carnage" shots to drop shortly 😉
Check back soon for more pics…
2014 Punta Sayulita Classic – SUP Race Results
Surf Race
MEN
1 Georges Cronsteadt 23.20
2 Ryan Helm 23.39
3 Fernando Stalla 23.40
4 Javier Jimenez 24.20
5 Hector Gonzalez 25.40
6 Antonio Valdez 26.40
7 Julio Gonzalez 26.57
8 Marc Millen 27.40
9 Oliver Cruz 28.00
10 Diego Martinez 28.45
11 Manuel Rodriguez 28.55
12 Jesse Wright 30.20
13 Rolando Herrera 31.51
14 John Fulsand 35.50
15 Juan Pablo Victal 37.15
16 Arturo Lavin 2 laps
WOMEN
1st: Lina Augaitis
2nd: Shelby de la Rosa
3rd: Kristin Thomas
Distance Race
MEN
1st: Georges Cronsteadt (1.19.35)
2nd: Ryan Helm (1.20.01)
3rd: Javier Jimenez (1.20.20)
4th: Fernando Stalla (1.20.31)
WOMEN
1st: Lina Augaitis (1:27:20)
2nd: Kristin Thomas (1:35:50)
3rd:  Shelby de la Rosa Taylor (1:37:20)
4th: Tessa Stobe (1:52:54)
Full results coming soon…